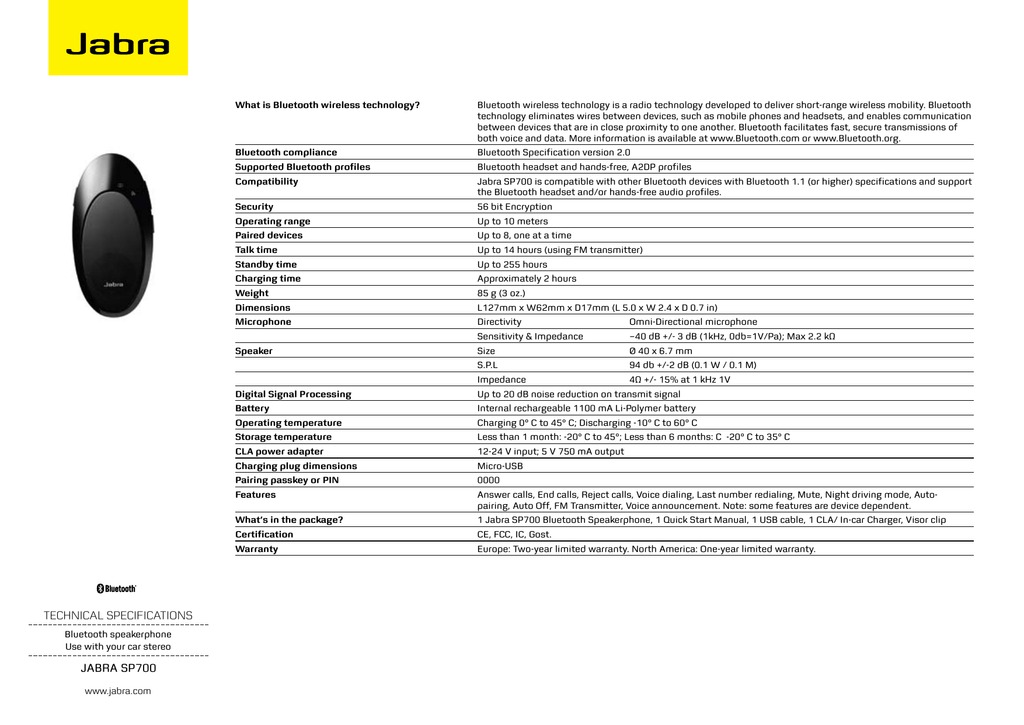 What is Bluetooth wireless technology?
Bluetooth compliance
Supported Bluetooth profiles
Compatibility
Security
Operating range
Paired devices
Talk time
Standby time
Charging time
Weight
Dimensions Microphone
Speaker
Digital Signal Processing Battery Operating temperature Storage temperature
CLA power adapter
Charging plug dimensions
Pairing passkey or PIN
Features
What's in the package?
Certification
Warranty
TECHNICAL SPECIFICATIONS
Bluetooth speakerphone
Use with your car stereo
JABRA SP700
www.jabra.com
Bluetooth wireless technology is a radio technology developed to deliver short-range wireless mobility. Bluetooth technology eliminates wires between devices, such as mobile phones and headsets, and enables communication between devices that are in close proximity to one another. Bluetooth facilitates fast, secure transmissions of both voice and data. More information is available at www.Bluetooth.com or www.Bluetooth.org.
Bluetooth Specification version 2.0
Bluetooth headset and hands-free, A2DP profiles
Jabra SP700 is compatible with other Bluetooth devices with Bluetooth 1.1 (or higher) specifications and support the Bluetooth headset and/or hands-free audio profiles.
56 bit Encryption
Up to 10 meters
Up to 8, one at a time
Up to 14 hours (using FM transmitter)
Up to 255 hours
Approximately 2 hours
85 g (3 oz.)
L127mm x W62mm x D17mm (L 5.0 x W 2.4 x D 0.7 in)
Directivity Omni-Directional microphone
Sensitivity & Impedance
–40 dB +/- 3 dB (1kHz, 0db=1V/Pa); Max 2.2 kΩ
Size
Ø 40 x 6.7 mm
S.P.L
94 db +/-2 dB (0.1 W / 0.1 M)
Impedance 4Ω +/- 15% at 1 kHz 1V
Up to 20 dB noise reduction on transmit signal
Internal rechargeable 1100 mA Li-Polymer battery
Charging 0° C to 45° C; Discharging -10° C to 60° C
Less than 1 month: -20° C to 45°; Less than 6 months: C -20° C to 35° C
12-24 V input; 5 V 750 mA output
Micro-USB
0000
Answer calls, End calls, Reject calls, Voice dialing, Last number redialing, Mute, Night driving mode, Auto-
pairing, Auto Off, FM Transmitter, Voice announcement. Note: some features are device dependent.
1 Jabra SP700 Bluetooth Speakerphone, 1 Quick Start Manual, 1 USB cable, 1 CLA/ In-car Charger, Visor clip
CE, FCC, IC, Gost.
Europe: Two-year limited warranty. North America: One-year limited warranty.

* Your assessment is very important for improving the work of artificial intelligence, which forms the content of this project