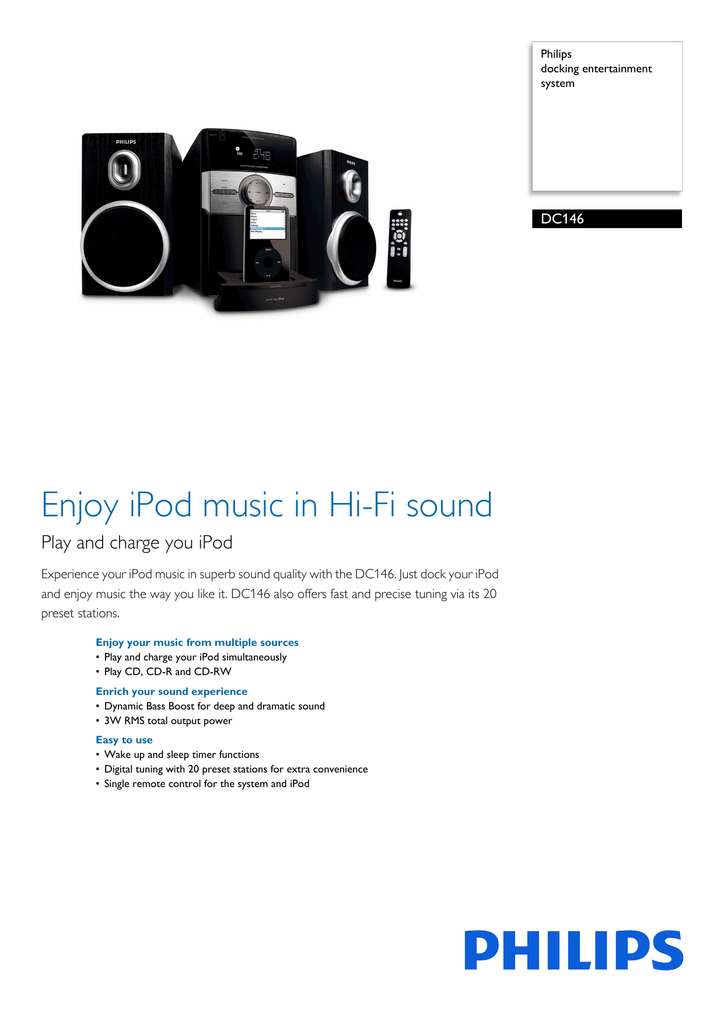 Philips
docking entertainment
system
DC146
Enjoy iPod music in Hi-Fi sound
Play and charge you iPod
Experience your iPod music in superb sound quality with the DC146. Just dock your iPod
and enjoy music the way you like it. DC146 also offers fast and precise tuning via its 20
preset stations.
Enjoy your music from multiple sources
• Play and charge your iPod simultaneously
• Play CD, CD-R and CD-RW
Enrich your sound experience
• Dynamic Bass Boost for deep and dramatic sound
• 3W RMS total output power
Easy to use
• Wake up and sleep timer functions
• Digital tuning with 20 preset stations for extra convenience
• Single remote control for the system and iPod
DC146/05
Docking entertainment system
Specifications
Audio Playback
• Playback Media: CD, CD-R, CD-RW
• Disc Playback Modes: 20-Track Programmable,
Repeat/one/all/program, Fast Forward/Backward,
Next/Previous Track Search, Repeat Play, Shuffle
Play
• Loader Type: Top
• Cradle playback mode: Charging iPod, Fast
forward and backward, Next and Previous track,
Play and Pause
• Programmable Tracks: 20
Sound
•
•
•
•
Output Power: 3W RMS
Volume Control: Volume Control up/down
Sound Enhancement: Dynamic Bass Boost
Sound System: Stereo
Loudspeakers
• Main Speaker: 3" woofer, Bass Reflex Speaker
System
Tuner/Reception/Transmission
•
•
•
•
Tuner Bands: FM Stereo, MW
Auto digital tuning
Station presets: 20
Tuner Enhancements: Auto Store
Connectivity
• Headphone: 3.5 mm
• Other connections: FM fixed pigtail antenna, AM
Antenna
• Audio Connections: 3.5mm Line in
Highlights
Convenience
•
•
•
•
•
Alarms: Sleep timer, Radio Alarm, CD Alarm
Clock: On main display
Display Type: LCD
Backlight color: Blue
Backlight
Accessories
• Included accessories: FM/MW Antenna, Remote
Control, User Manual, World Wide Warranty
leaflet, Quick install guide
• Remote control: 24-key remote control
• Cradle: Cradle and adaptors for iPod
• User Manual: English
Dimensions
• Set dimensions (W x H x D): 148 x 233 x 216 mm
• Main speaker dimensions (W x H x D):
134 x 230 x 152 mm
• Packaging dimensions (W x H x D):
370 x 270 x 326 mm
• Weight incl. Packaging: 5.2 kg
Power
• Power supply: 220-240V, 50Hz
iPod compatibility
• Compatible with: iPod, iPod mini, iPod nano, iPod
with color display, iPod 5th Generation, iPod
classic
•
Issue date 2013-05-10
© 2013 Koninklijke Philips Electronics N.V.
All Rights reserved.
Version: 5.0.6
Specifications are subject to change without notice.
Trademarks are the property of Koninklijke Philips
Electronics N.V. or their respective owners.
12 NC: 8670 000 37139
EAN: 87 12581 39585 8
www.philips.com
Play and charge your iPod
Enjoy your favorite MP3 music while charging your
iPod! The dock lets you connect your iPod directly
to the Docking entertainment system so you can
listen to your favorite music in superb sound. It also
charges your iPod while it plays so you can enjoy
your music and not have to worry about your iPod
battery running out. Use the remote control to
navigate, select and playback the music stored on
your iPod. The Docking entertainment system
automatically charges your iPod while it is docked.
Dynamic Bass Boost
Dynamic Bass Boost maximizes your music
enjoyment by emphasizing the bass content of the
music throughout the range of volume settings from low to high – at the touch of a button! Bottomend bass frequencies usually get lost when the
volume is set at a low level. To counteract this,
Dynamic Bass Boost can be switched on to boost
bass levels, so you can enjoy consistent sound even
when you turn down the volume.

* Your assessment is very important for improving the work of artificial intelligence, which forms the content of this project