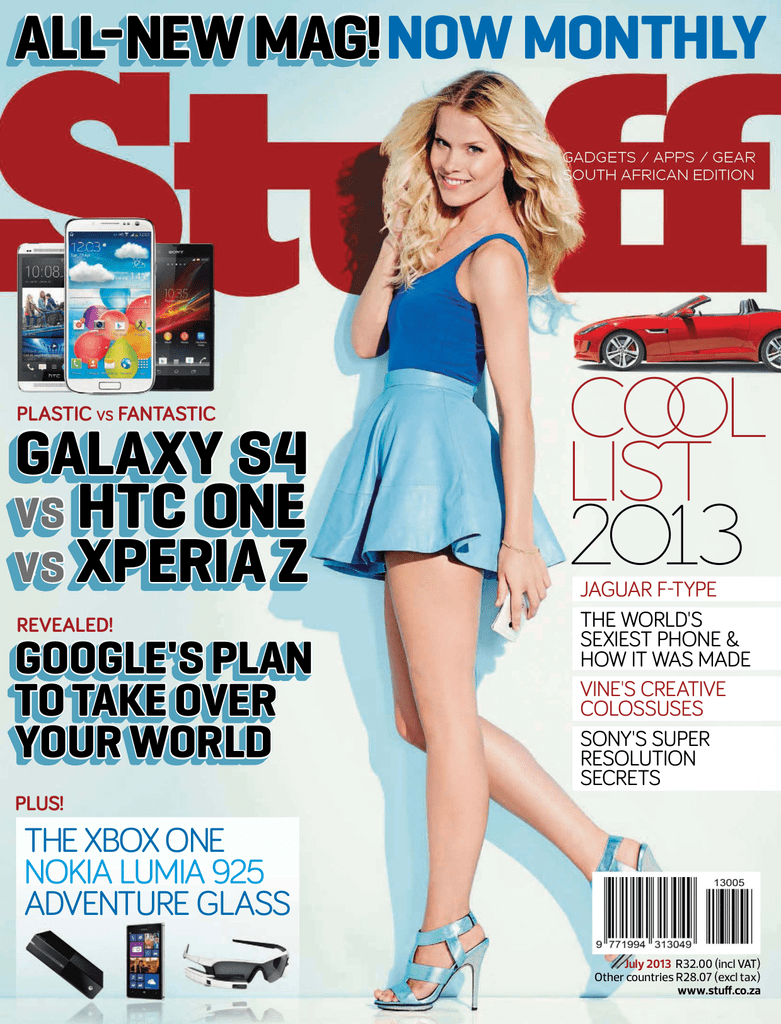 ALL
NEW
MAG!
L--N
AL
AG! NOW MONTHLY
EW M
PLASTIC VS FANTASTIC
S4
GALAXY S4
GALAXY
VS HTC ONE
ONE
VS
ERIIAA ZZ
VS XPERIA
XPERIA
XPER
VS
XP
REVEALED!
GOOGLE'S PLAN
PLAN
TO TAKE
TAKE OVER
YOUR
YOUR WORLD
CL
LI
2013
JAGUAR F-TYPE
THE WORLD'S
SEXIEST PHONE &
HOW IT WAS MADE
VINE'S CREATIVE
COLOSSUSES
SONY'S SUPER
RESOLUTION
SECRETS
PLUS!
THE XBOX ONE
NOKIA LUMIA 925
ADVENTURE GLASS
July 2013 R32.00 (incl VAT)
Other countries R28.07 (excl tax)
www.stuff.co.za
It's our Birthday
Top Deals on Top Brands
THE WORLD'S TOP SELLING FULL HD 3D
TV JUST GOT A WHOLE LOT SMARTER.
Enjoy the feature-rich benefits of the Samsung
Smart LED TV Series 6. Each TV within this series
offers different features based on your tastes
& needs. The stunning picture quality, flawless
design & access to the Internet & apps will
transform your viewing experience.
Connect your TV and AirTrack easily through Bluetooth to gain better
sound with SoundShare. The absence
of trailing wires between the AirTrack
& TV allows you to showcase the slim
& sleek design of both systems, while
maintaining a clean look in your living
environment. Easily control the AirTrack & TV from a single TV remote.
40" 3D SMART FULL HD LED TV
+ 3D BLU RAY PLAYER BD-E5500
6900
UA40ES6200
2.1 CHANNEL AIRTRACK
SPEAKER BAR HW-F450
3000
See in-store or online at www.dionwired.co.za for more Top Birthday deals
Get the best of gaming, movies & interactivity with the new slim PS3
console. Breath-taking games in incredible high definition, with eyepopping 3D await you, with hundreds of games to choose from,
there is something for everyone.
The built-in Blu-ray player with
Stereoscopic 3D offers the sharpest picture quality, and the move
Eye & motion controller system will get you off your couch & into the
game with the most accurate motion control system available.
PS3 RED CONSOLE +
GT5 ACADEMY EDITION,
FIFA 13 & CONTROLLER
4000
ALL-IN-ONE ENTERTAINMENT
The new Samsung Series 5 AIOs have been crafted
to deliver an entirely new PC experience through
innovative sense recognition features such as 10finger multi-touch control & hand gesture commands.
The displays' enhanced sensitivity enables users to
enjoy the full capabilities of the latest entertainment
applications or perform complicated content editing.
Users can pinch to zoom on content or rotate images,
& scroll through pages with complete ease using 10
multi-touch functions.
1GB 4GB
500 GRAPHICS
21.5" GB
HDD
CARD
ALL IN ONE PC
DP500A2D-S01Z
RAM
2Year
Warranty
8500
Prices advertised valid from 26 June - 9 July 2013.
All prices listed are in South African Rands. All prices inlcude VAT.
OGILVY CAPE TOWN 57749/E
So fast it's tough to clink thearly.
It's here! Introducing the New Golf GTI from R 368 300!
Take a deep breath as you press down the brushed stainless steel accelerator pedal to unleash the 162kW power-punch from the
2.0 TSI engine, launching you from 0-100 km/h in a mind-blowing 6.5 seconds. Catch your breath as you feel the impeccable
best-in-class handling and driveability at work, manoeuvring corners effortlessly with pin-point precision using the new
progressive steering. Your mind may struggle to keep up, but you can be sure it'll be the only part of you lagging behind.
The seventh generation GTI has arrived, 42kg lighter, and more fuel efficient than ever before. Visit your nearest Volkswagen
dealership to feel the power of this undisputed performance icon. Often copied. Never equalled.
Because it's a GTI!
Price correct at the time of going to print and is subject to change at the sole discretion of Volkswagen Group South Africa.
New Golf GTI range includes 2.0 162kW TSI Manual and 2.0 162kW TSI DSG®
Visit vw.co.za and join facebook.com/VWSA
Das Auto.
WELCO
Winter is not the traditional time for a metamorphosis. But
you eagle-eyed readers (and Stuff readers are proudly so)
will have noticed we've been transforming ourselves over
the last few issues. It reflects a broader transition in what was
once called the information and communication industries
(ICT), but is now so much more. In the last few years, sales of personal
computers (PCs) have slowed, while smartphones and tablets have
soared. Smartphones over took PC sales about two years ago; and did
the same to feature phones this year. This has prompted many early
obituaries proclaiming "the death of the PC". But that misses the point:
the PC isn't dead, it's just evolved. It's now a smartphone or a tablet.
And the ecosystem involved has transformed too.
We're aiming to reflect that in Stuff. We've introduced a projects
section (p85) to show you how to reawesomise your kit, perfect your
home network and sharing via it and upgrade other kit.
We still do our thorough tests of new kit, like compact cameras
(p62) , top Android smartphones Samsung's Galaxy S4 vs HTC's
One vs Sony Xperia Z (p72) and more compact tablets (p64).
The Cool List (p40) is an annual feature you'll start seeing, listing, as
it says, the things we think rock. This includes those Google Glasses
I'm wearing, which belong to Ushahidi's Erik Hersman, who brought
them to Stuff Towers for us to play with. Enjoy the read. And let us
know what you think of the changes.
Toby Shapshak, Editor and Publisher / toby@stuff.co.za / @shapshak
www.stuff.co.za
Email us stuff@stuff.co.za
Subscribe www.stuff.co.za/subs
Call us 011 801 9023
Surf us www.stuff.co.za
7 Malibongwe Drive,
Corner Aimee Street,
Fontainebleau,
2125
Subscriptions Hotline
0860 123 300
Email subs@stuff.co.za
Web www.stuff.co.za
Editorial
Editor and Publisher
Toby Shapshak
toby@stuff.co.za
Managing Editor
Nic Boerma
nic@stuff.co.za
Assistant Editor
Bret Venter
bret@stuff.co.za
Contributing Editor
Gavin Dudley
gavin@stuff.co.za
4
facebook.com/stuffsa
Art Director
Brandon van Rensburg
art@stuff.co.za
Fashion Editor
Chaya Finger
chaya@stuff.co.za
Production Coordinator
Mpho Ntori
mpho@stuff.co.za
Marketing
Samantha Antonio
sam@stuff.co.za
Q See unboxings and
read more reviews of the
latest gadgets and much
much more.
Q Read the weekly
column Toby writes for
the Financial Mail.
Good news! Stuff is also
available on, Zinio and
various other services.
SUBSCRIBE
TO STUFF &
YOU'LL GET...
1 …this great mag landing on
your doorstep before it hits
the shops, every month.
2 …you'll pay only R229 for
11 issues (a 35% discount).
3 …exclusive reader offers
and discounts.
4 …spiritual fulfilment.
Call 0860 123 300 or visit
www.stuff.co.za/subs
twitter.com/stuffsa
Production
Printing
CTP
Distribution
RNA 011 248 3542
Management
Stuff South Africa is published by
the Stuff Group (Pty) Ltd.
Directors: Toby Shapshak, Gisèle
Wertheim Aymés, Sally Hudson
PO Box 2316, Randburg, 2125
Advertising
Business Director
Sally Hudson
sally@stuff.co.za
National sales manager
Leslie Adams - 076 350 9824
leslie@stuff.co.za
Senior account manager
Ryan Sorgente - 082 771 3949
ryan@stuff.co.za
Account manager (Cape Town)
Bernice Blundell - 073 618 1882
bernice@adplacements.co.za
THIS MONTH
ON STUFF.CO.ZA
Haymarket UK
Stuff UK content is published with
the permission of the copyright
holder Haymarket Magazines Ltd
38-42 Hampton Road, Teddington,
Middlesex, TW11OJE
REMEMBER, the
next monthly issue is
ON SALE 22 July
Our logos explained...
The bearer of this accolade
TEST
has gone up against a
WINNER
group of its peers and
emerged victorious.
HOT
BUY
South Africa
A gadget sporting this
badge is a five-star
product, and the one we
would buy, if we were us.
... and a word about prices
Generally, we show the
manufacturer's recommended
price. Occasionally we (or suppliers)
can make mistakes. Please
remember that prices listed in Stuff
are intended as a guide only. We
make every effort to confirm that
all information is correct (and triple
checked) when we go to print.
© Stuff South Africa. All due care will be taken with
material submitted, but the magazine and
publishers cannot be held responsible for loss or
damage. Stuff South Africa assumes no
responsibility to return unsolicited editorial, graphic
or other material. All rights in letters and unsolicited
editorial and graphic material will be treated as
unconditionally assigned for publication and
copyright purposes and material will be subject to
Stuff South Africa's unrestricted right to edit and
comment editorially. Stuff South Africa is fully
protected by copyright and nothing may be
reprinted in whole or part without written
permission from the publisher. While reasonable
precautions have been taken to ensure the
accuracy of advice and information given to
readers, the editor, publisher and proprietor cannot
accept responsibility for any damage or
inconvenience that may arise therefrom.
Stuff is published in Brazil, China, the Czech Republic,
Denmark, France, Germany, Greece, India, Indonesia,
Kazakhstan, Korea, Lithuania, Malaysia, the Middle
East, Morocco, the Netherlands, Norway, Portugal,
Romania, Russia, Singapore, South Africa, Spain,
Taiwan, Thailand, Turkey and the United Kingdom.
C
CO
ON
S
S
ON THE
COVER
p72
p10
p16
HOT STUFF
10 The Hot Three
O Xbox One
O Nokia Lumia 925
O Recon Instruments Jet
18 Vital statistics Nikon D7100
Nikon's new enthusiast dSLR packs some
loaded dice – you win way more than you
pay for
24 Gigapixel
Taking a wide-angle look at tech news
O Pebble OBoeing Supersonic
OAdobe OWindows Blue (8.1)
26 How Google plans to take over your world
From quantum AI to games, the tech
behemoth wants your soul
27 Start menu
The month's best concepts, start-ups,
crowdfunded projects and plain crazy ideas
32 Games
FIFA 14 pre-season fitness test, GTA V
shootout with Saints Row IV
36 Apps
This month's mobile must-downloads
38 Calendar
What's crackin'
p14
p26
p54
p72
6
TESTS
62 Tested Large-sensor compact cameras
Get DSLR-quality pics without the bulk
OFujifilm FinePix X100S O Nikon Coolpix A
OSony DSC-RX1
64 Tested 8in tablets
They're bigger than phablets but smaller
than most tablets. Thablets?
O Amazon Kindle Fire HD 8.9 OApple iPad
Mini OSamsung Galaxy Note 8.0
66 5 of the best Bluetooth speakers
OBraven BRV-1 O JBL Charge OKitSound
Hive OPhilips Fidelio P9 OSony SRS-BTM8
69 5 of the best Tough cameras
These rugged snappers don't fear a thing.
OCanon PowerShot D20 O Fujifilm
FinePix FP60 ONikon Coolpix AW110
O Olympus Stylus Tough TG-2
OPanasonic Lumix DMC-FT5
72 Supertest Android superphones
The best phones in the world, put through
their paces in the toughest test out there
OHTC One OSamsung Galaxy S4
O Sony Xperia Z
94 Tested BlackBerry Q10
It's got real keys! And BB OS10! Rejoice!
CON
C
CO
S
S 07.13
TOP 10
OF
EVERYTHING
Where's the HTC
One sitting?
Which 'phones
have we fallen in
love with? Who's
the new king of
TVs? Find out from
p102
p40
TOP
TEN
p93
OF EVERYTHING
Smartphones
103
Laptops
104
Tablets
105
TVs
106
Compact cameras 108
DSLRs, etc
109
Games
110
Headphones
111
Have your say on the Stuff Facebook
page tinyurl.com/StuffZA
For reviews of products featured in the
top 10s, visit stuff.co.za
Prices quoted are the best available at the
time of printing
SLRs, ETC 109
T
HO
Y
BU
FEATURES
40 Cool List 2013 featuring…
O Philips Fidelio PS1
O Traktor DJ
O Netflix
O Lehmann LA100
O HTC One
O Vine
O 4K
O Songkick Detour
O iMakr Store
O Sony DSC-RX1
O Jaguar F-Type
97 The future is bent
Flexi-tech will change the world, and it'll
change it soon. We talk to the key players
behind the new technology and find out
what it means for the gadgets in your pocket
112 Next big thing? Printer think
Stick another cartridge in the printer, love,
we need a new computer…
PROJECTS
86 Beta yourself Short films
Our tips and tricks for making a movie that's
longer than a Vine but shorter than a Peter
Jackson Middle Earth epic
88 5 ways to… Re-awesomise your iPad 1
Give Apple's original slate a new life as a
studio light, weather station or Win 8 tab
89 Alternagadget Beats Vs in-ear brilliance
Spend a fortune on Dr Dre's Studio cans or
get a pair of Sonys and a DAC instead?
90 How to build the ultimate tech home
Part 2: Storage AKA: You're gonna need
a bigger… hard drive
92 Gadget doctor
Your monthly tech prescription
93 5-minute hacks If nothing else, at least…
Make a hyperlapse movie OSync your
music to your runs O Cook perfect BBQ ribs
p97
8
STUFF SAYS
Olympus OM-D E-M5
1
ATE
UPD
After its success in resurrecting the PEN brand, it was inevitable Olympus would
emblazon the legendary OM moniker across its first compact system camera with
a viewfinder. And boy, does it live up to the name. This is a CSC with pro aspirations:
astoundingly fast AF, 9fps burst shooting, an excellent EVF, weatherproof body,
tons of controls and superb 16MP pics right through to ISO 25,600. Best of all is the
Live Time mode for a live view of long exposures. It's well-priced these days too.
The best compact system
camera so far, boasting
super-fast autofocus and
great advanced features
R16 0
00 +++++
(w/12-50mm lens)
Canon EOS 650D
2
Our favourite DSLR contains a hybrid 18MP CMOS sensor that enables continuous
autofocus during video recording, a responsive touchscreen and 5fps burst shooting.
The 700D is out soon, but it's not a massive upgrade, so the 650D remains a good bet.
3
Pro power has never come at such a reasonable price. A full-frame 24.3MP sensor
combines with accurate 39-point autofocus for stunning results. Dual SD card slots,
built-in flash and 5.5fps shooting speed complete a seriously powerful proposition.
Nikon D600
Sony NEX-7
4
A host of manual photo and video controls are available via its gorgeously minimalist
unmarked knobs, but it's the exceptional quality of its 24.3MP images that really
impresses. We suspect that an updated model may be just around the corner, though.
5
Improvements over our old favourite the D5000 are a vari-angle screen that's
grown to 3in, 1080p video recording and a 16.2MP chip sensitive up to ISO 6400.
Its sensor is amazing in low light, serving up punchy stills and hi-def video.
6
The Canon 60D is a DSLR camera aimed at the serious amateur: a ruggedly built,
feature-stuffed snapper that counts full 1080p video among its charms. An all-round
great choice for the Canon user looking to step up from the entry-level models.
Nikon D5100
Canon EOS 60D
Canon EOS 6D
7
Canon's cheapest ever full-framer is an awesome little SLR with a few clever tricks up its
lens. As well as its all-new 20.2MP sensor, it boasts a GPS receiver for geotagging your
pics and Wi-Fi for direct uploading or remote control from an iPhone or Android device.
8
This Sony is super-capable, with continuous shooting speeds of up to 12fps, a 24MP
sensor, rugged body and an absolutely stunning electronic viewfinder. Despite the A77's
SLR-ish looks, it has to make do with a digital eye viewfinder rather than an optical one.
9
Canon's turned up fashionably late to the mirrorless interchangeable-lens party - but
superbly dressed. The M is like a small EOS 650D, easy to operate, with an 18MP APS-C
hybrid CMOS sensor, DIGIC 5 processing, a fast shutter and ISO extendable to 25600.
10
Like its D3100 predecessor, the D3200 has an excellent photography-course-in-acamera Guide mode, although that's no longer the star attraction. This entry-level DSLR
has a very non-entry-level 24MP sensor capable of producing truly professional results.
Sony SLT-A77
Canon EOS M
Nikon D3200
R6 400
(w/18-55mm lens)
+++++
R23 0
00
(body only)
+++++
BEST FOR
ALL-ROUND
VALUE
BEST FOR
SHOOTING
LIKE THE PROS
R16 000
(w/18-55mm lens)
+++++
R5 700
(body only)
+++++
R9 000
(body only)
+++++
R19 000
(body only)
+++++
R14 300
(w/16-50mm lens)
+++++
R8 700
(w/22mm lens)
+++++
R5 700
(body only)
++++,
BEST FOR
NEWBIE
SNAPPERS
PLUG INTO STUFF'S
SOCIAL NETWORK
facebook.com/stuffsa
106
T
HO
Y
BU
NEW
TVs
STUFF SAYS
Samsung UE55F8000
1
The world's best TV? No question. The 55in F8000 has the best picture, the
smartest features, the biggest sound and the most innovative controls of any telly
out there. This is a TV you'll never tire of watching, which is just as well, because
there's plenty to watch on it: Freeview, Freesat and all the riches of the revamped
Smart Hub, complete with Netflix, LoveFilm, iPlayer and more. Other highlights
include the TiVo-style S-Recommendation tool and the Touch remote. Superb.
Samsung UA55ES8000R
2
Samsung's stunning 8000-series 55in/140cm LED TV range is available in four models,
46- through 65-inch (117 to 165cm) and all are excellent. As well as great 2D and 3D the
Smart dashboard can be controlled through voice or gesture. Pricey, but superb picture.
3
With seven pairs of 3D specs in the box – two of which allow for full-screen gaming –
this passive 3D TV is great for social occasions. It's just been updated with the Game
World portal, featuring 2D and 3D games – some playable with LG's Magic Remote.
LG 47LM9600
Samsung UA55ES6200R
4
The 3D upscaler and HyperReal image processing engine now have more horsepower to
produce a better picture, it has both wifi and wired LAN and there's 3D glasses thrown in.
A quality buy at the price.
5
While not the very latest incarnation, outperforms most other sets in this class. It's a
safe buy; there's wifi and wired LAN, no corners cut and with the superb build quality
you'll get great performance for the longer term. Great price, but no 3D glasses.
6
The strong picture quality and no-fuss, passive 3D are matched by great styling, minimal
brushed metal finishes and an "almost gone" 5mm bezel. Wifi and LAN, 4 pairs of
glasses, dual fiull screen gaming, Magic remote and Smart dash come standard.
7
Surprisingly for this price range LG has cut no corners. Picture quality is welll above
average then there's LG's passive Cinema 3D, smart dashboard for downloading apps
and wired and wireless networking and a bevy of HDMI and USB ports.
8
9
10
Sony KDL-46HX750
LG 47LM8600
LG 42LM6610
Sony 40EX650
Featuring Sony's top-end X-Reality image engine this edge-lit LED panel outclasses
sets costing much more. There's no 3D but this smart TV holds the sweet spot for
pairing great picture quality with smart connectivity.
Samsung 32ES5600
It's definitely trailing in the high spec TV race, but as a second screen for your guest room,
garage or kitchen you won't be embarrassed by this full HD picture, the 100Hz motion
smoothing and video capable USB port panel.
Sony KDL-24EX430
It's small but potent with the full HD image quality capabilities of it's much bigger siblings
in this range. With a reasonably slim profile its the perfect size for the kitchen or
workshop to catch the news or cricket score.
STUFF
PICK
NEW
BLU-RAY
Start saving up now – the
super-smart Samsung
F8000 is the TV your eyes
have been waiting for
R35 000 +++++
R40 000
+++++
R20 000
+++++
BEST FOR
3D MOVIES
WITH FRIENDS
R19 500
+++++
R12 000
+++++
R17 000
+++++
BEST FOR
SPECS-FREE
3D VIEWING
R9 000
+++++
R6 300
++++,
R5 500
++++,
BEST FOR
BUDGET BIGSCREEN FUN
R2 500
+++,,
Jack Reacher
Life of Pi
Pitch Perfect
Quartet
"So we need someone to play
this 6'5" action hero… how
about guarantee of box office
success Tom Cruise?" As it is,
'ol Mr Scientology's modest
height doesn't get in the way
of a hard-hitting performance.
Add a fairly intelligent plot and
some brilliantly written action
and you've got a solid thriller.
++++,
An overly life-affirming tale,
told through the medium
of overabundant CGI. Yes, it's
a technical masterpiece, but
overall the film suffers from a
long runtime and somewhat
saggy pace. Those metaphors
about spirituality and morality
are also rammed down your
throat slightly too far.
+++,,
Musical comedies aren't only
aimed at teenage girls, as this
one demonstrates. Pitch
Perfect is weirder than Glee
would ever dare to be – and
much funnier – and while it
doesn't stand up to much
scrutiny, 30 Rock scribe Kay
Cannon's script ensures it's
always an entertaining romp.
++++,
A few times a year, Hollywood
throws a bone to the older
crowd. This one is destined to
be double-billed with The Best
Exotic Marigold Hotel. It's
sincere and endearing, with
some great performances, but
there's not much here that
we've not seen before.
Charming, but rather clichéd.
+++,,
HEADPHONES 111
T
HO
Y
BU
1
STUFF SAYS
Sennheiser RS220
The specialised lossless encoding and transmission system makes these
the closest we've ever come to perfect wireless sound across all music
types, and despite its intimidating size, the low weight and luxuriant fit
helps you forget you're wearing headphones at all.
Sony MDR-1R
2
You get the feeling Sony put everything they know about sound into these headphones,
cutting no corners and sparing no expense. The result is an audiophile's delight: a "true",
but still exciting sound across all music genre. Pricey and too big to lug around.
3
Hifi maker Harmon Kardon has managed to meet and exceed unreasonably high
expectations. Noise cancelling helps you appreciate the full range, detail and balance of
this rousing audio performance. Smaller CL and cordless BT models also available.
4
5
6
7
Harmon Kardon NC
Sennheiser Momentum
Luxuriantly finished in soft leather these high-end Sennheisers are designed to be out
and about. They're light and extremely comfortable. Whether you're on the couch or at
the airport, the signature uncompromised sound quality is now always at hand.
Sony XBA3
They're not cheap but they are, quite simply the best sounding in-ear phones you can get.
Balanced Armature technology means there's dedicated high, mid and bass frequency
drivers, and standard one-driver earbud models aren't even on the same playing field.
Skullcandy Navigator
In this first headset sporting Skullcandy's own Rex 40mm drivers emphasis has shifted
away from making a brash personal fashion statement towards sound quality. They're a
practical size and weight, they're extremely comfortable and they sound fantastic.
Audiofly AF78
The unusual design of these phones extends from odd-shaped memory-foam buds to
a combination of both dynamic and balanced armature drivers, but the neutral sound is
perfect for music purists. The package includes a bunch of neat accessories.
Monster DNA
8
These well-padded on-ear cans deliver a good dose of bass and frenetic highs that
brings the bounce to contemporary pop. We like the compact shape, compared to some
gratuitously oversized competitors.
9
It's past time for Apple to upgrade its standard buds and this thoughtful re-design is right
on the money, from the unique, sculpted shape to the common-sense bass expansion
ports. Not the ultimate but at this price who cares?
10
Apple Earpods
Marley Zion
Purpose built to deliver all kinds of bass-heavy pop music these buds do a great job
getting the best sound out of your smartphone. They'll get attention on the street and,
made from a variety of recycled materials, they also make a gnarly social statement.
STUFF
PICK
NEW
MUSIC
Wireless was never a word
for lossless or fidelity until
Sennheiser made it so.
The ultimate cans.
R5 400 +++++
R2 500
++++,
BEST FOR
ON-EAR
EXCELLENCE
R3 150
++++,
R4 330
++++,
R800
++++,
BEST FOR
IN-EAR
EXCELLENCE
R1 000
++++,
R1 420
++++,
BEST FOR
SHUTTING OUT
THE WORLD
R2 000
++++,
BEST FOR
QUALITY AND
STYLE IN ONE
R300
++++,
R600
+++,,
Kurt Vile – Wakin On
A Pretty Daze
The Knife – Shaking
The Habitual
British Sea Power –
Machineries Of Joy
Kurt Vile's mumbling, slacker
rock is normally so laidback it's
practically horizontal and while
Wakin On A Pretty Daze is
hardly a Ramones-esque blast,
it's definitely his sunniest, most
upbeat record yet. It might not
reinvent the wheel, but then it
can't really be bothered.
+++++
Listening to this album through
a good pair of headphones
is like having a pair of telepathic
crows squawking a sexually
arousing nightmare directly
into your mind, in the dark,
in Sweden. All of which makes
it perfect for commuting, or
maybe a spot of shopping.
+++++
Like sunny days, roast
potatoes and test match
cricket, BSP are incapable of
being anything other than
brilliant. Their fifth album is
slightly more abrasive than its
predecessor, but that's no bad
thing and the title track is up
there with their very best.
++++,
BEST FOR
TUNE-LOVING
EARTH FANS
The Besnard Lakes –
Until In Excess,
Imperceptible UFO
The Besnard Lakes make huge,
riff-heavy alt-rock that sounds
like glaciers tearing new valleys
through Alaska… or at least they
did. A subtler beast than 2010's
'…Are The Roaring Night', this is
more iceberg than glacier, but
it's no less lovely for it.
++++,
OUR PRICES
Prices in Hot Stuff
are RRPs. Prices in
features, tests and
Top 10s are the best
we could find from
a reputable online
retailer at the time
of going to print.