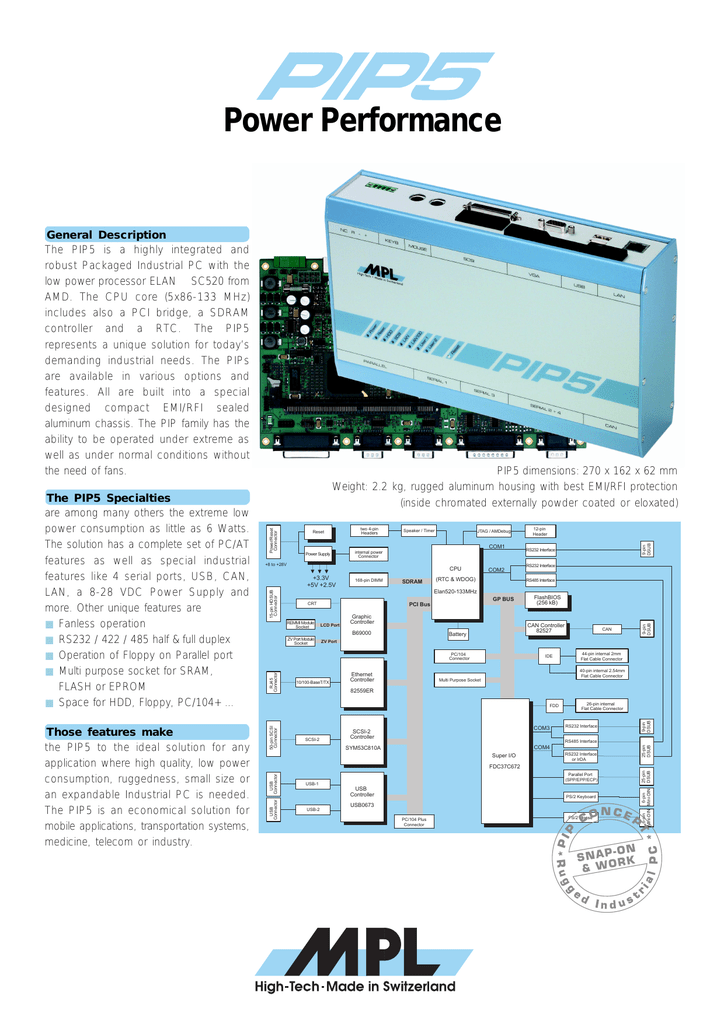 Power Performance
General Description
The PIP5 is a highly integrated and
robust Packaged Industrial PC with the
low power processor ELAN™ SC520 from
AMD. The CPU core (5x86-133 MHz)
includes also a PCI bridge, a SDRAM
controller and a RTC. The PIP5
represents a unique solution for today's
demanding industrial needs. The PIPs
are available in various options and
features. All are built into a special
designed compact EMI/RFI sealed
aluminum chassis. The PIP family has the
ability to be operated under extreme as
well as under normal conditions without
the need of fans.
PCI Bus
REMMI Module
Socket
LCD Port
ZV Port Module
Socket
ZV Port
Graphic
Graphi
Controller
Controll
cs
B69000
er
B690
00
133MHz
RS485 Interface
GP BUS
RJ45
Connector
50-pin SCSI
Connector
SCSI-2
USB-2
IDE
44-pin internal 2mm
Flat Cable Connector
Multi Purpose Socket
FDD
COM3
SCSI-2
SCSI
Controller
Controll
-2
SYM53C810A
er
SYM53C81
26-pin internal
Flat Cable Connector
RS232 Interface
RS485 Interface
COM4
Super I/O
Super
FDC37C672
I/O
FDC37C6
72
USB
US
Controller
Controll
B
USB0673
er
USB06
73
CAN
40-pin internal 2.54mm
Flat Cable Connector
Ethernet
Ethern
Controller
Controll
et
82559ER
er
82559
ER
0A
USB-1
FlashBIOS
FlashBI
(256
kB)
OS
CAN Controller
CAN
82527
Controller
Battery
PC/104
Connector
10/100-BaseT/TX
RS232 Interface
9-pin
DSUB
CRT
SDRAM
COM2
(RTC &CP
WDOG)
(RTC U
und
WDOG)
Elan520-133MHz
Elan520-
RS232 Interface
or IrDA
Parallel Port
(SPP/EPP/ECP)
PS/2 Keyboard
PC/104 Plus
Connector
PS/2 Mouse
25-pin
DSUB
168-pin DIMM
RS232 Interface
9-pin
DSUB
CPU
+3.3V
+5V +2.5V
9-pin
DSUB
internal power
Connector
12-pin
Header
25-pin
DSUB
Power Supply
+8 to +28V
15-pin HDSUB
Connector
JTAG / AMDebug
6-pin
6-pin
Mini-DIN Mini-DIN
Power/Reset
Connector
Speaker / Timer
COM1
USB
Connector
Those features make
the PIP5 to the ideal solution for any
application where high quality, low power
consumption, ruggedness, small size or
an expandable Industrial PC is needed.
The PIP5 is an economical solution for
mobile applications, transportation systems,
medicine, telecom or industry.
two 4-pin
Headers
Reset
USB
Connector
The PIP5 Specialties
are among many others the extreme low
power consumption as little as 6 Watts.
The solution has a complete set of PC/AT
features as well as special industrial
features like 4 serial ports, USB, CAN,
LAN, a 8-28 VDC Power Supply and
more. Other unique features are
■ Fanless operation
■ RS232 / 422 / 485 half & full duplex
■ Operation of Floppy on Parallel port
■ Multi purpose socket for SRAM,
FLASH or EPROM
■ Space for HDD, Floppy, PC/104+ ...
PIP5 dimensions: 270 x 162 x 62 mm
Weight: 2.2 kg, rugged aluminum housing with best EMI/RFI protection
(inside chromated externally powder coated or eloxated)
Technical Features PIP5
Electrical
Processor
1 x SCSI Interface
Parallel Port
E-IDE Port
FDD Port
CAN Bus
Expansions
Keyboard
Mouse
Watchdog
Timer
Indicator
Speaker port
Reset Button
AMD ElanTMSC520
32-Bit, low power CPU, integrated PCI host bridge
SDRAM controller and RTC
256 kB Flash EEPROM, easy updateability
Up to 256 MB SDRAM
Supports SRAM, FLASH, EPROM
backed with on-board battery, field exchangeable
Resolution up to 1280 x 1024
flexible panel support for STN and TFT
2 ports can be modified optionally to RS422/485
half & full duplex, electrically fully isolated
USB 1.1 (up to 12 Mb/s)
10BaseT /100BaseTX
Fast 10/100Mbit/s
Fast SCSI-2 compatible
SPP, EPP, ECP (IEEE1284)
ANSI Standard mode 0, 1 and 2; up to 4 drives
One port for up to 2 drives
Opto-isolated CAN Bus inerface (CAN Spec. 2.0)
Full 16-bit PC/104 and 32-bit PC/104+ interface
PS/2 interface
PS/2 interface
distinct keyed write sequence
Two 16/32-bit TTL Timer output signal
6 activity LED's + 2 user definable
Easy connection of speaker
On chassis (protected) and a remote reset button
Industry-standard Am5x86-133 MHz
100/133 MHz operating frequency,
16 kbytes write-back/through cache
MPL engineered BIOS (General Software)
168-pin DIMM socket for one module
28 & 32-pin DIL, up to 512kB memory size
CMOS setup can be saved in EEPROM
15-pin D-SUB, refresh rate up to 85 Hz
50-pin remote MMI module socket
2 x 9-pin D-SUB and
1 x 25-pin D-SUB connector
2 x Type A connectors
RJ45
supports IEEE802.3 auto negotiation
50-pin SCSI connector
25-pin D-SUB connector
Standard 44-pin & 40-pin header
Connection for internal or external device
9-pin D-SUB connector
Physical / Power
Chassis
Size & Weight
Power
Temperature range
Humidity
Rugged chromated aluminum with EMI protection
270 x 162 mm, with PIPPCI 440 x 162 mm
8 – 28VDC input range
–200C up to +600, optional –400 up to +750C
5% - 95% non condensing
DIN-rail, flange mounting, no ventilation holes
Height depending on needs 62/83/120 mm / 2.2kg
Consumption typically < 7 Watt
No fan, no openings, values at full CPU load
Optional coating available
BIOS
Memory
Multi Purpose Socket
RTC
Graphic
4 x Serial Ports
2 x USB Interface
1 x Ethernet
6-pin mini DIN connector
6-pin mini DIN connector
Programmable time-out
available over 4-pin header
Power, Reset, HDD, SCSI, LAN, LAN100
Available over 4-pin header
Standard Compliance
The PIP5 is designed to meet or exceed the most common standards. Particular references are:
EMC
EN 55022, EN 55024, EN 61000, MIL-STD-461E
Shock & Vibration
EN 60068
Environmental & Safety
EN 50155, MIL-STD-810-F, EN 60601, EN 60950
Approval Lists
CE, EN 60945, IACS E10
Internal PIP Expansions, Options and Operating Systems
• Over the PC/104 & PC/104-Plus
• 6,5" LCD and Touch built in PIP-chassis
- Digital & Analog I/O's
• 12" - 19" Panel PCs in special aluminum
- Fieldbus (CAN, PROFIBUS...)
or stainless steel case (fanless, IP65/NEMA4)
- Or any other PC/104 Module
• Operating systems:
• Hard Disks, Flash Disks, CF
PIP's are 100% PC/AT compatible therefore
• CD-ROM, PCCARD
any PC operating system (Windows, LINUX,
• PCI and PMC expansions
RTOS ...) can be used
MPL AG, Täfernstrasse 20, CH-5405 Baden-Dättwil
Tel. +41 (0)56 483 34 34, Fax +41 (0)56 493 30 20
Email: info@mpl.ch, Home page: www.mpl.ch
PIP5 Flyer 07/07
PIP5 versions
– PIP5-1 fully equipped in standard
temperature range
– PIP5-2 without SCSI
– Extended temperature range
– Coated
– PIP5-Cx depopulated (less features)
and/or other color, customer label...