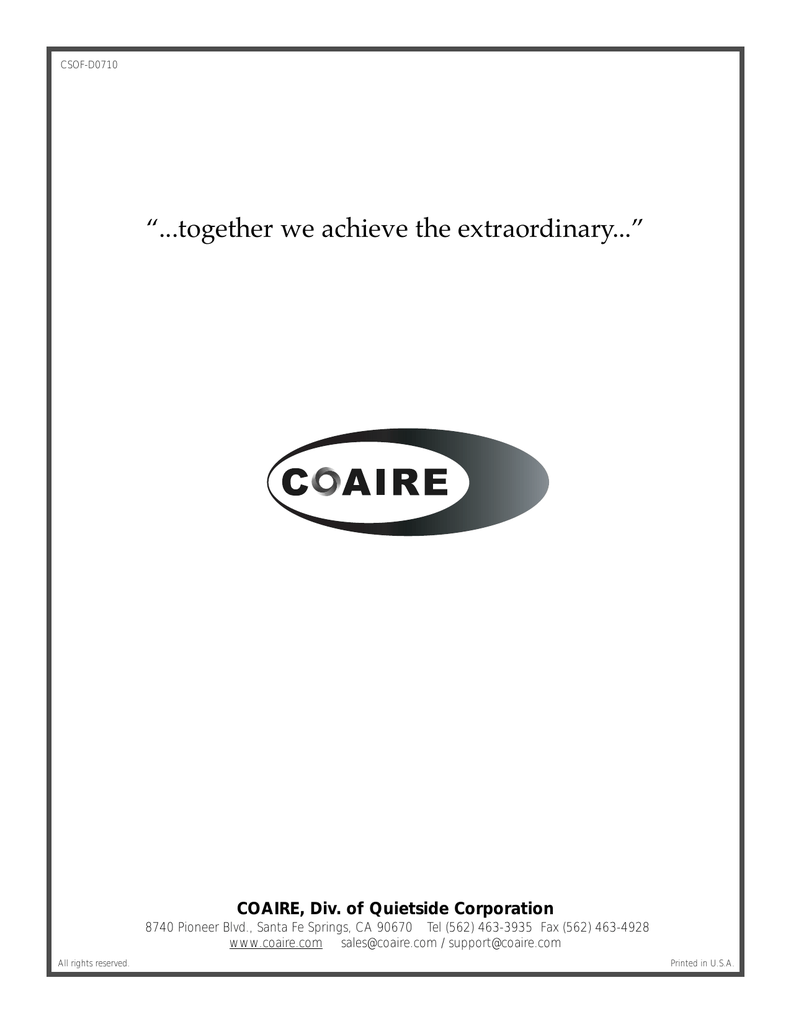 CSOF-D0710
"...together we achieve the extraordinary..."
COAIRE, Div. of Quietside Corporation
8740 Pioneer Blvd., Santa Fe Springs, CA 90670 • Tel (562) 463-3935 Fax (562) 463-4928
www.coaire.com • sales@coaire.com / support@coaire.com
All rights reserved.
Printed in U.S.A.
COAIRE, Div. of
Quietside Corporation
OILLESS SCROLL AIR COMPRESSOR
Maintenance Manual
and Parts List
MODELS
CSOF-D3PL(H)
CSOF-D5PL(H)
SERIAL NO.
MODEL NO.
CAUTION
For proper and safe use of the compressor, please follow all instructions and safety precautions as identified in this manual, along
with general safety regulations and practices.
SAFETY AND PRECAUTIONS
Before you install the air compressor you should take the time to carefully read all the instructions contained in this
manual. Electricity and compressed air have the potential to cause severe personal injury or property damage. Before
installing, wiring, starting, operating or making any adjustments, identify the components of the air compressor
using this manual as a guide. The operator should use common sense and good working practices while operating
and maintaining this unit. Follow all procedures and piping accurately. Understand the starting and stopping
sequences. Check the safety devices in accordance with the following procedures contained in this manual.
Maintenance should be done by qualified personnel, accurately with proper tools. Follow the maintenance schedule
as outlined in the manual to ensure problem free operation after start up.
SAFETY AND PRECAUTIONS
BEFORE INSTALLING THE COMPRESSOR OR PERFORMING
ANY MAINTENANCE READ THIS MANUAL CAREFULLY.
WARNINGS
COMPRESSED AIR AND ELECTRICITY ARE DANGEROUS. BEFORE DOING ANY WORK ON THIS UNIT, BE SURE THE
ELECTRICAL SUPPLY HAS BEEN SHUT OFF(LOCKED AND TAGGED) AND THE ENTIRE COMPRESSOR SYSTEM HAS
BEEN VENTED OF ALL PRESSURE.
1. Do not remove the cover, loosen or remove any fittings, connections or devices when this unit is operating or
in operation. Hot liquid and air that are contained within this unit under pressure can cause severe injury or
death.
2. The compressor has high and dangerous voltage in the motor, the starter and control box. All installations
must be in accordance with recognized electrical procedure. Before working on the electrical system, ensure
that the system's power has been shut off by use of a manual disconnect switch. A circuit breaker or fuse
switch must be provided in the electrical supply line to be connected to the compressor. The preparation work
for installation of this unit must be done on suitable ground, maintenance clearance and lightning arrestors
for all electrical components.
3. Do not operate the compressor at a higher discharge pressure than those specified on the compressor
nameplate. If so an overload will occur. This condition will result in electric motor compressor shutdown.
4. Use only safety solvent for cleaning the compressor and auxiliary equipment.
5. Install a manual shut off valve(isolation type) in the discharge line for service work.
6. Whenever pressure is released through the safety valve during operation, it is due to excessive pressure in the
system. The cause of excessive pressure should be checked and immediately corrected.
7. Before doing any mechanical work on the compressor,
a) Shut down the unit.
b) Electrically isolate the compressor by use of the manual disconnect switch in the power line to the unit.
Lock and tag the switch so that it cannot be operated.
c) Release all compressed air within the system and isolate the unit from any other sources of air.
8. Allowing the unit lubricants to enter into the plant air system must be avoided at all times. Air line separators,
which are properly selected and installed, can reduce any liquid carry-over close to zero.
9. Before starting the compressor, the maintenance instructions should be thoroughly read and understood.
10. After maintenance work is completed, covers must be securely closed.
11. For questions contact your distributor before proceeding.
1
COAIRE, Div. of Quietside Corporation
STATEMENT OF WARRANTY TERMS & CONDITIONS
COAIRE's oilless scroll compressors are warranted to be free of defects in materials and workmanship under
proper use, installation, and application. This warranty shall be for a period of 15 months from date of
shipment from our factory or other stocking facilities or 12 months from date of installation. Proof of
installation date will be required. All air pumps outside the U.S. and Canada carry a parts only warranty.
ALL FREIGHT DAMAGE CLAIMS ARE NOT THE RESPONSIBILITY OF THE MANUFACTURER AND ARE NOT
COVERED UNDER WARRANTY AS ALL PRODUCTS ARE SHIPPED F.O.B. SHIPPER.
PLEASE DIRECT ALL FREIGHT CLAIMS TO THE SHIPPER IN QUESTION.
MAINTENANCE AND ADJUSTMENTS
This warranty does not apply to any unit damaged by accident, modification, misuse, negligence, or
misapplication. Damage to pumps by exposure to ammonia, any other corrosive substance or sub-freezing
environment will be considered misuse.
Any air pumps, part or material found defective will be repaired, replaced or refunded, at the sellers option
free of charge, provided that COAIRE is notified within the above stated warranty period. All returns of
allegedly defective equipment must have prior written authorization.
Said authorization may be obtained through our service department. All air pumps, parts, materials must
be returned freight prepaid to the Manufacturer's factory within 30 days of return authorization date.
Any shipment returned to the factory collect will be refused.
If an item is found to be warrantable, the repaired item or replacement will be returned normal ground
freight prepaid within the continental United States and Canada. Expedited shipment costs are the
responsibility of the requestor.
Any replacement part or material is warranted only to the extent of the remaining warranty period of the
dryer or to the extent as provided by the supplier, whichever is longer.
IDENTIFICATION PLATE
The identification plate is located on the side of the air pumps and shows all the primary data of the pump.
Upon installation, fill in the table on the previous page with all the data shown on the identification plate.
This data should always be referred to when calling the manufacturer or distributor. The removal or
alteration of the identification plate will void the warranty rights.
DISCLAIMER
The warranty does not cover any responsibility or liability for direct or indirect damages to persons, or
equipment caused by improper usage or maintenance, and is limited to manufacturing defects only. Refer
to COAIRE Warranty policy manual for travel, mileage and special charge considerations. The warranty will
be immediately voided if there are changes or alterations to the compressor.
WHO TO CONTACT IF YOU HAVE A WARRANTY CLAIM:
COAIRE, Div. of Quietside Corporation
(888)7coaire, 726-2473 • Phone (562) 463-3935 • Fax (562) 463-4928
8740 Pioneer Blvd., Santa Fe Springs, CA 90670
All freight damage claims should be filed within15 working days and should be directed to the carrier
2
COAIRE, Div. of Quietside Corporation
CONTENTS
1. SAFETY CAUTIONS ............................................................
4
2. BASIC SPECIFICATION .........................................................
5
2.1 General Data ..................................................................
5
2.2 Compressor Outside View ...............................................
6
3. INSTALLATION, WIRING AND PIPE PRECAUTIONS ............ 7
3.1 Product Check ................................................................. 7
3.2 Machine Movement ........................................................
7
3.3 Installation ......................................................................
8
3.4 Ventilation Condition ......................................................
8
3.5 Piping .............................................................................. 9
3.6 Wiring ............................................................................. 9
4. OPERATION METHOD ......................................................... 11
4.1 Trial Operation.................................................................. 11
4.2 General Operation .......................................................... 14
5. COMPRESSOR STRUCTURE ................................................. 16
6. WIRING DIAGRAM .............................................................. 17
7. PERIODIC CHECK UP AND MAINTENANCE ....................... 18
7.1 Maintenance Standard .................................................. 18
7.2 Inspection Method .......................................................... 20
8. CAUSES AND REMEDIES FOR PROBLEM ........................... 22
WARRANTY CLAIM REPORT ..................................................
23
STARTUP REPORT ...................................................................
24
3
COAIRE, Div. of Quietside Corporation
1. CAUTIONS
CAUTIONS Please be Please be aware of the dangers that can be caused.
If the danger can not be prevented, loss of life or injury can be caused.
Please install the product in areas free of explosives (acetylene, propane
gas, etc) or flammable substances. In case of operating the product in
flammable environment, fire or explosion can be caused.
Please make sure the circuit breaker has been powered down before
inspection or repairing or maintenance work. If you perform inspection or
repair without powering down the circuit breaker, electric shock or injury
can occur. When connecting power, make sure to use Crimp-Type
terminal. Please check the connecting area and supply power after all
procedures have been completed. Always comply to the National Electric
Code and any local requirements.
When the circuit breaker is turned on during the operation, do not touch
the rotating parts (fan, pulley, belt, etc). Your hand may get stuck to the
product. When the compressor is operating, the product will be operated
or stopped automatically based on the pressure. Please be aware of the
danger.
Compressed air has great power. Flying parts can cause serious injury.
Before stopping the compressor, always make sure to turn off the main
power and eliminate the pressure of all elements related to the
compressor or pipes.
In closed space, install compressor ventilation fan and maintain the
ambient temperature below 104'F (40°C) and please make sure the
average temperature is below 85'F (30°C). Please install the product in
areas free from direct sunlight, rain, dust, corrosion or toxic gas.
Operating in inappropriate areas can cause product deterioration or
damages.
When opening the door or disassembling the panel for inspection, repair
or maintenance during or after operation, do not touch the product
directly. And do not insert flammable substance in hot areas such as
discharge pipe, after-cooler, basic compressor, etc. There can be danger
of fire or burns.
Do not modify the compressor. Do not use the product for purpose other
than air compression. Product can deteriorate or be damaged. Please use
standard parts for parts replacement related to the compressor repair.
Consult your distributor
4
COAIRE, Div. of Quietside Corporation
2. BASIC SPECIFICATION
2.1 General Data
1. Noise is measured in anechoic room.
2. Dimension is the outline dimension except protrusion as discharge ball valve
3. Figure inside ( ) is high pressure specifications
5
COAIRE, Div. of Quietside Corporation
2.2 Compressor Outside View
• CSOF-D3(5)PL(H)
6
COAIRE, Div. of Quietside Corporation
3. INSTALLATION, WIRING
AND PIPING PRECAUTIONS
3.1 Product Check
1. Please check whether the product you have received is the one you have ordered.
2. Open the inspection door on the front and separate fixed support for moving. <See Fig. 2>
3. Please check for loosened bolts or nuts in each part.
<Fig. 2>
3.2 Machine Movement
3.2.1 Use Forklift or Hand Car
When moving the product using the forklift or hand car,
please protect the product using cushioning to prevent
external damage. Check if the fork has been inserted
completed to the hole before moving.
<See Fig. 3>
3.2.2 Using the Crane
<Fig. 3>
Protect the product from direct contact with chain
or rope on the external cover before moving.
<See Fig. 4>
<Fig. 4>
7
COAIRE, Div. of Quietside Corporation
3.3 Installation
3.3.1 Installation Precautions
Our compressor is for indoor use. Sufficient amount of room where it is easy to inspect and maintain
the machine is needed.
Please select installation location considering below conditions.
1)
make sure the location has good air circulation with low temperature and humidity.
• Surrounding temperature must not rise above 104°F(40°C.)
• Ventilation fan must be installed in locations with low ventilation.
2)
Please choose a location with less dust.
3)
Please choose locations with no toxic gas.
4)
Space needed for inspection and maintenance must be secured.
• For disassembled inspection for compressor, secure enough space as shown in <Fig. 5>.
5)
This product has weak vibration. Therefore, it may not create negative effect in the surrounding.
However, the ground solidity must be strong enough to endure total weight of the machine.
6)
Please make sure the range of voltage change is within 10%.
7)
If the noise created is reflected on the wall, the noise may increase compared to the noise
of normal operation.
<Fig. 5>
3.4 Ventilation Condition
In case of bad indoor ventilation in compression room, the discharge air temperature may rise.
Please refer to the table below and make sure the compression room has enough ventilation.
Models
Fan Air Flow, cfm(m /min)
3
8
CSOF-D3PL(H)
CSOF-D5PL(H)
883(25)
1342(38)
COAIRE, Div. of Quietside Corporation
3.5 Piping
When installing the pipe of compressed air, make sure less bindings, connections or valve are used for
the minimum compression loss as possible. Greater loss of compression causes higher setting of
discharge compression of the compressor, thus causing loss of power. Also, when there is an area that
is lower than the other in piping, moisture may accumulate thus increasing the pipe resistance. Also,
pipe may explode due to freezing in the winter. Therefore, please consider the moisture management
sufficiently enough prior to pipe installation.
Precautions
1.
Make sure the length of the pipe is as short as possible for less loss of pipe compression
and please reduce the number of connecting joints such as valve, elbow.
2.
Please install drain plug in the lower area of the pipe.
3.
Please install bypass pipe on the compressor to facilitate maintenance.
4.
There is a check valve installed inside the compressor. Do not install separate check valve in
the pipe. When installed, there can be an error in load-unload transformation.
5.
When connecting the compressor exit to the pipe, connect with rubber hose
so the compressor vibration is not transferred to the pipe.
6.
In case of stopping the operation frequently, it is desirable to install separate tank.
3.6 Wiring
1)
Wiring is already completed inside the compressor. Just connect the power adaptor to
complete wiring.
2)
Please use terminal when connecting power adaptor.
3)
Power circuit breaker must be installed and short circuit must be protected through
short- circuit breaker.
4)
Please open the front control panel.
5)
Insert power cable through the power cable hole (rubber attachment) on the right surface
to connect to electric connector.
6)
Please refer to the table below to select power cable thickness, terminal size and applying
circuit breaker.
9
COAIRE, Div. of Quietside Corporation
Cable, AWG(mm2)
Models
Power
230V / 460V
Ground
CSOF-D3PL(H)
14 (2.0)
12(3.5)
CSOF-D5PL(H)
12(3.5) / 14(2.0)
12(3.5)
Cable and Terminals
Circuit Breaker
Models
Fuse TypeB
CSOF-D3PL(H)
30A
15A / 10A
CSOF-D5PL(H)
30A
30A / 15A
Fuse and Circuit Breaker
10
COAIRE, Div. of Quietside Corporation
230V / 460V
4. OPERATION METHOD
4.1 Trial Operation
1) Please make sure the power cable and connector are connected.
2) Please make sure the drain valve is closed. <See Fig. 6>
<Fig. 6>
3) Turn "ON" the power circuit breaker. <See Fig. 7>
<Fig. 7>
11
COAIRE, Div. of Quietside Corporation
4)
Please make sure the power lamp has been turned on. At the same time, check if the alarm lamp
is turned off. If the temperature sensor code is detached, alarm lamb will be turned on. At this
time, please reconnect temperature sensor cord. <See Fig. 8>
<Fig. 8>
5)
Please close the discharge ball valve.
<See Fig. 9>
<Fig. 9>
6-1) Press ON button on the control panel of the AIR DRYER and keep running the AIR DRYER
more than 5 minutes. <See Fig. 10>
6-2) Press ON button on the control panel of the compressor and check the compressor is running.
<See Fig. 10>
6-3) If the AIR DRYER is running less than 5 minutes, It may be cause of condensate water.
<Fig.10>
12
COAIRE, Div. of Quietside Corporation
7)
When the pressure does not rise, set Three
Phase to "OFF" for power circuit breaker and
change two phases from the power within
electronic switch. (Other than that, please check
the cause for appropriate repairing measure from
the [Cause and Remedies for Problem].)
<See Fig. 11>
<Fig. 11>
8)
DISCHARGE PRESSURE CHECK
Using the compression pressure gauge, check
if the pressure rises to the level set after the
operation. If the air tank pressure rises up to
115(140) psig, the operation stops automatically.
Figure inside ( ) is high pressure specification.
<See Fig. 12>
<Fig. 12>
9) CHECK THE PRESSURE
SWITCH OPERATION
Open the discharge ball valve and reduce the
pressure and check to make sure if the product
operates automatically at 92(119) psig.
<See Fig. 13>
<Fig. 13>
13
COAIRE, Div. of Quietside Corporation
10) STOP
Press OFF button in the control area of the
control box. Then, check and make sure if the
discharge pressure is 0 psig. Here, the sound
of discharging compressed air is not a sign of
damage. Then press OFF button on the control
panel of the AIR DRYER. <See Fig. 14>
<Fig. 14>
4.2 General Operation
1)
Turn on the power circuit breaker and check and make sure ON lamp is on. <See Fig. 15>
<Fig. 15>
2)
START COMPRESSOR
2-1) Press the ON button on the control panel of the AIR DRYER. <See Fig. 14>
2-2) After 5 minutes, press the ON button on the control panel of the compressor.
2-3) Check the pressure increasing by the compressor pressure gauge.
14
COAIRE, Div. of Quietside Corporation
3)
DRAIN DISCHARGE
Discharge periodically every day at a point of pressure rise immediately after the engine start.
<See Fig. 16>
<Fig. 16>
4)
CHECK DISCHARGE PRESSURE
Check if the air tank compression rises up to 115/140psi[8.0/9.9kgf/cm2(g)].
5)
STOP
Press OFF button and check if the compressor had stopped operating. Then press OFF button on the
control panel of the AIR DRYER. If it counter-spins for more than five seconds after turning off the
power, the check valve sheet may be damaged. In that case, exchange the check valve.
6)
TURN OFF THE POWER CIRCUIT BREAKER
When stopping the compressor for a long period of time,
turn "OFF" the power circuit breaker. <See Fig. 17>
<Fig. 17>
15
COAIRE, Div. of Quietside Corporation
5. COMPRESSOR STRUCTURE
CSOF-D3(5)PL(H)
16
COAIRE, Div. of Quietside Corporation
6. WIRING DIAGRAM
CSOF-D3(5)PL(H)
17
COAIRE, Div. of Quietside Corporation
7. PERIODIC CHECK UP AND MAINTENANCE
7.1 Maintenance Standard
• Low Pressure Specification(CSOF-D3(5)PL(H)
18
COAIRE, Div. of Quietside Corporation
• High Pressure Specification( CSOF-D3(5)PL(H)
Here, ° means that check up is needed and • means exchange is necessary.
# mark requires repair of professional serviceman. In that case, please contact the agency or the shop where you
have purchased the product. (Perform $ only upon initial operation and perform annual check up (every 2,500Hr).
Maintenance Standard (running time) is the figure computed from standard usage condition. In case of bad
operation condition, reduce the period of usage and perform periodic check up. In particular, the product can be
highly affected by the surrounding temperature. Therefore, the surrounding temperature is set to less than
104°F(40°C) and annual average temperature of less than 86°F(30°C).
Maintenance standard is not the guarantee period.
Standard Use Condition : Less than 8 hours every day, good ventilation and surrounding temperature of
35.6°F-104°F(2°C- 40°C).
19
COAIRE, Div. of Quietside Corporation
7.2 Inspection Method
• In order to use the compressor in good condition for a long period of time, it is necessary to
perform periodic inspection and maintenance.
DAILY INSPECTION
• Drain Discharge
To discharge water compressed in the tank, use the drain valve in the tank and discharge
every day in a point of pressure rise immediately after operation.
INSPECT EVERY 400 HOURS
• Filter element cleaning, exchange <See Fig. 20>
1. Separate intake filter to remove the element.
2. Clean by air blow or white gasoline.
3. In case of severe contamination, exchange the filter element.
<Fig. 20>
• Intake Filter Cover Cleaning
Clean square hole with cloth and air blow.
• Intake Metal Screen Cleaning
Clean the Intake metal screen with cloth and air blow.
<See Fig. 21>
<Fig. 21>
20
COAIRE, Div. of Quietside Corporation
INSPECT EVERY 2,500 HOURS
• Inspect V-BELT tension
1. Separate front door, suction duct and rear cover.
2. Test the tension using the tension-meter as shown below. If inadequate, reset to the figure
provided in below table.
new belt
Models
load/deflection
Re-adjustable belt load/deflection
kg / 10mm
kg / 10mm
CSOF-D3PL(H)
4±0.5
3.5±0.5
CSOF-D5PL(H)
6±0.5
5.5±0.5
3. To control tension, loosen the upper part of tension adjustable nut (2) and tighten the lower part.
In same direction, tighten tension adjustable nut (1) from the suction panel side and tension
adjustable nut (3) from suction duct side. Here, 3 nut must be tightened to same degree.
(For example, if tension adjustable nut (1) is rotated once, (2) and (3) should also berotated once.)
<See Fig. 22>
<See Fig. 22>
21
COAIRE, Div. of Quietside Corporation
8. CAUSES AND REMEDIES FOR PROBLEM
• In case of problem, please follow the instructions provided in the below table.
• Please refer to the method of handling the cases considered as problem and general
management for the usage.
States
Causes
main power is not connect
Compressor
does not
operate
Stop afterTemperature
sensor operating
(HIGH TEMP. STOP
turn on)
Not increase
discharge
pressure
Safety valve
operation
Abnormal
noise
Remedies
connect power
not connect or short circuit
repair, replace
magnet switch badness
repair, replace
thermal relay badness
replace
not reset
check state, push reset button
pressure switch badness
repair, replace
motor is abnormal
repair, replace
voltage drop
check wire thickness and length
circuit board trouble
replace
basic trouble
repair, replace
high ambient temperature,
improve ventilation or
bad ventilation
installation place
intake metal screen is stuffy
cleaning
basic cooling aisle is stuffy
cleaning
reverse revolution
change phase
(in case of 3 phase)
pipe leakage
check, repair
intake filter is stuffy
cleaning, replace
pressure switch badness
replace
pressure switch badness
replace
safety valve badness
replace
Dirt material enter into
disassemble and repair
compressor
bearing abrasion or damage
disassemble and repair
V-belt slip
tension adjustment, replace
loose bolt
tighten a bolt
22
COAIRE, Div. of Quietside Corporation
DATE
WARRANTY CLAIM REPORT
Please complete the following claim form, your claim will be confirmed by our sales representative.
MODEL
SERIAL NO.
RUN HOURS
DISTRIBUTOR
HRS.
CUSTOMER
Company
Company
Address
Address
Phone
Phone
Fax
Fax
Symptom
Fault Diagnosis
Resolution
PARTS REQUIRED
No
Item Number
LABOR COST
Description/MFGR Part Number
Quantity
LABOR TIME
Hrs x
$/Hr
$
1
TRAVEL TIME
Hrs x
$/Hr
$
2
Total Amount:
$
3
4
WRITTEN BY
Technicians name:
SIGNATURE
STARTUP REPORT
Please fill out completely and return to the factory to validate warranty.
CUSTOMER
MACHINE INFORMATION
CUSTOMER
FACTORY SHIP DATE
/
/
ADDRESS
DATE STARTED UP
/
/
CITY/STATE
MODEL NUMBER
PHONE
SERIAL NUMBER
WRITTTEN
HOURS ON MACHINE
Hrs.
MACHINE INFORMATIONS AND INITIAL STARTUP
excellent good fair poor.
Machine Location
indoors outdoors if outdoors, protected from rain? Yes No
Approx. ambient temperature______ adequate ventilation? Yes No
Nameplate amperage for voltage used ______
Did you check for correct rotation? Yes No
Compressor Environment
INCOMING VOLTAGES
L1-L2
L2-L3
Volts
L1-L3
Volts
Volts
FULL LOAD AMPERAGE AT _________ PSIG
L1
L2
Amp.
L3
Amp.
Amp.
UNLOAD AMPERAGE AT _________ PSIG
L1
L2
Amp.
Amp.
Is the machine on a level and stable surface?
Did you have to add lubricant oil?
L3
Amp.
Yes No
Yes No
if yes, please indicate amount and exact name and type. (Amount _____ Name ______ Type _____ )
Was a flexible connector used to connect piping?
Yes No
Approx. time spent during startup procedure ___________ Hrs.
Did you advice customer on operation and maintenance of machine?
Yes No
Application and installation comments: ________________________________________________________________________
__________________________________________________________________________________________________________
__________________________________________________________________________________________________________
Machine Sold By(Company) _________________________________________________________________________________
Startup performed by ________________________________________________ Date _________________________________
There is no warranty without this report!