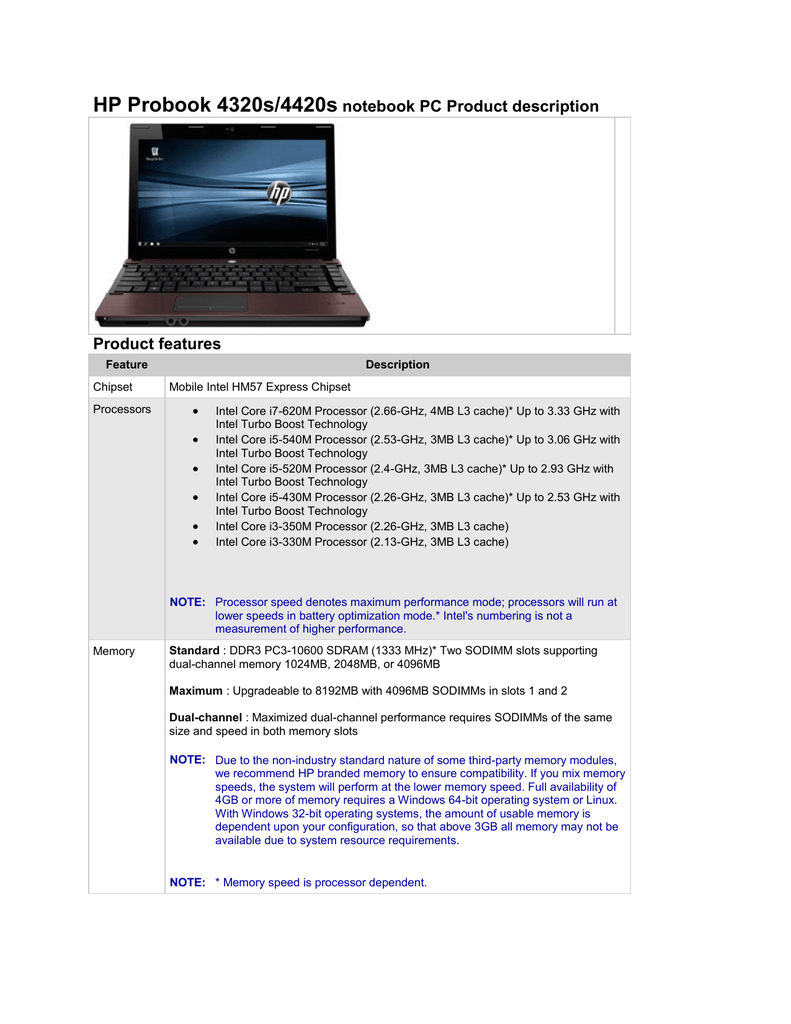 HP Probook 4320s/4420s notebook PC Product description
Product features
Feature
Chipset
Processors
Description
Mobile Intel HM57 Express Chipset






Intel Core i7-620M Processor (2.66-GHz, 4MB L3 cache)* Up to 3.33 GHz with
Intel Turbo Boost Technology
Intel Core i5-540M Processor (2.53-GHz, 3MB L3 cache)* Up to 3.06 GHz with
Intel Turbo Boost Technology
Intel Core i5-520M Processor (2.4-GHz, 3MB L3 cache)* Up to 2.93 GHz with
Intel Turbo Boost Technology
Intel Core i5-430M Processor (2.26-GHz, 3MB L3 cache)* Up to 2.53 GHz with
Intel Turbo Boost Technology
Intel Core i3-350M Processor (2.26-GHz, 3MB L3 cache)
Intel Core i3-330M Processor (2.13-GHz, 3MB L3 cache)
NOTE: Processor speed denotes maximum performance mode; processors will run at
lower speeds in battery optimization mode.* Intel's numbering is not a
measurement of higher performance.
Memory
Standard : DDR3 PC3-10600 SDRAM (1333 MHz)* Two SODIMM slots supporting
dual-channel memory 1024MB, 2048MB, or 4096MB
Maximum : Upgradeable to 8192MB with 4096MB SODIMMs in slots 1 and 2
Dual-channel : Maximized dual-channel performance requires SODIMMs of the same
size and speed in both memory slots
NOTE: Due to the non-industry standard nature of some third-party memory modules,
we recommend HP branded memory to ensure compatibility. If you mix memory
speeds, the system will perform at the lower memory speed. Full availability of
4GB or more of memory requires a Windows 64-bit operating system or Linux.
With Windows 32-bit operating systems, the amount of usable memory is
dependent upon your configuration, so that above 3GB all memory may not be
available due to system resource requirements.
NOTE: * Memory speed is processor dependent.
Graphics
Integrated graphics :

Intel HD Graphics
Discrete graphics :


Display
ATI Mobility Radeon HD 4350 graphics controller with 512 MB dedicated video
memory
Microsoft DirectX 10.1 (discrete),10 (integrated) capable
Internal :
1.
2.
HP ProBook 4320s
o 13.3 in diagonal LED-backlit HD anti-glare (1366 x 768 resolution)
o 13.3 in diagonal LED-backlit HD BrightView (1366 x 768 resolution)
HP ProBook 4420s
o 14.0 in diagonal LED-backlit HD anti-glare (1366 x 768 resolution)
o 14.0 in diagonal LED-backlit HD BrightView (1366 x 768 resolution)
Optional HP Privacy Filter
External : Up to 32-bit per pixel color depth
VGA port supports resolutions up to 1600 x 1200 at 75 Hz, and lower resolutions at up
to 100 Hz.
HDMI port supports direct connection to high-definition displays with up to 1920 x 1080
resolution and 7-channel audio with one convenient cable (not included).
NOTE: Resolutions are dependent upon monitor capability, and resolution and color
depth settings.
Keyboard
The HP spill-resistant keyboard is designed using a thin layer of Mylar film under the
keyboard and a drain system that funnels fluid through a hole in the bottom of the
notebook. This minimizes the risk of damage to sensitive components underneath. The
101/102-key compatible keyboard features a full-pitch key layout with desktop keyboard
features, such as the isolated inverted-T cursor control keys, editing keys, both left and
right control and alt keys, and 12 function keys. US and International key layouts are
available. Other features include hotkeys for instant access to power conservation and
brightness, and 19.05 x 19.05 mm key pitch (center-to-center spacing).
Pointing
device
ClickPad with gestures support
Two-finger scroll, zoom, pinch and pivot rotate
Expansion
card slots
ExpressCard/34 slot : Supports ExpressCard/34 (34 mm x 75 mm x 5 mm) card sizes
Media Card Reader : Supports SD (Secure Digital), MMC (MultiMedia Card), Memory
Stick, Memory Stick Pro, Memory Stick Duo*, xD-Picture card
NOTE: * Memory Stick Duo Adapters are required and sold separately. Inserting a
Memory Stick Duo Card directly into your notebook could damage the memory
card and/or notebook.
Internal
Storage
Device
Hard drives 250/320/500GB 7200 rpm SMART SATA II Hard Drive
NOTE: Up to 15GB is reserved for the system recovery software.
HP 3D DriveGuard The hard drive is mounted directly to the notebook frame, reducing
the transmission of shock to the hard drive. Uses three-axis digital motion detection with
intelligent sensitivity to help protect the hard drive during normal use from shock and
vibration. The digital accelerometer temporarily halts all data transfer and parks the hard
drive when abrupt motion is detected.
Fixed optical drives :



Blu-ray ROM DVD+/-RW SuperMulti DL LightScribe Drive*
DVD+/-RW SuperMulti DL LightScribe Drive
DVD-ROM Drive
NOTE: * Support for the Blu-ray DVD drive on configurations with integrated graphics
requires Windows7 or Windows Vista; configurations with discrete graphics
support it with any offered Windows operating system.
Power
Supply
Models with integrated graphics: External 65 W Smart AC adapter
Models with discrete graphics: External 90 W Smart AC adapter
Battery
Primary battery :


HP 9-cell (93 WHr) Li-Ion battery
HP 6-cell (47 WHr) Li-Ion battery
Software overview
Feature
Operating
System
Description










1
Windows 7 Professional Edition 32
Windows XP Professional available through downgrade rights from Windows 7
3
Professional
1
Windows 7 Home Premium Edition 32
1
Windows 7 Home Basic Edition 32
1
Windows 7 Starter 32
2
Windows Vista Business 32
2
Windows Vista Home Basic 32
SUSE Linux Enterprise Desktop 11
Red Flag Linux (PRC only)
FreeDOS
NOTE: 1 : System may require upgraded and/or separately purchased hardware and/or
a DVD drive to install the Windows 7 software and take full advantage of
Windows 7 functionality.2 : Certain Windows Vista product features require
advanced or additional hardware. 3 : Windows XP Professional is preinstalled on
this system and includes end user rights and media for Windows 7 Professional.
You may only use one version at a time. You must back up all data (files, photos,
etc.) before uninstalling and installing operating systems to avoid loss of your
data.

* Your assessment is very important for improving the work of artificial intelligence, which forms the content of this project