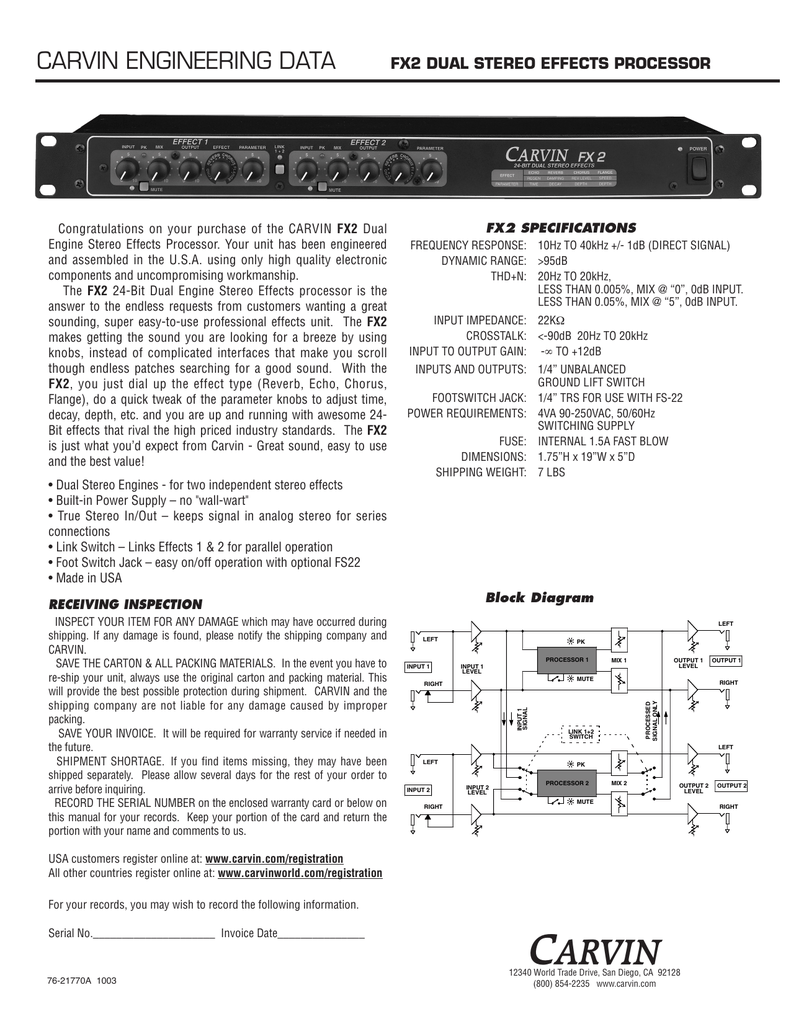 CARVIN ENGINEERING DATA
Congratulations on your purchase of the CARVIN FX2 Dual
Engine Stereo Effects Processor. Your unit has been engineered
and assembled in the U.S.A. using only high quality electronic
components and uncompromising workmanship.
The FX2 24-Bit Dual Engine Stereo Effects processor is the
answer to the endless requests from customers wanting a great
sounding, super easy-to-use professional effects unit. The FX2
makes getting the sound you are looking for a breeze by using
knobs, instead of complicated interfaces that make you scroll
though endless patches searching for a good sound. With the
FX2, you just dial up the effect type (Reverb, Echo, Chorus,
Flange), do a quick tweak of the parameter knobs to adjust time,
decay, depth, etc. and you are up and running with awesome 24Bit effects that rival the high priced industry standards. The FX2
is just what you'd expect from Carvin - Great sound, easy to use
and the best value!
FX2 DUAL STEREO EFFECTS PROCESSOR
FX2 SPECIFICATIONS
FREQUENCY RESPONSE: 10Hz TO 40kHz +/- 1dB (DIRECT SIGNAL)
DYNAMIC RANGE: >95dB
THD+N: 20Hz TO 20kHz,
LESS THAN 0.005%, MIX @ "0", 0dB INPUT.
LESS THAN 0.05%, MIX @ "5", 0dB INPUT.
INPUT IMPEDANCE: 22KΩ
CROSSTALK: <-90dB 20Hz TO 20kHz
INPUT TO OUTPUT GAIN: -∞ TO +12dB
INPUTS AND OUTPUTS: 1/4" UNBALANCED
GROUND LIFT SWITCH
FOOTSWITCH JACK: 1/4" TRS FOR USE WITH FS-22
POWER REQUIREMENTS: 4VA 90-250VAC, 50/60Hz
SWITCHING SUPPLY
FUSE: INTERNAL 1.5A FAST BLOW
DIMENSIONS: 1.75"H x 19"W x 5"D
SHIPPING WEIGHT: 7 LBS
• Dual Stereo Engines - for two independent stereo effects
• Built-in Power Supply – no "wall-wart"
• True Stereo In/Out – keeps signal in analog stereo for series
connections
• Link Switch – Links Effects 1 & 2 for parallel operation
• Foot Switch Jack – easy on/off operation with optional FS22
• Made in USA
Block Diagram
RECEIVING INSPECTION
LEFT
LEFT
PK
PROCESSOR 1
OUTPUT 1
LEVEL
MIX 1
INPUT 1
LEVEL
MUTE
RIGHT
RIGHT
LINK 1+2
SWITCH
LEFT
LEFT
INPUT 2
RIGHT
PK
INPUT 2
LEVEL
PROCESSOR 2
MIX 2
OUTPUT 2
LEVEL
MUTE
USA customers register online at: www.carvin.com/registration
All other countries register online at: www.carvinworld.com/registration
For your records, you may wish to record the following information.
Serial No._____________________ Invoice Date_______________
76-21770A 1003
OUTPUT 1
PROCESSED
SIGNAL ONLY
INPUT 1
INPUT 1
SIGNAL
INSPECT YOUR ITEM FOR ANY DAMAGE which may have occurred during
shipping. If any damage is found, please notify the shipping company and
CARVIN.
SAVE THE CARTON & ALL PACKING MATERIALS. In the event you have to
re-ship your unit, always use the original carton and packing material. This
will provide the best possible protection during shipment. CARVIN and the
shipping company are not liable for any damage caused by improper
packing.
SAVE YOUR INVOICE. It will be required for warranty service if needed in
the future.
SHIPMENT SHORTAGE. If you find items missing, they may have been
shipped separately. Please allow several days for the rest of your order to
arrive before inquiring.
RECORD THE SERIAL NUMBER on the enclosed warranty card or below on
this manual for your records. Keep your portion of the card and return the
portion with your name and comments to us.
c
12340 World Trade Drive, San Diego, CA 92128
(800) 854-2235 www.carvin.com
OUTPUT 2
RIGHT
FRONT PANEL
1
2
3
4
5
6
9
10
8
7
11
12
15
REAR PANEL
FRONT PANEL:
13
15
14
13
1. INPUT LEVEL CONTROL
Sets the incoming signal level to avoid clipping. If the "PK" LED
illuminates, lower the INPUT level.
8. LINK 1+2 SWITCH
This switch allows BOTH effect channels of the FX2 to process the INPUT 1
signal and combine BOTH effects at OUTPUT 1. When the LINK 1+2 button
is "IN", the EFFECT 2 MIX control will also adjust the level of EFFECT 2
heard at the EFFECT 1 OUTPUT.
2. PEAK LED
The "PK" LED displays when the processor is being overloaded by too
much input signal. The LED should stop flashing when the INPUT level
control is reduced to prevent distortion.
9. LINK LED
Lights when the LINK 1+2 function is active.
3. MIX CONTROL
Adjust the MIX control for the amount of effect desired. "0" will have no
effects present. Gradually rotating the control towards 10 increases the
amount of effect while decreasing the direct signal level. When the LINK
1+2 button is "IN", the EFFECT 2 MIX control adjusts the level of EFFECT 2
heard at both EFFECT 1 and EFFECT 2 OUTPUTs.
4. OUTPUT LEVEL CONTROL
Adjusts the overall output volume of the unit.
5. EFFECT
The EFFECT control selects which effect will be used and adjusts the
following parameters for the related effect:
(ECHO) REGENERATION - the number of times the echo is repeated.
(REVERB) DAMPING - How much high frequency ambience is present in
the reverb.
(CHORUS) REVERB LEVEL - Amount of background reverb present.
(FLANGE) SPEED - The speed of the flange "swelling".
6. PARAMETER
The PARAMETER control adjusts the following parameters for the related
effect:
(ECHO) TIME - The delay time between repeats from 50ms to 500ms.
(REVERB) DECAY - How long it takes for the reverb to die out after the
original signal stops.
(CHORUS) DEPTH - How intense, or "thick" the chorus effect is.
(FLANGE) DEPTH - How intense, or "thick" the flange effect is.
7. MUTE
The MUTE switch will turn off the effects heard at the output. The direct
signal remains intact. (level determined by the MIX control) The LED
illuminates when the effects are muted.
10. POWER
Push this switch to the UP position to apply power to the unit. The
POWER LED will light to show the FX2 is on.
REAR PANEL
11. LINE CORD:
The exclusive built-in auto switching power supply allows you to connect
any voltage from 90 to 255v 50-60Hz. Use a 3-conductor line cord for
maximum safety. If the FX2 is to be plugged into a 2-prong outlet, use a
quality 3-to-2 prong grounded adapter. Do not defeat the grounding pin of
your AC line cord.
12. GROUND LIFT SWITCH:
This switch lifts the grounds on the inputs and outputs when depressed.
This is useful for getting rid of ground loops.
13. 1/4" INPUTS (EFFECT 1 AND 2):
This input will accept input signals from mixer sends, amplifier effects
sends, etc. The "tip" is the signal, the "sleeve" is the ground (shield).
When in LINK 1+2 mode, the EFFECT1 signal will be processed by both
EFFECT 1 and EFFECT 2.
14. FOOT SWITCH JACK:
Using a footswitch such as the Carvin FS-22 will allow you to mute
EFFECT 1 or EFFECT 2 remotely. The "tip" on the plug mutes EFFECT 1,
the "ring" mutes EFFECT 2, and the "sleeve" is the ground.
15. 1/4" OUTPUTS (EFFECT 1 AND 2):
This is the unbalanced output for the processor. Use this to return the
processed signal to channel inputs or effect returns on a mixer or to the
return on an amplifier effects loop. The "tip" is signal, the "sleeve" is
ground (shield). When in LINK 1+2 mode, both EFFECT 1 and EFFECT 2
will be heard at the EFFECT 1 OUTPUTS. The EFFECT 2 OUTPUT will
function normally.
FX2 Applications:
Effect Settings and Usage:
FIG. 1 shows a typical mixing board connection. This setup allows
multiple signals to be processed by a single effect channel. The FX2
INPUT is connected to a master EFFECT SEND of the mixer. The OUTPUTs
of the FX2 are connected to a master EFFECT RETURN of the mixer. The
MIX control should be turned fully clockwise to 10, or "WET" setting for
this type of setup. Complete a second hookup to the other channel of the
FX2 using a second set of SEND and RETURNS. Be sure the LINK 1+2
switch is "OUT". Connecting the OUTPUTs of the FX2 to mixer input
channels instead of the returns of your mixer will allow even more control
over signal routing and enables you to use the mixer's channel EQ to
enhance the sound of the effects.
The FX2 is capable of many effect variations. Start with the controls at
moderate settings and tailor your sound from there.
REVERB is the most common effect. Reverb can add both presence and
depth to a performance. A reverb with a short DECAY can make vocals
and instruments sound more dense and "alive". Longer decay times have
a more dramatic effect and are best used in sparse musical atmospheres.
Too much reverb, especially with long decay times, can cause your sound
to be "washed out".
ECHO is a combination of a DELAY and some REVERB. The ECHO
setting gives the impression of multiple "copies" of your sound reflecting
off a far away object. The TIME setting adjusts how far apart the "copies"
are and REGENERATION adjust how many "copies" are made.
CHORUS can have the effect of multiple instruments playing in unison.
Use the CHORUS to thicken your sound. Varying the setting of the
PARAMETER control will compliment different instruments in different
ways. The maximum setting won't always sound best.
FLANGE gives a "swirling" or "tubular" sound and is great for making
musical parts stand out from the rest of a song. Deep, howling type
sounds often heard from an electric guitar are sometimes created with a
FLANGER. To get this type of sound, set the EFFECT control to the "F" in
FLANGE and set the PARAMETER control fully clockwise.
Connecting the OUTPUTs of the FX2 to INPUT CHANNELS of your mixer
enables you to use the mixer's channel EQ to enhance the sound of the
effects and will allow even more control over signal routing. For full stereo
imaging, remember to PAN the stereo outputs to LEFT and RIGHT
respectively. If you use mixer channels as returns, leave the CHANNEL
SEND controls to the FX2 at "0" or feedback will occur.
FIG. 2 shows a typical guitar amp connection. Pushing IN the LINK 1+2
button will allow both EFFECT 1 and EFFECT 2 to be used simultaneously
in the same loop. The FX2 EFFECT 1 INPUT is connected to the effect loop
SEND of the amp. The FX2 EFFECT 1 OUTPUT is connected to the effect
loop RETURN. Dial in the amount of effect desired with the MIX controls
for EFFECT 1 and EFFECT 2. The FS-22 can be used to remotely choose
any combination of EFFECT 1 and EFFECT 2 by muting one effect at a time
or both effects.
SL24
MIXER
1
2
1
SEND
3
4
2
5
3
6
7
INSERTS
GROUPS
4
L
8
5
R
6
POWER
7
8
LEFT
RIGHT
FX2
REAR PANEL
RETURNS L-R
AUX
SEND
5
3
6
L
1
CONTROL
4
7
L-R
L
2
L
3
IN
R
L
4
R
EFFECT
L
AUX
RETURN
OUTPUTS
2
5
3
5
MUTE
10
0
4
5
MUTE
R
0
MUTE
10
0
5
TAPE
APE
OUT
MUTE
10
0
+6
oo
10
0
L
INPUT
R
STEREO RETURNS
1
FIG. 1
TAPE
L-R
R
EFFECT 1 or EFFECT 2
R
OUT
STUDIO
8
R
L
PHONES
2
PHONES
1
L-R
C
PAN
C
PAN
AUX 1
C
PAN
AN
AUX 1
AUX
UX 1
SOLO
R
L
5
AUX
UX 7-8
SOLO
R
L
5
C
PAN
SOLO
SOLO
R
L
R
L
AUX 1
5
5
0
TAPE
IN
10
0
10
0
5
AUX 2
10
0
5
AUX 2
10
0
5
AUX
UX 2
+6
oo
5
AUX 2
AUX
1-2
L-R
10
0
0
10
10
0
10
0
AUX SENDS
1
2
5
0
10
PFL
3
5
0
10
PFL
4
5
0
10
PFL
5
5
0
10
PFL
FLIP
FLIP
FLIP
FLIP
TO GRP 1
XLR
TO GRP 2
XLR
TO GRP 3
XLR
TO GRP 4
XLR
6
5
0
10
7/8
5
0
PFL
10
5
0
PFL
10
L-R
FIG. 2
L
OUTPUTS
R
EFFECT 1
FOOTSWITCH
L
INPUT
R
FX2
REAR PANEL
RETURN
SEND
LEGACY
V1–12AX7
V2–12AX7
SPEAKER
OUTPUT
V3–12AX7
V9–EL34
SPEAKER
V4–12AX7
V8–EL34
2-TUBES
50 Watt
5881 OR
6L6GC
LINE
OUT
100 Watt
4-TUBES
EL34
BIAS
CABINET
VOICED
V5–12AX7
FOOTSWITCH
V7–EL34
V6–EL34
EFFECTS LOOP
4Ω
8Ω
16Ω
All Tube Amplifier
1
2
OHMS
FS22
SEND
RETURN
800-854-2235
carvin.com
GUITAR AMPLIFIER
TUBE REPLACEMENT
GUIDE
V1 V2 V3 Preamp—Replace when either channel is noisy,
—12AX7 crackling or microphonic (ringing)
V4—12AX7 Reverb—Replace when Reverb is not working
V5—12AX7 Power Diver—Replace when amp is not working
V6 V7 V8 V9Pw Tubes—Check BIAS switch for correct tube
—EL34 setting.
2
A
M
P
CAUTION – TO PREVENT ELECTRICAL SHOCK DO NOT DEFEAT THE
SAFETY GROUND ON THE POWER CORD. DO NOT REMOVE COVER.
NO USER SERVICEABLE PARTS INSIDE. WARNING – TO PREVENT FIRE
OR SHOCK HAZARD DO NOT EXPOSE TO RAIN OR MOISTURE.
MADE IN
210VA
120V 60Hz
S/N REMOVED
THE
USA
FS-22 FOOTSWITCH
This symbol is intended to alert the user to
the presence of uninsulated "dangerous
voltage" within the product's enclosure that
may be of sufficient magnitude to
constitute a risk of electric shock to persons.
CAUTION
RISK OF ELECTRIC SHOCK
DO NOT OPEN
This symbol is intended to alert the
user to the presence of important
operating and maintenance
(servicing) instructions in the
literature accompanying the appliance.
IMPORTANT! FOR YOUR PROTECTION, PLEASE READ THE FOLLOWING:
WATER AND MOISTURE: Appliance should not be used near water (near a bathtub, washbowl,
kitchen sink, laundry tub, in a wet basement, or near a swimming pool, etc). Care should be taken
so that objects do not fall and liquids are not spilled into the enclosure through openings.
POWER SOURCES: The appliance should be connected to a power supply only of the type
described in the operating instructions or as marked on the appliance.
GROUNDING OR POLARIZATION: Precautions should be taken so that the grounding or
polarization means of an appliance is not defeated.
POWER CORD PROTECTION: Power supply cords should be routed so that they are not likely to
be walked on or pinched by items placed upon or against them, paying particular attention to
cords at plugs, convenience receptacles, and the point where they exit from the appliance.
SERVICING: The user should not attempt to service the appliance beyond that described in the
operating instructions. All other servicing should be referred to qualified service personnel.
FUSING: If your unit is equipped with a fuse receptacle, replace only with the same type fuse.
Refer to replacement text on the unit for correct fuse type.
SAFETY INSTRUCTIONS (EUROPEAN)
The conductors in the AC power cord are colored in accordance with the following code.
GREEN & YELLOW—Earth
BLUE—Neutral
BROWN—Live
U.K. MAIN PLUG WARNING: A molded main plug that has been cut off from the cord is unsafe. NEVER
UNDER ANY CIRCUMSTANCES SHOULD YOU INSERT A DAMAGED OR CUT MAIN PLUG INTO A POWER SOCKET.
LIMITED WARRANTY
Your Carvin product is guaranteed against failure for 1 YEAR unless otherwise stated. Carvin
will service and supply all parts at no charge to the customer providing the unit is under
warranty. Shipping costs are the responsibility of the customer. CARVIN DOES NOT PAY FOR
PARTS OR SERVICING OTHER THAN OUR OWN. A COPY OF THE ORIGINAL INVOICE IS
REQUIRED TO VERIFY YOUR WARRANTY. Carvin assumes no responsibility for horn drivers or
speakers damaged by this unit. This warranty does not cover, and no liability is assumed, for
damage due to: natural disasters, accidents, abuse, loss of parts, lack of reasonable care,
incorrect use, or failure to follow instructions. This warranty is in lieu of all other warranties,
expressed or implied. No representative or person is authorized to represent or assume for
Carvin any liability in connection with the sale or servicing of Carvin products. CARVIN SHALL
NOT BE LIABLE FOR INCIDENTAL OR CONSEQUENTIAL DAMAGES.
When RETURNING merchandise to the factory, you may call for a return authorization
number. Describe in writing each problem. If your unit is out of warranty, you will be charged
the current FLAT RATE for parts and labor to bring your unit up to factory specifications.
MAINTAINING YOUR EQUIPMENT
Avoid spilling liquids or allowing any other foreign matter inside the unit. The panel of
your unit can be wiped from time to time with a dry or slightly damp cloth in order to
remove dust and bring back the new look. As with all pro gear, avoid prolonged use in
caustic environments (salt air). When used in such an environment, be sure the mixer is
adequately protected by a cover.
REFER SERVICING TO QUALIFIED SERVICE PERSONNEL!