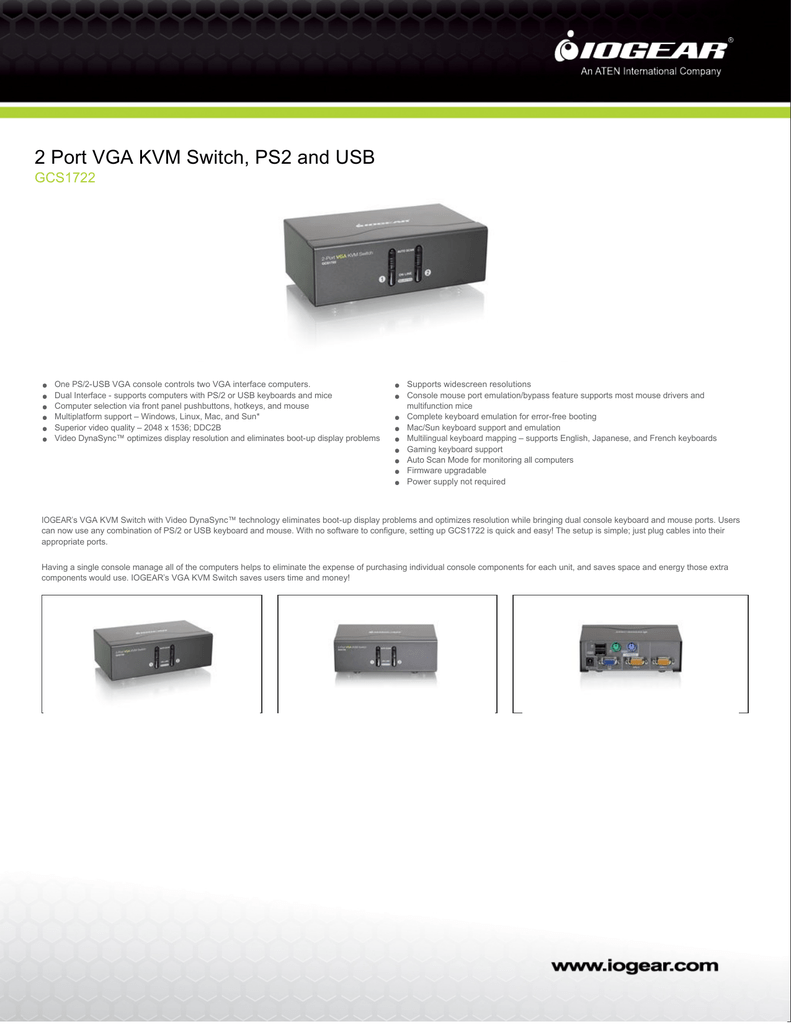 2 Port VGA KVM Switch, PS2 and USB
GCS1722
●
●
●
●
●
●
One PS/2-USB VGA console controls two VGA interface computers.
Dual Interface - supports computers with PS/2 or USB keyboards and mice
Computer selection via front panel pushbuttons, hotkeys, and mouse
Multiplatform support – Windows, Linux, Mac, and Sun*
Superior video quality – 2048 x 1536; DDC2B
Video DynaSync™ optimizes display resolution and eliminates boot-up display problems
●
●
●
●
●
●
●
●
●
Supports widescreen resolutions
Console mouse port emulation/bypass feature supports most mouse drivers and
multifunction mice
Complete keyboard emulation for error-free booting
Mac/Sun keyboard support and emulation
Multilingual keyboard mapping – supports English, Japanese, and French keyboards
Gaming keyboard support
Auto Scan Mode for monitoring all computers
Firmware upgradable
Power supply not required
IOGEAR's VGA KVM Switch with Video DynaSync™ technology eliminates boot-up display problems and optimizes resolution while bringing dual console keyboard and mouse ports. Users
can now use any combination of PS/2 or USB keyboard and mouse. With no software to configure, setting up GCS1722 is quick and easy! The setup is simple; just plug cables into their
appropriate ports.
Having a single console manage all of the computers helps to eliminate the expense of purchasing individual console components for each unit, and saves space and energy those extra
components would use. IOGEAR's VGA KVM Switch saves users time and money!
2 Port VGA KVM Switch, PS2 and USB
Product Requirements
Package Contents
Console
●
●
●
●
●
A VGA compatible monitor capable of
the highest possible resolution
A USB or PS/2 mouse
A USB or PS/2 keyboard
●
●
1 GCS1722 2 Port VGA KVM Switch,
PS2 and USB
2 Custom KVM Cable sets
1 User Manual
1 Warranty Card
Computers
●
●
●
The following equipment must be
available on each computer:
A VGA port
Type A USB ports or 6-pin Mini-DIN
PS/2 ports
Specifications
Function
GCS1722
Console Connectors
Keyboard & Mouse
USB and PS/2
Monitor
CPU Connectors
Keyboard, Mouse, and Monitor
Dimensions
GCS1722
Unit Dimensions
SPHD-18
Height
1.81" (4.60 cm)
Depth
2.94" (7.47 cm)
Length
5.13" (13.03 cm)
Unit Package Dimensions
Width
9.50" (24.13 cm)
Height
6.38" (16.21 cm)
Depth
2.38" (6.05 cm)
Master Carton
Width
15.00" (38.10 cm)
Height
7.38" (18.75 cm)
Depth
10.25" (26.04 cm)
Master Carton Qty.
6
Weight
www.IOGEAR.com
19641 Da Vinci, Foothill Ranch, CA 92610
Master Carton Wt.
14.88 lb
Unit Pack Wt.
2.25 lb
Unit Wt.
1.05 lb
GCS1722
© 2013 IOGEAR®
IOGEAR, the IOGEAR logo, are trademarks or registered trademarks of IOGEAR. Microsoft and Windows are registered trademarks of Microsoft Corporation. All other brand and product names are trademarks or registered trademarks of their respective holders.
IOGEAR makes no warranty of any kind with regards to the information presented in this document. All information furnished here is for informational purposes only and is subject to change without notice. IOGEAR assumes no responsibility for any inaccuracies or
errors that may appear in this document.

* Your assessment is very important for improving the work of artificial intelligence, which forms the content of this project