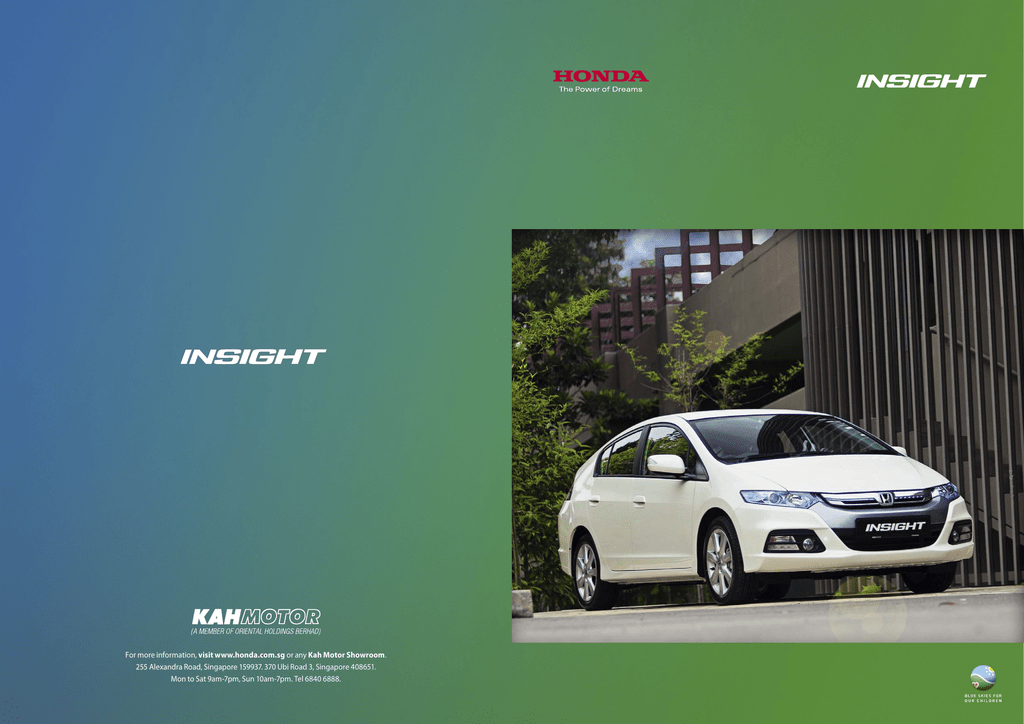 For more information, visit www.honda.com.sg or any Kah Motor Showroom.
255 Alexandra Road, Singapore 159937. 370 Ubi Road 3, Singapore 408651.
Mon to Sat 9am-7pm, Sun 10am-7pm. Tel 6840 6888.
The new Honda Insight.
Eco-friendly, user-friendly.
The new Honda Insight is a lightweight hybrid whose
outstanding environmental performance sets new
standards for compact cars.
Along with a 1.3 litre i-VTEC engine and Honda's very
own Integrated Motor Assist (IMA), it features our highly
regarded Ecological Drive Assist (Eco Assist™) system.
What does that mean? Exceptional fuel economy with
responsive control that makes it fun to drive.
As fun to look at as it
is to drive.
The new Insight's sporty grille, bumper and fog light design
makes a striking first impression.
Its low, wide stance, one-sweep design and high tail give
the new Insight an athletic, aerodynamic exterior that hints
at the performance you'll feel behind the wheel.
This clever design reduces drag and exterior noise and
also offers more space for passengers and cargo.
Actual equipment may vary from image shown.
A better environment
inside too.
The new Insight's advanced interior design creates a comfortable
space for everyone.
The futuristic meter dial is split into two zones to improve
the accuracy of readout, and unified colours create a sense
of sophistication. In the lower zone you'll find the intelligent
Multi-Information Display (i-MID), Eco Assist™ and IMA
information, while the upper zone contains your speedometer.
With all this information at a glance, you can concentrate on
the drive, not the controls.
But it doesn't stop with the display. The CD audio system
includes a USB connection so you can listen to MP3s too.
But there's no point having all the fun on your own. That's why
the new Insight has a generous 2,550mm wheelbase, 790mm
tandem distance and flexible seats to comfortably carry five
adults. And with its lightweight and compact Intelligent Power
Unit (IPU) located beneath the rear cargo area, it also gives you
400L of cargo space.
Actual equipment may vary from image shown.
What's our Insight?
Our hybrid technology.
Integrated Motor Assist (IMA) is our proprietary hybrid
system that delivers both exceptional fuel economy and
extremely low emissions. The 1.3 litre i-VTEC engine serves
as the main power source, providing the torque and
acceleration you might expect from a 1.5 litre engine.
But the Insight also has an electric motor that can run
the car alone when you're cruising at low speeds and
also provide additional power.
The same clever thinking governs the engine's Variable
Cylinder Management (VCM). It's a technology that adjusts
how many cylinders are required for the task at hand,
whether that's speeding up or slowing down.
And it even features idle-stop capability when you're
standing still. So no matter what the driving conditions,
you only ever use as much energy as you need. And it's
all thanks to the IPU.
This is the unit that controls the power assist and monitors
every aspect of your drive to optimize the battery charge
and electrical regeneration of the motor. So in the end,
the Insight is as economical to run as it is fun to drive.
Eco Assist. Efficient,
economical and easy.
The way you drive has a large impact on how much fuel
you use.
The Ecological Drive Assist System provides you with
real-time driving feedback to help you drive efficiently.
The speedometer background changes colour depending
on your driving behavior.
If the ambient meter shines blue, it indicates the Insight is
consuming extra fuel due to abrupt acceleration or braking.
A blue-green colour reflects smoother driving and
moderately fuel-efficient driving.
When it shines green you've achieved a really fuelefficient drive.
ECON Mode.
Whether you're on a long haul drive or quick city burst,
ECON Mode synchronises the Insight's output.
At the touch of a button, it adjusts everything from engine
output, to changes in idle-stop duration, to regenerative
battery recharging during deceleration and even energy
saving controls of the air-conditioning unit.
A hassle free and smart
Insight that saves petrol.
Combined characters of engine and motor
provides fun and fuel efficient driving.
1
Start/Acceleration
Engine operates with
motor assist
2
Low speed
cruising
Motor operates alone*
The energy flow is intelligently controlled by combining higher revolution power from the engine and lower
revolution power form the motor. The motor becomes a regenerator to recharge the IMA battery in braking
to reuse the energy.
3
Acceleration
Engine operates with
motor assist
4
High speed
cruising
Engine operates alone
5
Braking
Charges IMA battery
6
Eco
Drive
Optimal
Acceleration/Deceleration
Acceleration
Deceleration
When stopped
Automatic idle stop*
Moderate
Acceleration/Deceleration
Acceleration
Deceleration
The motor providing more
power at lower revolutions
assists the engine to
support the vehicle to
accelerate powerfully.
All cylinders stop during
low speed cruising*.
Vehicle cruises on motor
power alone.
*Engine does not stop in particular
conditions.
The motor assists the
engine and provides
powerful acceleration.
The motor stops and the
engine provides fuel
efficient driving alone.
The motor recharges the
IMA battery using energy
caused in braking. All
cylinders stop to enlarge
the charging efficiency.
Idling stops automatically
to save fuel consumption
and exhaust gas.
Aggressive Acceleration/
Sudden Deceleration
Acceleration
*Engine does not stop in particular
conditions.
Deceleration
Indicator
Actual equipment may vary from image shown.
The Insight always gives a
commanding performance.
The combination of the new Insight's efficient 1.3 litre
i-VTEC engine and IMA system produces excellent power
and torque.
On occasions where you feel like a more spirited drive,
it swiftly delivers 98ps and 167Nm of torque through our
new quick start Continuously Variable Transmission (CVT).
And it's a smooth drive too.
MacPherson strut front suspension and torsion beam rear
suspension offer responsive handling and a comfortable
ride. While large diameter front brakes (assisted by the ABS)
provide assured braking over your entire journey.
When you're on the move, the new Insight is an
exceptionally comfortable place to spend your time.
Safety features
that also help you
breathe easier.
The new Insight's unique high
rigidity rear frame and floor
accommodate the IPU beneath
the rear cargo area. But they also
contribute to its safety and stability.
That's really just a bonus, though,
because the new Insight was built
with Honda's unique G-Control
(G-CON™) body structure, which
distributes the force of an impact
up, over and around the cabin. It
absorbs and deflects collision
energy, keeping you and your
passengers safe.
The cabin contains an abundance of
features to shield you in the event of
a collision, with Dual SRS airbags and
the Active Head Restraint System in
the front to reduce the risk of head
and neck injuries.
Front seatbelt pre-tensioners control
your upper body, reducing both the
load against your chest and the
possibility of injury.
You don't get that kind of rating by
just looking out for yourself though.
In addition to protecting anyone
inside the car, the Insight comes
with injury mitigation technology
to protect pedestrians from head,
leg and other injuries.
So you could say that the new Insight
is a safe bet for everyone.
As a result of these comprehensive
measures, the new Insight achieved
a perfect 5-star score in whole class
collision safety from Euro NCAP.
Occupant restraint system.
The pretensioner tightens to prevent forward
motion of the chest.
The load limiter limits excessive pressure on the chest.
Actual equipment may vary from image shown.
Insight Specifications.
Insight Specifications.
Description
STANDARD
Description
DIMENSIONS
Overall Length (mm)
Overall Width (mm)
Overall Height (mm)
Wheelbase (mm)
Tread
– Front (mm)
– Rear (mm)
Ground Clearance (mm)
Curb Weight (kg)
Turning Radius at Body (m)
4395
1695
1425
2550
1475
1465
135
1215
5.4
ENGINE and IMA
Engine Type
Fuel Supply System
Bore x Stroke (mm)
Displacement (cc)
Compression Ratio
Maximum Power (kw [ps] / rpm)
Maximum Torque (N.m.(kg-m)/rpm)
Water Cooled 4-stroke SOHC i-VTEC
PGM-FI
73 x 80
1339
10.8
72 [98] / 5800
167 [17.0] / 1000-1700
CONVENIENCE
Vanity Mirrors
– x 2 (Front Driver and Front Passenger)
✔
Map Light, Interior Light
✔
Cup/Bottle Holders
– Front x 4 ✔
– Rear x 2 ✔
Head Rest
– Front
✔
– Rear, 3 headrests
Adjustable type
Luggage Room Light
✔
Rear Seats
– 60/40 Split
✔
– Folds Flat
✔
Steering Wheel
– Cruise Control
✔
– Multi-information Display
✔
TRANSMISSION
AT Transmission Type
Continuously Variable Transmission
STEERING
Type
Overall Ratio
Turns Lock to Lock
Rack and Pinion with Electric Power Assist
16.1
3.29
BRAKE SYSTEM
Brake Type
– Front
– Rear
Parking Brake Type
Brake Circuit
Ventilated Disc, 262mm
Drums
Hand Brake
Split Service Brake
SUSPENSION
Suspension Type –Front
Suspension Type –Rear
Shock Absorber
Strut
Torsion Beam
Gas Pressurized
TYRES AND WHEELS
Tire Size
Wheel Size/Type
185/55 R16
16 x 6J AL
OTHERS
Fuel Tank (ltr)
40
EXTERIOR
Halogen Headlights, projector type
Alloy Wheels
Door Mirror, electrically operated – Automatic folding
– With integrated LED side turn
Taillights
– LED design
Roof mounted antenna
✔
16-inch
✔
✔
✔
✔
CABIN
Upholstery
Black
Climate Control System – Automatic type
✔
– Filter (dust and pollen/high dust)
✔
Driver Seat
– Adjustment, manual, rachet-type
✔
Steering Wheel
– 3 spoke, urethane
✔
– Adjustment
Tilt and Telescopic
STANDARD
ELECTRICAL
Audio System
– AM/FM, 1 CD
Honda Module Audio System
– MP3/WMA enabled
✔
– USB Interface
✔
– Steering Wheel Audio Switch
✔
– Speed Sensitive Volume Control
✔
Power Windows
– Front and rear
✔
– Key-off operation
✔
Power Door Locks
– with remote locking switch
✔
Automatic Rain sensing Wipers
✔
Automatic Headlights ON/OFF
✔
Eco Assist™
✔
SAFETY
Anti-lock Brake System
– with EBD and Brake Assist
✔
SRS Airbags
– Front
✔
Fog Lights
– Front
✔
Seat Belts
– Front Driver, 3-pt ELR, Pretensioner and Load Limiter ✔
– Front Passenger, 3-pt ELR, Pretensioner
✔
– Rear, 3-pt ELR x 3
✔
"Seatbelt", "Key-in", "Light-on" Reminder
✔
ISOFIX Childseat Anchors
✔
Active Headrest
– Front Seats
✔
High Mount Stop Light
✔
Keyless Entry System
– 2 Transmitters
✔
Security Alarm
✔
Engine Immobilizer
✔
Insight Colours.
Crystal Black Pearl
Premium White Pearl
(NH-731PX)
(NH-624PX)
Carnelian Red Pearl
Alabaster Silver Metallic
Platinum Aqua Metallic
Dyno Blue Pearl
(R-543PX)
(NH-700MX)
(BG-61MX)
(B-572PX)
Actual equipment may vary from image shown.