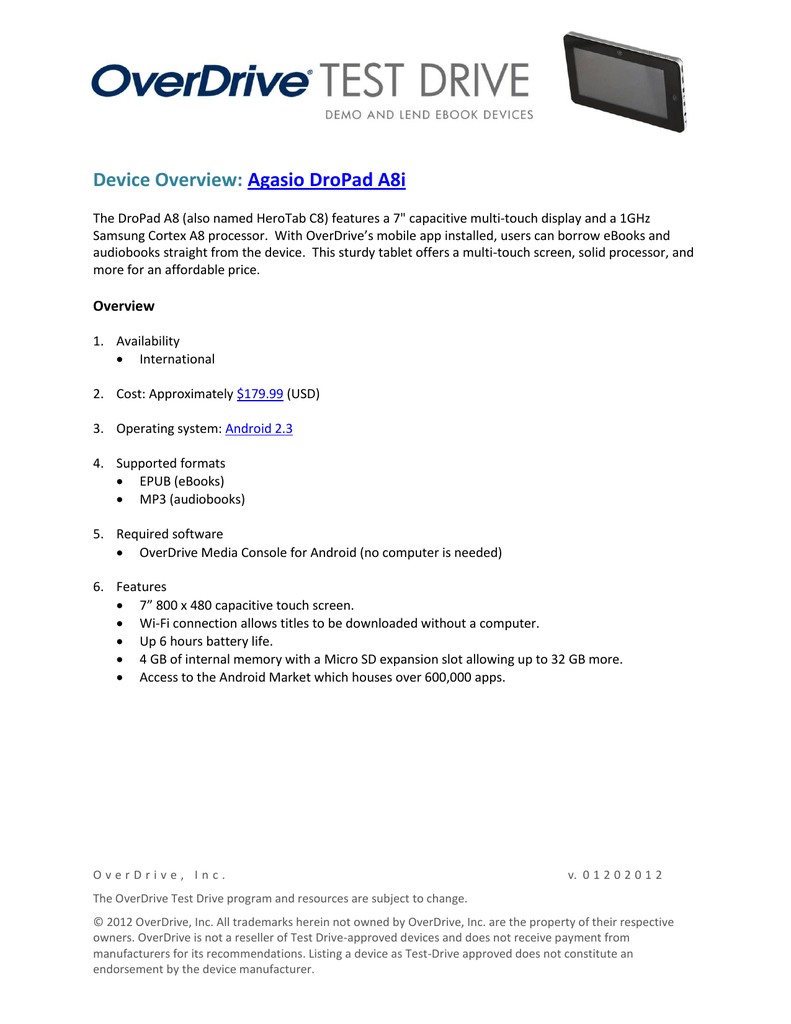 Device Overview: Agasio DroPad A8i
The DroPad A8 (also named HeroTab C8) features a 7" capacitive multi-touch display and a 1GHz
Samsung Cortex A8 processor. With OverDrive's mobile app installed, users can borrow eBooks and
audiobooks straight from the device. This sturdy tablet offers a multi-touch screen, solid processor, and
more for an affordable price.
Overview
1. Availability
 International
2. Cost: Approximately $179.99 (USD)
3. Operating system: Android 2.3
4. Supported formats
 EPUB (eBooks)
 MP3 (audiobooks)
5. Required software
 OverDrive Media Console for Android (no computer is needed)
6. Features
 7" 800 x 480 capacitive touch screen.
 Wi-Fi connection allows titles to be downloaded without a computer.
 Up 6 hours battery life.
 4 GB of internal memory with a Micro SD expansion slot allowing up to 32 GB more.
 Access to the Android Market which houses over 600,000 apps.
OverDrive, Inc.
v. 0 1 2 0 2 0 1 2
The OverDrive Test Drive program and resources are subject to change.
© 2012 OverDrive, Inc. All trademarks herein not owned by OverDrive, Inc. are the property of their respective
owners. OverDrive is not a reseller of Test Drive-approved devices and does not receive payment from
manufacturers for its recommendations. Listing a device as Test-Drive approved does not constitute an
endorsement by the device manufacturer.

* Your assessment is very important for improving the work of artificial intelligence, which forms the content of this project