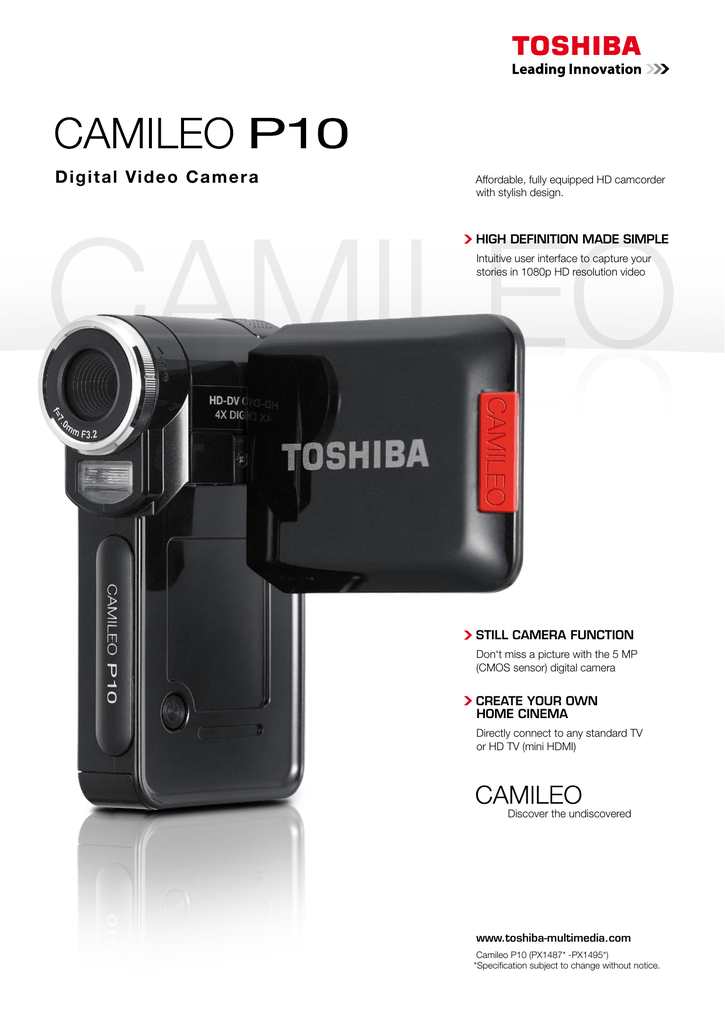 D igi t al Vi de o C a m e r a
Affordable, fully equipped HD camcorder
with stylish design.
HIGH DEFINITION MADE SIMPLE
Intuitive user interface to capture your
stories in 1080p HD resolution video
STILL CAMERA FUNCTION
Don't miss a picture with the 5 MP
(CMOS sensor) digital camera
CREATE YOUR OWN
HOME CINEMA
Directly connect to any standard TV
or HD TV (mini HDMI)
Discover the undiscovered
www.toshiba-multimedia.com
Camileo P10 (PX1487* -PX1495*)
*Specification subject to change without notice.
Compact and functional
design enhanced by a
"Midnight gloss" finish
BASIC SPECIFICATION
5 MP CMOS Sensor
Fixed Focus lens (f=7.0; F3.2)
20 cm (Marco mode); 90 cm~200 cm (Portrait mode); 200
cm ~ infinite (Normal mode)
2.5" LCD
LCD Monitor:
4x, (2x for 1080 P)
Digital Zoom:
128 MB NAND Flash Memory (usable storage: around 96 MB)
Storage Media:
High: 3200 x 2400 / Standard: 2592 X 1944 /
Still Picture
Low : 2048 x 1536
Resolution:
HD1 (1080 P/30 fps) / HD2 (720 P/30 fps) /
Movie Resolution:
WVGA (848 x 480 / 60 fps) / VGA (30 FPS) / QVGA (30 FPS)
Auto, Daylight, Fluorescent, Tungsten
White Balance:
± 1EV in 0.3 steps
Exposure:
Approx. 10 sec
Self-Timer:
Auto, Red-Eye-Reduction, Off
Flash (for Still):
N/A
Light (for Movie):
H.264/.MOV (video), JPG (still)
File Format:
HDMI/Mini USB 2.0 / TV Out
Interface:
Digital: HDMI
TV Output:
Analog: Composite Video (NTSC/PAL selectable)
Power Saving Mode: 3 minutes
NP60 Li-ion Battery
Battery Type:
Continue Operating Hours (with LCD on), approx. 95 min
Battery Life:
Image Sensor:
Lens:
Focus Range:
Photos taken vs.
Capacity (1GB SD):
Video Recording vs.
Capacity – MPEG4:
Dimensions (mm):
Weight (g):
1GB SD: 8 Megapixel = 327 photos; 5 Megapixel = 446
photos; 3 Megapixel = 817 photos
1 GB SD: HD1 (1080p) = 15 min; HD2 (720p) = 30 min;
WVGA = 25 min; VGA = 1 hour; QVGA = 4 hours;
108 (H) x 71 (W) x 34 (D)
148 g (w/o battery)
MAIN FEATURES
1080p, HD Resolution
Digital H.264 HD Video Camcorder
Digital Still Camera
HDMI Digital AV output
Card Reader
Video Stabilization
Scene support, Auto, Skintone,
Nightshot, Back Light, Black/White,
Classic, Negative
Easy YouTube™ upload with
arcsoftware™
BOX CONTENT
Camileo P10
USB cable (0.9 m)
HDMI cable (1.2 m)
Video cable (1.2 m)
NP60 Li-ion rechargeable battery
Power adapter
Warranty leaflet
Quick Start Guide
CD (w/driver, AP and User's Manual)
Wrist Strap
Pouch
Tripod
Cleaning cloth
SYSTEM REQUIREMENTS
Microsoft ® Windows ® 2000 / XP / Vista®
CPU Intel Pentium III 800MHz above
256 MB system memory and free
700 MB system hard disk space
4x CD-ROM
1 available USB port
Dealer stamp:
CERTIFICATIONS
FCC, CE, RoHS, GOST, SABS, SASO
Copyright © 2008 TOSHIBA Corporation. All Rights Reserved.
Product specifications, configurations, prices and component /
options availability are all subject to change without notice.
Product design, specifications and colours are subject to
change without notice and may vary from those shown. Error
and omissions excepted.

* Your assessment is very important for improving the work of artificial intelligence, which forms the content of this project