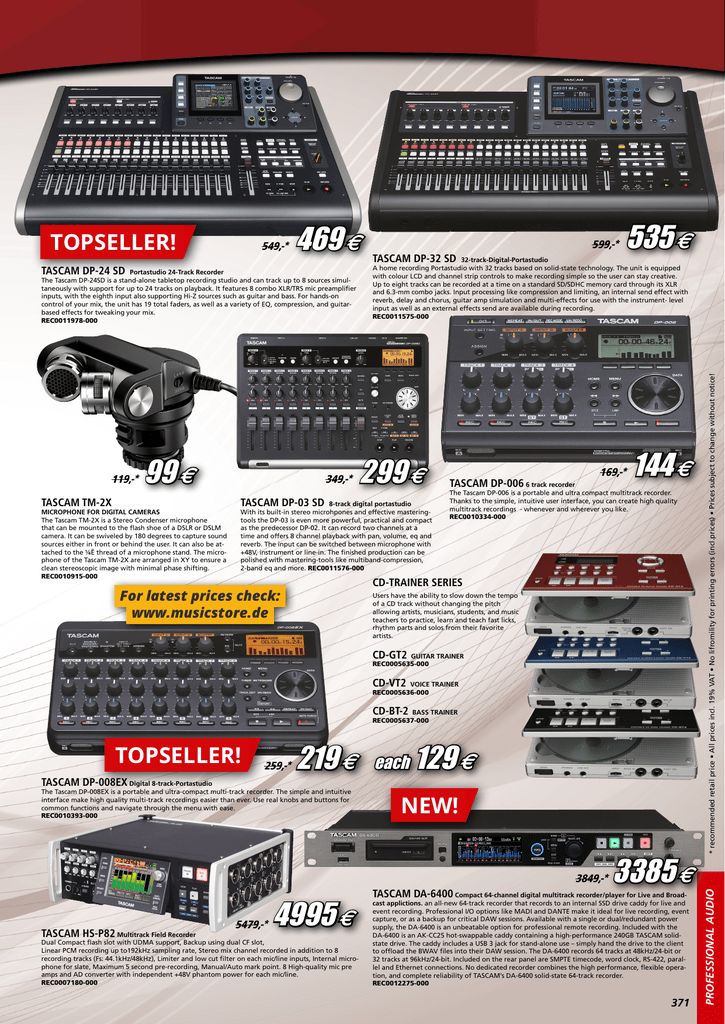 469 €
TASCAM DP-24 SD
Portastudio 24-Track Recorder
The Tascam DP-24SD is a stand-alone tabletop recording studio and can track up to 8 sources simultaneously with support for up to 24 tracks on playback. It features 8 combo XLR/TRS mic preamplifier
inputs, with the eighth input also supporting Hi-Z sources such as guitar and bass. For hands-on
control of your mix, the unit has 19 total faders, as well as a variety of EQ, compression, and guitarbased effects for tweaking your mix.
REC0011978-000
119,-*
99 €
TASCAM TM-2X
MICROPHONE FOR DIGITAL CAMERAS
The Tascam TM-2X is a Stereo Condenser microphone
that can be mounted to the flash shoe of a DSLR or DSLM
camera. It can be swiveled by 180 degrees to capture sound
sources either in front or behind the user. It can also be attached to the ¼Ë thread of a microphone stand. The microphone of the Tascam TM-2X are arranged in XY to ensure a
clean stereoscopic image with minimal phase shifting.
REC0010915-000
349,-*
599,-*
TASCAM DP-32 SD
535 €
32-track-Digital-Portastudio
A home recording Portastudio with 32 tracks based on solid-state technology. The unit is equipped
with colour LCD and channel strip controls to make recording simple so the user can stay creative.
Up to eight tracks can be recorded at a time on a standard SD/SDHC memory card through its XLR
and 6.3-mm combo jacks. Input processing like compression and limiting, an internal send effect with
reverb, delay and chorus, guitar amp simulation and multi-effects for use with the instrument- level
input as well as an external effects send are available during recording.
REC0011575-000
299 €
TASCAM DP-03 SD
8-track digital portastudio
With its built-in stereo microhpones and effective masteringtools the DP-03 is even more powerful, practical and compact
as the predecessor DP-02. It can record two channels at a
time and offers 8 channel playback with pan, volume, eq and
reverb. The input can be switched between microphone with
+48V, instrument or line-in. The finished production can be
polished with mastering-tools like multiband-compression,
2-band eq and more. REC0011576-000
TASCAM DP-006 6 track recorder
169,-*
144 €
The Tascam DP-006 is a portable and ultra compact multitrack recorder.
Thanks to the simple, intuitive user interface, you can create high quality
multitrack recordings - whenever and wherever you like.
REC0010334-000
CD-TRAINER SERIES
For latest prices check:
www.musicstore.de
Users have the ability to slow down the tempo
of a CD track without changing the pitch
allowing artists, musicians, students, and music
teachers to practice, learn and teach fast licks,
rhythm parts and solos from their favorite
artists.
CD-GT2
GUITAR TRAINER
REC0005635-000
CD-VT2
VOICE TRAINER
REC0005636-000
CD-BT-2
BASS TRAINER
REC0005637-000
TOPSELLER!
259,-*
TASCAM DP-008EX Digital 8-track-Portastudio
219 €
The Tascam DP-008EX is a portable and ultra-compact multi-track recorder. The simple and intuitive
interface make high quality multi-track recordings easier than ever. Use real knobs and buttons for
common functions and navigate through the menu with ease.
REC0010393-000
TASCAM HS-P82 Multitrack Field Recorder
5479,-*
4995 €
Dual Compact flash slot with UDMA support, Backup using dual CF slot,
Linear PCM recording up to192kHz sampling rate, Stereo mix channel recorded in addition to 8
recording tracks (Fs: 44.1kHz/48kHz), Limiter and low cut filter on each mic/line inputs, Internal microphone for slate, Maximum 5 second pre-recording, Manual/Auto mark point. 8 High-quality mic pre
amps and AD converter with independent +48V phantom power for each mic/line.
REC0007180-000
each
129 €
NEW!
3385 €
3849,-*
TASCAM DA-6400 Compact 64-channel digital multitrack recorder/player for Live and Broad-
cast applictions. an all-new 64-track recorder that records to an internal SSD drive caddy for live and
event recording. Professional I/O options like MADI and DANTE make it ideal for live recording, event
capture, or as a backup for critical DAW sessions. Available with a single or dual/redundant power
supply, the DA-6400 is an unbeatable option for professional remote recording. Included with the
DA-6400 is an AK-CC25 hot-swappable caddy containing a high-performance 240GB TASCAM solidstate drive. The caddy includes a USB 3 jack for stand-alone use – simply hand the drive to the client
to offload the BWAV files into their DAW session. The DA-6400 records 64 tracks at 48kHz/24-bit or
32 tracks at 96kHz/24-bit. Included on the rear panel are SMPTE timecode, word clock, RS-422, parallel and Ethernet connections. No dedicated recorder combines the high performance, flexible operation, and complete reliability of TASCAM's DA-6400 solid-state 64-track recorder.
REC0012275-000
371
* recommended retail price • All prices incl. 19% VAT • No lifromility for printing errors (incl.prices) • Prices subject to change without notice!
549,-*
PROFESSIONAL AUDIO
TOPSELLER!