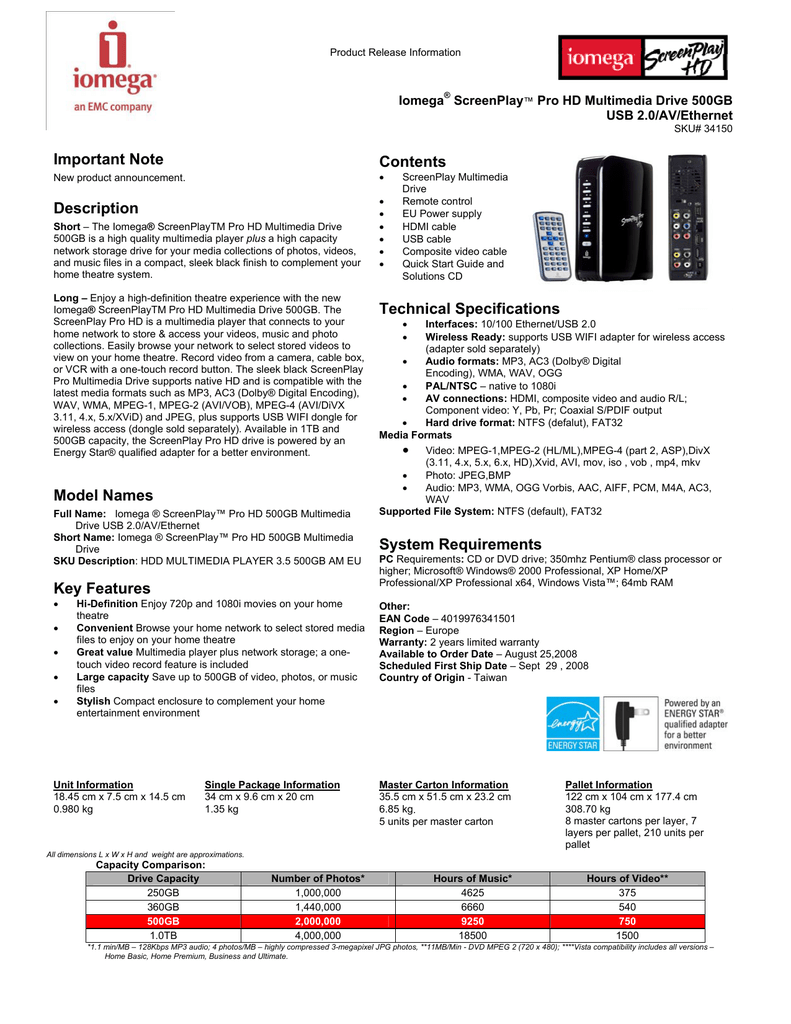 Product Release Information
Iomega® ScreenPlay™ Pro HD Multimedia Drive 500GB
USB 2.0/AV/Ethernet
SKU# 34150
Important Note
Contents
New product announcement.
•
Description
Short – The Iomega® ScreenPlayTM Pro HD Multimedia Drive
500GB is a high quality multimedia player plus a high capacity
network storage drive for your media collections of photos, videos,
and music files in a compact, sleek black finish to complement your
home theatre system.
Long – Enjoy a high-definition theatre experience with the new
Iomega® ScreenPlayTM Pro HD Multimedia Drive 500GB. The
ScreenPlay Pro HD is a multimedia player that connects to your
home network to store & access your videos, music and photo
collections. Easily browse your network to select stored videos to
view on your home theatre. Record video from a camera, cable box,
or VCR with a one-touch record button. The sleek black ScreenPlay
Pro Multimedia Drive supports native HD and is compatible with the
latest media formats such as MP3, AC3 (Dolby® Digital Encoding),
WAV, WMA, MPEG-1, MPEG-2 (AVI/VOB), MPEG-4 (AVI/DiVX
3.11, 4.x, 5.x/XViD) and JPEG, plus supports USB WIFI dongle for
wireless access (dongle sold separately). Available in 1TB and
500GB capacity, the ScreenPlay Pro HD drive is powered by an
Energy Star® qualified adapter for a better environment.
Model Names
Full Name: Iomega ® ScreenPlay™ Pro HD 500GB Multimedia
Drive USB 2.0/AV/Ethernet
Short Name: Iomega ® ScreenPlay™ Pro HD 500GB Multimedia
Drive
SKU Description: HDD MULTIMEDIA PLAYER 3.5 500GB AM EU
Key Features
•
•
•
•
•
Hi-Definition Enjoy 720p and 1080i movies on your home
theatre
Convenient Browse your home network to select stored media
files to enjoy on your home theatre
Great value Multimedia player plus network storage; a onetouch video record feature is included
Large capacity Save up to 500GB of video, photos, or music
files
Stylish Compact enclosure to complement your home
entertainment environment
Unit Information
18.45 cm x 7.5 cm x 14.5 cm
0.980 kg
Single Package Information
34 cm x 9.6 cm x 20 cm
1.35 kg
•
•
•
•
•
•
ScreenPlay Multimedia
Drive
Remote control
EU Power supply
HDMI cable
USB cable
Composite video cable
Quick Start Guide and
Solutions CD
Technical Specifications
•
•
Interfaces: 10/100 Ethernet/USB 2.0
Wireless Ready: supports USB WIFI adapter for wireless access
(adapter sold separately)
•
Audio formats: MP3, AC3 (Dolby® Digital
Encoding), WMA, WAV, OGG
•
PAL/NTSC – native to 1080i
•
AV connections: HDMI, composite video and audio R/L;
Component video: Y, Pb, Pr; Coaxial S/PDIF output
•
Hard drive format: NTFS (defalut), FAT32
Media Formats
•
Video: MPEG-1,MPEG-2 (HL/ML),MPEG-4 (part 2, ASP),DivX
(3.11, 4.x, 5.x, 6.x, HD),Xvid, AVI, mov, iso , vob , mp4, mkv
•
Photo: JPEG,BMP
•
Audio: MP3, WMA, OGG Vorbis, AAC, AIFF, PCM, M4A, AC3,
WAV
Supported File System: NTFS (default), FAT32
System Requirements
PC Requirements: CD or DVD drive; 350mhz Pentium® class processor or
higher; Microsoft® Windows® 2000 Professional, XP Home/XP
Professional/XP Professional x64, Windows Vista™; 64mb RAM
Other:
EAN Code – 4019976341501
Region – Europe
Warranty: 2 years limited warranty
Available to Order Date – August 25,2008
Scheduled First Ship Date – Sept 29 , 2008
Country of Origin - Taiwan
Master Carton Information
35.5 cm x 51.5 cm x 23.2 cm
6.85 kg.
5 units per master carton
Pallet Information
122 cm x 104 cm x 177.4 cm
308.70 kg
8 master cartons per layer, 7
layers per pallet, 210 units per
pallet
All dimensions L x W x H and weight are approximations.
Capacity Comparison:
Drive Capacity
250GB
360GB
500GB
1.0TB
Number of Photos*
1,000,000
1,440,000
2,000,000
4,000,000
Hours of Music*
4625
6660
9250
18500
Hours of Video**
375
540
750
1500
*1.1 min/MB – 128Kbps MP3 audio; 4 photos/MB – highly compressed 3-megapixel JPG photos, **11MB/Min - DVD MPEG 2 (720 x 480); ****Vista compatibility includes all versions –
Home Basic, Home Premium, Business and Ultimate.