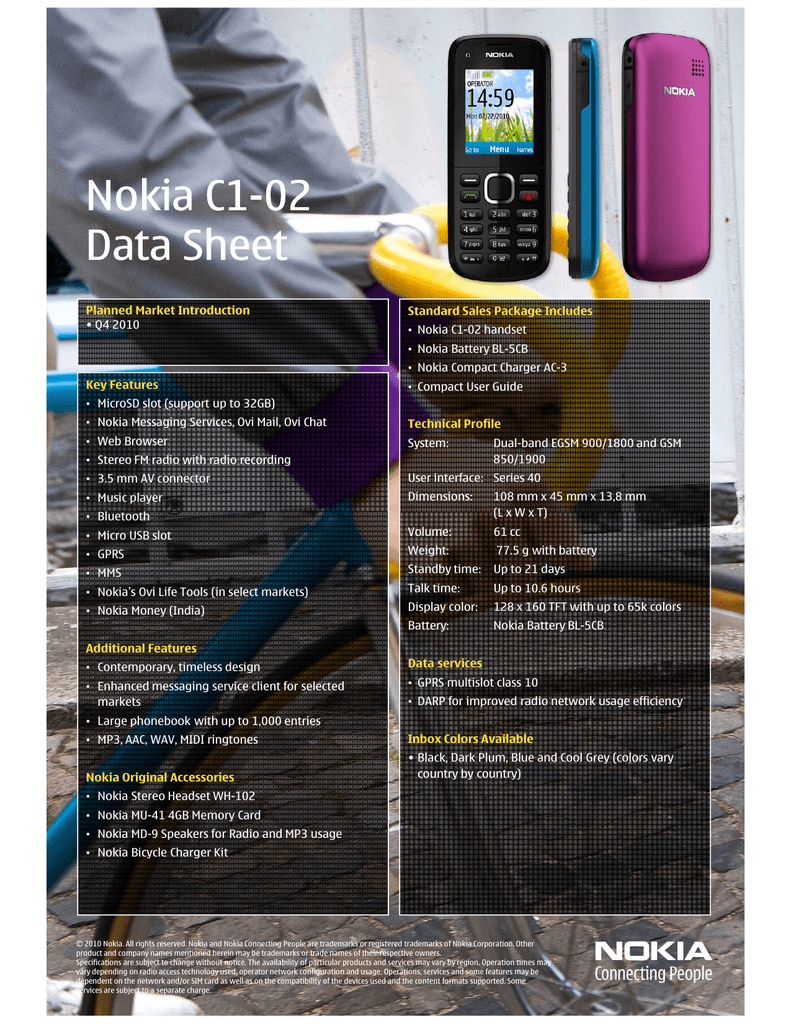 Nokia C1-02
Data Sheet
Planned Market Introduction
• Q4 2010
Standard Sales Package Includes
• Nokia C1-02 handset
• Nokia Battery BL-5CB
• Nokia Compact Charger AC-3
Key Features
• Compact User Guide
• MicroSD slot (support up to 32GB)
• Nokia Messaging Services, Ovi Mail, Ovi Chat
Technical Profile
• Web Browser
System:
• Stereo FM radio with radio recording
Dual-band EGSM 900/1800 and GSM
850/1900
• 3.5 mm AV connector
User interface: Series 40
• Music player
Dimensions:
108 mm x 45 mm x 13,8 mm
(L x W x T)
• Micro USB slot
Volume:
61 cc
• GPRS
Weight:
77.5 g with battery
• MMS
Standby time:
Up to 21 days
• Nokia's Ovi Life Tools (in select markets)
Talk time:
Up to 10.6 hours
• Nokia Money (India)
Display color:
128 x 160 TFT with up to 65k colors
Battery:
Nokia Battery BL-5CB
• Bluetooth
Additional Features
• Contemporary, timeless design
Data services
• Enhanced messaging service client for selected
markets
• GPRS multislot class 10
• DARP for improved radio network usage efficiency
• Large phonebook with up to 1,000 entries
• MP3, AAC, WAV, MIDI ringtones
Inbox Colors Available
Nokia Original Accessories
• Black, Dark Plum, Blue and Cool Grey (colors vary
country by country)
• Nokia Stereo Headset WH-102
• Nokia MU-41 4GB Memory Card
• Nokia MD-9 Speakers for Radio and MP3 usage
• Nokia Bicycle Charger Kit
© 2010 Nokia. All rights reserved. Nokia and Nokia Connecting People are trademarks or registered trademarks of Nokia Corporation. Other
product and company names mentioned herein may be trademarks or trade names of their respective owners.
Specifications are subject to change without notice. The availability of particular products and services may vary by region. Operation times may
vary depending on radio access technology used, operator network configuration and usage. Operations, services and some features may be
dependent on the network and/or SIM card as well as on the compatibility of the devices used and the content formats supported. Some
services are subject to a separate charge.

* Your assessment is very important for improving the work of artificial intelligence, which forms the content of this project