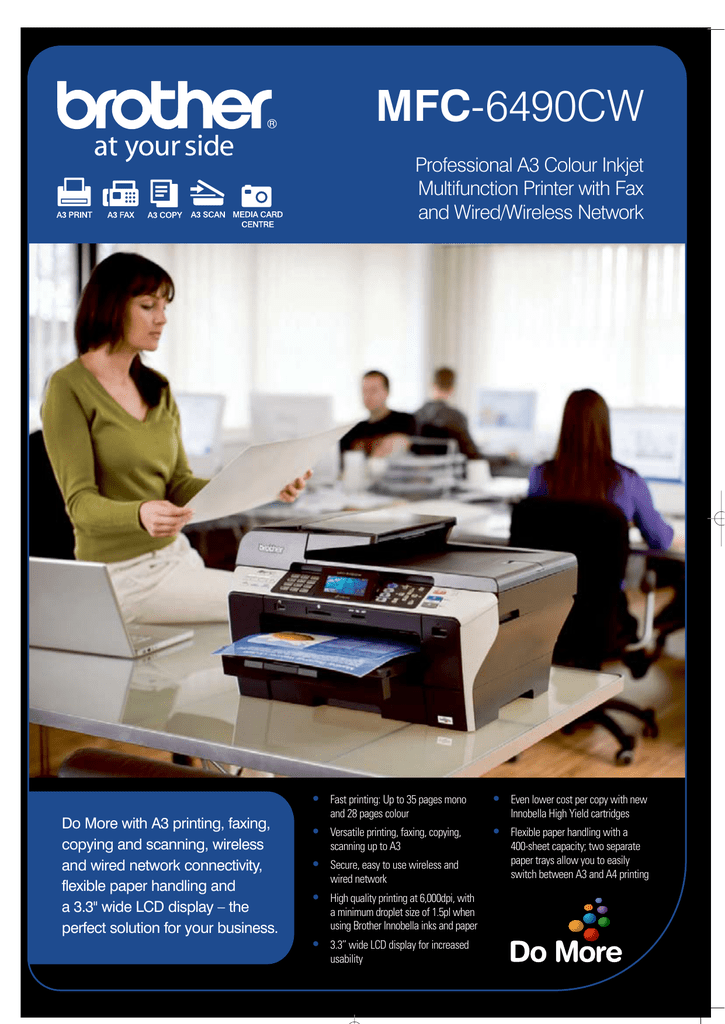 810912 MFC 6490 A4 leaflet.qxd
19/06/2008
11:06
Page 2
MFC-6490CW
Professional A3 Colour Inkjet
Multifunction Printer with Fax
and Wired/Wireless Network
Do More with A3 printing, faxing,
copying and scanning, wireless
and wired network connectivity,
flexible paper handling and
a 3.3" wide LCD display – the
perfect solution for your business.
• Fast printing: Up to 35 pages mono
• Even lower cost per copy with new
• Versatile printing, faxing, copying,
• Flexible paper handling with a
and 28 pages colour
scanning up to A3
• Secure, easy to use wireless and
wired network
• High quality printing at 6,000dpi, with
a minimum droplet size of 1.5pl when
using Brother Innobella inks and paper
• 3.3'' wide LCD display for increased
usability
Innobella High Yield cartridges
400-sheet capacity; two separate
paper trays allow you to easily
switch between A3 and A4 printing
MFC-6490CW Professional A3 Colour Inkjet Multifunction Printer with Fax and Wired/Wireless Network
Everything you have always needed in an inkjet
multifunction machine – and more: With the new
MFC-6490CW you can print, fax, copy and scan up to A3.
Offering professional quality A3 multi-function performance in one discreet unit,
the MFC-6490CW enables you to Do More, giving you a flexibility that is unique
to the new Brother inkjet multifunction generation.
The MFC-6490CW comes complete with wireless network capability, so you can
connect to your network without the need for untidy cables – although hard wire
connection is also an option.
Its large 3.3" colour LCD widescreen display makes it easy to navigate the many
available functions. Preview fax messages, view your photos individually, as a
slideshow, or even edit them without the need to use a computer.
With two separate paper trays holding up to 400 sheets, you don't have to
switch the paper supply every time you print in a different format. The 50-page
Automatic Document Feeder makes copying and faxing multi-page documents
easier and faster.
Add to all this the economy that separate high yield ink cartridges and
compliance with the strict Blue Angel German environmental standard offer,
and it's not hard to see why the MFC-6490CW is the compact A3 multifunction
inkjet printer that can make a massive difference to your business.
MFC-6490CW Technical Specifications
General
Technology
Memory Capacity
Warm-up Time
Interfaces
Network
Protocols
Wireless Setup
Wireless Security
Display
Colour Printer
Speed
Resolution
Borderless Printing
Colour Enhancement
Minimum Droplet Size
Direct Photo Print
Colour Fax
Modem
Colour
Data Compression
Automatic Redial
Speed Dials
Group Dials
Fax / Tel Switch
Distinctive Ring Detection
Super Fine
Grey Scale
Memory Transmission
Out of Paper Reception
Broadcasting Locations
Auto Reduction
Error Correction Mode
Paper Handling
Inkjet
64MB
0 seconds
Hi Speed USB 2.0 / USB Direct / Pictbridge / Media cards
10/100 Base-TX, Wireless LAN IEEE802.11b/g (Infrastructure
Mode/Adhoc Mode)
TCP/IP (IPv4 & IPv6)
Secure Easy Setup™ (SES), Wi-Fi Protected Setup™ (WPS), AirStation
OneTouch Secure System™ (AOSS)
WEP 64/128, WPA-PSK (TKIP), WPA2-PSK (TKIP&AES)
Wide 3.3" Colour LCD Display
Up to 35ppm mono & 28ppm colour
Up to 6,000 x 1,200 (Vertical x Horizontal)
Available for A3, A4, LTR, A6, Photo 4 x 6", Index Card, Postcard
Brother Image enhancement allows you to customise colour output
1.5pl (when used with Brother BP71 paper, see Supplies section)
Print photos direct from a USB Flash memory Drive / Media Cards (See Direct
Photo Print section)
PC-FAX*
33.6kbps
Using the ITU.T-30E Colour Fax Protocol to other compatible fax machines
MH, MR, MMR (Mono), JPEG (Colour)
Automatic redial if the recipient fax is busy
100 locations for pre-stored numbers
Up to 6 groups
Automatic recognition of fax and telephone reception
Yes - UK & Denmark only
Enables quality transmission and reception of very small print or line drawings
256 shades of grey
Up to 400 pages (ITU-T Test Chart No 1)
Up to 400 pages (ITU-T Test Chart No 1)
Send the same fax message to up to 256 locations
Automatically reduces a received fax to fit on to a single A4 sheet
Where machines share the ECM feature, errors during transmission are
corrected automatically ensuring received documents are error free
Sends a fax received in memory to another pre-programmed fax number (Mono only)
Allows the user to remotely access their machine by using another touch tone phone
Allows the user to retrieve fax messages using another touch tone machine
(Mono only)
Scan a fax for transmission whilst receiving a fax (Mono only)
Fax documents anywhere in the world over the internet without the use of a
telephone line
Send & Receive faxes from your PC (phone line required)
Colour Copier
Speed
Resolution
Multi copy
Enlargement / Reduction Ratio
N in 1
Poster Printing
Up to 23ppm mono & 20ppm colour
Up to 1,200 x 1,200dpi (colour), 1,200 x 1,200dpi (mono)
Produces up to 99 copies of each original
25% - 400% in 1% increments
Reduce 2 or 4 pages on to a single sheet
Enlarge an image to print onto 3 x 3 pages of A4 size (available for A4 only)
Fax Forwarding
Remote Access
Fax Retrieval
Dual Access
Internet Fax (I-Fax)
Colour Scanner
Resolution
Scan Speed
Grey Scale
Colour Depth
'Scan' Key
Optical: Up to 1,200 x 2,400dpi
Interpolated: Up to 19,200 x 19,200dpi
From 4 seconds Mono & from 6 seconds Colour (A4 size, 100 x 100dpi)
256 shades of grey
36bit internal processing colour scanner
Allows the user to scan to E-mail, OCR, Image, File, Card or a USB Flash
Memory Drive
Supporting: JPEG, BMP, PDF, TIFF, PNG (USB Flash Memory Drive supports PDF
Mono & Colour, JPEG, TIFF).
Paper Input
Paper Output
Paper Handling Sizes
Media Type
Direct Photo Printing
PictBridge
USB Direct Interface
PhotoCapture Centre™
(Acceptable Media Cards)
Media Card Drive
Network Media Card Drive
Image Format
Software
Driver Software Included
Windows®
Macintosh®
Reallusion FaceFilter
Studio Software
Supported Operating Systems
Supplies
Standard Cartridges
High Yield Cartridges
Brother Paper
Weights & Dimensions
With Carton
Without Carton
Others
Power Consumption
Noise level
150 sheet standard paper tray
250 sheet lower tray
50 sheet automatic document feeder (ADF)
50 sheets
A3, A4, LTR, LGL, EXE, A5, A6, Photo 4 x 6", Index Card, Postcard, Envelope
plus additional sizes
Plain, Inkjet, Glossy, Transparency
Print directly from a PictBridge enabled Digital Camera
Print directly from a USB Flash Memory Drive
Compact Flash: 4MB-8GB (Type1 only, Type2 & Microdrive are not compatible)
Memory Stick: 16MB-128MB (Duo with Adopter)
Memory Stick Pro: 256MB-8GB (MagicGate: YES if not use MG function)
Secure Digital: 16MB-2GB (MiniSD with Adopter)
Secure Digital High Capacity (SDHC): 4-8GB
xD Picture Card: 16-512MB
xD Picture Card TypeM / M+ / TypeH: 256MB-2GB
Save & retrieve files using any of the above listed media cards
Save & retrieve files using any of the above listed media cards through the
network
Photo Print: JPEG
Scan to Card: JPEG, PDF (colour), TIFF, PDF (mono)
Brother MFL-Pro Suite
Brother ControlCentre3, ScanSoft® Paperport® 11 SE with OCR
Brother ControlCentre2, NewSoft® Presto!® PageManager7
A simple and easy to use photo editor that enables you to fine-tune your
photos to print perfect, professional looking photos with or without borders.
Windows Vista® / Windows® XP Professional (32 & 64 bit editions) / XP
Home Edition / Windows® 2000 Professional (SP4) / Mac OS X 10.2.4
or greater
Black: LC1100BK - Approx 450** A4 pages
Cyan / Magenta / Yellow: LC1100C/M/Y - Approx 325** A4 pages
Black: LC1100HY-BK - Approx 900** A4 pages
Cyan / Magenta / Yellow: LC1100HY - C/M/Y - Approx 750** A4 pages
BP71GA3: A3 glossy photo paper, 20 sheets
BP71GLA: A4 glossy photo paper, 20 sheets
BP71GLP: 4x6" glossy photo paper, 20 / 50 sheets
BP60MA: A4 Matte inkjet paper, 25 sheets
BP60PA: A4 inkjet paper, 250 sheet
656(W) x 597(D) x 460(H) mm / 22.1kg
540(W) x 488(D) x 323(H) mm / 15.6kg
Operating - 29W
Standby - 6W
Power Save - 4.5W
50dBA (Maximum)
*Receiving is for Windows® only
**Approx. cartridge yield is declared in accordance with ISO/IEC 24711
Contact:
Brother International Europe Ltd
Brother House, 1 Tame Street, Audenshaw, Manchester M34 5JE
Tel:+ 44 (0) 161- 330 6531 Fax:+ 44 (0) 161- 330 5520
Website: www.brother.com
All specifications correct at time of printing. Brother is a registered trademark of Brother Industries Ltd.
Brand product names are registered trademarks or trademarks of their respective companies.