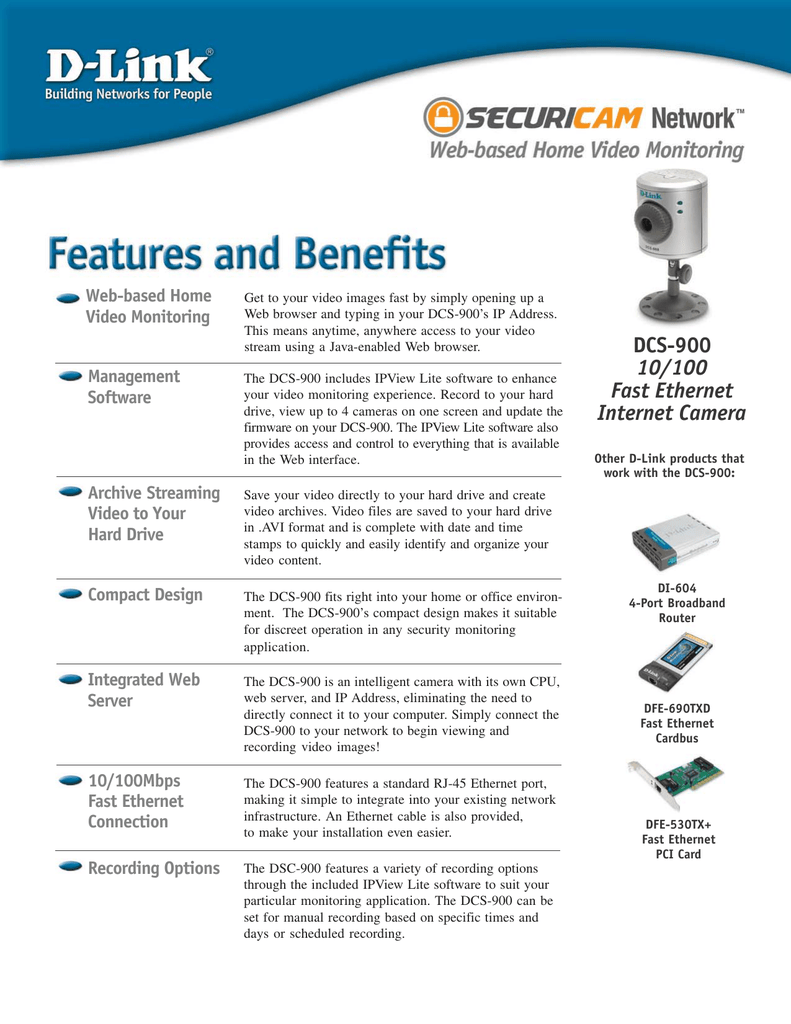 Web-based Home
Video Monitoring
Management
Software
Get to your video images fast by simply opening up a
Web browser and typing in your DCS-900's IP Address.
This means anytime, anywhere access to your video
stream using a Java-enabled Web browser.
The DCS-900 includes IPView Lite software to enhance
your video monitoring experience. Record to your hard
drive, view up to 4 cameras on one screen and update the
firmware on your DCS-900. The IPView Lite software also
provides access and control to everything that is available
in the Web interface.
Archive Streaming
Video to Your
Hard Drive
Save your video directly to your hard drive and create
video archives. Video files are saved to your hard drive
in .AVI format and is complete with date and time
stamps to quickly and easily identify and organize your
video content.
Compact Design
The DCS-900 fits right into your home or office environment. The DCS-900's compact design makes it suitable
for discreet operation in any security monitoring
application.
Integrated Web
Server
The DCS-900 is an intelligent camera with its own CPU,
web server, and IP Address, eliminating the need to
directly connect it to your computer. Simply connect the
DCS-900 to your network to begin viewing and
recording video images!
10/100Mbps
Fast Ethernet
Connection
The DCS-900 features a standard RJ-45 Ethernet port,
making it simple to integrate into your existing network
infrastructure. An Ethernet cable is also provided,
to make your installation even easier.
Recording Options
The DSC-900 features a variety of recording options
through the included IPView Lite software to suit your
particular monitoring application. The DCS-900 can be
set for manual recording based on specific times and
days or scheduled recording.
DCS-900
10/100
Fast Ethernet
Internet Camera
Other D-Link products that
work with the DCS-900:
DI-604
4-Port Broadband
Router
DFE-690TXD
Fast Ethernet
Cardbus
DFE-530TX+
Fast Ethernet
PCI Card
Package Contents
Part No: DCS-900 Internet Camera
Manual and Software on CD-ROM1
Swivel Stand
Ethernet RJ-45 Cable
Power Adapter
Quick Installation Guide
1-
Latest Product Documentation
available on support.dlink.com
Product Information
Part No: DCS-900 Internet Camera
Description:10/100 Fast Ethernet
Internet Camera
UPC: 790069-262012
D-Link Systems, Inc.
TEL: (800) 326-1688
www.dlink.com
Web-based management makes it easy to quickly set
up and configure the DCS-900.

* Your assessment is very important for improving the work of artificial intelligence, which forms the content of this project