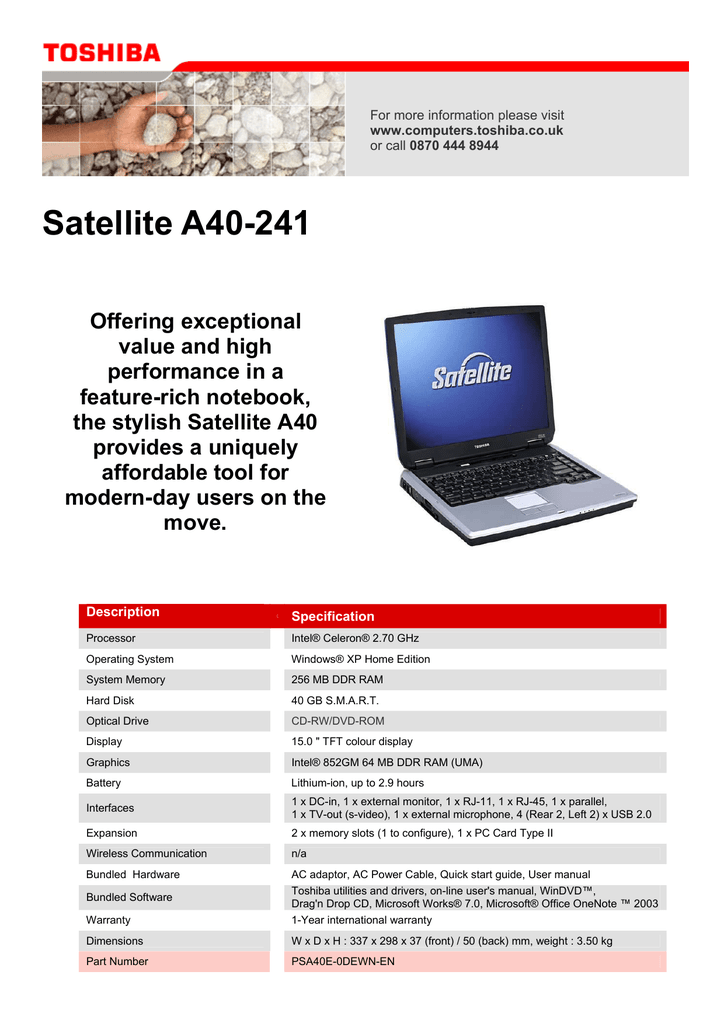 For more information please visit
www.computers.toshiba.co.uk
or call 0870 444 8944
Satellite A40-241
Offering exceptional
value and high
performance in a
feature-rich notebook,
the stylish Satellite A40
provides a uniquely
affordable tool for
modern-day users on the
move.
Description
Specification
Processor
Intel® Celeron® 2.70 GHz
Operating System
Windows® XP Home Edition
System Memory
256 MB DDR RAM
Hard Disk
40 GB S.M.A.R.T.
Optical Drive
CD-RW/DVD-ROM
Display
15.0 " TFT colour display
Graphics
Intel® 852GM 64 MB DDR RAM (UMA)
Battery
Lithium-ion, up to 2.9 hours
Interfaces
1 x DC-in, 1 x external monitor, 1 x RJ-11, 1 x RJ-45, 1 x parallel,
1 x TV-out (s-video), 1 x external microphone, 4 (Rear 2, Left 2) x USB 2.0
Expansion
2 x memory slots (1 to configure), 1 x PC Card Type II
Wireless Communication
n/a
Bundled Hardware
AC adaptor, AC Power Cable, Quick start guide, User manual
Bundled Software
Toshiba utilities and drivers, on-line user's manual, WinDVD™,
Drag'n Drop CD, Microsoft Works® 7.0, Microsoft® Office OneNote ™ 2003
Warranty
1-Year international warranty
Dimensions
W x D x H : 337 x 298 x 37 (front) / 50 (back) mm, weight : 3.50 kg
Part Number
PSA40E-0DEWN-EN
For more information please visit
www.computers.toshiba.co.uk
or call 0870 444 8944
Satellite A40-241
Where to buy?
Toshiba's Satellite Range of notebooks is available from our extensive network of retail
partners. For stock availability of the Satellite A40-241 please contact the retailers below:
www.microanvika.co.uk
Tel: 020 7467 6050
www.gultronics.co.uk
Tel: 020 7436 3131
www.procomdirect.com
Tel: 020 7637 5777
Recommended Options & Accessories
Entry Level
Carry Case
PX1087E-1NCA
Ext USB FDD-1.44MB
PA3109U-1FDD
PS2/USB Optical
Scroller Mouse
PX1044E-1NAC
USB External
Keyboard
PX1045B-1NAC
Terms and Conditions
Prices, offers and product design & specifications are correct at date of publication but subject to availability, change or withdrawal without notice.
Reseller's terms and conditions of sale apply. Special conditions and other restrictions may apply. The product illustrated may not matchthe
description. The above price and offer is suited for business use. CPU performance may vary from specifications under certain conditions such as
the use of battery instead of AC power, certain external peripherals, certain multimedia applications or network connections, complex modelling
software and in areas with low air pressure and/or certain temperatures at high altitude (1,000 metres above sea level). Under some conditions,
your computer may automatically shut down as a normal protective measure. To avoid risk of lost data, please make periodic back-up copies. For
optimum performance, use your computer only under recommended conditions. Small bright dots may appear on your TFT display when you turn
on your PC. Your display contains an extremely large number of thin-film transistors (TFT) and is manufactured using high-precision technology.
Any small bright dots that may appear on your display are an intrinsic characteristic TFT manufacturing technology. Please read detailed
restrictions in the product resource guide, visit the Toshiba web site: omputers.toshiba-europe.com and/or contact Toshiba Technical Support. All
rights reserved. (c)2002 Toshiba Information Systems (UK) Limited. Intel, Intel Inside, the Intel Inside logo, Intel Centrino and the Intel Centrino
logo are trademarks or registered trademarks of Intel Corporation or its subsidiaries in the United States and other countries. Microsoft and
Windows are either registered trademarks or trademarks of Microsoft Corporation in the United States and/or other countries. Other Trademarks
or trade names may be used in this advertisement to refer to either the entity claiming the marks and the names of their products.Toshiba
Information Systems (UK) Limited disclaims propriety interest in the marks and names of others. Errors and omissions excepted. *Source IDC
February 2003.

* Your assessment is very important for improving the work of artificial intelligence, which forms the content of this project