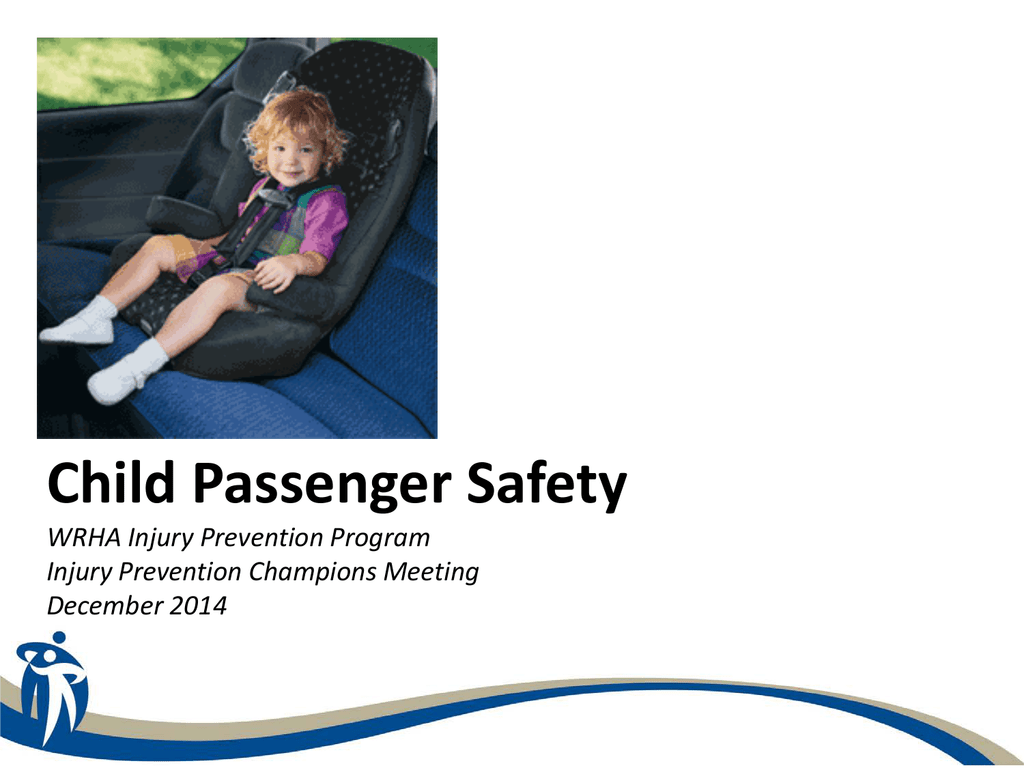 Child Passenger Safety
WRHA Injury Prevention Program
Injury Prevention Champions Meeting
December 2014
Objectives
We will review:
• Burden and patterns of motor vehicle
occupant injury in children and youth
• Evidence and current guidelines
• Key messages for parents
• Resources for staff
2
Jumping Ahead.. Need to know
•
•
•
•
•
•
•
Know age/stage (each as long as possible)
Refer for inspections
Back seat until age 13 (teen)
Secure cargo
Use car seats only for travel (not for sleep)
Do not place on elevated surfaces
Beware after-market products (nothing
behind child, uncover face)
3
Why Child Passenger Safety?
• "Traffic crashes are the leading cause of
death for children of every age from 5 to 14
years - a fact that can be linked, at least in
part, to the reality that most kids are
unbuckled or improperly restrained in
vehicles." (NHTSA)
4
Canada in Context
5
Leading causes of death
6
Trends in Unintentional Injury
7
Leading Causes of Death
8
Road Safety Interventions
9
Manitoba Data - Deaths
•
•
•
•
•
•
Deaths: limitations…
2009-2013 (preliminary for 2013)
43 occupant deaths, range 5-11 per year
34 were teens, 13 drivers
22 were unrestrained (some unknown)
Many alcohol-associated crashes
10
Manitoba Data - Hospitalizations
•
•
•
•
•
Trauma database (HSC) 2004-2011
50% of admissions are transport-related
9132 trauma admissions, age <20
452 due to Motor Vehicle (traffic),
169 with ISS = 12 or more
– vs 65 pedestrians
– vs 41 cyclists
11
Child Restraint Use
• Snowdon/Transport Canada (2010)
• Correct use rates (60% overall for MB)
– 88% infants less than 1 year of age
– 78% toddlers 1-3 years of age
– 39% age 4-8
• Front seat: 3.4% of infants, 3.7% of toddlers
,17.5% age 4-8
• Unrestrained: 8.7% in Manitoba
12
Evidence/Guidelines
• Systematic reviews (Cochrane, Community
guide, CORE BC evidence review)
• Child passenger safety guidelines with
summaries of evidence:
– AAP policy statement, Technical report (2011)
– CPS statement (2008)
• Road safety information/policy
– Transport Canada, MPI, MIT
13
What works?
• Legislation/enforcement
• Education
– Individual (counselling, inspection, DVD)
– Group (public/media/community-based, parents)
• More effective when incentive/access
programs included in strategy
• More effective when combined approaches
• See references
14
What can we do?
• Who: Public health, Primary Care, Child
Health, Women's Health (+ MPI, MB govt)
• Prenatal, postpartum guidance (individual,
group, future web/email/text)
– Age/stage, safety tips/key messages
– Inspections
• Booster seats, back seat
– Kindergarten entry (letter, fair), TB picnic, MPI
• Access/disparity strategies
15
All You Need to Know About
Child Passenger Safety
A Summary of Current Best Practices
Selecting a Car Seat
–What is the law?
–Criteria for selection
• Child factors
–Age
–Size (Weight, Height)
–Special considerations
• Vehicle factors
17
Stage 1
Rear-Facing
– Birth – age 2
– Up to 20kg (45lb)
– Why rear-facing?
• Large head
• Weak neck
• Spinal cord injuries
• Serious injuries
18
Rear-facing is Safer
• Children 0-23 months
• US NHTSA crash data,
1988-2003
• All crash types OR=1.76,
95% CI 1.40 to 2.20
• Side impact crashes
OR=5.53, 95% CI 3.74 to
8.18
• Age 1: OR=5.32, 95% CI
3.43 to 8.24
19
Stage 2
•
•
•
•
Forward-Facing Child Seat
Age two years to seat limits
Up to 30kg (65lb)
How does it work?
– Harness secures the child
– Seat belt or UAS secures the restraint
– Tether anchors the top of the restraint
20
Stage 3
•
•
•
•
•
Booster Seat
By law until 9 years, 4ft 9 inches, or 80lb
AAP – until age 8-12
Minimum 18kg (40lbs)
How does it work?
– Improves lap belt fit
– Improves shoulder belt fit
– Reduces head excursion
21
Stage 4
•
•
•
•
•
Seat Belt
Age 9 years +
Height 4 feet 9 inches +
Weight 36kg (80lb) +
How does it work?
– Lap belt
– Shoulder belt
22
Car Seats on the Market
• Infant only
• Convertible (RF and FF)
• Booster
– Transitional (harness) and/or Belt-positioning
– High back or backless
• Combination (3 in 1)
23
24
Infant Seats
• Always rear-facing
• With or without a base
• Weight limits:
– Minimum 4-5lb
– Maximum 20-45lb
• Straps: below shoulders
• Install with seat belt or UAS
25
Convertible Seats
•
•
•
•
•
Rear-facing for infants
Forward-facing for toddlers
Weight limits vary
Tether for forward-facing
Restraint systems
– 5 point harness or 3 point harness with
shield (older style, not recommended)
26
Booster Seats
• High-back booster
– Transitional: 5 point harness until maximum
weight limit then convert to a belt-positioning
booster (minimum 40lb)
– Belt-positioning booster (40-110lb)
• Backless booster (40-110lb)
27
Booster seat legislation
• Effective August 2013
• Children are required to use a booster seat
until they are 9 years old or 4ft 9 inches or
weigh 80lb
28
Booster Seat Effectiveness
• 82% reduction in side-impact injuries, 45% reduction
in serious injuries, and 14% reduction in all types of
injuries among children less than 8 years of age
(NHTSA)
• Booster seat legislation increases use and decreases
injuries and deaths
– Deaths: adjusted incidence rate ratio 0.89 for 4-5 year olds
(95% CI 81–0.99), 0.77 for 6 year olds (95% CI 0.65–0.91)
and 0.75 for 7 year olds (95% CI, 0.62–0.91) (FARS data,
Mannix 2012)
29
Booster Seat Use: Winnipeg
• 6926 children 5-8 years of age were observed
in 6099 vehicles between 2010 and 2012
• Observed booster seat use increased
significantly pre-legislation, from 14.7% in
2010 to 31.4% in 2012 (p<0.001).
• Booster seat use peaked in the third week of
June 2012 (χ2 = 34.20, p <0.001).
30
31
Booster seats on the market
• Stage 3 only
– Backless
– High back
• Stage 2/3
• Stages 1-3
32
Low cost booster seats
• Major retailers: as low as $10-15
• No PST as of July 1st
• Car/booster seat loan program piloted, new
options being explored
• In the meantime call IMPACT for low income
families with no other option
33
Seat Belt Injuries
•
•
•
•
•
•
1. Shoulder belt under the arm
Aortic/cardiac injuries
Rib fractures, pulmonary contusions
2. Lap belt only (or shoulder belt behind back)
Ejection from vehicle (crush/multiple)
Lap belt syndrome: lumbar spine fractures, low
spinal cord injuries, abdominal injuries, head injury
(jack-knife posture)
34
Seat Belt Fit Test
1. Does the child sit all the way back against the seat?
2. Do the child's knees bend comfortably at the edge of
the seat?
3. Is the lap belt on the tops of the thighs?
4. Is the shoulder belt centered on the shoulder and
chest?
5. Can the child stay seated like this for the whole trip?
If you answered NO to any of these questions, your child
needs a booster seat.
35
Incorrect Use: Car Seats
• 80% of car seats are installed are used or
installed incorrectly
• The most common errors are:
– Tether strap and anchor bolt errors
– Locking clip not installed
– Vehicle seat belt not secured tightly
– Chest clip not positioned at armpit level
– Too much slack in harness straps
36
Part II
Pot Pourri of Hot Topics in
Child Passenger Safety
FAQs and problems parents might
encounter
Inappropriate Graduation
Major errors in graduation
• forward-facing too early
• no booster seat at all
• seat belt too early
38
Premature graduation
• Stay in each stage as long as possible
– Rear-face to age 2 or maximum weight of seat
– Forward face to 65 lb
– No booster seat until at least 40 lb and 4 yrs
– For younger booster-age children use multi-stage
seat with seat belt guide at shoulder
– For older children use backless boosters for better
compliance, carpooling etc.
39
Air bags and car seats
• Never place a car
seat in front of an
air bag
40
Side Air bags
• Select a position away from the air bag (center,
rear).
• Clear the area between the child seat/booster
and the door of all objects. Toys, blankets, and
even pillows could harm a child if the side air bag
inflates.
• Check your child's position frequently - ensure
that your child does not lean against the door.
41
Where in the car?
• The back seat is the safest place for
children 12 and under.
• The center position is preferred.
• For several children, consider the whole
picture - seat types and installation
requirements, availability of lap/shoulder
belts, air bags, compliance issues.
42
After a crash...
• Transport Canada recommends against using
a car seat that has been in a collision.
• Manufacturers recommend that car seats
should be replaced after a crash.
• MPI will cover the cost of a replacement car
seat if a claim is made by the parent
43
Car seat lifespan?
• Recommended lifespan of car seats…
• AAP - maximum 10 years
• Manufacturers - (vary) 5 years
44
Older vehicles
• Problems:
• Lap belts must not be used for booster seats.
• Lap belts provide inferior protection as
compared to lap-shoulder belts.
• Solutions:
• Consult your vehicle dealer about installing
shoulder belts.
45
Incompatibility
• Check the manufacturers' instructions for
both the seat and the vehicle regarding
possible installation problems.
• Car seat manufacturers recommend a "try
before you buy" approach.
• Ask your local car seat specialist or car seat
inspector for an up-to-date list of known
incompatible products.
46
Since September 1, 2002, all new
vehicles and child safety seats are
equipped with a universal anchorage
system (UAS).
All new child safety seats have three
standard attachments, one on top and
two at the base.
All new cars and trucks have standard
anchors in the back seats to link to the
seat attachments.
In the vehicle, the new system consists
of two lower anchorages and one upper
anchorage.
New child safety seatsl have a hook,
buckle or other connector that snaps
onto the lower anchorage in the vehicle.
47
UAS – New Requirement in US
• Car seat labels in the US now need to show
the weight limits of the UAS/LATCH anchor
– All car seats manufactured after February 27, 2014 will
have a label that clearly defines the the maximum weight
limit for installing that car seat with lower anchors. That
maximum weight limit will be 65 lbs when the car seat
weight and the child's weight are combined.
• This new rule does not apply in Canada,
however check your vehicle manual and seat
label!
48
Premature/LBW Infants
•
•
•
•
•
•
Hospital discharge guidelines
Minimum weight limits
Infant only seats (+/-car beds)
No shields, abdominal pads etc.
Padding, harness size, recline
Allowable adjustments - head, crotch rolls
49
Available on the market?
Infant only
Infant travel system
Forward facing
Three in one
Booster
2011
$70
$130
$80
$170
$18
2012
$80
$160
$90
$170
$18
2014
$100
$200
$100
$150
$18
50
Lowest cost options?
• Convertible ($100) + no back booster ($18)
• Families should be aware that car seats
purchased in the US do not meet Canadian
safety requirements
• Second hand?
– Canada safety mark, expiry date, all parts, plastic
shell with no cracks, not in a crash
ANY SEAT IS BETTER THAN NO SEAT!
51
Access to Car Seats
• Funding/programs for low income families?
– Income assistance newborn allowance ($250/75)
– car seat allowance?
– Loan program (new/gently used)
– Purchase programs, no tax, rebate
• Getting home from hospital: success stories
– Borrow
– Social worker
– IRCOM
52
After-Market Devices/Issues
• No standards
– Car seat covers
– Positioners not purchased with the seat
– Seat-belt positioners
•
•
•
•
Nothing behind child (car seat covers)
Do not cover face (blanket, car seat cover)
Winter clothing
Not a crib!
53
Child Passenger Safety
Recommended Resources for Parents
Consistency?
•
•
•
•
•
•
Caring for Your Newborn (refers to MPI)
Babies Best Chance (RF to age 1)
Making Connections (RF to age 1)
MPI (no age RF)
Transport Canada (no age RF)
Inserts
– Booster seats
– Rear-facing to age 2 proposed (WRHA only)
55
MPI
• Recommended as
the primary
resource for families
• Booster insert
• Rear-facing insert
being developed
(WRHA)
56
Transport Canada
• One for each stage
• Also available in:
French, Arabic, Chinese
Punjabi, Somali, Spanish
57
Do not use…
• Booster seat
postcard and
brochure
58
Booster Seat Standing Display
• To be distributed across
Manitoba
• Growth chart version
for outpatient clinics
and other community
settings
• Use for growing and
learning, groups, fairs
59
Video Resources
Car Seat Installation Guides
https://www.youtube.com/playlist?list=PL7plicVImnW45mR_4Oq1SAbuK0ZM33eLf
Top 10 Car Seats 2014
http://youtu.be/5NKqNHDisZ8
News Clips
Child Passenger Safety Week (Edmonton)
http://globalnews.ca/video/851559/child-passenger-safety-week/
Child Passenger Safety Week (Edmonton)
http://globalnews.ca/video/1566385/child-passenger-safety-week-2
60
Wrapping up.. Need to know!
•
•
•
•
•
•
•
Know age/stage (each as long as possible)
Refer for inspections
Back seat until age 13 (teen)
Secure cargo
Use car seats only for travel (not for sleep)
Do not place on elevated surfaces
Beware after-market products (nothing
behind child, uncover face)
61
Age/Stage Review
1. Rear-facing to age 2 (45 pounds)
2. Forward-facing from age 2
– As long as possible (to maximum seat limit)
– Consider size, development, length of trip (falling
asleep in booster seat and becoming out of
position)
3. Booster seat to age 9 or 4ft 9 inches or 80lb
– Minimum 40 pounds, delay until bigger/more
mature, can stay seated and in position in
booster
62
What can we do? More?
• Who: Public health, Primary Care, Child
Health, Women's Health (+ MPI, MB govt)
• Prenatal, postpartum guidance (individual,
group, future web/email/text)
– Age/stage, safety tips/key messages
– Inspections
• Booster seats, back seat
– Kindergarten entry (letter, fair), TB picnic, MPI
• Access/disparity strategies
63
Room for improvement?
• Consistent information for parents
– WRHA prenatal, early childhood resources
• Promote rear-facing to age 2 (insert, social
media, etc.)
• Promote booster seat use (immunization
letter, K registration, Healthy Schools, e-notes)
• Advocate for inspection and enforcement
• Explore access options (loan program, free
seats, tax credit, etc.)
64
Questions?
Thank you!