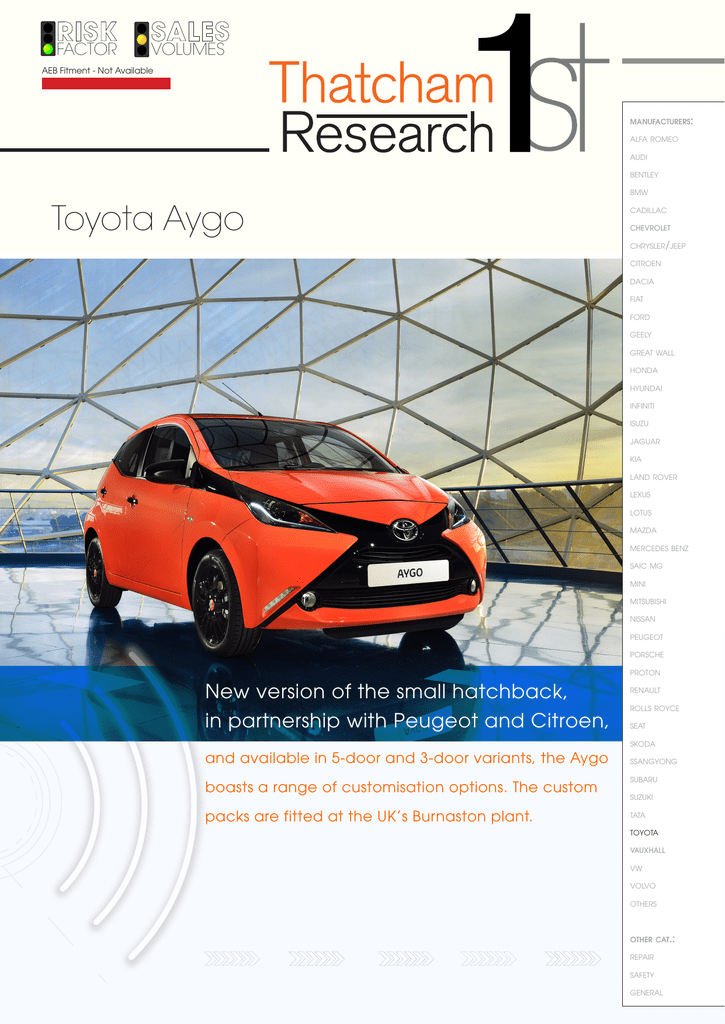 factor
volumes
AEB Fitment - Not Available
manufacturers:
alfa romeo
audi
bentley
bmw
Toyota Aygo
cadillac
chevrolet
chrysler/jeep
citroen
dacia
fiat
ford
geely
great wall
honda
hyundai
infiniti
isuzu
jaguar
kia
land rover
lexus
lotus
mazda
mercedes benz
saic mg
mini
mitsubishi
nissan
peugeot
porsche
proton
New version of the small hatchback,
in partnership with Peugeot and Citroen,
renault
rolls royce
seat
skoda
and available in 5-door and 3-door variants, the Aygo
ssangyong
boasts a range of customisation options. The custom
subaru
packs are fitted at the UK's Burnaston plant.
tata
suzuki
toyota
vauxhall
vw
volvo
others
other cat.:
repair
safety
general
Toyota Aygo
Structure :
Little is clear about the structure as yet,
though high strength material content has
increased. The roof panel height has been
lowered by 5mm with a more upright A post to
bring the roof forward, giving a better balance
overall and allowing a larger occupant cabin.
The C1, Aygo and Peugeot 108 share the
same A-post and front doors but the other
panels are different between the models.
Dimensions: 3455mm length, 1615mm width
(excluding door mirrors), 1460mm height,
wheelbase remains 2340mm. Kerb weight is
840-910kg.
Technology :
All Aygo trim levels have 4 SRS airbags:
driver's, front passenger and curtain airbags.
Vehicle Stability Control is standard on all
models.
The x-touch multimedia system features
a 7" colour touchscreen that replicates
a connected smartphone (if compatible
model) screen with compatible applications
available to use (this is termed "MirrorLink").
All x-touch models feature a rear view camera
system viewed through the 7" screen.
Trim levels: x, x-play,
x-pression
(there are also special editions: x-cite and
x-clusiv)
X: is the entry level model that features 14"
wheels, electric front windows, and LED
daytime run lights.
x-play:
models
have
15"
wheels,
air-conditioning, door handles and door
mirrors finished in the body colour, and has
the X style front bumper.
x-pression: upgrades include 15" alloy
wheels, front fog lamps, and the x-touch
multimedia system with rear camera. The
interior is finished with part-leather seats,
and externally has piano black rear bumper
insert, A-post x-tension trim, and the X style
front bumper.
x-cite: Special Edition models are solely
available in an Orange Twist colour. The
specification includes 15" alloy wheels in
gloss black, and the rear bumper insert, door
handles, mirror cases, and A-post x-tensions
are all also finished in gloss black. The x-cite
also features front fog lamps, the x-touch
multimedia and a rear view camera. The
colour scheme is extended to the interior for
the door panel finishers, air vent surrounds
and the seat fabric.
Toyota Aygo
x-clusiv: Special Edition models are solely
available in Bold Black. 15" machined alloy
wheels with black centre caps and chrome
A-post x-tension trims, rear bumper trim and
chrome X style front bumper complete the
style pack. The model also features front fog
lamps, the x-touch multimedia, a rear view
camera and auto headlamps.
Options include:
The OUTstand pack (£395) which includes
the front bumper X-trim, the A post x-tension
trims, and a rear bumper insert, all available
in a choice of 3 colours: Grey, Silver or White.
Five-spoke alloy wheels are available in
silver, machined black, or gloss white and
black (£499).
The OUTburst pack (£245) includes front
bumper, sill, and rear diffuser decals in Red
or Chrome.
A contrasting colour roof decal is available
(£195) in Grey, White, Red, Silver or Black.
The x-cite and x-clusiv trim levels can have
leather seats and keyless entry and starting
through the x-tra premium pack.
The interior can be enhanced with the
Inspire pack, for £165, which includes air
vent and gear lever surrounds in any of the 5
body colours. This can be extended to body
colour matching instrument panel and centre
console as the INtense pack (£165).
Colour options include Gloss Black,
machined Black, Silver, or White for the
alloy wheels, with centre caps available in 6
colours, and centre cap surrounds available
in 7 colours.
Toyota Aygo
Paint colours:
5 body colours are available: Silver Splash, Electro Grey, White Flash, Deep Blue, and Red Pop,
together with the Orange Twist and Bold Black for the x-cite and x-clusiv special editions.
Powertrains :
1KR-FE: 998cc 3-cyliner VVT-i with 68bhp and 95Nm output
This is available with a 5-speed manual transmission and x-shift automatic transmission.