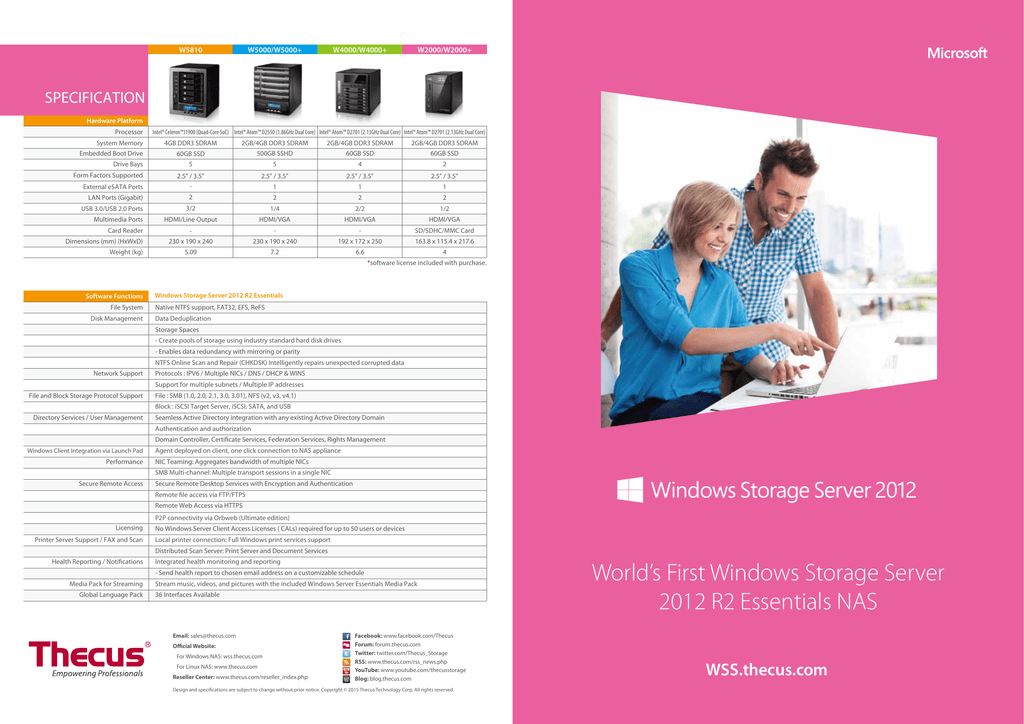 W5810
W5000/W5000+
W4000/W4000+
W2000/W2000+
SPECIFICATION
Hardware Platform
Processor
System Memory
Embedded Boot Drive
Drive Bays
Form Factors Supported
External eSATA Ports
LAN Ports (Gigabit)
USB 3.0/USB 2.0 Ports
Multimedia Ports
Card Reader
Dimensions (mm) (HxWxD)
Weight (kg)
Intel® Celeron™J1900 (Quad-Core SoC) Intel® Atom™ D2550 (1.86GHz Dual Core) Intel® Atom™ D2701 (2.13GHz Dual Core) Intel® Atom™ D2701 (2.13GHz Dual Core)
4GB DDR3 SDRAM
2GB/4GB DDR3 SDRAM
2GB/4GB DDR3 SDRAM
2GB/4GB DDR3 SDRAM
60GB SSD
500GB SSHD
60GB SSD
60GB SSD
5
5
4
2
2.5" / 3.5"
-
2.5" / 3.5"
2.5" / 3.5"
2.5" / 3.5"
1
1
1
2
2
2
2
3/2
1/4
2/2
1/2
HDMI/Line Output
HDMI/VGA
HDMI/VGA
HDMI/VGA
-
-
-
SD/SDHC/MMC Card
230 x 190 x 240
230 x 190 x 240
192 x 172 x 250
163.8 x 115.4 x 217.6
5.09
7.2
6.6
4
*software license included with purchase.
Software Functions
File System
Disk Management
Windows Storage Server 2012 R2 Essentials
Native NTFS support, FAT32, EFS, ReFS
Data Deduplication
Storage Spaces
- Create pools of storage using industry standard hard disk drives
- Enables data redundancy with mirroring or parity
NTFS Online Scan and Repair (CHKDSK) Intelligently repairs unexpected corrupted data
Network Support
Protocols : IPV6 / Multiple NICs / DNS / DHCP & WINS
Support for multiple subnets / Multiple IP addresses
File and Block Storage Protocol Support
File : SMB (1.0, 2.0, 2.1, 3.0, 3.01), NFS (v2, v3, v4.1)
Block : iSCSI Target Server, iSCSI, SATA, and USB
Directory Services / User Management
Seamless Active Directory integration with any existing Active Directory Domain
Authentication and authorization
Domain Controller, Certificate Services, Federation Services, Rights Management
Windows Client Integration via Launch Pad
Performance
Agent deployed on client, one click connection to NAS appliance
NIC Teaming: Aggregates bandwidth of multiple NICs
SMB Multi-channel: Multiple transport sessions in a single NIC
Secure Remote Access
Secure Remote Desktop Services with Encryption and Authentication
Remote file access via FTP/FTPS
Remote Web Access via HTTPS
P2P connectivity via Orbweb (Ultimate edition)
Licensing
Printer Server Support / FAX and Scan
No Windows Server Client Access Licenses ( CALs) required for up to 50 users or devices
Local printer connection: Full Windows print services support
Distributed Scan Server: Print Server and Document Services
Health Reporting / Notifications
Integrated health monitoring and reporting
- Send health report to chosen email address on a customizable schedule
Media Pack for Streaming
Global Language Pack
Stream music, videos, and pictures with the included Windows Server Essentials Media Pack
36 Interfaces Available
Email: sales@thecus.com
Official Website:
For Windows NAS: wss.thecus.com
For Linux NAS: www.thecus.com
Reseller Center: www.thecus.com/reseller_index.php
Facebook: www.facebook.com/Thecus
Forum: forum.thecus.com
Twitter: twitter.com/Thecus_Storage
RSS: www.thecus.com/rss_news.php
YouTube: www.youtube.com/thecusstorage
Blog: blog.thecus.com
Design and specifications are subject to change without prior notice. Copyright © 2015 Thecus Technology Corp. All rights reserved.
World's First Windows Storage Server
2012 R2 Essentials NAS
WSS.thecus.com
Scalability Improvements
Critical Data Protection
Storage Spaces
File History
Storage Spaces delivers Software Defined Storage
(SDS). Easily group multiple hard drives into a storage
pool and protect data in the pool, without the need to
understand RAID. Storage Spaces enables
cost-effective, highly available, scalable, and flexible
storage solutions for business-critical deployments.
Configured to run daily on each PC that's connected
to the Essentials environment, client computer
backup stores your backup data centrally on the
server. This type of automatic protection enables you
to restore individual files and folders, or an entire PC,
as you would do when replacing a faulty hard drive
or upgrading from an older hard disk drive.
Secure and Fast Remote Access
Server Backup
Integrated Cloud Services
You can add a hard disk drive to the server, either
internally or externally, and designate it as a backup
destination as opposed to server storage. Windows
Storage Server 2012 R2 Essentials will then use this
drive to back up all the data stored on the server,
including both the operating system files and your
business data.
Integration with Office 365
Windows Storage Server 2012 R2 Essentials provides
the option to integrate with Office 365 or a
third-party
Hosted
Exchange
provider.
Administrators need only create a user's account
once — an associated mailbox can be automatically
created at the same time. The Essentials server syncs
passwords with Office 365, helping end users enjoy a
seamless sign-on experience whether they are
accessing local or cloud-based resources.
NTFS Online Scan and Repair (CHKDSK)
CHKDSK in Windows Storage Server 2012 R2
Essentials introduces a new approach that prioritizes
volume availability and allows for the detection of
corruption while the volume remains online with
data available.
Integration with Microsoft Azure Backup
Robust Windows Server Security
Integration
with
Microsoft
Azure
Backup
complements your local server backups with a
cloud-based service that stores your business-critical
data in a highly secure, offsite datacenter.
Flexible anti-virus support and complete disk
protection with BitLocker Drive Encryption for robust
data protection.
Office 365
Microsoft Azure Ba
ckup
Print Server
Storage Space
y
istor
File Hckups
Ba
App
Server
R
cess
eb Ac
W
e
t
emo
Remote Web Access (RWA)
RWA enables end users to work remotely from
virtually anywhere using almost any device. A
website for RWA delivers a highly secure way for
users and administrators to use their web browser to
access files and folders, client computers, and the
servers running in your environment.
Launchpad
Launchpad
The Launchpad is a small application that provides
authenticated users with access to key features of the
server, including shared files and media, add-ins, and
Remote Web Access. The Launchpad also provides
real-time information and notifications about the
health of the computer.
Printer Server Support
Print Services enables you to share printers on a
network, as well as to centralize print server and
network printer management tasks. It also enables
you to migrate print servers and deploy printer
connections using a Group Policy
Health Monitoring
Health status notifies you of issues or problems
related to computer backups, server storage, low disk
space, and more. Health reports can be automatically
generated on a scheduled basis and emailed directly
to local administrators or external partners.
No Windows Server CALs Required
Client r
e
Comput
s
p
u
k
c
Ba
My
Top Storage for 1-50
Employee Business
The Dashboard is the command and control center
for Windows Storage Server 2012 R2 Essentials.
Designed with a streamlined look and feel and
enhanced with improved functionality, the
Dashboard is used to perform all the management
and maintenance tasks
you need to control
how
your
server
behaves
on
your
network.
Client Computer Backups
Controls data growth by removing duplicate data.
Allows the server to efficiently store, transfer and
backup less data.
Microsoft
Azure
Essentials Administrative Dashboard
File History periodically (every hour by default) scans
the file system for changes and creates a copy on the
server. It simplifies the recovery of files, accidently
deleted or overwritten, without the need for an
administrator's assistance.
Data Deduplication
Office 365
Centralized Management
No Windows Server Client Access Licenses (CALs)
required benefits users the ability to access the
services of the server without a permit. With this,
business users will not have to go through the
trouble of obtaining authorization of per-user or
per-device. With no CALs required, users are able to
access data on demand, without the troubles of
CALs.
Directory Services
Windows Storage Server 2012 R2 Essentials offers an
affordable server solution that can be used as the
primary infrastructure server in multi-server
environments.
User Groups Management
You can create user groups and add user accounts to
them. User account permissions can be managed
through their user group memberships.
Remote Domain Join
VPN
Windows Storage Server 2012 R2 Essentials turns
setting up virtual private networking (VPN) into a
painless wizard-driven process of just a few clicks,
and simplifies the management of VPN access for
users. Client computers can leverage a VPN
connection to remotely join the Windows Storage
Server 2012 R2 Essentials environment without the
need to come into the office.
My Server App
My Server app provides a modern and touch-friendly
way for end users to access files and folders, as well as
perform light administration tasks. The app runs on
Windows and Windows RT desktops, laptops, and
tablet devices.
BranchCache
BranchCache can help you optimize Internet usage,
improve performance of networked applications,
and reduce traffic on your wide-area network (WAN).
SMB Multi-channel
SMB Multichannel enables file servers to use multiple
network connections simultaneously. It facilitates
aggregation of network bandwidth and network
fault tolerance when multiple paths are available
between the SMB 3.0 client and the SMB 3.0 server.
P2P Connectivity
Pre-installed with the Ultimate Package from
Orbweb, users will be able to easily transform their
Windows NAS into their own personal cloud without
network configuration. Enjoy an always accessible
cloud experience, while keeping your data in your
hands.