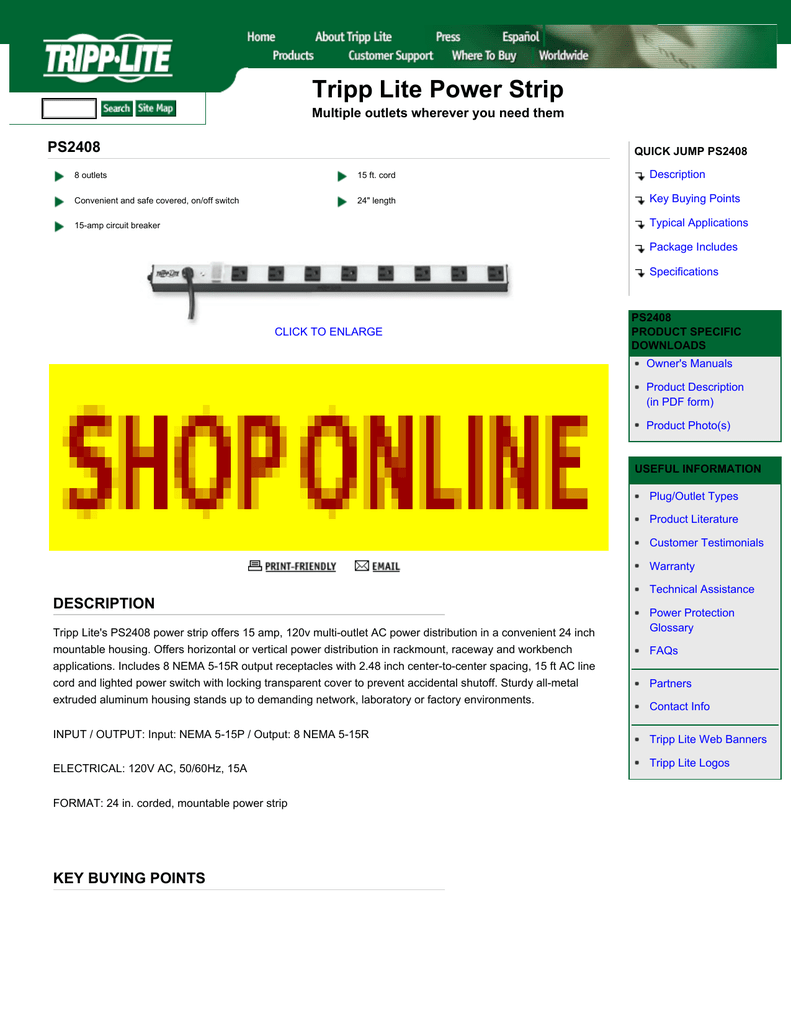 Tripp Lite Power Strip
Multiple outlets wherever you need them
PS2408
QUICK JUMP PS2408
8 outlets
15 ft. cord
Description
Convenient and safe covered, on/off switch
24" length
Key Buying Points
Typical Applications
15-amp circuit breaker
Package Includes
Specifications
CLICK TO ENLARGE
PS2408
PRODUCT SPECIFIC
DOWNLOADS
Owner's Manuals
Product Description
(in PDF form)
Product Photo(s)
USEFUL INFORMATION
Plug/Outlet Types
Product Literature
Customer Testimonials
Warranty
Technical Assistance
DESCRIPTION
Tripp Lite's PS2408 power strip offers 15 amp, 120v multi-outlet AC power distribution in a convenient 24 inch
mountable housing. Offers horizontal or vertical power distribution in rackmount, raceway and workbench
applications. Includes 8 NEMA 5-15R output receptacles with 2.48 inch center-to-center spacing, 15 ft AC line
Power Protection
Glossary
FAQs
cord and lighted power switch with locking transparent cover to prevent accidental shutoff. Sturdy all-metal
extruded aluminum housing stands up to demanding network, laboratory or factory environments.
Partners
INPUT / OUTPUT: Input: NEMA 5-15P / Output: 8 NEMA 5-15R
Tripp Lite Web Banners
ELECTRICAL: 120V AC, 50/60Hz, 15A
FORMAT: 24 in. corded, mountable power strip
KEY BUYING POINTS
Contact Info
Tripp Lite Logos
●
●
●
●
Sturdy all-metal 24 inch corded strip format with 2.48 inch center-to-center outlet spacing
Included mounting hardware supports vertical or horizontal mounting in rack enclosures, raceways and
more
Includes 8 NEMA 5-15R output receptacles
Ideal for horizontal or vertical raceway style power distribution in office, workbench, industrial,
networking and telecom applications
●
Lighted power switch with locking transparent cover prevents accidental shutoff
●
15 amp electrical capacity with circuit breaker
●
120V AC, 50/60Hz electrical compatibility
●
Lifetime warranty
TYPICAL APPLICATIONS
●
Offers vertical or horizontal multi-outlet power distribution in rack enclosures, raceways, desktops and
more.
PACKAGE INCLUDES
●
PS2408
●
Mounting hardware
●
Instruction manual
COMPLETE SPECIFICATIONS
SYSTEM OVERVIEW
System overview:
2 ft. vertical power strip, includes mounting clips
Voltage compatibility:
120VAC
Frequency compatibility:
50/60 Hz
OUTPUT
Output volt amp capacity (amps):
15A
Output watt capacity (watts):
1800
Outlet quantity / type:
8 Nema 5-15R
Outlet spacing:
2.48 in.
INPUT
Input connection type:
Nema 5-15P
Input cord length (ft.):
15
Input cord length (m):
4.572
Input plug features:
Black
Input cord gauge, type:
14/3 SJT
Recommended electrical service:
15A 120V
LEDS ALARMS & SWITCHES
Switches:
Lighted 2 position switch controls power to all outlets
Locking switch cover:
Transparent on/off switch cover prevents accidental turn-off
PHYSICAL
Unit weight (lbs):
3.2
Unit weight (kg):
1.4528
Unit Dimensions (HWD/in):
1.5 x 1.5 x 24 in.
Unit Dimensions (HWD/cm):
3.8 x 3.8 x 61
Material of construction:
Aluminum
Form factors supported:
Supports vertical or horizontal mounting in rack enclosures, raceways
and a variety of other applications
Mounting accessories included:
Includes mounting clips
Housing color:
Silver
Receptacle color:
Black
AC line cord color:
Black
CERTIFICATIONS
UL1363 (Power Tap):
UL1363
cUL / CSA (Canada):
cUL
WARRANTY
Product warranty:
Lifetime
The policy of Tripp Lite is one of continuous improvement.
Specifications are subject to change without notice.
Therefore, your product may vary slightly from what is currently listed.
© 2005 Tripp Lite. All Rights Reserved. Optimized for 4.0 and above browsers.

* Your assessment is very important for improving the work of artificial intelligence, which forms the content of this project