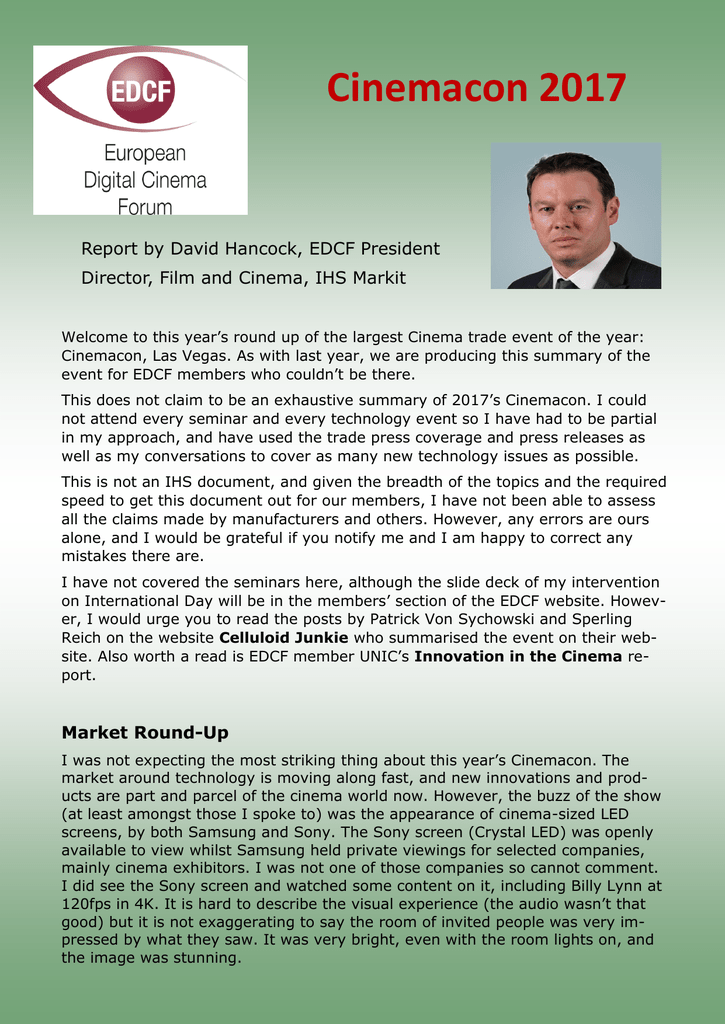 Cinemacon 2017
Report by David Hancock, EDCF President
Director, Film and Cinema, IHS Markit
Welcome to this year's round up of the largest Cinema trade event of the year:
Cinemacon, Las Vegas. As with last year, we are producing this summary of the
event for EDCF members who couldn't be there.
This does not claim to be an exhaustive summary of 2017's Cinemacon. I could
not attend every seminar and every technology event so I have had to be partial
in my approach, and have used the trade press coverage and press releases as
well as my conversations to cover as many new technology issues as possible.
This is not an IHS document, and given the breadth of the topics and the required
speed to get this document out for our members, I have not been able to assess
all the claims made by manufacturers and others. However, any errors are ours
alone, and I would be grateful if you notify me and I am happy to correct any
mistakes there are.
I have not covered the seminars here, although the slide deck of my intervention
on International Day will be in the members' section of the EDCF website. However, I would urge you to read the posts by Patrick Von Sychowski and Sperling
Reich on the website Celluloid Junkie who summarised the event on their website. Also worth a read is EDCF member UNIC's Innovation in the Cinema report.
Market Round-Up
I was not expecting the most striking thing about this year's Cinemacon. The
market around technology is moving along fast, and new innovations and products are part and parcel of the cinema world now. However, the buzz of the show
(at least amongst those I spoke to) was the appearance of cinema-sized LED
screens, by both Samsung and Sony. The Sony screen (Crystal LED) was openly
available to view whilst Samsung held private viewings for selected companies,
mainly cinema exhibitors. I was not one of those companies so cannot comment.
I did see the Sony screen and watched some content on it, including Billy Lynn at
120fps in 4K. It is hard to describe the visual experience (the audio wasn't that
good) but it is not exaggerating to say the room of invited people was very impressed by what they saw. It was very bright, even with the room lights on, and
the image was stunning.
Cinemacon 2017
This year's Cinemacon was undertaken in the light of a few broad themes. One
was the highly successful year experienced in 2016, with some relief after a very
good 2015. The year would have been even better if the dollar hadn't messed
around with the global comparisons.
According to figures presented by NATO (source is comScore) just before Cinemacon, and used during the event, global box office reached $38.8bn in 2016, a very
slight drop on 2015. The effects on the dollar against a number of other currencies
flattened the actual rise in box office. The MPA figure differs very slightly from the
IHS figure, no doubt due to when exchange rates are applied and which method.
Internationalisation of the cinema economy is continuing, and the Asian markets in
particular are strengthening in numbers. The Chinese contribution to cinema exhibition may have flattened in 2016, thanks to a weak year at the box office but
screen growth was very high in 2016, with 27 screens a day being built in China,
and this should at some point feed back into box office. Wanda Cinemas, the largest exhibition group in the world, believes that the fundamentals of Chinese cinema remain strong.
There were just over 87,000 screens equipped with 3D at the end of 2016, or
53.3% of all screens in IHSMarkit's Cinema Intelligence countries, a considerable
number despite rumours of the format's demise. Last year, Mexican circuit
Cinepolis' Alejandra Ramírez Magana argued that the initial promise of 3D has not
been achieved and it is hard to disagree with that statement a year on. The 3D
format is waning as part of the overall box office in some countries. Globally, 3D
revenues are around $8bn a year (20% of box office in 2015 with 2016 numbers
not yet fully collected) and studios even hold back a 3D release in some countries,
preferring to focus on the major consumers of 3D like China, Russia and Brazil. It
is not an exaggeration to say that without China, 3D would probably be dead. In
that country, well over 90% of screens are equipped with 3D systems.
The issue of refreshing 3D before it is too late is one that I believe needs to be addressed urgently.
Cinemacon 2017
EDCF/ISDCF
The EDCF membership that travelled to Las Vegas met with a large group of
ISDCF colleagues, and we sat down for an hour to discuss issues of mutual interest. The meeting was organised by Jerry Pierce who chairs ISDCF. The meeting
was very cordial and the topics discussed showed that both sides of the Atlantic
have similar concerns facing them at present.
Cinema technology developments: a summary
Whilst DCI 2.0 may not work as a term for getting to grips with technology, opening up the memories of VPFs again (just to be clear, there is no appetite for a
VPF2.0 amongst studios and even many exhibitors), a process of education, standardisation, workflow rationalisation and technology assessment is becoming necessary for the industry in order to make sure we move as one on these issues. The
versions of a DCP provide a good test as to how complex the industry is becoming:
a large film can now have well over 500 versions going out of a lab, with a range
of audio, image, premium, experiential and language versions adding to the permutations.
There is a risk of divergence between premium cinema and the rest leading to a
two-tier cinema industry, which was what the original DCI specification was aimed
at preventing. Fundamentally, there is a need to address driving higher quality
from the current pool of equipment, as well as addressing new technologies and
replacement equipment.
There is also an issue with the communication between the creative community
and the distribution/exhibition community. Since Avatar drove the take-up of digital cinema equipment and 3D systems in order to be ready for that event movie
(10,000 screens were equipped in place when the film was released), there have
been attempts at pushing the technical boundaries that have not the same impact.
In fact, the Hobbit was available on upgraded servers (at a cost) on a lower number of 2,500 screens and by the time we reached Ang Lee's Billy Lynn, that film
wasn't available on any cinema screens at all with five specially built sites eventually showing it in the 'Full Shebang' of technology options. The confusion over the
changed aspect ratio of Tomorrowland also backs up the point that there needs to
be greater and earlier communication between producers and exhibitors.
Cinemacon 2017
3D
There were just over 87,000 screens equipped with 3D at the end of 2016, or
53.3% of all screens in IHSMarkit's Cinema Intelligence countries, a considerable
number despite rumours of the format's demise. Nearly 40,000 of these are in
China, which underlines the importance of 3D in that market and reinforces the
country's right to be called the home of 3D. Globally, these 3D screens account for
somewhere around $8bn of box office, which confirms its position as a minority
sector within the market but one that can provide a very powerful experience for
customers, when done right.
The extension of laser illumination for projectors (both RGB and laser phosphor)
will help the issue of brightness for 3D, although only producers and distributors
can address the issue of quality content.
Laser technology
Laser is still a work in progress but seems to be moving along quite nicely. There
has been a significant surge in the numbers of RGB laser projectors installed globally. At the end of 2016, there were 375 screens using RGB projectors around the
world, an increase of 294 (363%) over the 81 installed at the end of 2015. The
more workhorse-like laser-phosphor is also making good progress in smaller
screens especially in China. There are over 5,000 of the laser-phosphor machines
in the market now.
In terms of the main manufacturers, one is backing RGB and laser phosphor and is
no longer introducing any new models of Xenon-based projectors, one is firmly behind laser phosphor and also has an RGB presence, one likes RGB laser and Xenon
and the non-DLP manufacturer is happy with the UHP mercury bulbs but has also
recently shown their version of a laser projector as well. This does not make laser
a norm just yet, but it is certainly edging that way. There is a laser solution for all
screens now (either RGB or laser phosphor) and despite the fact that I hear from
people more qualified than me that some issues like speckle have not yet been
solved, laser illuminated projection is a market reality not a future possibility.
Clearly there is a split in opinion on types of laser that will work in the market, and
that is a key issue here: Is laser phosphor a short -term technology or not? LIP as
a whole certainly offers some benefits to exhibitors and solves some identified
problems, such as brightness for 3D, and the costs are coming down. Laser phosphor is not that much more expensive than Xenon-based digital cinema is now,
and the TCO argument is one that responds to how exhibitors think.
Cinemacon 2017
As well as RGB projectors from the TI licensee manufacturers, there are Dolby Cinema installations (a Christie projector), IMAX venues and a retrofit RGB solution
being marketed by Italian projector company Cinemeccanica. A US company, Power Technology, is using its long expertise in the field of laser to enter the cinema
market, proposing laser farms off which a group of projectors can work, an innovative approach to this question.
HDR and image quality
The consumer market seems to be the driver for HDR, with TV and physical media
adopting both HDR and UHD, but it is now gaining traction in the cinema sector.
There is no standard market definition or understanding in the cinema sector for
what High Dynamic Range is although higher contrast ratio is a good start. All the
projector manufacturers are developing and currently marketing higher contrast
ratio machines. IMAX is also installing their laser projector in some higher footfall
sites, and this machine also fits the bill. In fact, IMAX argues that all their projectors are HDR capable. However, with a stated contrast ratio of 1,000,000:1, Dolby
is at the forefront of developing HDR in cinemas with the Dolby Cinema concept.
With around 300 committed, mostly between AMC and Wanda, the company has
now installed over 70 of these screens, and has released or announced 75 films to
be formatted for the concept. The next step is to extend the Dolby Cinema in other
parts of the world, such as Western Europe.
EclairColor is a software-based system that allows exhibitors to display HDR without the need for expensive specially purposed laser projectors (it has been developed with Sony projectors but this could migrate to other machines). It is relatively
new in the market, developed by French company Ymagis, and being shown to key
parties now. EclairColor is now present on 47 screens in France (21), Germany
(25) and Tunisisa (1). The hit film LaLaLand became the first Hollywood film to be
released in this format. So far, there are 10 titles lined up for French release in
2017 and 24 titles have been released in the format in all. The company has also
recently agreed an installation deal for 15 screens with French exhibitor Megarama.
HFR
The jury on HFR is still out. The most recent experiment was Ang Lee's Billy Lynn's
Half-Time Walk, distributed by Sony only is a 2D version at 24fps, apart from 5
specially purposed sites where the full technology version (4K, 3D, 120fps per eye)
was screened. The film was not successful at the box office and once again, HFR
takes a step backwards while issues such as HDR seem to take centre stage.
Cinemacon 2017
DirectView screens
An unexpected new technology was also being presented at this year's Cinemacon: direct view LED screens for the cinema. A private screening of a 10m (34
foot) Samsung LED screen was offered to selected exhibitors at the event. Samsung believe they are quite close to DCI certification. The Korean group acquired
Harman International Industries for around $8bn in November 2016, for its sound
expertise (mainly automotive, it's true, but also has a professional solutions arm)
and believes it can solve the issue of where the speakers will be placed for an LED
screen. GDC's Jetreel PLT format is also using a Samsung LED screen (see PLF below).
Sony was more open in its approach to presenting its Crystal LED technology; it
showed a screen of about 5m (16 feet) in width with a stunning display of some
content, including Ang Lee's Billy Lynn which was shown at 120fps and 4K. We
were told the on-screen brightness was around 240fl, compared to the current cinema standard of 14fl.
The issue will be cost, and Sony was quite upfront about that. The point of showing the CLED screen was not to sell a ready-made product to cinemas but get
feedback on whether there is a potential for the cinema. If they solve the cost issue, or at least present a business case for the cost (the screen lasts for over
85,000 hours at up to 50% brightness), there is a future for LED screens.
Immersive audio technology
Immersive sound technology is proving popular with exhibitors, with over 3,600
systems installed around the world as at end March 2017. This moves it beyond
premium screens and there are several cases of immersive sound being installed
across a whole site. Dolby Atmos is leading the way in cinemas and content provision, with 2,700 Systems installed and over 650 titles mixed in Atmos for cinemas.
There are 150 mixing facilities worldwide. Meanwhile, Barco's Auromax is installed
in 650 cinemas and mixed on closer to 200 titles, while relative newcomer DTS:X
is in about 300 screens and states that it has 600 screens installed or committed
by end 2017.
There is a certain hesitation in the exhibition community in signing up to immersive sound until a standard is agreed and in place as no-one wants to invest in a
potentially obsolete technology. On this point, discussion is progressing within the
standards-making process.
Cinemacon 2017
An issue that does need to be addressed, and came up during the EDCF tour of LA
and in the ECF Annual Convention last year, is that not all immersive sound content is equal. For every one great mix that really makes the most of immersive
sound technology there is another title that does not reach the same heights. This
may be because distributors do not want to be seen to be over-exploiting immersive sound, using too much instead of too little (in the same way as some eyepopping 3D was perceived).
Nevertheless, this can be frustrating for exhibitors who have invested in the equipment and wish it to sound different to channel-based systems. We have seen
what happened with 3D and the industry must be careful not to make that mistake
twice.
Multi-screen formats
Multi-screen formats are not taking root as quickly as the manufacturers would
like. The issue with such technologies is often finding a sufficient supply of content
that will drive customers to watch their proposition, and to prove that the concept
works. Korean company CGV is behind ScreenX, a multi-screen format that is in
107 locations in South Korea, China, US and Thailand, with 15 Korean and Chinese
titles produced in this format and a recent agreement for the first US film to be released in 2018 (We Kill Death). Their target is 1,000 screens by 2020.
Rival Barco Escape has talked of several thousand screens within a few years, but
is also still in the early phases and in around 30 screens worldwide. Barco has a
content deal with Fox and a development deal with Jerry Bruckheimer. Barco Escape also managed to develop 25 minutes of content for last year's Star Trek Beyond and The Recall is being released in Escape format (30 minutes within the
film) in June 2017. Chinese company CGS is also a player in this market niche.
There were some very optimistic predictions of multi-screen take-up which have
not yet materialised. The complexity in the post-production phase is an issue, as
are some issues with the customer experience and purposing content for the format. The take-up may not yet justify any overblown optimism but the systems do
still have potential.
4D and Immersive motion seating
Korean group CGV is also active in the 4D world through 4DX with 45,000 seats in
370 4DX screens in 47 countries around the world as at March 2017, grossing
$200m in box office in 2016 according to CGV.
Rival company US-based Mediamation offers MX4D, with 84 screens as at end
2016. MX4D has 20,000 seats in over 160 cinemas worldwide. Other smaller players include E-motion and Shuquee (4DM).
Cinemacon 2017
Immersive motion seating (IMS) is more subtle than 4D, which includes environmental effects added to a motion seat; the main player in the IMS space is Canadian company D-Box. Its technology is present on 615 screens (installed or in backlog) as at end 2016. The company is also active in the home entertainment space,
and is also exploring areas where its seating can add value in the cinemas.
Virtual Reality
The appearance of VR in cinemas is polarising the industry but there is some element of misunderstanding in what is being proposed. There is no current move to
making feature length VR content and sell it like the cinema, rather to create spaces in cinemas where specially-purposed VR content (both narrative and gamingled) can be accessed using high quality professional equipment. This can support
the movies being played or be stand-alone experiences worth paying for.
IMAX is the biggest name currently involved, with 10 IMAX VR test sites being created (EDCF members visited the site in Los Angeles) in 2017, and it has created a
$50m production fund for content creation as a way to ensure that consumers get a
high quality experience. The focus for now is gaming and movie-related content but
this will evolve into more narrative content as well, as we have seen from D-Box
and VRC. Other companies are now entering this space too, notable 4D suppliers
CGV and Mediamation.
Since 2015, cinema has gone digital but there is a difference between going digital
and being digital. The latter is thinking digitally in the cinema space, and I would
argue that only now are cinemas beginning to act and think digitally. Practical issues such as film flexibility, event cinema, use of technology, and using analytics to
deliver a more effective operational infrastructure are becoming much more commonplace in the cinema world. I have said before that digital cinema is no more:
Cinema is back to being cinema that happens to be digitised. Having said that, the
cinema that is evolving in the digital world does differ from what went before. It is
a more vibrant, innovative, and exciting space to be in and should offer the customer a much richer experience of watching filmed or live content. To be sure this
happens, the industry needs to keep a watchful eye on technology proliferation so
that it is of benefit to us not a source of tension and a reason for decline.
Cinemacon 2017
The Trade Show and New Products/Services
Premium Large Format
French group Ymagis (now split into Cinemanext and Éclair) has a busy Cinemacon
this year. One element it presented to the market is a PLF concept known as
'Sphera'. This is a turnkey premium format solution, based on three elements:
Eclaircolor HDR technology for image, a sound system based on Dolby Atmos for
the audio and a dynamic lighting element for ambience. The system can be used
for any type of content, including event cinema.
Asian digital cinema group GDC Technology launched its new concept in PLF: JETREEL Cinema. This is a branded ultra-premium large format cinema experience
featuring (up to) 8K screen technology that combines high image quality with
brightness 10 times the industry standard, near infinite contrast ratio, enhanced
color gamut, immersive sound technology from Samsung's subsidiary company
Harman, and distinctive interior design features and luxury reclining chairs
(including a massage feature). The screen is an LED screen from Samsung, another example of how this company and this technology appeared at this year's Cinemacon. The business model is a revenue-sharing one, avoiding the need for large
upfront investment.
Alamo Drafthouse, the popular and growing cinema chain, has installed a SRXR515DS in its premium screen at the One Loudun site. The SRX-R515DS delivers
30,000-lumens on the 17m screen. The auditorium is also equipped with Dolby Atmos.
HDR
As explained above, HDR is a major issue within the cinema community but at
present the TV world seems to be ahead in its approach and adoption. There is no
agreement on what HDR is and there are some calls to standardise what it means.
Dolby Cinema, which features Dolby Vision and Dolby Atmos, has more than 300
Dolby Cinema sites installed or committed to across the globe with more than 80
titles released or announced, to date. The Colosseum at Caesars Palace was
equipped with Dolby Cinema.
Ymagis showcased its Eclaircolor technology solution for HDR at Cinemacon (see
above section on HDR).
Sony's SRX-R500 series of machines are HDR-ready projectors with a contrast ratio of 9,000:1, and is the machine that EclairColor was developed on.
Cinemacon 2017
Immersive Sound and Cinema sound
Immersive sound is still on the way up. The first morning's breakfast was sponsored by DTS which explained that it now has 600 units of immersive format
DTS:X either installed or committed for 2017 installation.
Christie showed its newest cinema audio product, the Christie Vive Audio LS series, as well as a new Vive Audio SD5 Sigma Delta amplifier which boasts enhanced audio performance, simplified system setup and calibration, and most importantly an expansion slot on the front panel that enables installation of optional
cards including support for network control and monitoring.
Christie Vive Audio's wide range of amplifiers, processors and speakers can meet
the needs of most Dolby Atmos, 5.1 and 7.1 distributed sound applications. As of
the end of March, more than 535 Vive installations can be found world-wide.
Dolby introduced the Dolby Multichannel Amplifier, available in two configurations
(24 or 32 channels). It can replace up to 16 stereo amplifiers.
Harman Professional Solutions launched the JBL 200 Series screen-array loudspeaker. According to Harman, the Dual Dissimilar Arraying and Acoustic Aperture
Technology means the 200 Series provides the performance expected from a
three-way system using only two speakers. This lowers the overall cost and amplification requirements, and allows owners to upgrade the audio in small- to midsized cinemas.
For its part, QSC introduced the Q-SYS Cinema Core 510c processor. The Cinema
Core 510c processor offers a flexible audio I/O configuration, with card-based I/O
as well as native Q-LAN network channel and AES67 capabilities.
Laser Illumination and LIPs
Barco is focusing on laser projection, both laser phosphor (Smart Laser) and RGB
for its new products. It is still manufacturing Xenon-based projectors but not introducing any new models. A number of exhibitors announced they were installing
laser projection from Barco during the show:
At both its Miyazaki and Omuta locations, cinema chain Central Cinema has replaced two existing projectors with Barco DP2K-20CLP projectors.
The installation of two flagship laser projectors at Lotte World Tower in Seoul,
South Korea, Barco's DP4K-60L projectors will illuminate the 34-meter wide
screen in Lotte Cinema's Super Plex G theatre, the largest screen on the planet.
Cinemacon 2017
Already using Barco laser projection in the Dubai Mall site, Reel Cinemas is now
adding 19 flagship laser projectors to its portfolio, which Barco partner CineTech
ME JLT will install this year. In addition, Reel Cinemas has invested in Barco Escape, Barco's three-screen panoramic movie theatre.
CMX, a subsidiary of Cinemex, the sixth largest cinema chain in the world, has
equipped the new CMX Theatre at newly opened Brickell City Centre in Miami, Florida with Barco's Smart Laser cinema projectors (laser phosphor).
Barco has also launched the SmartCare program, which provides a guaranteed
light source output over a 10-year period for Barco's Smart Laser cinema projector, removing an element of doubt about the lifespan of this light source.
Christie previewed a new Christie Freedom Series direct-coupled RGB laser projector, CP4325-RGB laser projector. It is one of the company's Series 3 projectors
(including electronics from Christie).
Cinema Sunshine is a Japanese cinema chain with108 cinema screens and 17,493
seats at 14 sites around the country, including Cinema Sunshine Aira, owned by
Sasaki Kogyo Co. It will deploy the Christie CP42LH RGB laser in April. The system
comprises a single 3DLP 4K RGB laser projection head and an EWD laser light farm
with fibre-optic delivery which will be fitted in Auditorium 5 of the theatre.
Christie also announced an audio/image installation in Madrid's Odeon Sambil. Ingevideo and Equipo de Cine installed Spain's first 4K cinema with Dolby Atmos and
Christie Vive Audio in all 12 theatres, two with Christie RGB EWD laser projection.
The two largest theatres at Odeon Sambil, with 18-metre screens, are equipped
with Christie RGB laser projectors. Each one of these projectors uses eight laser
modules to generate 40,000 lumens – since each module can generate up to 5,000
lumens of white light. The other 10 screens in the multiplex, ranging from 10 to 18
metres, have a combination of Christie CP4220 (22,000 lumens) and Christie
CP4230 (34,000 lumens) 4K 3DLP Cinema projectors.
For its part, NEC introduced a new projector at Cinemacon, launching its flagship
NC3540LS cinema projector with IPG Photonics' fibre laser light source. This is a
4K RGB laser projector with a wide colour space (Rec 2020) for cinemas with large
screens up to 32 metres in width. The new NC3540LS projector delivers 35,000 lumens brightness. It will be installed as part of the brand new Cineplace Nova Arcada entertainment centre, located in Braga, Portugal.
The laser phosphor range (NEC was the first in this space) has also been enhanced
with the addition of a dual-Laser NC1700L. This new laser system features red and
blue lasers paired with green phosphor, and can play on screens up to 17m.
Cinemacon 2017
Sony demoed its laser projector during Cinemacon, a 4K RGB laser projection system. The company is slightly later to the space, but has always insisted it would
enter it when the time is right for its technology. The prototype 4K RGB laser projection system features a unique optical system that simultaneously displays two
4K resolution images through a single lens: this allows patrons to watch 3D images. According to Sony, the solution enables 3D presentation on existing silver
screens with minimal or no speckle, using low-cost disposable glasses as favoured
commercially by the majority of cinema operators.
Sony recently exhibited (at CineAsia in December 2016), a complementary 4K laser-illuminated projection solution based on phosphor technology.
Cinemeccanica was present at CinemaCon with a private cinema screen in a meeting room where a demo of the 2017 version of LUX , a RGB laser light source applied to new or existing cinema projectors with scalable power to reach up to
60,000 lumens .
Servers/IMBs
GDC Technology, which made its name with servers, launched the SR-1000 integrated media block, a new 6th generation D-Cinema media server designed for near
-zero maintenance need and minimal total cost of ownership. The company has
now shipped 50,000 servers into cinemas, including 26,000 servers shipped into
China since 2000. In addition, GDC has increased the maximum RAID 5 storage
capacity of its Enterprise Series Storage to 32TB. This storage can be used with
GDC IMB, TMS and LMS.
Server manufacturer Qube launched WireSafe, a security system for KDMs and
DCP delivery. It is for use with Qube Wire. It allows customers to have their keys
stored on a Qube Wire Hardware Security Module (HSM) from Thales, in their own
buildings. This allows control over security but they can still access the system
from anywhere to manage the DCP and KDM system.
For its part, Dolby launched the combined server and audio processor Integrated
Media Server IMS3000. Amongst other things, it allows audio flexibility, starting
with 5.1 channel sound and enabling Atmos at some point in the future.
During the show, Dolby Laboratories and Dadi Cinema Group announced that Dadi
plans to purchase 750 Dolby ShowVault/Integrated Media Blocks (IMB), 400 units
of the Dolby Digital Cinema Processor CP750 and 25 units of the Dolby Atmos Cinema Processor CP850. Dadi plans to deploy the Dolby ShowVault/IMB solution in
both new and existing cinema screens and the Dolby Digital Cinema Processors in
new cinema screens in China by the end of 2017.
Cinemacon 2017
Lamps
There is still interest in lamps, both for Xenon-based lamps and Sony's UHP mercury version. Christie, owned by Ushio, used Cinemacon to launch the CP2308 projector, a Xenon lamp-based unit that is aimed at smaller exhibitors.
Ushio America introduced its L-Series long-life 6.5kW lamp for Barco digital projectors. The new lamp type DXL-65BA3 extends present life 28% to 700 hours with
100% warranty. According to Ushio, this lamp for large-format screens will significantly lower exhibitors' total cost of ownership, bringing more revenue to their operation. The lamp is certified and approved by projector OEM Barco and is available
for shipping now.
During the show, Lighting Technologies International announced the release of five
new xenon lamps for Christie digital cinema projector applications, including three
new models for the Christie CP2208, CP2215 and Solaria One, and two new LongPlay models for the Christie CP 2230 and 4230. LongPlay xenon lamps offer up to
50% longer warranty hours than standard xenon lamps, without a compromise in
screen brightness, according to the company. LTI is the new incarnation of Philips
Lighting, since the latter was acquired by Saratoga Partners in November 2016.
4D and Immersive motion seating
D-Box is a Canadian company specialising in immersive motion seating, which entered cinema in 2009. Growth is on an upward curve during 2016 and their content
supply is rising too. They encode around 35 movies a year (they do it, not the studio behind the film) and now have over 200 in total (see also VR section below).
CJ CGV, Korean exhibitor which is aiming to become one of the global leaders, is
also behind several technology innovations, one of which is 4DX, the motion seating and sensory experience technology (the other technologies are multi-screen
format ScreenX and 4DX VR (see VR) as well as a range of in-house developed cinema software solutions (see Software).
4DX has recently been installed in Brazil's top-grossing theatre United Cinemas International in Rio, Brazil. The auditorium, one of 18 screens in the UCI New York
City Centre site, has 112 seats. 4DX has also now entered Australia, partnering
with Village Roadshow, as well as Angola (Cinemax).
Combining two innovative areas for cinema, another leading player in 4D, Mediamation (MX4D) has been installed in Hollywood's Chinese 6 site (part of TCL Chinese Theatre) as part of a newly installed eSports arena. The auditorium can also
act as a 4D cinema as well as hosting eSports events. It has recently marked its
100th installation in China, a market it entered in 2015.
Cinemacon 2017
Multi-screen formats
There was less buzz around the concept of multi-screen formats this year than
last. Barco is testing the technology in a number of sites (30) worldwide, and is
very upfront about the challenges. In June 2017, the Wesley Snipes film The Recall (Minds Eye Entertainment) will screen in cinemas with 30 minutes of the film
in the Escape format, with an associated 12 minute VR film being released at the
same time. Following the VR release and a two-week exclusive theatrical window
in Barco Escape, The Recall will open in select 2D cinemas.
Screens
Harkness Screens is one of the leading cinema screen manufacturers in the world,
and was chosen again to provide the main screen for Cinemacon. The show's auditorium in the Colosseum at Caesars Palace featured a 18.2m x 7.85m (71' x
30.25') Clarus XC 170 screen used to showcase the latest laser projection technology and current generation xenon projection both in 2D and 3D. At this year's
event, Harkness launched its 3D BIM (Building Information Modelling) content library aimed at helping architects and those involved with cinema design improve
the outcome of their digital modelling projects. This new content has been developed to support those designing cinemas using Autodesk's Revit platform, the
world's leading 3D BIM platform.
Spectro Screen has introduced a next-generation 2D-3D hybrid silver screen that
improves upon the previous model's narrow viewing angle. It boasts a maximum
HGA of 34 degrees, which contributes to a reduction of the hot-spot phenomenon.
It is suitable for both 2D and 3D projection. Its perforation type: SP (1.20mm), DP
(0.90mm), MP (0.60mm).
Severtson Screens, a company making projection screens for the cinema, commercial, pro AV, and home theater markets, announced the launch of the new Giant QuickFolded Screen Line during CinemaCon 2017. It can be customized up to
500-inches (41.7 ft.) diagonally, making it suitable for multi-purpose auditoriums,
such as in commercial, university/school, house of worship, museum, and pro AV
situations that require large commercial or cinema-sized screens, but not in a permanent static installation.
Cinemacon 2017
Software/TMS
During Cinemacon, Unique Digital announced a new agreement for a Support deal
with Odeon's Cinesa UCI in Spain. The circuit uses Unique's RosettaBridge TMS.
GDC Technology had an active Cinemacon. It launched its NOC 2.0 software; this
enables the exhibitor or third-party to remotely monitor real-time equipment
health, temperature and lamp life, with mobile notifications when an issue arises.
It also allows the interested party to create and track service tickets and ensure
compliance with service level agreements.
GDC also launched its SmartCinema software, a control room for entire cinema
that protects equipment, monitors the environment and helps operating efficiency.
GDC thinks of it as smart home automation but designed specifically for the cinema industry. It allows real-time monitoring of the cinema's physical security, as
well environmental and energy control. An added feature is the ability to audit
guest admissions against ticket sales.
During the ICTA Seminar Series in Los Angeles in January, Compeso, the European cinema software company, launched its new product to the American market:
smartPricing. Born from Compeso and Smart Pricer's partnership, smartPricing is
fully automated pricing software for the cinema sector. It supports cinema operators with its advanced algorithms and cutting-edge technology to achieve smarter
and more profitable prices.
Distribution services
Ymagis unit, Éclair, launched a new content distribution platform for exhibitors,
known as EclairPlay. The service will be given a staggered release in Europe on a
territory-by-territory basis. In the US, the service will be launched during the second quarter of 2017. ÉclairPlay provides access to DCP as well as tools and marketing content. In the US, the service is based on the specialty films and event
cinema network CineConductor.
Virtual reality
The world's first VR cinema opened in Amsterdam last year, the first concrete step
linking cinema and the fast-moving world of VR. Many studios are backing VR, and
several of the leading technology and computing companies are also heavily investing and we are now seeing this consumer technology coming to cinemas.
IMAX VR is a new venture which aims to provide consumers with a benchmark
quality VR experience in specially purposed branded sites. The EDCF tour visited
IMAX VR during the 2017 LA Tour (see EDCF La Tour document). The site had received 17,000 visitors by the time we went there in late March.
Cinemacon 2017
Technology innovator and ambitious Korean exhibitor CJ CGV is behind "4DX VR".
The company has now launched the VR Sports Unit. Bike Type (which was demoed at CinemaCon) as well as Kayak Type and Board Type units combine 4DX
traditional motion synchronized seating with VR content, bringing sports and leisure activities to life.
Just before Cinemacon, fellow 4D specialist Mediamation launched a lobby experience for exhibitors, known as the MX4D VR Pod, combining Virtual Reality and
motion seating in a dedicated product for cinema foyers. The Pod includes
two MX4D Motion EFXseats and choice of VR headsets, used to view virtual reality, branded and 3D content, as well as trailers and games, for an exhilarating and
entertaining ride. The Pod features six high-profile areas for custom graphics, enabling exhibitors to generate revenue through third-party advertising, admissions
and micro-transactions.
Immersive motion seat supplier D-Box has teamed up with VRC (makers of The
Martian VR Experience and co-founded by Robert Stromberg) to make a 12 minute animated VR series (narrative storytelling, not a gaming platform) called
Raising a Rukus. The first episode was seen at Cinemacon, using a D-Box chair. It
will debut in spring in US, Canada and the UK. After an exclusive theatrical window, it will be available on mobile VR platforms.
Gaming/eSports
Gaming is moving into cinema, certainly at an eSports level, which can be hosted
by a cinema and streamed online as well. Cinema screens can also be used for inauditorium gaming. TCL Chinese Theatre has transformed its neighbouring site
Chinese 6 Theatre complex into an immersive eSports arena, including motion
seating from Mediamation. TCL hosted the VainGlory World Championships last
year, which sparked its interest in this type of content.
Lobby
Harman, audio company recently acquired by Samsung, featured its Connected
Lobby Experience solution that allows theatre owners to deploy audio, video and
lighting (AVL) technology inside and out of the cinema, creating an enhanced customer experience.
Inside the Milano lobby, the Christie corridor, featuring riveting cinematic content
designed by Christie 360 Experiential Studios, formed an immersive pathway that
welcomes guests into the theatre.
Barco's suite was also kitted out with its full lobby experience, which EDCF members also experienced at LA Live, the technology-heavy Regal cinema in LA.