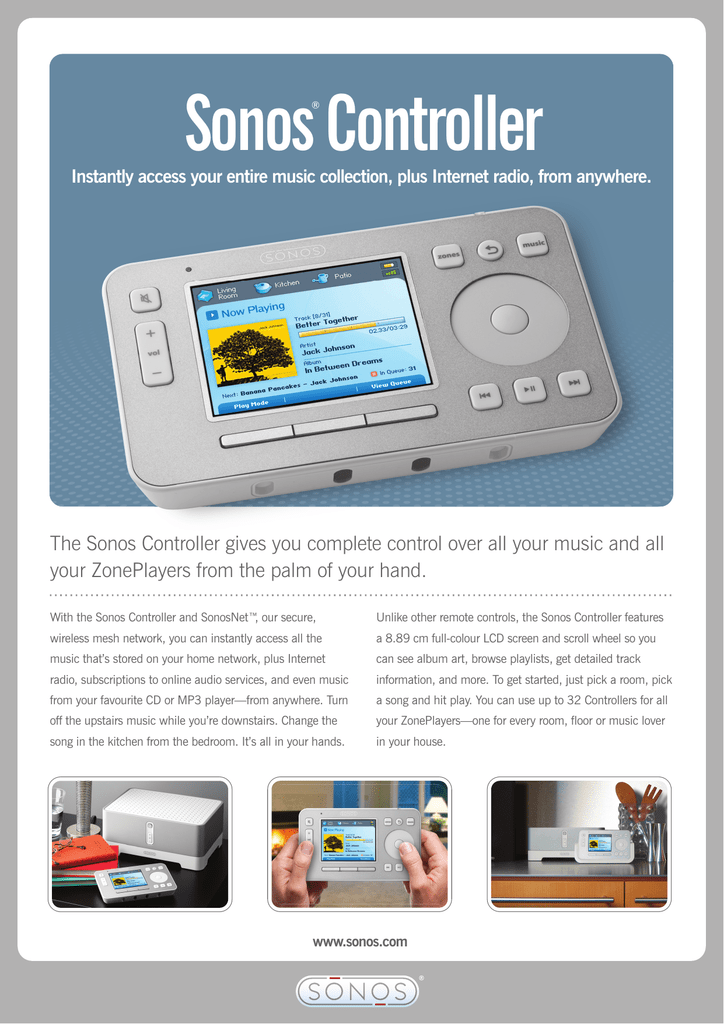 Sonos Controller
®
Instantly access your entire music collection, plus Internet radio, from anywhere.
The Sonos Controller gives you complete control over all your music and all
your ZonePlayers from the palm of your hand.
With the Sonos Controller and SonosNet™, our secure,
Unlike other remote controls, the Sonos Controller features
wireless mesh network, you can instantly access all the
a 8.89 cm full-colour LCD screen and scroll wheel so you
music that's stored on your home network, plus Internet
can see album art, browse playlists, get detailed track
radio, subscriptions to online audio services, and even music
information, and more. To get started, just pick a room, pick
from your favourite CD or MP3 player—from anywhere. Turn
a song and hit play. You can use up to 32 Controllers for all
off the upstairs music while you're downstairs. Change the
your ZonePlayers—one for every room, floor or music lover
song in the kitchen from the bedroom. It's all in your hands.
in your house.
www.sonos.com
Sonos Controller
Sonos Controller (CR100)
Wirelessly control all your music and all your ZonePlayers from the
palm of your hand.
Wireless, handheld control Control everything from volume to music selection from anywhere you choose.
SonosNet, our secure AES encrypted wireless mesh network, extends the range of the
Controller and avoids sources of wireless interference by communicating with the closest
ZonePlayer, rather than through one distant control point.
High-resolution, full-colour Makes everything on the screen brighter and easier to see, including full-colour album
LCD screen
artwork, if available. Screen is optimized for indoor and outdoor use.
Album art
Displays full-screen and thumbnail views of full-colour album art, including detailed
track information.
Scroll wheel selector
Makes it quick and easy to scroll through large music collections and make selections.
TECHNICAL SPECIFICATIONS*
Screen
8.89 cm (diagonal) colour LCD with LED backlighting, 240 x 320 (QVGA)
Scroll wheel
Touch-sensitive scroll wheel with centre-mounted selector button
Function buttons
9 backlit buttons, 3 soft-selector buttons below screen
Battery
Rechargeable Li-ION Polymer, factory-replaceable
Wireless connectivity
SonosNet, a secure AES encrypted, peer-to-peer wireless mesh network
DC charger
Input 100-240 VAC, 50-60 Hz; Output 6 VDC, 3.8A
Dimensions/Weight
165 x 97 x 24.5 mm (6.5 x 3.8 x 0.95 in)/360 g (12.5 oz)
Sonos Charging Cradle (CC100)
®
Designed to hold and charge your Sonos Controller.
(Sold separately.)
Designed for use with the Controller's existing AC Adapter. The Charging Cradle does not come with an AC Adapter.
Controller is fully functional while in the cradle. Controller LEDs indicate the charge status.
Place on any desktop or mount on any wall using the anchors, brackets and screws provided.
TECHNICAL SPECIFICATIONS*
Colour/Material
Light grey matched to the Controller/High-quality PC-grade plastic; blue rubber padding
on bottom to provide firm grip
Dimensions/Weight
65 x 57 x 189 mm (2.6 x 2.2 x 7.4 in)/200 g (7.1 oz)
*Specifications are subject to change without notice.
www.sonos.com
©2006 Sonos, Inc. Patents pending. Sonos and the Sonos logo are either trademarks or registered trademarks of Sonos, Inc.
All rights reserved. All other trademarks mentioned herein are property of their respective owners.

* Your assessment is very important for improving the work of artificial intelligence, which forms the content of this project