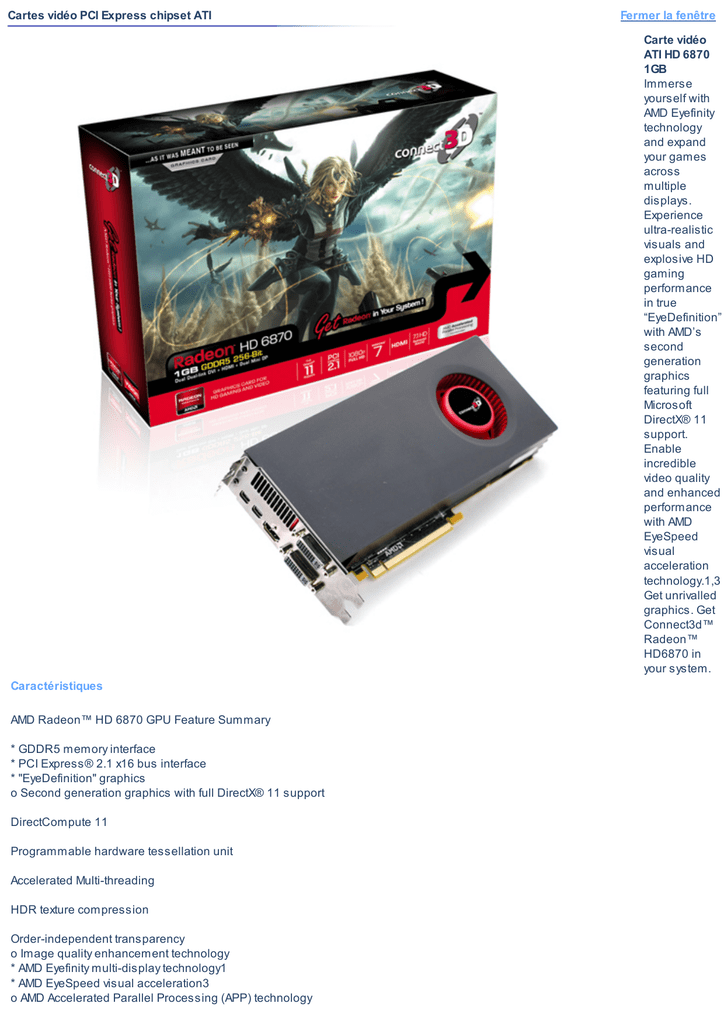 Cartes vidéo PCI Express chipset ATI
Fermer la fenêtre
Carte vidéo
ATI HD 6870
1GB
Immerse
yourself with
AMD Eyefinity
technology
and expand
your games
across
multiple
displays.
Experience
ultra-realistic
visuals and
explosive HD
gaming
performance
in true
"EyeDefinition"
with AMD's
second
generation
graphics
featuring full
Microsoft
DirectX® 11
support.
Enable
incredible
video quality
and enhanced
performance
with AMD
EyeSpeed
visual
acceleration
technology.1,3
Get unrivalled
graphics. Get
Connect3d™
Radeon™
HD6870 in
your system.
Caractéristiques
AMD Radeon™ HD 6870 GPU Feature Summary
* GDDR5 memory interface
* PCI Express® 2.1 x16 bus interface
* "EyeDefinition" graphics
o Second generation graphics with full DirectX® 11 support
DirectCompute 11
Programmable hardware tessellation unit
Accelerated Multi-threading
HDR texture compression
Order-independent transparency
o Image quality enhancement technology
* AMD Eyefinity multi-display technology1
* AMD EyeSpeed visual acceleration3
o AMD Accelerated Parallel Processing (APP) technology
OpenCL Support
DirectCompute 11
Accelerated video encoding, transcoding, and upscaling2
o UVD 3 dedicated video playback accelerator
o Enhanced Video Quality features
Advanced post-processing and scaling
Dynamic contrast enhancement and color correction
Brighter whites processing (Blue Stretch)
Independent video gamma control
Dynamic video range control
o AMD HD3D technology
Stereoscopic 3D display / glasses support
Blu-ray 3D support
Stereoscopic 3D gaming
3rd party Stereoscopic 3D middleware software support
o AMD CrossFireX™ multi-GPU technology5
Dual GPU scaling3
o Cutting-edge integrated display support
Integrated dual-link DVI output with HDCP
Integrated HDMI 1.4a with support for stereoscopic 3D
Integrated VGA output
o Integrated HD audio controller
Output protected high bit rate 7.1 channel surround sound over HDMI with no additional cables required
Support AC-3, AAC, Dolby TrueHD and DTS Master Audio formats
o AMD PowerPlay™ power management technology
Dynamic power management with low power idle state
Ultra-low power state support for multi-GPU configurations
o AMD Catalyst™ graphics and HD video configuration software
Certified drivers for Windows 7, Windows Vista, and Windows XP
AMD Catalyst™ Control Center – AMD Catalyst™ software application and user interface for setup, configuration, and accessing
features of ATI Radeon products
Unified Graphics display driver – AMD Catalyst™ software enabling other PC programs and devices to use advanced graphics,
video, and features of AMD Radeon™ products
Microsoft DirectX® 11 support
AMD Radeon™ HD 6800 Series GPUs fully support Microsoft DirectX® 11, enabling the following :
* Tessellation allows for real-time rendering of ultra-realistic characters and an incredible level of details with 3D images
* HDR Texture compression delivers and intense level visual detail without increasing graphics memory footprint with efficiency and
incredible image quality
* Multi-threading support for DirectX® 11 accelerates rendering by leveraging all the CPU cores for overall faster gaming
performance
* DirectCompute improves PC performance by taking on some or all of a DirectX® 11-enabled application's processing load, freeing
up the computer's main processor to take on additional tasks
Get intense gaming performance and unrivalled image quality with stunning 3D visual effects, realistic lighting and lifelike imagery,
driven by AMD's second generation DirectX® 11-capable graphics
AMD Eyefinity Technology
Fun multiple displays from a single graphics board and expand your gaming field of view across all displays1
Enjoy the ultimate immersive gaming experience with innovative "surround sight" multi-display capabilities
AMD Advanced Parallel Processing technology
Offload data parallel compute tasks from the CPU to GPU, for improved performance and video playback2
Accelerate the most demanding applications for improved performance2
Advanced GDDR5 Memory Technology
GDDR5 memory provides twice the bandwidth per pin of GDDR3 memory
Delivers more speed and higher bandwidths
AMD CrossFireX™ Technology
Multi-GPU support offers superior performance and scalability3
Increase your gaming performance with AMD CrossFireX™ Technology
3rd Generation TeraScale Engine
Massive arrays of on-chip compute units offer the latest in graphics functionality and performance
Provides higher processing power for the latest games and accelerated applications
40 nm Process Technology
More efficient process technology puts more transistors in less space
Provides better processor performance while using less power and better transistor efficiency than previous generation technology
Microsoft Windows 7® Support
Comprehensive OS support including Windows XP, Windows Vista, the very latest Windows 7 functionality and Driver support
Designed to deliver all the benefits of Microsoft Windows 7 OS
Accelerated Video Transcoding
Native support for common transcoding instructions in each shader for motion estimation that accelerates video encoding2
Help improve video transcoding performance
Display Flexibility
Enjoy a full range of display options natively on the board, including dual-link DVI-I, DisplayPort and HDMI
More flexibility with the highest level of connectivity for the latest display technologies
HDMI 1.4a
HDMI 1.4 support with Deep Color, 7.1 High Bitrate Audio, and 3D Stereoscopic support
Ensures you get the full Blu-ray and PVR experience from your PC
Dolby® TrueHD and DTS-HD Master Audio™ Support
Support of content protected, high bandwidth, 7.1 channels of surround sound over HDMI
Get a fully immersive high-definition audio experience with the latest Blu-ray movies
AMD PowerPlay™ Technology4
AMD PowerPlay™ capabilities vary power characteristics based on usage load
Power draw scales according to activity so when GPU activity is low, the power draw is minimal
Enhanced Unified Video Decoder 3 (UVD 3)
Watch the hottest Blu-ray movies or other HD content at full 1080p display resolution and beyond and enjoy a more feature rich
experience with enhanced Unified Video Decoder 3 (UVD 3)
Watch the hottest Blu-ray movies, online video and other HD content beyond 1080p with low power and low noise with GPU
acceleration and enhanced Unified Video Decoder 3 (UVD 3) features
Enhanced Internet Browser Applications
GPU Accelerated browser (IE9/Mozilla FireFox) – direct 2D rendering
A faster and smoother browsing experience with better image rendering, response, and media playback
Microsoft Office 2010
WEnhanced productivity with accelerated GPU processing for Office application
Take advantage of improved picture and media editing capabilities in Office 2010 as well as edit and share your content in real time.
See more, and get more done
Footnotes:
Additional hardware (e.g. Blu-ray drive, HD or 10-bit monitor, TV tuner) and /or software (e.g. multimedia applications) are required
for the full enablement of some features. Not all features may be supported on all components or systems – check with your
component or system manufacturer for specific model capabilities and supported technologies.
1. 1. AMD Eyefinity Technology can support multiple display using a single enabled AMD Radeon™ graphics card with Windows
Vista or Windows 7 operating system – the number of display may vary by board design and you should confirm exact specifications
with the applicable manufacturer before purchase. AMD Eyefinity technology works with games that support non-standard aspect
ratios, which is required for panning across multiple displays. To enable more than two displays, additional panels with native
DisplayPort™ connectors, and/or certified DisplayPort™ adapters to convert your monitor's native input to your cards DisplayPort™
or Mini-DisplayPort™ connector(s), are required.
2. 2. AMD [HD3D] is a technology designed to enable stereoscopic 3D support in games, movies and/or photos
3. 3. AMD EyeSpeed technology is a set of technologies designed to improve video quality and enhanced application performance.
Full enablement of some features requires support for AMD Accelerated Parallel Processing (APP) technology and/or AMD's
Universal Video Decoder (UVD)
4. 4. Requires application support for AMD Accelerated Parallel Processing technology. AMD Accelerated Parallel Processing is a
technology platform that includes a broad set of capabilities offered by certain AMD Radeon™ GPUs. Not all products have all
features and full enablement of some capabilities and may require complementary products. AMD Accelerated Parallel Processing
technology works with applications specifically designed to enable its GPU accelerated features.
5. 5. AMD CrossFireX™ technology requires an AMD CrossFireX™ Ready motherboard, an AMD CrossFireX™ Bridge Interconnect
(for each additional graphics card) and may require a specialized power supply.
AMD Radeon™ HD 6870 System Requirements
* PCI Express® based PC is required with one X16 lane graphics slot available on the motherboard
* 400 Watt or greater power supply with one 75W 6-pin PCI Express® power connectors recommended (600 Watt and two 6-pin
connectors for AMD CrossFireX™ technology in dual mode)
* Certified power supplies are recommended. Refer to http://ati.amd.com/certifiedPSU for a list of Certified products
* Minimum 1GB of system memory
* Installation software requires CD-ROM drive, a keyboard, a mouse, and a display
* DVD playback requires DVD drive and a DVD
* Blu-ray™ playback requires Blu-ray drive and Blu-ray disc
* For an AMD CrossFireX™ system, a second AMD Radeon™ HD 6800 Series Graphics card, an AMD CrossFireX™ ready
motherboard and one AMD CrossFireX™ Bridge Interconnect cable is required
Chipset ATI Radeon™ HD6870
Memory Size 1GB
Memory Speed GDDR5
Memory Interface 256-bit
Core Clock 900MHz
Memory Clock 4.2GHz
Shader Clock --Output Dual-link DVI x 2 , HDMI x 1 , Display Port x 1
Bus Technology PCI Express 2.0
Package Contents --EAN Code 3760161575942
Part Number C3D-H6870-1GD5E-HDMI
ACT Service n'est pas responsable des erreurs dans la documentation.