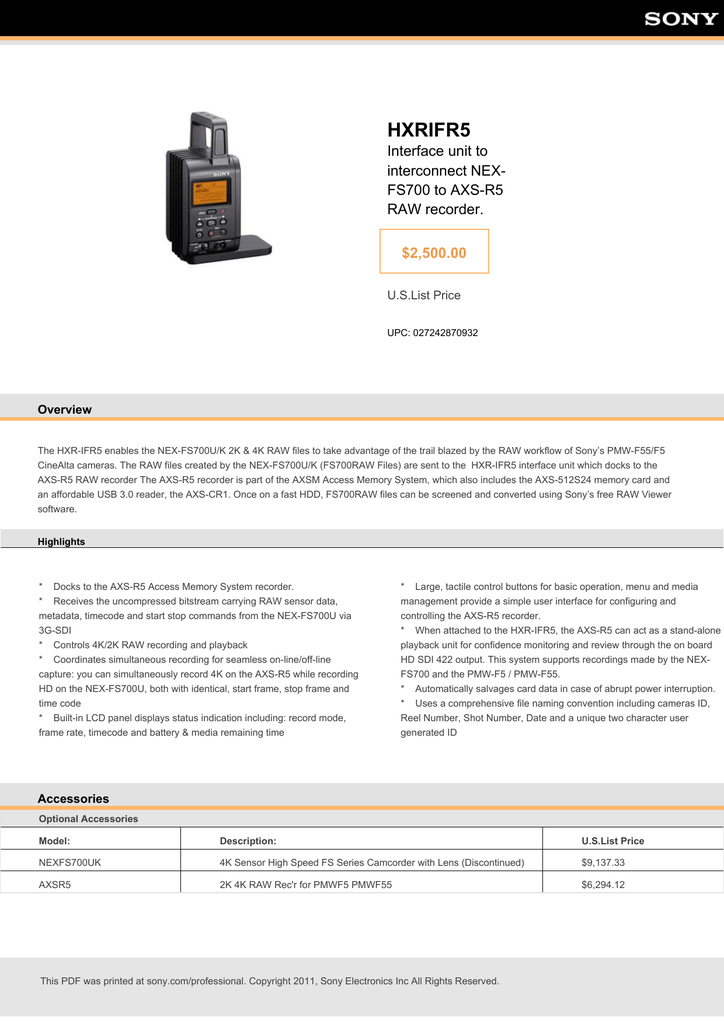 SONY
SONY
HXRIFR5
Interface unit to
interconnect NEXFS700 to AXS-R5
RAW recorder.
$2,500.00
U.S.List Price
UPC: 027242870932
Overview
The HXR-IFR5 enables the NEX-FS700U/K 2K & 4K RAW files to take advantage of the trail blazed by the RAW workflow of Sony's PMW-F55/F5
CineAlta cameras. The RAW files created by the NEX-FS700U/K (FS700RAW Files) are sent to the HXR-IFR5 interface unit which docks to the
AXS-R5 RAW recorder The AXS-R5 recorder is part of the AXSM Access Memory System, which also includes the AXS-512S24 memory card and
an affordable USB 3.0 reader, the AXS-CR1. Once on a fast HDD, FS700RAW files can be screened and converted using Sony's free RAW Viewer
software.
Highlights
* Docks to the AXS-R5 Access Memory System recorder.
* Receives the uncompressed bitstream carrying RAW sensor data,
metadata, timecode and start stop commands from the NEX-FS700U via
3G-SDI
* Controls 4K/2K RAW recording and playback
* Coordinates simultaneous recording for seamless on-line/off-line
capture: you can simultaneously record 4K on the AXS-R5 while recording
HD on the NEX-FS700U, both with identical, start frame, stop frame and
time code
* Built-in LCD panel displays status indication including: record mode,
frame rate, timecode and battery & media remaining time
* Large, tactile control buttons for basic operation, menu and media
management provide a simple user interface for configuring and
controlling the AXS-R5 recorder.
* When attached to the HXR-IFR5, the AXS-R5 can act as a stand-alone
playback unit for confidence monitoring and review through the on board
HD SDI 422 output. This system supports recordings made by the NEXFS700 and the PMW-F5 / PMW-F55.
* Automatically salvages card data in case of abrupt power interruption.
* Uses a comprehensive file naming convention including cameras ID,
Reel Number, Shot Number, Date and a unique two character user
generated ID
Accessories
Optional Accessories
Model:
Description:
U.S.List Price
NEXFS700UK
4K Sensor High Speed FS Series Camcorder with Lens (Discontinued)
$9,137.33
AXSR5
2K 4K RAW Rec'r for PMWF5 PMWF55
$6,294.12
This PDF was printed at sony.com/professional. Copyright 2011, Sony Electronics Inc All Rights Reserved.

* Your assessment is very important for improving the work of artificial intelligence, which forms the content of this project