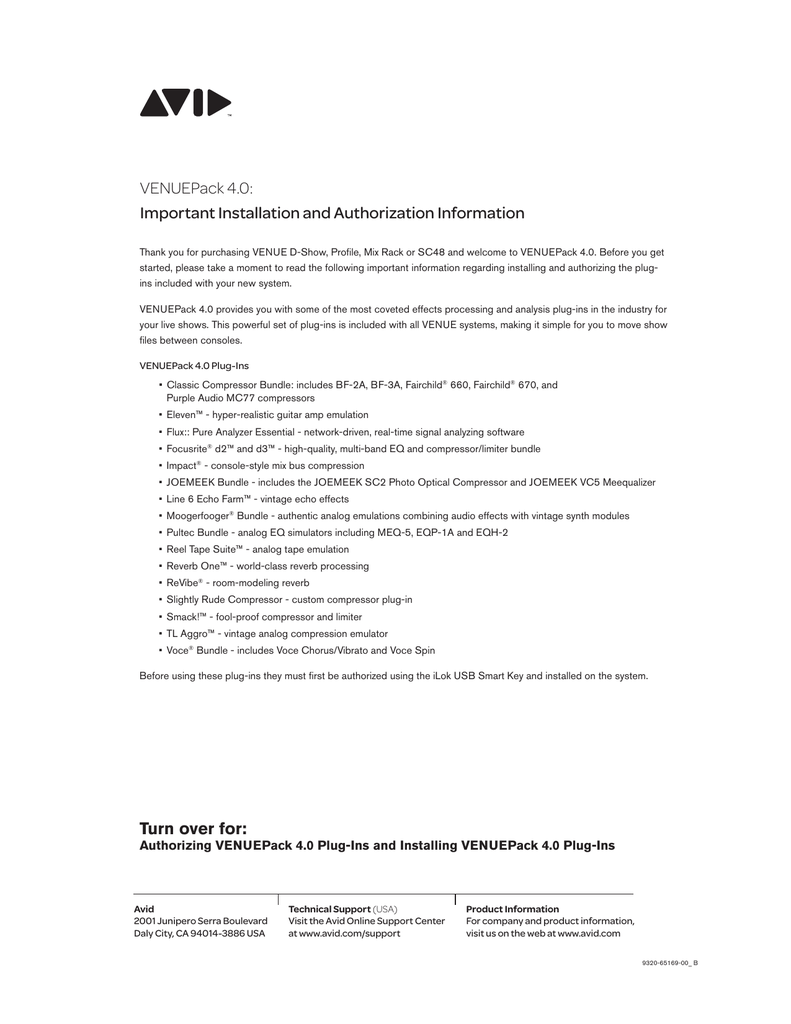 Use on white backgrounds only,
when only black ink is available.
VENUEPack 4.0:
Important Installation and Authorization Information
Thank you for purchasing VENUE D-Show, Profile, Mix Rack or SC48 and welcome to VENUEPack 4.0. Before you get
started, please take a moment to read the following important information regarding installing and authorizing the plugins included with your new system.
VENUEPack 4.0 provides you with some of the most coveted effects processing and analysis plug-ins in the industry for
your live shows. This powerful set of plug-ins is included with all VENUE systems, making it simple for you to move show
files between consoles.
VENUEPack 4.0 Plug-Ins
• Classic Compressor Bundle: includes BF-2A, BF-3A, Fairchild® 660, Fairchild® 670, and
Purple Audio MC77 compressors
• Eleven™ - hyper-realistic guitar amp emulation
• Flux:: Pure Analyzer Essential - network-driven, real-time signal analyzing software
• Focusrite® d2™ and d3™ - high-quality, multi-band EQ and compressor/limiter bundle
• Impact® - console-style mix bus compression
• JOEMEEK Bundle - includes the JOEMEEK SC2 Photo Optical Compressor and JOEMEEK VC5 Meequalizer
• Line 6 Echo Farm™ - vintage echo effects
• Moogerfooger® Bundle - authentic analog emulations combining audio effects with vintage synth modules
• Pultec Bundle - analog EQ simulators including MEQ-5, EQP-1A and EQH-2
• Reel Tape Suite™ - analog tape emulation
• Reverb One™ - world-class reverb processing
• ReVibe® - room-modeling reverb
• Slightly Rude Compressor - custom compressor plug-in
• Smack!™ - fool-proof compressor and limiter
• TL Aggro™ - vintage analog compression emulator
• Voce® Bundle - includes Voce Chorus/Vibrato and Voce Spin
Before using these plug-ins they must first be authorized using the iLok USB Smart Key and installed on the system.
Turn over for:
Authorizing VENUEPack 4.0 Plug-Ins and Installing VENUEPack 4.0 Plug-Ins
Avid
2001 Junipero Serra Boulevard
Daly City, CA 94014-3886 USA
Technical Support (USA)
Visit the Avid Online Support Center
at www.avid.com/support
Product Information
For company and product information,
visit us on the web at www.avid.com
9320-65169-00_ B
Authorizing VENUEPack 4.0 Plug-Ins
The VENUEPack 4.0 bundle includes an iLok USB Smart Key and an Activation Card that contains a code to
obtain the licenses for all of your VENUEPack 4.0 plug-ins.
Please follow the instructions printed on the Activation Card to transfer the VENUEPack 4.0 plug-in licenses
directly to the iLok USB Smart Key. Note that a computer with an Internet connection is needed to transfer the
licenses.
After transferring the licenses to the iLok, insert the iLok into an available USB port on your VENUE system in order
to authorize your plug-ins. Note: An internal USB port for permanently securing the iLok is located inside the FOH
Rack and Mix Rack, and on the right hand side of the SC48.
Installing VENUEPack 4.0 Plug-Ins
The VENUEPack 4.0 installation CD contains installers for the plug-ins included with the VENUE system.
To install the plug-ins:
1. Enable Config mode by either pressing the Config mode switch on the console (the Config mode switch lights when enabled), or double-clicking the Config/Show mode toggle display in the Status bar of the
software screen.
2. Insert the VENUEPack 4.0 installation CD into the CD-ROM drive in the FOH Rack, Mix Rack or
SC48 console.
3. Navigate to the OPTIONS > PLUG-INS screen, which provides the following two lists:
a.
Plug-ins to Install: This list on the left displays all available plug-in installers. At the top of the list is the Device selector, which provides a selectable list of available media sources.
b.
Installed Plug-Ins: This list on the right displays all plug-ins already installed on your system. The plug-ins displayed in plain text will be available to process audio. Plug-ins listed in italics are disabled and unavailable.
Please note that the Options > Plug-ins screen is only available when running the software on a VENUE system – not in the VENUE Standalone Software.
4. From the Device selector in the "Plug-ins to Install" list, choose 'VENUEPack 4.0'.
5. Select one or more plug-ins to install in the "Plug-ins to Install" list (scroll to see additional plug-ins, if necessary). Shift-click to select multiple plug-ins to install, or Control-click to select or deselect individual plug-ins.
6. Click "Install" to install the selected plug-ins.

* Your assessment is very important for improving the work of artificial intelligence, which forms the content of this project