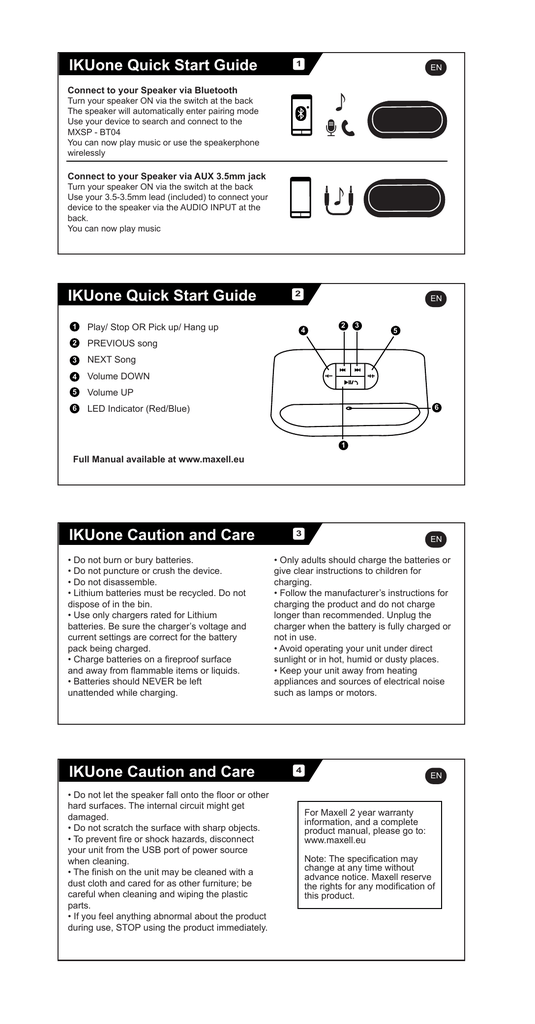 IKUone Quick
IKUone
QuickStart
StartGuide
Guide
1
1
EN
Connect to your Speaker via Bluetooth
Turn your speaker ON via the switch at the back
The speaker will automatically enter pairing mode
Use your device to search and connect to the
MXSP - BT04
You can now play music or use the speakerphone
wirelessly
Connect to your Speaker via AUX 3.5mm jack
Turn your speaker ON via the switch at the back
Use your 3.5-3.5mm lead (included) to connect your
device to the speaker via the AUDIO INPUT at the
back.
You can now play music
IKUone Quick Start Guide
1
Play/ Stop OR Pick up/ Hang up
2
PREVIOUS song
3
NEXT Song
4
Volume DOWN
5
Volume UP
6
LED Indicator (Red/Blue)
2
EN
4
2
3
5
6
1
Full Manual available at www.maxell.eu
IKUone Caution and Care
• Do not burn or bury batteries.
• Do not puncture or crush the device.
• Do not disassemble.
• Lithium batteries must be recycled. Do not
dispose of in the bin.
• Use only chargers rated for Lithium
batteries. Be sure the charger's voltage and
current settings are correct for the battery
pack being charged.
• Charge batteries on a fireproof surface
and away from flammable items or liquids.
• Batteries should NEVER be left
unattended while charging.
IKUone Caution and Care
• Do not let the speaker fall onto the floor or other
hard surfaces. The internal circuit might get
damaged.
• Do not scratch the surface with sharp objects.
• To prevent fire or shock hazards, disconnect
your unit from the USB port of power source
when cleaning.
• The finish on the unit may be cleaned with a
dust cloth and cared for as other furniture; be
careful when cleaning and wiping the plastic
parts.
• If you feel anything abnormal about the product
during use, STOP using the product immediately.
3
EN
• Only adults should charge the batteries or
give clear instructions to children for
charging.
• Follow the manufacturer's instructions for
charging the product and do not charge
longer than recommended. Unplug the
charger when the battery is fully charged or
not in use.
• Avoid operating your unit under direct
sunlight or in hot, humid or dusty places.
• Keep your unit away from heating
appliances and sources of electrical noise
such as lamps or motors.
2
4
EN
For Maxell 2 year warranty
information, and a complete
product manual, please go to:
www.maxell.eu
Note: The specification may
change at any time without
advance notice. Maxell reserve
the rights for any modification of
this product.

* Your assessment is very important for improving the work of artificial intelligence, which forms the content of this project