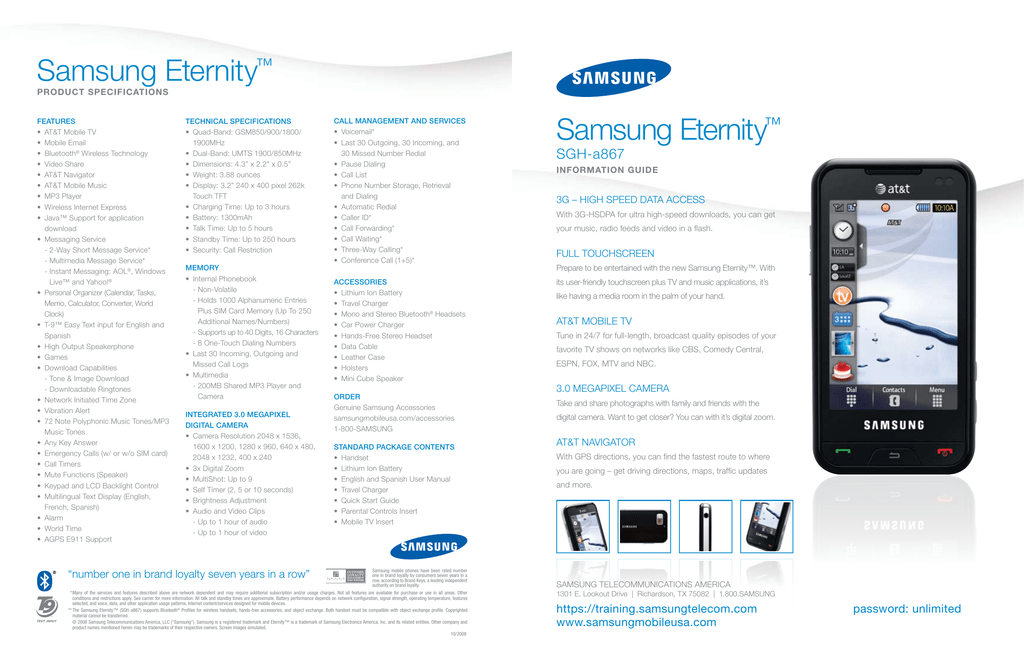 Samsung Eternity™
PRODUCT SPECIFICATIONS
FEATURES
• AT&T Mobile TV
• Mobile Email
• Bluetooth® Wireless Technology
• Video Share
• AT&T Navigator
• AT&T Mobile Music
• MP3 Player
• Wireless Internet Express
• Java™ Support for application
download
• Messaging Service
-2-Way Short Message Service*
-Multimedia Message Service*
-Instant Messaging: AOL®, Windows
Live™ and Yahoo!®
• Personal Organizer (Calendar, Tasks,
Memo, Calculator, Converter, World
Clock)
• T-9™ Easy Text input for English and
Spanish
• High Output Speakerphone
• Games
• Download Capabilities
-Tone & Image Download
-Downloadable Ringtones
• Network Initiated Time Zone
• Vibration Alert
• 72 Note Polyphonic Music Tones/MP3
Music Tones
• Any Key Answer
• Emergency Calls (w/ or w/o SIM card)
• Call Timers
• Mute Functions (Speaker)
• Keypad and LCD Backlight Control
• Multilingual Text Display (English,
French, Spanish)
• Alarm
• World Time
• AGPS E911 Support
TECHNICAL SPECIFICATIONS
• Quad-Band: GSM850/900/1800/
1900MHz
• Dual-Band: UMTS 1900/850MHz
• Dimensions: 4.3" x 2.2" x 0.5"
• Weight: 3.88 ounces
• Display: 3.2" 240 x 400 pixel 262k
Touch TFT
• Charging Time: Up to 3 hours
• Battery: 1300mAh
• Talk Time: Up to 5 hours
• Standby Time: Up to 250 hours
• Security: Call Restriction
MEMORY
• Internal Phonebook
-Non-Volatile
-Holds 1000 Alphanumeric Entries
Plus SIM Card Memory (Up To 250
Additional Names/Numbers)
-Supports up to 40 Digits, 16 Characters
-8 One-Touch Dialing Numbers
• Last 30 Incoming, Outgoing and
Missed Call Logs
• Multimedia
-200MB Shared MP3 Player and
Camera
INTEGRATED 3.0 MEGAPIXEL
DIGITAL CAMERA
• Camera Resolution 2048 x 1536,
1600 x 1200, 1280 x 960, 640 x 480,
2048 x 1232, 400 x 240
• 3x Digital Zoom
• MultiShot: Up to 9
• Self Timer (2, 5 or 10 seconds)
• Brightness Adjustment
• Audio and Video Clips
-Up to 1 hour of audio
-Up to 1 hour of video
"number one in brand loyalty seven years in a row"
CALL MANAGEMENT AND SERVICES
• Voicemail*
• Last 30 Outgoing, 30 Incoming, and
30 Missed Number Redial
• Pause Dialing
• Call List
• Phone Number Storage, Retrieval
andDialing
• Automatic Redial
• Caller ID*
• Call Forwarding*
• Call Waiting*
• Three-Way Calling*
• Conference Call (1+5)*
ACCESSORIES
• Lithium Ion Battery
• Travel Charger
• Mono and Stereo Bluetooth® Headsets
• Car Power Charger
• Hands-Free Stereo Headset
• Data Cable
• Leather Case
• Holsters
• Mini Cube Speaker
ORDER
Genuine Samsung Accessories
samsungmobileusa.com/accessories
1-800-SAMSUNG
STANDARD PACKAGE CONTENTS
• Handset
• Lithium Ion Battery
• English and Spanish User Manual
• Travel Charger
• Quick Start Guide
• Parental Controls Insert
• Mobile TV Insert
Samsung mobile phones have been rated number
one in brand loyalty by consumers seven years in a
row, according to Brand Keys, a leading independent
authority on brand loyalty.
*Many of the services and features described above are network dependent and may require additional subscription and/or usage charges. Not all features are available for purchase or use in all areas. Other
conditions and restrictions apply. See carrier for more information. All talk and standby times are approximate. Battery performance depends on network configuration, signal strength, operating temperature, features
selected, and voice, data, and other application usage patterns. Internet content/services designed for mobile devices.
**The Samsung Eternity™ (SGH-a867) supports Bluetooth® Profiles for wireless handsets, hands-free accessories, and object exchange. Both handset must be compatible with object exchange profile. Copyrighted
material cannot be transferred.
© 2008 Samsung Telecommunications America, LLC ("Samsung"). Samsung is a registered trademark and Eternity™ is a trademark of Samsung Electronics America, Inc. and its related entities. Other company and
product names mentioned herein may be trademarks of their respective owners. Screen images simulated.
10/2008
Samsung Eternity™
SGH-a867
INFORMATION GUIDE
3G – High Speed Data Access
With 3G-HSDPA for ultra high-speed downloads, you can get
your music, radio feeds and video in a flash.
Full TouchScreen Prepare to be entertained with the new Samsung Eternity™. With
its user-friendly touchscreen plus TV and music applications, it's
like having a media room in the palm of your hand.
AT&T Mobile TV
Tune in 24/7 for full-length, broadcast quality episodes of your
favorite TV shows on networks like CBS, Comedy Central,
ESPN, FOX, MTV and NBC.
3.0 Megapixel Camera
Take and share photographs with family and friends with the
digital camera. Want to get closer? You can with it's digital zoom.
AT&T Navigator
With GPS directions, you can find the fastest route to where
you are going – get driving directions, maps, traffic updates
and more.
SAMSUNG TELECOMMUNICATIONS AMERICA
1301 E. Lookout Drive | Richardson, TX 75082 | 1.800.SAMSUNG
https://training.samsungtelecom.com
www.samsungmobileusa.com
password: unlimited
Samsung Eternity™
Get to know the Samsung Eternity™
MENU NAVIGATION
1. Address Book
1: Contacts
2: Group
3: Favorites
4: Add New Contact
5: Service Number
6: Address Book Settings
7: SIM Management
2. Messaging
1: Create Message
2: Inbox
3: Sent
4: Outbox
5: Drafts
6: IM
7: Mobile Email
8: Messaging Settings
9: Delete by Folder
10: Used Space
3. Yellowpages
4. AT&T Music
1: Music Player
2: Shop Music
3: Music ID
4: XM Radio
5: Music Videos
6: Pandora
7: Community
8: Music Applications
5. TV
6. CV
7. MEdia Net
1: MEdia Net Home
2: Enter URL
3: Favorites
4: Browser Settings
8. MEdia Mall
9. AT&T GPS
1: Shop GPS Apps
2: AT&T Navigator
3: Where
10. My Stuff
1: Audio
2: Games & Apps
3: Pictures
4: Tools
5: Videos
6: Other Files
7: Used Space
11. Tools
1: Camera
2: Record Audio
3: Alarms
4: Calendar
5: Recent Calls
6: Tasks
7: Memo
8: Calculator
9: Converter
10: World Clock
11: Timer
12: Stopwatch
12: Settings
1: Sound Profile
2: Display and Light
3: Time and Date
4: Phone
5: Calls
6: Connectivity
7: Applications Settings
8: Reset Settings
9: Memory Management
10: Software Update
11: Phone Information
AT&T Mobile TV
Tune in 24/7 for full-length, broadcast quality episodes of
your favorite TV shows on the networks you love.
Watching Live TV
1. From the idle screen, press Menu and select
or you
can select TV from the Widget Bar.
2. An introduction video clip will play (for the first time).
3. Highlight the Subscribe Now option.
4. Review the base package and press Continue.
5. If you agree with the Terms and Conditions press Agree.
6. To confirm your subscription press Submit.
7. The Media Player will launch and press Program Guide
to change channels.
AT&T Navigator
AT&T Navigator, with GPS enabled directions, is the fastest
way to get where you are going - whether across town or
across the country.
1. From the idle screen, press Menu and choose
AT&T GPS.
2. Select AT&T Navigator.
3. Once the application is launched, select Agree.
4. Now you have the ability to get directions and driving
information by selecting Drive To, Search, Maps &
Traffic, or Tools & Extras.
For more information visit att.com/navigator.
Mobile Email
Take your email with you with Mobile Email. You can access
up to a dozen providers, including: AT&T®, AOL®, Yahoo!®
and Windows Live™ email accounts.
1. Press the
key and select Messaging, then select
Mobile Email
2. Scroll to the email provider of your choice
(Note: you may also be prompted to select a domain
name from that provider).
3. Type in your personal email address (e.g., "silverfox2"),
then enter your account's Password and press Sign In.
4. You will be connected to your account's Inbox and
contacts, where you can send and receive emails.
All providers may not be available on all devices. Yahoo! and the Yahoo! logo
are trademarks and/or registered trademarks of Yahoo! Inc. AOL, America
Online and the Triangle Logo are registered trademarks of America Online.
Windows Live and the Windows logo are either registered trademarks or
trademarks of Microsoft Corporation in the United States and/or other
countries.
MEdia™ Net
With MEdia Net, you can get the information that is important
to you from the mobile web. Your local weather, your teams
scores, your movie theatres are all just a few taps away.
1. Press the
Key.
2. Highlight the content you want to view.
Personalize your MEdia Net Home Page:
1. From the MEdia Net home page, scroll to Customize
MEdia Net.
2. Select Edit Categories.
3. Highlight the categories you would like to appear on
your MEdia Net home page and press Save.
Or,
1.
2.
3.
personalize your Home Page from your PC:
Go to att.com/mymedianet from your PC.
Enter your mobile phone number and start choosing
content to add to your Home Page.
Click Update Now to save changes.
CV
CV brings your phone to life. Watch news, sports, weather
and entertainment clips while on the go.
1. From the idle screen, press Menu and select CV.
2. Once connected, select the program options you wish
to view.
3. Select the clip you want to play.
Personalize your CV content:
1. From the CV home page, select Customize CV.
2. Select Edit My Favorites.
3. Select the content you would like to appear on your CV
Home screen.
Parental Controls available. See box insert for details.
CV requires a MEdia Max plan.