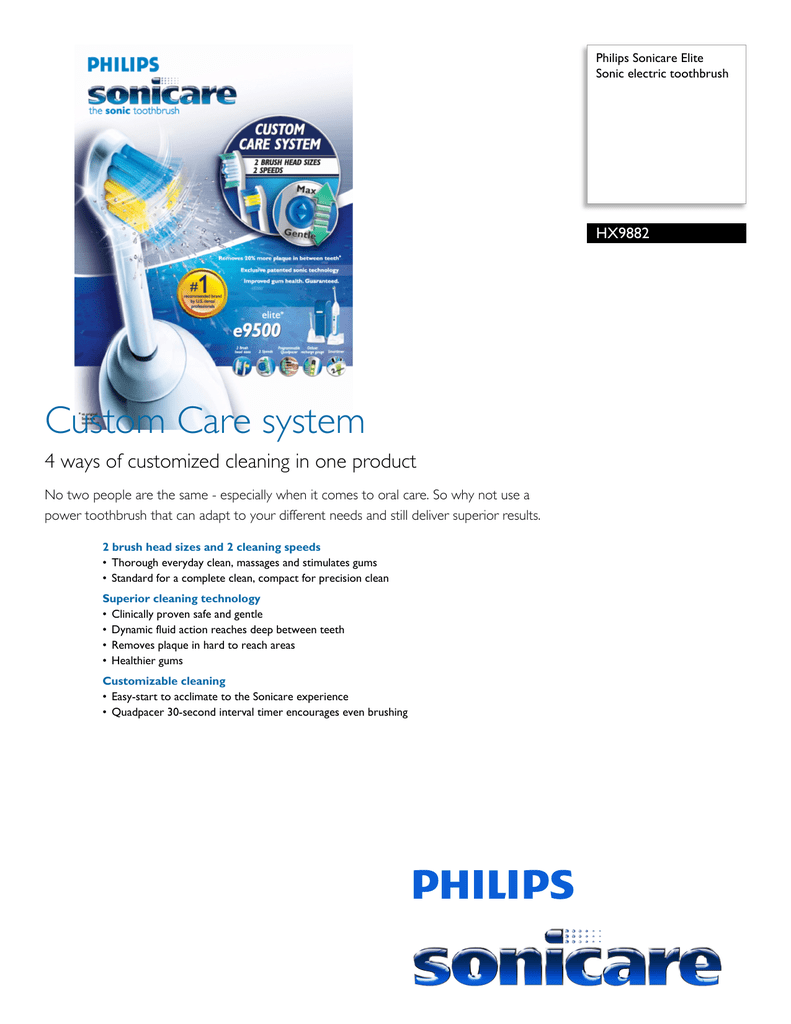 Philips Sonicare Elite
Sonic electric toothbrush
HX9882
Custom Care system
4 ways of customized cleaning in one product
No two people are the same - especially when it comes to oral care. So why not use a
power toothbrush that can adapt to your different needs and still deliver superior results.
2 brush head sizes and 2 cleaning speeds
• Thorough everyday clean, massages and stimulates gums
• Standard for a complete clean, compact for precision clean
Superior cleaning technology
• Clinically proven safe and gentle
• Dynamic fluid action reaches deep between teeth
• Removes plaque in hard to reach areas
• Healthier gums
Customizable cleaning
• Easy-start to acclimate to the Sonicare experience
• Quadpacer 30-second interval timer encourages even brushing
HX9882/12
HX9882/12
Sonic electric toothbrush
Specifications
Weight and dimensions
•
•
•
•
•
F-box dimensions: 17.1 x 9.50 x 23.5 in
F-box weight: 0.78 lb
A-box dimensions: 35.1 x 30.2 x 25.4 in
A-box weight: 5.11 lb
A-box number of pieces: 6 pcs pcs
Accessories
•
•
•
•
HX7001: Standard Elite single pack brush head
HX7002: Standard Elite double pack brush head
HX7011: Mini Elite single pack brush head
HX7012: Mini Elite double pack brush head
Technical specifications
• Voltage: 220-240 V
• Operating time (full to empty): 28 brushings
• Charging time: Hours hour(s)
Highlights
• Battery rechargable: NiCd
• Speed (top): Up to 31,000 movements per minute
Additional features
• Smartimer: Dentists' recommend a 2 minute
brushing time
• Deluxe recharge gauge: Green tracks battery charge,
yellow for recharge
• Ergonomic tapered handle: Non-slip grip designed to
improve handling
• Easy-Start: Gently increases power over 14 uses
• Programmable Quadpacer: 30-second interval timer
for an even clean
• 2 speeds: Choose the speed most comfortable for
you
• 2 contoured brush head sizes: Standard for complete
clean, Compact for precision
•
Issue date 2016-12-14
© 2016 Koninklijke Philips N.V.
All Rights reserved.
Version: 3.2.1
Specifications are subject to change without notice.
Trademarks are the property of Koninklijke Philips N.V.
or their respective owners.
12 NC: 0000 000 00000
www.philips.com
Healthier gums
Clinically proven to reduce gingivitis and help shrink
periodontal pockets.
Safe and gentle
Your Philips Sonicare Electric Toothbrush is safe to
use on: braces (brush heads wear out sooner when
used on braces), dental restorations (fillings, crowns,
veneers) and periodontal pockets.

* Your assessment is very important for improving the work of artificial intelligence, which forms the content of this project