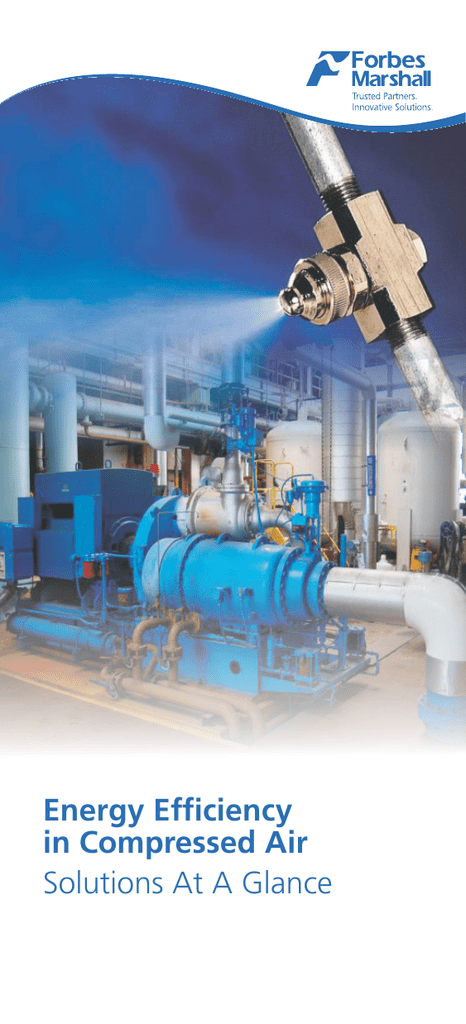 Energy Efficiency
in Compressed Air
Solutions At A Glance
COMPRESS YOUR AIR COSTS
Compressed air finds widespread and varied usage in the
manufacturing industry and is considered the fourth
utility. Due to its nature, compressed air is considered to
be a free utility. On the contrary, according to a US
Department of Energy study, generating compressed air
consumes an average of 10% of electricity in any plant.
For industries like automobiles and cement, it may be as
high as 30%. Inefficient generation and leakages further
add to the generation cost.
Compressed
Air
Atmospheric
Air
Compression
` 60,000
54,43,000
` 50,000
ons
llati
sta
` 40,000
` 30,000
her
rns
ig
hb
wit
in
ger
retu
27,22,000
Hig
` 20,000
` 10,000
13,61,000
6,80,000
` 0
1
2
3
4
Important Facts
•
You may be spending upto Rs 31 lakhs per annum on
operating your 90KW compressor
•
30% of your electricity cost may be through
compressed air
•
Cost of off-load running a 90KW compressor for
4 hours daily is Rs 1.3 lakhs per annum
•
Leakages contribute to upto 40% of your
compressed air costs, costing upto Rs 15 lakhs
per annum.
•
A single1/8" leak at 6.5 bar drains out Rs 1.5 lakhs
per annum.
•
Over pressurization by even 0.5 bar costs you
Rs 1lakh per annum
•
Compressed Air is costlier than Steam
What are your losses?
Sources of losses in a compressed air network can be of a
varied nature. They can range from the obvious to the
hidden, from the large to the very small. Putting together
all these can harm your system in significant ways
1) Leakages
Typical compressed Air Consumption
2) Inefficient generation
3) Inefficient distribution
4) Malpractices
5) Insufficient storage
Leak 25%
Production 65%
Artificial Demand 15%
Factors affecting the efficiency of compressed
air systems
•
Inefficient compressors
•
Over pressurisation
•
Unbalanced compressed air requirement
•
Insufficient storage
•
Compressed air malpractices
•
Piping issues and angle connections
•
Moisture traps, filters etc malfunctions
How can you save?
Achieving energy efficiency and cost savings on
compressed air networks takes patience, expert
guidance and meticulous planning. Compressed air as a
utility, is often disregarded, and becomes a large source
of losses. To address this issue one has to look beyond the
just the obvious sources – leakages and compressor
inefficiency – and closely look at other avenues:
1. Reduce over-pressurisation
2. Balance your air requirement
3. Eliminate improper usage
4. Add to insufficient storage
5. Correct piping issues
The steps taken towards energy savings by most
companies, while being effective, only scratch the
surface of the overall savings potential. In order to
achieve greater efficiency and to tap hidden potential,
one must delve deeper and go in for more thorough
measures. Forbes Marshall's Air Efficiency Solutions help
in identifying the necessary measures to achieve industry
best practices.
You cannot save, unless you measure
Present Savings
hidden Savings
by Proper Monitoring,
Metering and Controlling of
Compressed Air
Solutions at a glance
Air Audits - The air audit helps you identify various losses
in compressed air networks and recommends solutions
which help in reducing the compressed air costs.
MAC - Master Air Control (MAC) is a demand side load
controller which helps reduce energy costs by eliminating
artificial demand and ensures a steady delivery.
SequenceAIR - SequenceAIR is an intelligent
compressor sequencing controller which delivers an
efficient and economical compressed air system.
CountAIR - CountAIR is a comprehensive monitoring
solution for compressed air networks. It keeps track of
compressed air from generation to consumption and aids
in running the compressed air network in balance.
FAD Meter - The FAD meter with online pressure and
temperature compensation is an ideal and highly
accurate solution for monitoring compressor efficiency.
AirMon - AirMon is an innovative cost-effective
flowmeter for monitoring of compressed air on plant
lines.
Compressed Air Audits
We offer a comprehensive bundle of services that help
optimisation of compressed air networks. Our offerings
go beyond just leak detection, the Forbes Marshall air
audit will help you identify and define your system
problems, whether they are in demand, distribution or
supply and recommend solutions, allowing you to meet
your return on investment goal.
Overview study
Audit & data collection
Recommend
Analyse
Helping Implement
Objectives of the Air Audit
•
Reduce operating cost
•
Improve productivity
•
Improve quality
•
Minimise or eliminate future capital costs
Scope of the Air Audit
•
Compressor performance testing
•
Analysis of compressed air demand and supply
•
Air leak detection
•
Piping and pressure drop measurement.
•
Audits of pressure drops, malpractices and
mal-functioning of the equipment.
Beyond Audits
Forbes Marshall does not just conduct an audit and
submit the report; we support and work with our
customers till they have realised the saving potential
identified through the air audit.
Depending on the need we provide solutions for areas
such as:
•
Demand and supply side load balancing
•
Compressor sequencing
•
Anti-surge control
•
Compressor network monitoring
Master Air Control (MAC)
The Master Air Control (MAC) is an energy saving control
system, which actively helps you control the balance
across the demand and supply sides. The Master Air
Control helps reduce energy spent on compressed air by
eliminating artificial demand from the compressed air
network.
As usage fluctuates in the plant, it creates peaks and
troughs in the compressed air demand. Peaks in demand
are handled by MAC, rather than being directed towards
the compressors. This allows compressors to run longer
on a no-load condition, and as a result, compressor load
cycles are reduced. This decrease in compressor load
cycles is directly proportional to the decrease in energy
consumed by the compressors.
Features
•
Highly responsive to fine changes in demand
•
Accurate pressure control
•
Fail safe operation
•
History and trending feature
•
7" touch screen HMI
Benefits
•
Separates compressors from demand side peaks
and lows, thus prevents compressor cycling to
minimal
•
Consistent air pressure delivery to demand side
•
Enhanced useful air storage capacity
•
Accommodates any make of compressor
•
Demand reduction tends to reduce leakages in plant
Before MAC
PSI
100
80
After MAC
SequenceAIR
The SequenceAIR offers intelligent
compressor control, to efficiently
and economically manage
compressed air systems. It proactively and dynamically
determines the compressors to
use for the required system load
and keeps the system operating in
a narrow band. It can also be set
up to automatically change the compressor sequence
basis, a settable order, day and time
Total system KW
%
saving
More efficient sequencing
10%
75
3.78
150
7.56
300
15.12
600
30.24
Tighter pressure band
5%
1.89
3.78
7.56
15.12
Reduced unregulated demand/leaks
3%
1.13
2.27
4.54
9.07
Total estimated savings
18%
6.80
13.61
27.22
54.43
(All prices in table- in Rs. Lakhs))
Features
•
Touch screen HMI display
•
Target pressure setting
•
Pressure sensor calibration
•
History and trending display
•
Full range diagnostics
•
Web based control features
•
System response tuning
Benefits
•
SequenceAir connects to any type of compressor, it is
expandable upto 12 compressors
•
Match compressed air supply to compressed air
demand dynamically
•
Preventive maintenance scheduling, thereby
avoidance of costly breakdowns
•
Minimise final system pressure fluctuation,
improving plant production
System without SequenceAIR
System with SequenceAIR
Savings
Installation
Maintenance
Investment
Maintenance
Energy
consumption
Installation
Investment
Energy
consumption
Some Facts
The following graph shows the annual power loss
against leakages and over-pressurisation for different
compressor power consumption:
1200
1000
70 KW
800
90 KW
600
100 KW
400
120 KW
200
150 KW
0.2
0.3
0.4
0.5
0.6
0.7
0.8
0.9
CountAIR
CountAir provides information on
•
Real-time specific compressor and machine data
•
Deviations of any machine or area from its trend line
and rated consumption
•
An overall plant demand overview
•
All necessary information to save and control
•
Unaccounted losses in the system
•
Presence of leakages in distribution lines
What does the CountAIR offer?
•
Historical trends of each area/unit with graphs
•
Benchmarks for the system
•
Alarms when demand spikes in any area
•
Real time, user selectable alarms
•
Intelligent or user-defined benchmarks for
generation and consumption
•
Real-time compressor efficiency monitoring
•
Linking with existing DCS or SCADA
User areas
To PC/Laptop ( through LAN)
(For Viewing)
Count Air
Input to Count
Air from Aimons
FAD meter
input to Count Air
n
AIR
COMPRESSOR
2
AIR
COMPRESSOR
1
AIR
COMPRESSOR
PO
FAD meter
Dry Air
Receiver
To User Department
Aimons
AirMon
Cost effective flow metering for compressed air
AirMon is an innovative cost-effective solution for
monitoring of compressed air on plant distribution lines.
With online pressure and temperature compensation, it is
the only practical solution for measuring compressed air
consumption. It is not only cost effective, but also highly
accurate and easy to install.
Benefits
•
Specialised solution for utility metering of
compressed air
•
High accuracy
•
Cost effective solution
•
Maintenance-free sensor design
•
AirMon is a 2-wire transmitter specifically designed to
measure compressed air on distribution lines
FAD Meter
The only way to know how much air your process is
actually getting is with effective air flow metering. With
our FAD meter, downstream of your compressor, you will
know at every moment exactly how much air is reaching
your process. Plus, its proprietary software automatically
compensates for your plant's relative humidity (RH) levels
and rated shaft RPM, ensuring 100% reading accuracy.
Benefits
•
2-wire device with integrated pressure (optional) and
temperature compensation
•
Wear-resistant as it is a fully welded stainless steel
vortex shedding
Structure
•
High corrosion, pressure and temperature resistance
•
Optimum process reliability.
•
Maintenance-free sensor design
•
It has an accuracy of +/- 1% of measured value
Benefits of metering compressed air
•
Know your losses vs leakages
•
Avoid periodical overhauls
•
Reduce downtime through preventive maintenance
•
Avoid over pressurisation.
•
Annual power loss vs over pressure%
Compress Your Air Costs With Us
The avenues for energy savings are not limited to the
those mentioned above. The potential areas for energy
efficiency and energy savings are endless and deserve a
thorough exploration. With our expertise in Control &
Instrumentation and domain knowledge of Compressed
Air, we can help you realise maximum optimisation of
your compressed air network.
Forbes Marshall Pvt. Ltd.
A-34/35, MIDC, Industrial Estate,
'H' Block, Pimpri, Pune - 411 018. India.
Tel.: 91(0)20 - 27442020
Fax: 91(0)20 - 27442040 E-mail: airaudits@forbesmarshall.com
Domestic:
Ahmedabad, Alibag, Bangalore, Bhopal / Indore, Chandigarh, Chennai,
Coimbatore, Delhi, Hyderabad, Jamshedpur, Kolkata, Mumbai,
Nagpur, Navi Mumbai, Surat, Trichy, Vadodara, Visakhapatanam
International Operations: exp@forbesmarshall.com
Bangladesh, Bolivia, Canada, Chile, Columbia, Egypt, Indonesia, Kenya,
Malaysia, Nepal, Peru, Singapore, Sri Lanka, Thailand, U.A.E., USA, Venezuela
Doc#CIG0214/242/V1.R0
Why Meter Compressed Air?
Monitoring your network from generation to
consumption is the first step to achieving energy savings
and an optimal compressed air network. Most utility
managers are now looking at various ways to control
rising energy costs. However, due to lack of information,
most compressed air networks tend to be mismatched –
the generation often outstrips the demand, and most
utility managers provide air to processes based on an
approximate or intuitive guess about the requirements.