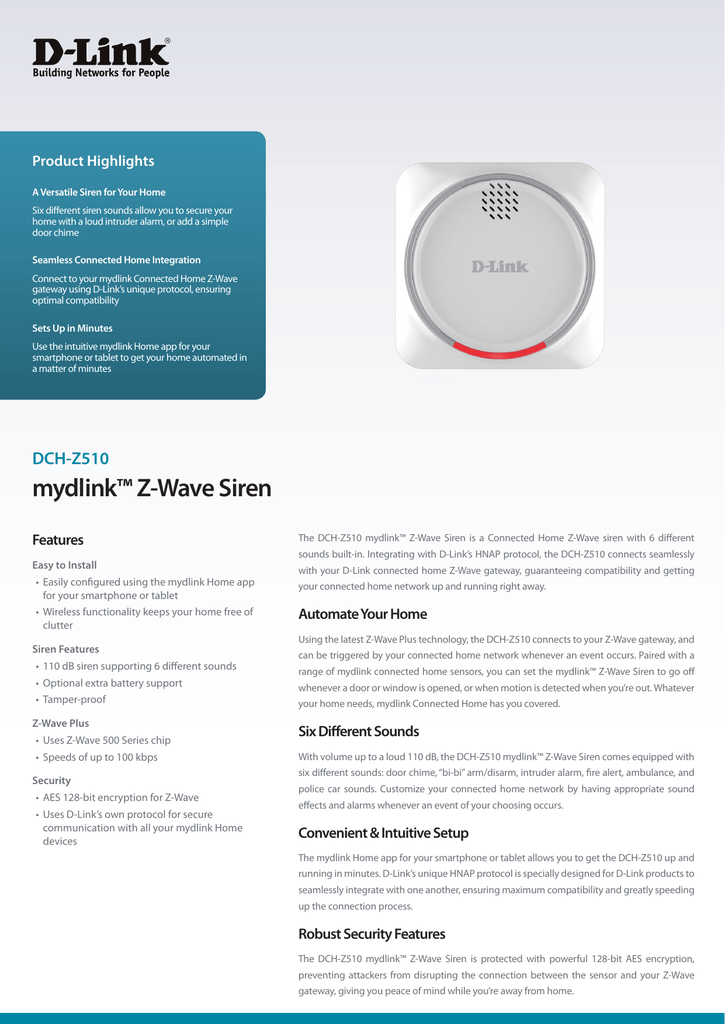 Product Highlights
A Versatile Siren for Your Home
Six different siren sounds allow you to secure your
home with a loud intruder alarm, or add a simple
door chime
Seamless Connected Home Integration
Connect to your mydlink Connected Home Z-Wave
gateway using D-Link's unique protocol, ensuring
optimal compatibility
Sets Up in Minutes
Use the intuitive mydlink Home app for your
smartphone or tablet to get your home automated in
a matter of minutes
DCH-Z510
mydlink™ Z-Wave Siren
Features
The DCH-Z510 mydlink™ Z-Wave Siren is a Connected Home Z-Wave siren with 6 different
Easy to Install
with your D-Link connected home Z-Wave gateway, guaranteeing compatibility and getting
• Easily configured using the mydlink Home app
for your smartphone or tablet
• Wireless functionality keeps your home free of
clutter
Siren Features
• 110 dB siren supporting 6 different sounds
• Optional extra battery support
• Tamper-proof
Z-Wave Plus
• Uses Z-Wave 500 Series chip
• Speeds of up to 100 kbps
Security
• AES 128-bit encryption for Z-Wave
• Uses D-Link's own protocol for secure
communication with all your mydlink Home
devices
sounds built-in. Integrating with D-Link's HNAP protocol, the DCH-Z510 connects seamlessly
your connected home network up and running right away.
Automate Your Home
Using the latest Z-Wave Plus technology, the DCH-Z510 connects to your Z-Wave gateway, and
can be triggered by your connected home network whenever an event occurs. Paired with a
range of mydlink connected home sensors, you can set the mydlink™ Z-Wave Siren to go off
whenever a door or window is opened, or when motion is detected when you're out. Whatever
your home needs, mydlink Connected Home has you covered.
Six Different Sounds
With volume up to a loud 110 dB, the DCH-Z510 mydlink™ Z-Wave Siren comes equipped with
six different sounds: door chime, "bi-bi" arm/disarm, intruder alarm, fire alert, ambulance, and
police car sounds. Customize your connected home network by having appropriate sound
effects and alarms whenever an event of your choosing occurs.
Convenient & Intuitive Setup
The mydlink Home app for your smartphone or tablet allows you to get the DCH-Z510 up and
running in minutes. D-Link's unique HNAP protocol is specially designed for D-Link products to
seamlessly integrate with one another, ensuring maximum compatibility and greatly speeding
up the connection process.
Robust Security Features
The DCH-Z510 mydlink™ Z-Wave Siren is protected with powerful 128-bit AES encryption,
preventing attackers from disrupting the connection between the sensor and your Z-Wave
gateway, giving you peace of mind while you're away from home.
DCH-Z510 mydlink™ Z-Wave Siren
Front View
Back View
Siren
Backup Battery
Compartment
Status LEDs
(Inside)
Tamper Key
& Pairing/
Unpairing Button
Technical Specifications
General
Siren
• 110 dB
Networking Protocol Support
• Z-Wave v6.02 or above
Z-Wave Wireless
• 868.40 MHz (Europe / China / Singapore / South Africa)
• 908.40 MHz (United States / Canada / Mexico / Chile)
• 916.00 MHz (Israel)
Buttons
• Tamper switch & pairing/unpairing/reset button
LED
• Status
• 6 available sounds
• 919.80 MHz (Hong Kong)
• 921.40 MHz (Australia / New Zealand / Brazil)
• 922.50 / 923.90 / 926.30 MHz (Taiwan / JP)
Physical
Dimensions
• 110 x 110 x 19 mm (4.33 x 4.33 x 0.75 inches)
Weight
• 125 grams (4.41 ounces)
Power
• Operating Voltage: 5 V / 1.2 A
• Optional 1150 mAh lithium battery support (BL-5C)
Temperature
• Operating: -10 to 40 °C (14 to 104 °F)
• Storage: -20 to 70 °C (-4 to 158 °F)
Humidity
• Operating: 20% to 90% non-condensing
• Storage: 5% to 95% non-condensing
Certifications
• FCC
• CE
• Z-Wave Plus
Order Information
Part Number
Description
DCH-Z510
mydlink™ Z-Wave Siren
Updated 2015/03/13
Specifications are subject to change without notice. D-Link is a registered trademark of D-Link
Corporation and its overseas subsidiaries. All other trademarks belong to their respective owners.
©2015 D-Link Corporation. All rights reserved. E&OE.

* Your assessment is very important for improving the work of artificial intelligence, which forms the content of this project