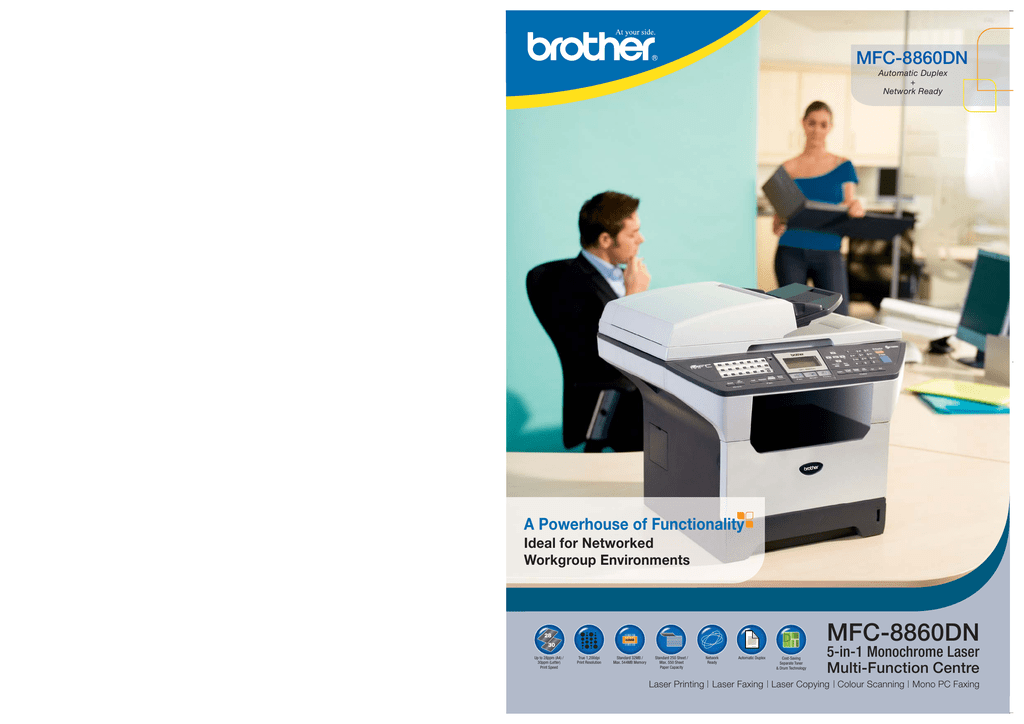 MFC-8860DN
Automatic Duplex
+
Network Ready
A Powerhouse of Functionality
Ideal for Networked
Workgroup Environments
MFC-8860DN
28
32MB
30
Up to 28ppm (A4) /
30ppm (Letter)
Print Speed
True 1,200dpi
Print Resolution
Standard 32MB /
Max. 544MB Memory
Standard 250 Sheet /
Max. 550 Sheet
Paper Capacity
Network
Ready
Automatic Duplex
Cost-Saving
Separate Toner
& Drum Technology
5-in-1 Monochrome Laser
Multi-Function Centre
Laser Printing Laser Faxing Laser Copying Colour Scanning Mono PC Faxing
Every individual plays a critical role in your office and has limited
time to spare for the managing of office equipment. Hence, high
quality outputs and versatility are ideal benefits for modern
networked offices or small workgroups with space and
resource constraints.
Ease your workload with Brother's new monochrome laser
Multi-Function Centre, the MFC-8860DN. With its user-friendly
yet advanced tools, it will enhance effectiveness and efficiency
of any office environment. Housed in a compact exterior, this
5-in-1 wonder is the perfect office companion for your
business's needs.
With network connectivity built-in, the MFC-8860DN is a
powerful 5-in-1 monochrome workhorse that gives you laser
printing, faxing, copying, colour scanning and monochrome PC
faxing. This multi-functional office companion is the first Brother
MFC that comes with a unique Duplex Automatic Document
Feeder (DADF) capable of double-sided faxing, copying and
scanning!
All-in-One with Automatic Duplex Feature
Printing - Professional Results at Rapid Speeds
MFC-8860DN doubles your efficiency with its Automatic Duplex:
Featuring double-sided printing, faxing, copying and scanning for time
and resource savings!
Keep up to speed with impressive print speeds of up to 28ppm for A4
and up to 30ppm for Letter while maintaining high quality print
resolutions. Even as your printing demands increase, you'll be fully
prepared as the memory and paper capacity are easily upgradeable.
MFC-8860DN comes with duplex printing that allows printing on both
sides of the paper, giving you the luxury of producing professional
looking documents like booklets, newsletters and brochures.
•
•
•
In addition, the built-in Duplex Automatic Document Feeder (DADF)
boosts productivity as it eliminates the need to manually change the
pages of your original document:
• Faxing: 2-sided faxes can be conveniently sent and received
• Copying: Just like a stand-alone
copier, 1 or 2-sided documents
can be made into 2-sided
copies. Alternatively, 2-sided
documents can be converted to
1-sided copies
• Colour Scanning: 2-sided
documents can be easily
scanned using the DADF, so
you do not have to flip pages
manually
MFC-8860DN's unique Automatic Duplex definitely provides greater
cost savings in the long run.
MFC-8860DN
True 1,200dpi print resolution
Memory upgradeable from 32MB up to 544MB†
Standard 250-sheet paper tray and 50-sheet multi-purpose tray,
expandable with optional 250-sheet paper tray†
With true 1,200dpi, graphic images
maintain their sharpness and clarity
† Requires separate purchase
5-in-1 Monochrome Laser Multi-Function Centre with Automatic Duplex
Laser Printing Laser Faxing Laser Copying Colour Scanning Mono PC Faxing
Faxing – Intuitive Controls and Convenience
Fax communications are swift and easy with the 33.6K bps fax modem
that transmits in as little as 2 seconds* per page. Its features are designed
for your convenience, such as speed dialling for frequently used numbers
and out-of-paper reception to store more incoming faxes.
•
•
•
•
•
Up to 40 one-touch dials and 300 speed dial locations
Up to 500-page* out-of-paper reception
Unique PC Fax Receive**
– Incoming faxes are stored in the memory even when the PC is
switched off. These faxes will be transferred from the MFC's memory
to the PC the next time it is switched on. You can then choose to
store your faxes as soft copy or delete them altogether, saving on
paper and toner.
– Faxes can be received in soft copy to a designated PC via a local or
network connection, allowing for easy management of faxes
Fax Receive (RX) Stamp feature for tracking of documents
Fax Forward feature where incoming faxes can be forwarded to
your email address, thus increasing your mobility and keeping you
up-to-date with faxes even while travelling.
Unique PC Fax Receiving
®
Applicable for Windows only
Location A
Location B
PC
Fax Machine
transmits data
Sender
Sends fax to MFC
•
Recipient
Receives fax job in memory
and transfers data to PC
4-Day Memory Battery Backup ensures
faxes in memory will not be lost and
that your fax journal and user settings
are still intact, in case of power failure.
Receives soft copy
faxes via PC
4
Day
4
day
Memory
Backup
* ITU-T Test Chart, Standard Resolution
** Applicable for Windows® only. Function in monochrome only
Fast & Superior Copying
Vibrant Scanned Images
Get the ideal mix of efficiency and
quality with rapid copying speeds of
up to 28cpm and resolutions of up to
1,200 x 600dpi for the professional
edge you require.
Despite its monochrome laser technology, the machine is able to scan
in full colour, and comes with intelligent management software tool
(ControlCenter2) that has a wide range of control features including
user-customisation buttons for ease-of-use.
•
•
•
Scale your copies conveniently from
25% to 400% in 1% increments
2 or 4 pages can be copied onto
one A4 sheet to save paper
•
TWAIN compliant i.e. ideal for
scanning graphics
Scan directly to Image, OCR, File,
Email as an attachment or to
FTP server
Effortless Connectivity Setup
Easy Network Integration
MFC-8860DN's dual ports
enable flexible connectivity to
any office, via USB 2.0 or
Parallel interface. In addition, it
comes complete with network
applications, enabling your
workgroup to share the Print,
Scan and PC Fax functions.
The embedded Network Management
Tools give you complete control of your
networked environment. This includes
BRAdmin Professional Software for
administering LAN connected devices,
Web BRAdmin for the WAN and e-mail
notification that alerts administrators or
users whenever an error occurs.
For greater flexibility, MFC-8860DN supports IPv4 and IPv6. With
LDAP (Lightweight Directory Access Protocol), the MFC-8860DN
can search for fax numbers and e-mail addresses of users from
externally administered LDAP servers. This saves time from the
manual input of users' information into the MFC.
Security
MFC-8860DN comes with a
secure print feature which
allows users to send confidential
documents in secure mode.
To provide even greater control
over document security, this
model also comes with a
Secure Function Lock. It allows
an administrator to restrict user
access to certain functions like
printing, faxing, copying and
scanning.
MFC-8860DN
5-in-1 Monochrome Laser Multi-Function Centre with Automatic Duplex
Cost Efficient Supplies
Secure Function Lock
Fax
Print
SECURE
Copy
Scan
To help you save on running
costs, MFC-8860DN comes with
a separate toner cartridge and
drum. Now, you do not have to
throw away a still usable drum
when your toner is exhausted –
a saving that any user will
appreciate.
Taking savings another step
further is the Toner Save feature.
When activated, it allows you to
save toner, reducing the frequency
of cartridge replacement.
Laser Printing Laser Faxing Laser Copying Colour Scanning Mono PC Faxing
MFC-8860DN
Speci fi cati ons
General
Technology
LCD Display
Memory Backup
Function Lock
Setting Lock
Memory
Paper Capacity
(Based on 80gsm)
Automatic Document
Feeder (ADF)
Media Types
Media Weights
Media Sizes
Simultaneous Operation
Laser
22 characters x 5 lines with luminated backlight
Yes – Up to 4 days
Yes – restricts public access to certain functions
Yes
Standard
32MB
Optional
Expandable up to 544MB† (one 144-pin DIMM slot)
Multi-Purpose Tray Up to 50 sheets
Standard Input Tray Up to 250 sheets
Optional Input Tray Up to 250 sheets (LT-5300)†
Output Tray
Up to 150 sheets, face down
Up to 50 sheets
Multi-Purpose Tray Plain Paper, Bond paper, Recycled Paper, Envelopes, Labels
and Transparencies
Standard Input Tray Plain Paper, Bond paper, Recycled Paper, Transparencies
Optional Input Tray Plain Paper, Bond paper, Recycled Paper
ADF
64 – 90gsm
Multi-Purpose Tray 60 – 161gsm
Paper Tray
60 – 105gsm
ADF
Width 148-215.9mm , Length 148-355.6mm
Multi-Purpose Tray Width 69.9-215.9mm , Length 116-406.4mm
Standard Input Tray A4, Letter, B5(ISO), A5, B6, A6, Exe
Optional Input Tray A4, Letter, B5(ISO), A5, B6, Exe
(Print/Fax) (Print/Scan) (Print/Copy) (Fax/Copy)
Laser Printing
Print Speed
A4 / Letter
Up to 28ppm / 30ppm
Auto Duplex Printing Up to 13ppm*
Print Resolution
Up to true 1,200 x 1,200dpi
First Print Out Time (FPOT)
Less than 8.5 secs
Emulation
PCL®6 and BR-Script 3 (Post Script 3 emulation), IBM
Pro-Printer XL, Epson FX-850
Secure Printing
Yes
Resident Fonts
PCL
66 scalable fonts, 12 bitmap fonts (Letter Gothic 16.66, OCR-A,
OCR-B), 11 bar codes
BR-Script
66 scalable fonts
Printer Drivers
Win 98(SE) / Me and NT4.0 / 2000 / XP Driver with Auto
Installer Program, Mac OS 9.1 - 9.2/ OS X 10.2.4 or greater
Laser Faxing
Modem Speed
Coding Method
Auto Duplex Faxing
Fax / Tel Switch
Automatic Redial
One-Touch Dials
Speed Dials
Group Dials
Broadcasting Locations
Quick Scan (Memory Transmission) A4 & Letter
Auto Reduction
Error Correction Mode (ECM)
Error Re-Transmission
Super Fine
Grey Scale
Memory Transmission
Out-of-Paper Reception
Fax Forwarding
Fax Forwarding Broadcast
Super G3 33.6K bps, approximately 2 sec**
MH / MR / MMR / JBIG
Yes, for both fax sending and receiving
Automatic recognition of fax and telephone reception (Hook Key)
Automatic redial if the recipient fax is busy
Up to 40 locations
Up to 300 locations
Up to 20 groups
Up to 390 locations
Approximately 2 sec per page
Automatically reduces a received fax to fit onto a single sheet of A4
Ensures received documents are error-free
Yes
Enables quality transmission and reception of very small print or
line drawings
256 levels of colour
Up to 500 pages**
Up to 500 pages**
Yes
Yes
For more information regarding Systems Requirements, please visit http://solutions.brother.com
Fax Retrieval
Remote Access
Enhanced Remote Activate
Dual Access
Delayed Timer
Polling
Lists / Reports
Yes
Yes – from another touch tone phone
Yes
Yes
Yes – Up to 50 faxes
Yes – Up to 50 sheets, available for sending and receiving
Activity Report, Journal Report, Transmission Verification Report,
Coverpage, Caller ID List***, Help List, Tel Index List (Numeric &
Alphabetic), System Setup (User Setting) List, Order Form
Laser Copying
Copy Speed
Auto Duplex Copying
Copy Resolution
First Copy Out Time (FCOT)
Multi Copy
Multi Copy
Reduction / Enlargement Ratio
N in 1 Printing
Poster Printing
A4 / Letter
Up to 28cpm / 30cpm
Yes
Up to 1,200 x 600dpi
Less than 10.5 secs (From READY mode)
Stack
Yes – Up to 99 copies
Sort
Yes – Sort output copies as desired
25% – 400% in 1% increments
A4 / Letter only Compress 2 or 4 pages onto a single sheet
A4 / Letter only Enlarge an image to print on 3 x 3 pages
Colour Scanning
Scanning Resolution
Optical
Interpolated
Auto Duplex Scanning
Grey Scale
Colour Depth
Document Scanning Width
"Scan" Key
Mono PC Faxing
Yes, available for Windows® and Macintosh®
Yes, available for Windows® only – Works even when PC is switched off
Up to 50 locations
Sending
Receiving
Manual Broadcasting
Interface(s)
External TAD Interface
Host Interface
Network Interface****
Interface for connecting external telephone answering device
IEEE1284 Parallel and Hi-Speed USB 2.0
10/100Base-TX Ethernet Network
Dimensions & Weight
Dimensions
Weight
WxDxH
531 x 450 x 475mm
16.7kg
Consumables (Based on A4/Letter Page @ 5% coverage)
Toner - Standard Yield
- High Yield
Drum
TN-3145
TN-3185†
DR-3115
Up to 3,500 pages
Up to 7,000 pages
Up to 25,000 pages (1 page per job)
Supported OS Versions
Windows®
Macintosh®
Win 98(SE) / Me and NT4.0 / 2000 / XP / XP Professional x64 Edition
Mac OS 9.1 - 9.2, Mac OS X 10.2.4 or greater
Bundled Software
Windows®
Supported Protocols
Macintosh®
IPv4
Other Information
(Simple Network Configuration is supported with OS X 10.2.4 or greater)
IPv6
Network Management Tools
Internet Fax
LDAP
† Requires separate purchase
* 13 sides per minute, 6.5 sheets per minute
** ITU-T #1 Chart, Standard Resolution
*** Depends on availability in the individual countries
**** Supported OS Versions under Network are Windows® 98(SE) / Me / 2000 Professional / NT® 4.0 (For PC-Print, Scan-to-FTP/PaperPort® &
PC-Fax Send only) / XP / XP Professional x64 Edition, as well as Macintosh® OS 9.1 - 9.2 (For PC-Print, Scan-to-FTP & PC-Fax Send only),
OS X 10.2.4 or greater
Up to 600 x 2,400dpi
Up to 19,200 x 19,200dpi
Yes
256 shades of grey
48 / 24 bit colour processing
Up to 210mm
Scan to Image / OCR / Email / File / FTP
Power Consumption
Sleep
Standby
Peak
Brother MFL-Pro Suite
Brother ControlCenter2
ScanSoft® PaperPort® with OCR
Presto!® PageManager®
ARP, RARP, BOOTP, DHCP, APIPA(Auto IP), ICMP, WINS/NetBIOS,
DNS, mDNS, LPR/LPD, Port9100, IPP, FTP, SNMP, HTTP,
TELNET, POP3/SMTP, TFTP, LDAP
ICMPv6, NDP, DNS, mDNS, LPR/LPD, Port9100, IPP, FTP, SNMP,
HTTP, TELNET, POP3/SMTP, TFTP, LDAP
BRAdmin Professional
Web Based Management
BRadmin Light
Yes – allows documents to be transmitted over the LAN or Internet
to other Internet fax machines
Yes – allows you to search for fax numbers and email addresses
from your server
Average 17W
Average 85W
Average 1,104W
Brother strongly recommends the use of Genuine Brother consumable products only. Benefits
include better quality prints, greater yields per consumable, protection of your machine from
damages and achievement of optimum performance. As a precaution, please note that your
machine warranty may not cover any damages arising from the use of non-genuine Brother
consumables.