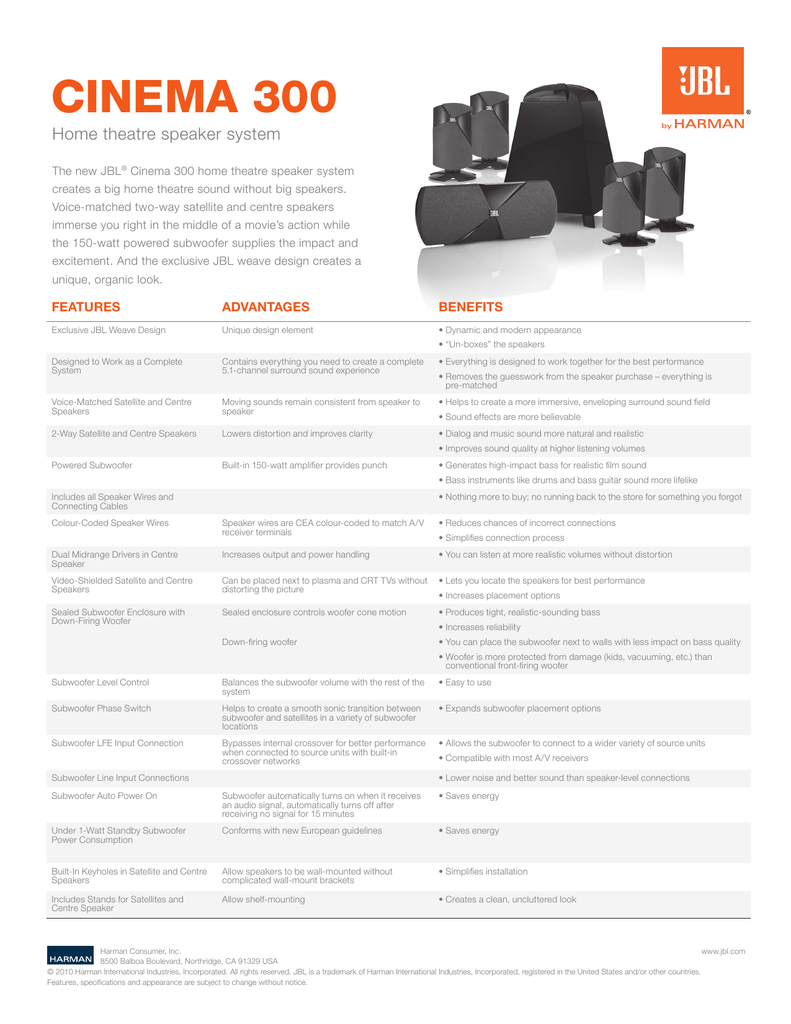 Cinema 300
Home theatre speaker system
The new JBL® Cinema 300 home theatre speaker system
creates a big home theatre sound without big speakers.
Voice-matched two-way satellite and centre speakers
immerse you right in the middle of a movie's action while
the 150-watt powered subwoofer supplies the impact and
excitement. And the exclusive JBL weave design creates a
unique, organic look.
Features
Advantages
Benefits
Exclusive JBL Weave Design
Unique design element
• Dynamic and modern appearance
Designed to Work as a Complete
System
Contains everything you need to create a complete
5.1-channel surround sound experience
• Everything is designed to work together for the best performance
Voice-Matched Satellite and Centre
Speakers
Moving sounds remain consistent from speaker to
speaker
• Helps to create a more immersive, enveloping surround sound field
2-Way Satellite and Centre Speakers
Lowers distortion and improves clarity
• Dialog and music sound more natural and realistic
Powered Subwoofer
Built-in 150-watt amplifier provides punch
• "Un-boxes" the speakers
• Removes the guesswork from the speaker purchase – everything is
pre-matched
• Sound effects are more believable
• Improves sound quality at higher listening volumes
• Generates high-impact bass for realistic film sound
• Bass instruments like drums and bass guitar sound more lifelike
Includes all Speaker Wires and
Connecting Cables
• Nothing more to buy; no running back to the store for something you forgot
Colour-Coded Speaker Wires
Speaker wires are CEA colour-coded to match A/V
receiver terminals
• Reduces chances of incorrect connections
Dual Midrange Drivers in Centre
Speaker
Increases output and power handling
• You can listen at more realistic volumes without distortion
Video-Shielded Satellite and Centre
Speakers
Can be placed next to plasma and CRT TVs without
distorting the picture
• Lets you locate the speakers for best performance
Sealed Subwoofer Enclosure with
Down-Firing Woofer
Sealed enclosure controls woofer cone motion
• Produces tight, realistic-sounding bass
• Simplifies connection process
• Increases placement options
• Increases reliability
Down-firing woofer
• You can place the subwoofer next to walls with less impact on bass quality
• Woofer is more protected from damage (kids, vacuuming, etc.) than
conventional front-firing woofer
Subwoofer Level Control
Balances the subwoofer volume with the rest of the
system
• Easy to use
Subwoofer Phase Switch
Helps to create a smooth sonic transition between
subwoofer and satellites in a variety of subwoofer
locations
• Expands subwoofer placement options
Subwoofer LFE Input Connection
Bypasses internal crossover for better performance
when connected to source units with built-in
crossover networks
• Allows the subwoofer to connect to a wider variety of source units
Subwoofer Line Input Connections
• Compatible with most A/V receivers
• Lower noise and better sound than speaker-level connections
Subwoofer Auto Power On
Subwoofer automatically turns on when it receives
an audio signal, automatically turns off after
receiving no signal for 15 minutes
• Saves energy
Under 1-Watt Standby Subwoofer
Power Consumption
Conforms with new European guidelines
• Saves energy
Built-In Keyholes in Satellite and Centre
Speakers
Allow speakers to be wall-mounted without
complicated wall-mount brackets
• Simplifies installation
Includes Stands for Satellites and
Centre Speaker
Allow shelf-mounting
• Creates a clean, uncluttered look
Harman Consumer, Inc.
www.jbl.com
8500 Balboa Boulevard, Northridge, CA 91329 USA
© 2010 Harman International Industries, Incorporated. All rights reserved. JBL is a trademark of Harman International Industries, Incorporated, registered in the United States and/or other countries.
Features, specifications and appearance are subject to change without notice.

* Your assessment is very important for improving the work of artificial intelligence, which forms the content of this project