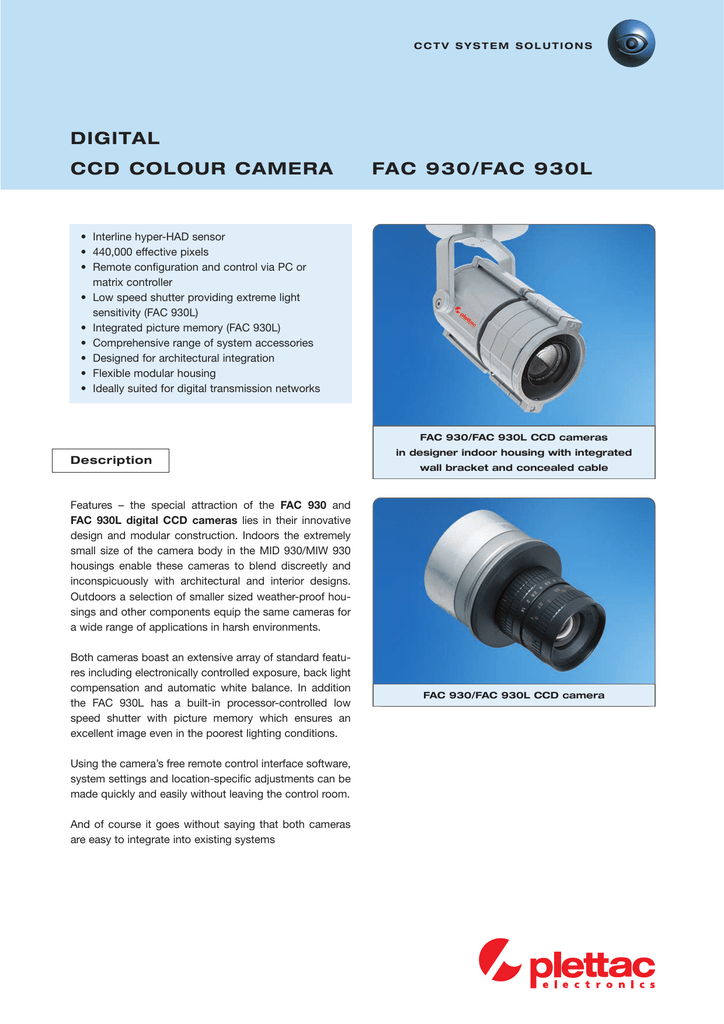 CCTV SYSTEM SOLUTIONS
DIGITAL
CCD COLOUR CAMERA
FAC 930/FAC 930L
• Interline hyper-HAD sensor
• 440,000 effective pixels
• Remote configuration and control via PC or
matrix controller
• Low speed shutter providing extreme light
sensitivity (FAC 930L)
• Integrated picture memory (FAC 930L)
• Comprehensive range of system accessories
• Designed for architectural integration
• Flexible modular housing
• Ideally suited for digital transmission networks
FAC 930/FAC 930L CCD cameras
Description
in designer indoor housing with integrated
wall bracket and concealed cable
Features – the special attraction of the FAC 930 and
FAC 930L digital CCD cameras lies in their innovative
design and modular construction. Indoors the extremely
small size of the camera body in the MID 930/MIW 930
housings enable these cameras to blend discreetly and
inconspicuously with architectural and interior designs.
Outdoors a selection of smaller sized weather-proof housings and other components equip the same cameras for
a wide range of applications in harsh environments.
Both cameras boast an extensive array of standard features including electronically controlled exposure, back light
compensation and automatic white balance. In addition
the FAC 930L has a built-in processor-controlled low
speed shutter with picture memory which ensures an
excellent image even in the poorest lighting conditions.
Using the camera's free remote control interface software,
system settings and location-specific adjustments can be
made quickly and easily without leaving the control room.
And of course it goes without saying that both cameras
are easy to integrate into existing systems
FAC 930/FAC 930L CCD camera
DIGITAL CCD COLOUR CAMERA FAC 930/FAC 930L
Standard Features
Integral, processor-controlled low speed shutter / picture memory (FAC
930L). Using frame integration (multiple exposure) the low speed shutter can
produce excellent pictures in extremely adverse lighting conditions - even at
night. The operating threshold and range can be individually configured. The
built-in picture memory enables the storage of a picture within the camera itself
and can be controlled through external sensors or from the control centre.
Fig. 1 Scene without
low speed shutter / picture memory
Back light compensation (BLC) and evaluation window for SCS/AGC and
automatic iris functions. This function improves the recognition of detail in
picture areas where strong back lighting is a problem and where there are large
bright areas. Dynamic adjustment is achieved by changing the SCS, AGC and
aperture.
Automatic white balance / white balance window. The time taken to
respond to changing light conditions can be regulated using the variable speed
control on the adjustable colour balance function. This produces optimum
colour balance in the image.
Fig. 2 With integral, processorcontrolled low speed shutter /
picture memory (FAC 930L)
User memory. The camera has one reference memory holding the default settings and 3 freely programmable user memories which are used to optimise the
camera for its location. Call-up is via interface or control inputs, e.g. day/night
settings.
Remote control via RS485 interface. This interface enables a duplex data
communication with the camera. It is used for making software-related system
adjustments and for retrieving camera reports, also into site record files.
Security mode (passive theft protection). Whenever the camera is brought
into service a two-level security check is carried out. If the correct codes are
not used the camera will not operate.
Fig. 3 Scene without backlight
compensation and evaluation window
Lens control with different kinds of iris. Auto iris lens and ER-lens (electrical
remote lens).
Video output. Asymmetrical CVBS (75 Ohm) and symmetrical CVBS (2-wire)
or Y/C signals which can also be inverted (negative).
Test generator for video transmission testing. A test-card image for easy
balancing of 2-wire receivers.
Fig. 4 Scene with back light compensation and evaluation window
Camera address. By entering an address between 1 and 31 any camera in
the network can be selected.
Inputs and outputs. 2 freely programmable control input and/or output contacts, e.g. alarms.
Configurable function procedures. 8 freely configurable function procedures, each with a series of up to 4 commands per option, controllable via
function keys in the control centre or matrix controller, which can also customise system control and operator functions.
Transmission hysteresis line / gradation setting. The shape of the video
amplifier's transmission hysteresis curve can be adjusted to suit a particular
location so that the resulting image has the correct balance between light and
dark areas.
CCTV SYSTEM SOLUTIONS
Accessories for CCD cameras FAC 930/FAC 930L
Installation accessories for indoor applications
MID 930 indoor designer housing
• FAC 930/FAC 930L can be installed and oriented at any angle
• 1/4" fixing thread
• concealed lens cable channel
see Fig. 5
Fig. 5
MID 930 indoor designer housing
Order No. G.XB 60-01
TUB 930 lens cover for MID 930
• MID 930 extension in the same style
• lens cover
• concealed lens cable channel
• replaceable glass disc for front aperture (included as standard)
• adjustable for different lens lengths
see Fig. 6
MIW 930 designer indoor housing with wallbracket and concealed cable
• with cable/connection sockets for mounting on or in the plaster
• can be installed and aligned to suit any location
See Fig. 7
Fig. 6
TUB 930 lens cover for MID 930
Order No. G.XE 16-02
ADP 930 1/4" mounting adapter
• 1/4" fixing thread for camera
• the easiest way to mount the FAC 930.
Installation accessories for outdoor applications
The weather-proof accessories below enable the FAC 930/FAC 930L
cameras to be used in harsh outdoor environments.
See Figs. 8 – 11.
Fig. 7
MIW 930 indoor designer housing
with wallbracket and concealed cable
Order No. G.XB 60-02
Fig. 8 CW 930
CW weather-proof housing
Order No. G.XB 60-05
Fig. 9 SD 930 CW
CW sun shield
Order No. G.XF 10-18
Fig. 10 W 930 / WN 930
W weather-proof housing
Order No. G.XB 60-03
Order No. G.XB 60-04
Fig. 11 SD 930 W
W sun shield
Order No. G.XF 10-20
DIGITALE CCD-FARBKAMERA FAC 930/FAC 930L
Technical Data
FAC 930
Sensor
Total pixels
Pixels (effective)
Line standard
TV standard
Horizontal resolution CVBS/Sensor
Spectral range
Light sensitivity (Lens 1:0.95/5000 K)
for a good picture (100% signal)
for a usable picture (50% signal)
Sensitivity increase with LSS multiple exposure
Shutter
Electrical Data
Video output
Operating voltage
in W930 housing
in WN930 housing
Power consumption
in W930/CW930 housing with screen heating
General data
Video output connectors
0.6 lx
0.3 lx
–
1/100,000 - 1/50 s
0.075 lx (4 frame integration)
1/100,000 to 10 s with LSS
CVBS 1Vpp/75 Ohm; Y/C; 2-wire
10 VDC … 29 VDC
10 VDC … 29 VDC
230 VAC +10%/-15%
4W
5W
additional 10 W / 5 W
BNC, 15 pin D-Sub connector
CW-,W- and WN930 with system connector
15 pin D-Sub connector
CW-,W- und WN930 with system connector
C-/CS mount
IP 32 | CW-/W-/WN930=IP 67
-40°C ... +70°C
-25°C ... +55°C | CW/W/WN= -35°C... +55°C
0.25 kg
RAL 9006
RAL 7032
70 x 61.5 (excluding accessories)
0.5 kg
175 x 130 x 100
Remote control interface
Lens mount
Protection class
Storage temperature
Operating temperature
Weight
Colour of indoor housing
Colour of weather-proof housing
Dimensions (D x L, mm)
Weight incl. packaging
Pack dimensions (L x B x H, mm)
Included as standard:
FAC 930L
1/2 " Interline, Hyper-HAD
473,000 = 596 (V) x 795 (H)
440,000 = 582 (V) x 752 (H)
625 lines, 50 Hz
CCIR-PAL
480 lines (6 MHz)/580 lines (7.2 MHz)
400 nm ...650 nm
CD-ROM with PGE930 configuration software and documentation,
C/CS mount adapter ring, lens plug, operating instructions
(German, English), 2x M3 fixing screws for modifying old system
plugs on SN830I, Allen key for back focus.
Product info. / Order details
Order number
Item code
Description
G.XA 56-01
G XA 56-02.
FAC 930
FAC 930L
Indoor colour camera
Indoor colour camera with LSS and built-in picture memory
G.XB 60-01
G.XB 60-02
G.XB 60-03
G.XB 60-04
G.XB 60-05
G.XE 16-02
G.XF 10-18
G.XF 10-20
G.XF 61-02
G.XF 68-01
G.XF 68-02
H.XG 05-03
004906100601
MID 930
MIW 930
W 930
WN 930
CW 930
TUB 930
SD 930 CW
SD 930 W
ADP 930
RS 930 W
RS 930 CW
SN 830 I
SE-Adapter
Indoor designer housing for FAC 930
Indoor designer housing with mounting arm for FAC 930
W weather-proof housing for FAC 930
WN weather-proof housing with integral power supply unit for FAC 930
CW weather-proof housing for FAC 930
Lens sleeve for MID 930
Sun shield for CW 930 housing
Sun shield for W 930 and WN 930 housings
1/4" adapter for FAC 930
Kit for installing the FAC 930 in existing W, W2, WN, WN2 housings
Kit for installing the FAC 930 in an existing CW housing
Power supply unit for indoor applications
RS485/RS232 adapter
plettac electronic security GmbH · International Sales Würzburger Straße 150 · D-90766 Fürth Germany
Phone + 49 911 - 758 84 - 329 · Fax: + 49 911 - 7591 – 271 · Internet: www.plettac-electronics.com · eMail: info@plettac-electronics.com
WE0019/0401/2
Subject to change without notice.

* Your assessment is very important for improving the work of artificial intelligence, which forms the content of this project