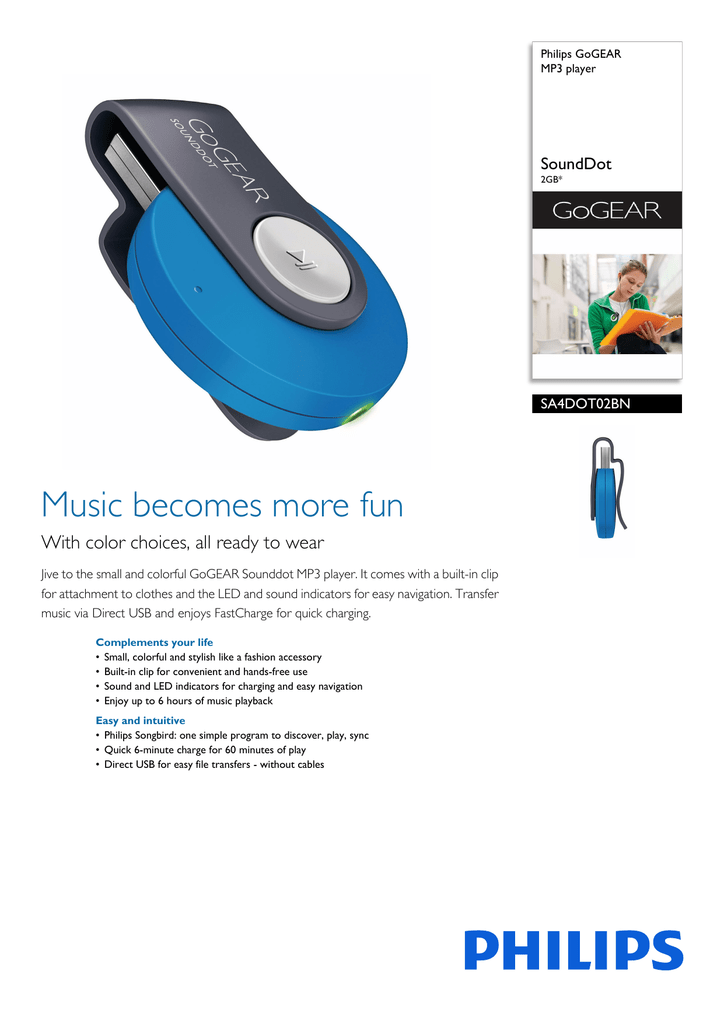 Philips GoGEAR
MP3 player
SoundDot
2GB*
SA4DOT02BN
Music becomes more fun
With color choices, all ready to wear
Jive to the small and colorful GoGEAR Sounddot MP3 player. It comes with a built-in clip
for attachment to clothes and the LED and sound indicators for easy navigation. Transfer
music via Direct USB and enjoys FastCharge for quick charging.
Complements your life
• Small, colorful and stylish like a fashion accessory
• Built-in clip for convenient and hands-free use
• Sound and LED indicators for charging and easy navigation
• Enjoy up to 6 hours of music playback
Easy and intuitive
• Philips Songbird: one simple program to discover, play, sync
• Quick 6-minute charge for 60 minutes of play
• Direct USB for easy file transfers - without cables
SA4DOT02BN/97
MP3 player
SoundDot 2GB*
Highlights
Small, colorful and stylish
charged. It then turns green to tell you that the
battery is full – and that you can enjoy great
music on your GoGEAR Sounddot once again.
Up to 6-hour music playback
features let you discover new artists and music
styles directly in the program through music
and media stores, services and websites. Play
your own library and media from the internet
and seamlessly sync all of it from your PC to
your Philips GoGear.
Fast charging (60 mins)
Flaunt your GoGEAR Sounddot and simply
bring out the best in your music. The MP3
player is small, round and chic – much as its
name implies. It is equipped with a built-in clip
and comes in a range of exciting colors. It can
be worn on your bag or clothes, like a fashion
accessory, all ready to be called upon when
needed.
Built-in clip
Nothing should get in the way of you. Thanks
to the lightweight design and sturdy built-in
clip, your GoGEAR Sounddot is cleverly
designed to be clipped onto your attire
securely and stylishly, making it your perfect
companion on-the-go.
Sound and LED indicators
GoGEAR Sounddot lets you know exactly
what is going on, with specially programmed
light and sound indicators. An LED and short
beeps tell you if your player is on or off, and if
it is on shuffle mode or not. They even warn
you when you are running low on power, with
the light blinking in red and beeps sounding to
the same set rhythm. Connect your player to a
power supply and the LED will glow a steady
red to let you know that your battery is being
Jive to endless hits with your GoGEAR player.
A compact rechargeable battery is built in for
long-lasting power. Up to 6 hours of
continuous music playback can be enjoyed with
a single charge. Just connect the player via
Direct USB to your computer to charge,
without the need for any cables. It's really that
simple.
Philips Songbird
One simple, easy-to-use program that comes
with your GoGear player, Philips Songbird lets
you discover and play all your media, and sync
it seamlessly with your Philips GoGear. Its
intuitive and powerful music management
Sometimes, you just need your GoGEAR
player to take you from home to office and
back again or for a short run – but you forgot
to charge it last night. Say goodbye to
frustration and boring, silent journeys with Fast
Charge. Philips' smart and convenient solution
lets you plug your GoGEAR to your PC or USB
charger for just 6 minutes and in return, you
get a whopping 60 minutes of audio playback!
Fast Charge works by relying on much higher
current levels to give your lithium-ion battery
the power it needs to tide you over in a jiffy …
and keep the music going.
SA4DOT02BN/97
MP3 player
SoundDot 2GB*
Specifications
Picture/Display
Convenience
• N/A
Sound
•
•
•
•
•
•
•
Sound Enhancement: No
Equalizer customizable: No
Equalizer settings: N/A
Channel separation: 45 dB
Frequency response: 80 - 18k Hz
Output power (RMS): 2 x 2.5mW
Signal to noise ratio: > 84 dB
Audio Playback
•
•
•
•
•
•
Compression format: MP3, WAV, WMA
ID3 Tag support: N/A
MP3 bit rates: 8-320 kbps and VBR
MP3 sample rates: 8, 11.025, 16, 22.050, 32, 48 kHz
WMA bit rates: 5-320 kbps
WMA sample rates: 8, 11.025, 16, 22.050, 32, 44.1,
48
• Digital Rights Management: No
•
•
•
•
•
•
•
•
Keypad lock: No
Superscroll: N/A
Firmware upgradeable: Yes, via SongBird
Battery charging indication: LED light
Charge & play: No
Customizable volume limit: No
Dedicated volume controls: No
Volume control
Accessories
• Headphones
• Quick start guide
• USB cable: built-in direct USB
Green Specifications
• Lead-free soldered product
System Requirements
• N/A
• USB: Free USB port
• Internet connection: Yes (for access to update
support documents, manuals, future firmware and
PC software
• PC OS: Windows XP (SP3) / Vista / 7
Still Picture Playback
Power
Video Playback
• N/A
Tuner/Reception/Transmission
• No
Storage Media
•
•
•
•
•
Built-in memory type: NAND Flash
Built-in memory (RAM): 2 GB
Music memory capacity, MP3: Up to 450 tracks*
Mass storage class compliant
Mass Trans. Protocol Compliant: No
Connectivity
•
•
•
•
Battery Type: LI-Polymer
Rechargeable: Yes, via USB
Battery capacity: 110 mAh
Playtime on internal battery: Up to 6 hours music
playback
Dimensions
•
•
•
•
Packaging type: D-box
D-box dimensions (WxDxH): 90 x 30 x 90 mm
Product dimensions (WxDxH): 42.3 x 19 x 57 mm
Product weight: 0.019 kg
Software
• Headphone: 3.5 mm
• USB: USB 2.0
• Philips Songbird
Partners
• No
•
Issue date 2014-03-17
© 2014 Koninklijke Philips N.V.
All Rights reserved.
Version: 1.0.6
Specifications are subject to change without notice.
Trademarks are the property of Koninklijke Philips N.V.
or their respective owners.
12 NC: 8670 000 87221
EAN: 87 12581 63535 0
www.philips.com
* Storage capacity based on 4 minutes per song and 64 kbps WMA
encoding.
* Storage capacity based on 4 minutes per song and 64 kbps WMA or
128 kbps MP3 encoding.
* Actual transfer speed may vary based on your operating system and
software configuration.
* 1GB = 1 billion bytes; available storage capacity will be less.
* Rechargeable batteries have a limited number of charge cycles and
may eventually need to be replaced. Battery life and number of
charge cycles vary by use and settings.

* Your assessment is very important for improving the work of artificial intelligence, which forms the content of this project