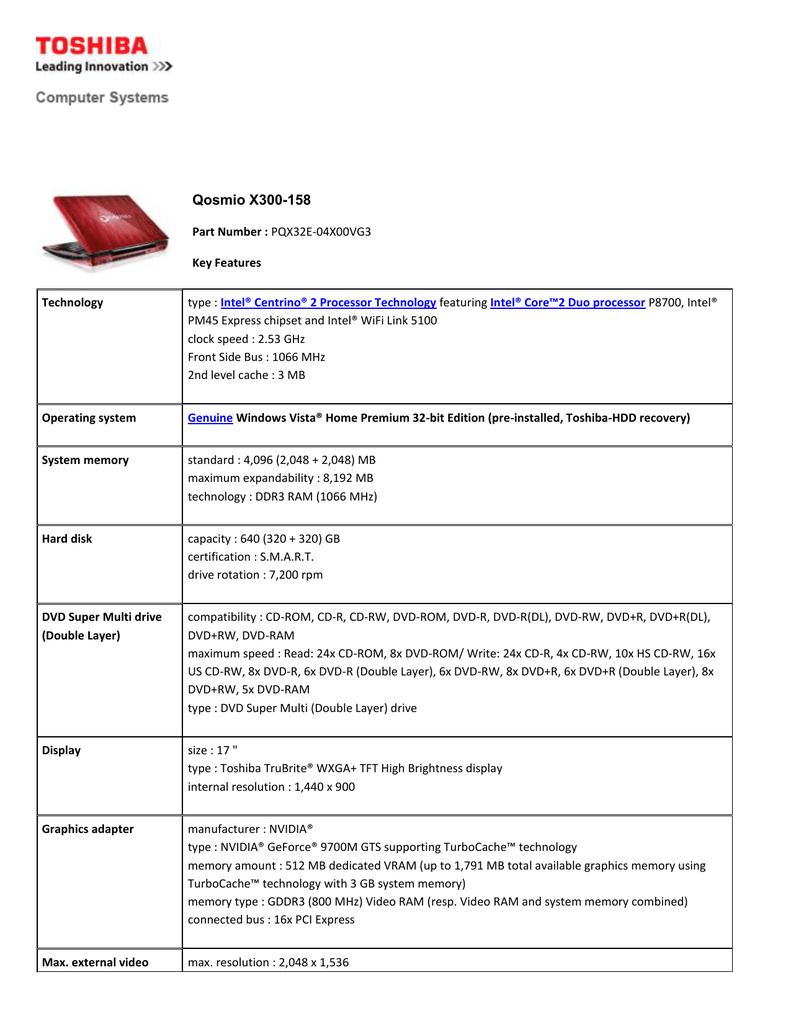 Qosmio X300-158
Part Number : PQX32E-04X00VG3
Key Features
Technology
type : Intel® Centrino® 2 Processor Technology featuring Intel® Core™2 Duo processor P8700, Intel®
PM45 Express chipset and Intel® WiFi Link 5100
clock speed : 2.53 GHz
Front Side Bus : 1066 MHz
2nd level cache : 3 MB
Operating system
Genuine Windows Vista® Home Premium 32-bit Edition (pre-installed, Toshiba-HDD recovery)
System memory
standard : 4,096 (2,048 + 2,048) MB
maximum expandability : 8,192 MB
technology : DDR3 RAM (1066 MHz)
Hard disk
capacity : 640 (320 + 320) GB
certification : S.M.A.R.T.
drive rotation : 7,200 rpm
DVD Super Multi drive
(Double Layer)
compatibility : CD-ROM, CD-R, CD-RW, DVD-ROM, DVD-R, DVD-R(DL), DVD-RW, DVD+R, DVD+R(DL),
DVD+RW, DVD-RAM
maximum speed : Read: 24x CD-ROM, 8x DVD-ROM/ Write: 24x CD-R, 4x CD-RW, 10x HS CD-RW, 16x
US CD-RW, 8x DVD-R, 6x DVD-R (Double Layer), 6x DVD-RW, 8x DVD+R, 6x DVD+R (Double Layer), 8x
DVD+RW, 5x DVD-RAM
type : DVD Super Multi (Double Layer) drive
Display
size : 17 "
type : Toshiba TruBrite® WXGA+ TFT High Brightness display
internal resolution : 1,440 x 900
Graphics adapter
manufacturer : NVIDIA®
type : NVIDIA® GeForce® 9700M GTS supporting TurboCache™ technology
memory amount : 512 MB dedicated VRAM (up to 1,791 MB total available graphics memory using
TurboCache™ technology with 3 GB system memory)
memory type : GDDR3 (800 MHz) Video RAM (resp. Video RAM and system memory combined)
connected bus : 16x PCI Express
Max. external video
max. resolution : 2,048 x 1,536
modes
max. refresh rate : 85 Hz
non-interlaced resolution with max. refresh rate : 1,280 x 1,024
Interfaces
1 x DC-in
1 x RJ-11
1 x RJ-45
1 x i.LINK® (IEEE 1394)
1 x external microphone
1 x external monitor
1 x headphone (stereo)
1 x line-in shared with microphone socket
1 x S/PDIF-out (optical) shared with headphone socket
1 x integrated 1.3 Megapixels Web Camera with built-in microphone
1 x HDMI-CEC (REGZA-Link) supporting 1080p signal format
1 (shared with one USB port) x eSATA
1 x line-out shared with headphone socket
1 x 5-in-1 Bridge Media slot (supports SD™ Cards up to 16 GB, Memory Stick® up to 256 MB, Memory
Stick Pro™ up to 4 GB, MultiMedia Card™ up to 2 GB and xD-Picture Card™ up to 2 GB)
4 (Left 2, Right 2) x USB 2.0 (supporting USB Sleep-and-Charge)
Expansion
2 x memory slots
1 x Express Card™ slot
Wireless communication
Wireless Technology : Bluetooth®
Compliancy : Wi-Fi™
Network Support : 802.11a/g/Draft-N
Wireless Technology : Wireless LAN (802.11a/g/Draft-N)
Wired communication
topology : international V.90 modem (V.92 ready)
speed : 56 Kbps data and 14.4 Kbps fax
topology : Gigabit Ethernet LAN
speed : 10BASE-T/100BASE-TX/1000BASE-T
Sound system
supported audio format : 24-bit stereo
speakers : built-in Harman Kardon® stereo speaker system with 2 x bass reflex speakers, 2 x tweeter
speakers and 1 x subwoofer technology
manufacturer : Toshiba Bass Enhanced Sound System with Dolby® Home Theater™
Keyboard
Keys : 105
Windows® keys : Yes
special features : Standard numeric keypad
Pointing device
type : Touch Pad
Battery
technology : lithium-ion
maximum life : up to 1h45min (Mobile Mark™ 2007)
AC adapter
input voltage : autosensing AC adapter (100/240 V) for worldwide usage
Physical dimensions
W x L x H : 412 x 306 x 43.2 (front) / 62.5 (rear) mm
weight : starting at 4.3 kg
Warranty
3-year international warranty.
Bundled hardware
AC power cable
AC adapter
ExpressCard type Remote Control for Windows Vista®
Bundled software
Toshiba Bluetooth® Monitor
Toshiba Disc Creator
Toshiba User's Manual
Toshiba Supervisor Password Utility
Toshiba Camera Assistant Software
Toshiba DVD Player
Ulead® DVD MovieFactory® for TOSHIBA
Toshiba Face Recognition
McAfee® Internet Security Suite - Toshiba Edition (includes free Internet updates for 30 days)
Toshiba Recovery Disc Creator
Dolby® Control Center
HDMI Control Manager
Microsoft® Works, Microsoft® Office Home and Student 2007 (free 60-day trial)
Toshiba Value Added Package (Toshiba Power Saver, Toshiba Zooming Utility, Toshiba PC Diagnostic
Tool, Toshiba Flash Cards, Toshiba Components Common Driver, Toshiba Accessibility, Toshiba Button
Support)
Google Pack (Google Toolbar for Internet Explorer, Google Desktop, Picasa)
Toshiba Bluetooth® Stack
Connectivity Doctor
Toshiba ConfigFree™
Toshiba utilities and drivers
Toshiba Assist
Toshiba EasyMedia
Google Pack (Google Toolbar for Internet Explorer, Google Desktop, Picasa)
Toshiba TEMPRO Performance Tuning Service
USB & USB/eSATA Sleep-and-Charge
HDMI-CEC (REGZA-Link)
Bluetooth® 2.1 with EDR
McAfee® Internet Security Suite - Toshiba Edition
Toshiba Face Recognition
Smart Display Support
Toshiba Flash Cards
Easy Keys
Remote Control
Fingerprint Reader-Single Sign On
Wireless LAN (802.11a/b/g/ Draft-N)
S/PDIF
Internal HD 720p support
5 Harman Kardon® Stereo Speakers (incl. Subwoofer)
Dolby® Home Theater™
Dual HDD
Toshiba ConfigFree™
Integrated Bridge Media Adapter
Diversity Antenna
Built-in Web Camera & microphone
Security features
main battery pack (by sliding latch)
main memory (by screw)
supervisor password
slot for Kensington Cable Lock
user password
system password security
main hard disk (by screw)
Special features
SM BIOS compliant
integrated microphone for Voice over IP
Enhanced Intel® SpeedStep® Technology
integrated 1.3 Megapixels Web Camera for Video over IP
Multimedia Bar with 9 feather-touch Easy Keys (CD/DVD launcher, Play/Pause, Stop, Rewind, Forward,
Mute, on/off function of white LEDs, Camera, Dolby)
Certification
This product is in compliance with the requirements of the applicable European Directives for CE
marking.