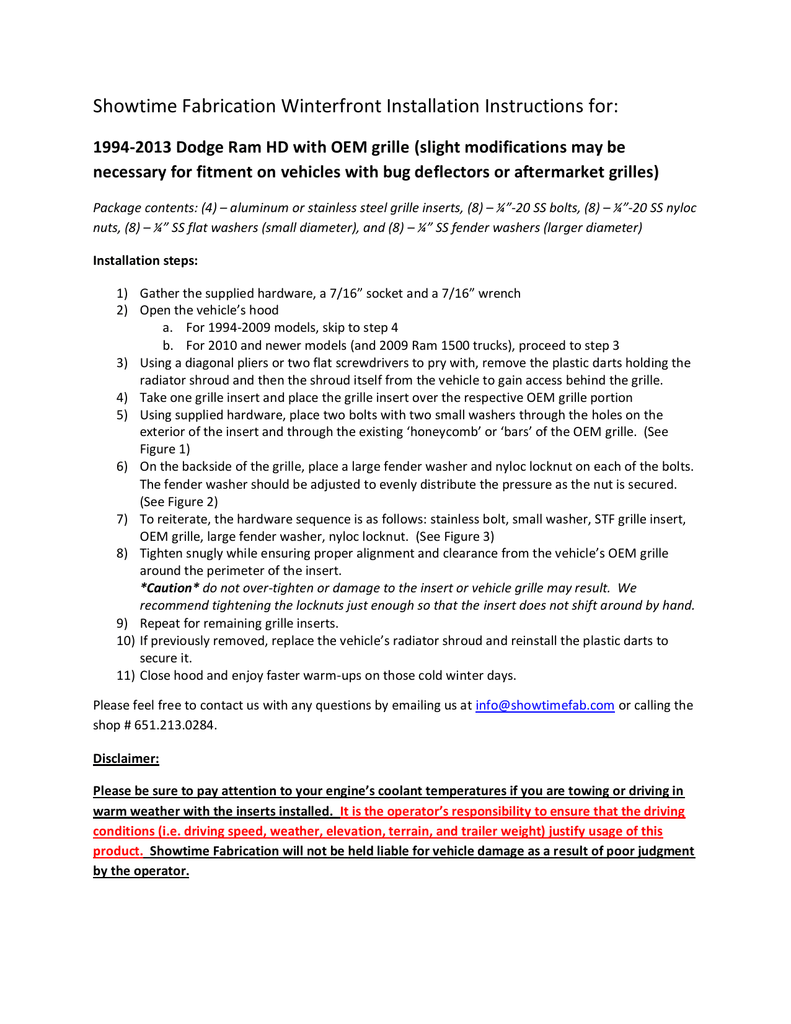 Showtime Fabrication Winterfront Installation Instructions for:
1994-2013 Dodge Ram HD with OEM grille (slight modifications may be
necessary for fitment on vehicles with bug deflectors or aftermarket grilles)
Package contents: (4) – aluminum or stainless steel grille inserts, (8) – ¼"-20 SS bolts, (8) – ¼"-20 SS nyloc
nuts, (8) – ¼" SS flat washers (small diameter), and (8) – ¼" SS fender washers (larger diameter)
Installation steps:
1) Gather the supplied hardware, a 7/16" socket and a 7/16" wrench
2) Open the vehicle's hood
a. For 1994-2009 models, skip to step 4
b. For 2010 and newer models (and 2009 Ram 1500 trucks), proceed to step 3
3) Using a diagonal pliers or two flat screwdrivers to pry with, remove the plastic darts holding the
radiator shroud and then the shroud itself from the vehicle to gain access behind the grille.
4) Take one grille insert and place the grille insert over the respective OEM grille portion
5) Using supplied hardware, place two bolts with two small washers through the holes on the
exterior of the insert and through the existing 'honeycomb' or 'bars' of the OEM grille. (See
Figure 1)
6) On the backside of the grille, place a large fender washer and nyloc locknut on each of the bolts.
The fender washer should be adjusted to evenly distribute the pressure as the nut is secured.
(See Figure 2)
7) To reiterate, the hardware sequence is as follows: stainless bolt, small washer, STF grille insert,
OEM grille, large fender washer, nyloc locknut. (See Figure 3)
8) Tighten snugly while ensuring proper alignment and clearance from the vehicle's OEM grille
around the perimeter of the insert.
*Caution* do not over-tighten or damage to the insert or vehicle grille may result. We
recommend tightening the locknuts just enough so that the insert does not shift around by hand.
9) Repeat for remaining grille inserts.
10) If previously removed, replace the vehicle's radiator shroud and reinstall the plastic darts to
secure it.
11) Close hood and enjoy faster warm-ups on those cold winter days.
Please feel free to contact us with any questions by emailing us at info@showtimefab.com or calling the
shop # 651.213.0284.
Disclaimer:
Please be sure to pay attention to your engine's coolant temperatures if you are towing or driving in
warm weather with the inserts installed. It is the operator's responsibility to ensure that the driving
conditions (i.e. driving speed, weather, elevation, terrain, and trailer weight) justify usage of this
product. Showtime Fabrication will not be held liable for vehicle damage as a result of poor judgment
by the operator.
Installation photos:
Figure 1 – View from front of vehicle
OEM truck grille
¼" SS bolt, small washer, and STF
insert overlaying the factory grille
Figure 2 – View from backside of vehicle grille
Note how fender washer is centered
on vehicle's OEM "honeycomb"
Figure 3 – Order of installation hardware (bolt, small washer, grille insert, through OEM grille, large
washer, and finally nyloc locknut.

* Your assessment is very important for improving the work of artificial intelligence, which forms the content of this project