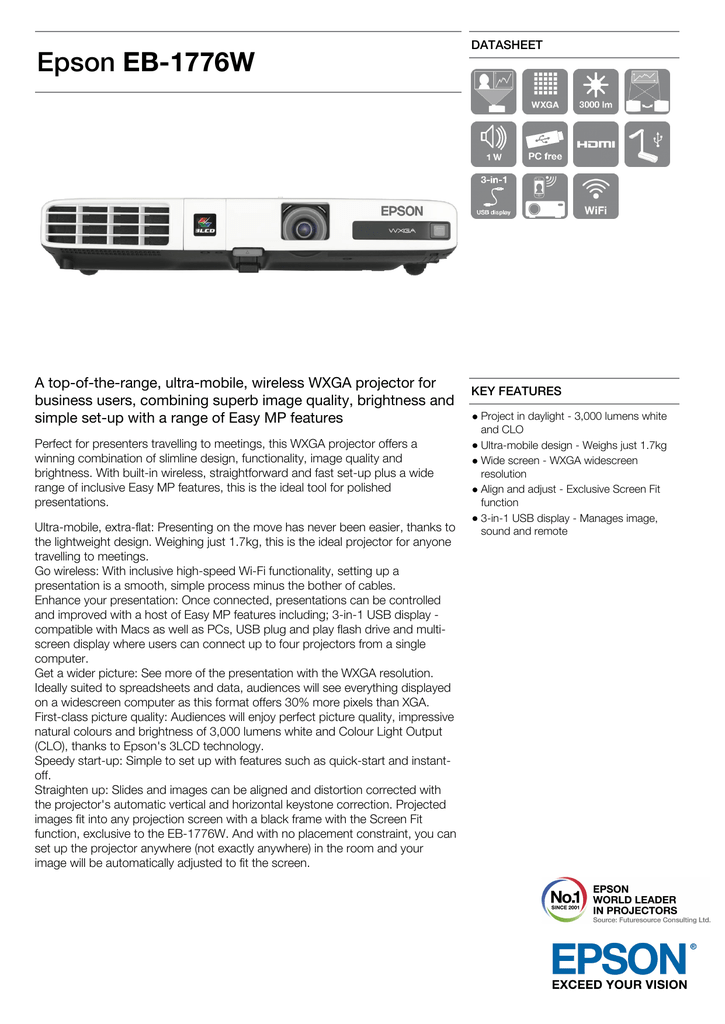 Epson EB-1776W
A top-of-the-range, ultra-mobile, wireless WXGA projector for
business users, combining superb image quality, brightness and
simple set-up with a range of Easy MP features
Perfect for presenters travelling to meetings, this WXGA projector offers a
winning combination of slimline design, functionality, image quality and
brightness. With built-in wireless, straightforward and fast set-up plus a wide
range of inclusive Easy MP features, this is the ideal tool for polished
presentations.
Ultra-mobile, extra-flat: Presenting on the move has never been easier, thanks to
the lightweight design. Weighing just 1.7kg, this is the ideal projector for anyone
travelling to meetings.
Go wireless: With inclusive high-speed Wi-Fi functionality, setting up a
presentation is a smooth, simple process minus the bother of cables.
Enhance your presentation: Once connected, presentations can be controlled
and improved with a host of Easy MP features including; 3-in-1 USB display compatible with Macs as well as PCs, USB plug and play flash drive and multiscreen display where users can connect up to four projectors from a single
computer.
Get a wider picture: See more of the presentation with the WXGA resolution.
Ideally suited to spreadsheets and data, audiences will see everything displayed
on a widescreen computer as this format offers 30% more pixels than XGA.
First-class picture quality: Audiences will enjoy perfect picture quality, impressive
natural colours and brightness of 3,000 lumens white and Colour Light Output
(CLO), thanks to Epson's 3LCD technology.
Speedy start-up: Simple to set up with features such as quick-start and instantoff.
Straighten up: Slides and images can be aligned and distortion corrected with
the projector's automatic vertical and horizontal keystone correction. Projected
images fit into any projection screen with a black frame with the Screen Fit
function, exclusive to the EB-1776W. And with no placement constraint, you can
set up the projector anywhere (not exactly anywhere) in the room and your
image will be automatically adjusted to fit the screen.
DATASHEET
KEY FEATURES
Project in daylight - 3,000 lumens white
and CLO
Ultra-mobile design - Weighs just 1.7kg
Wide screen - WXGA widescreen
resolution
Align and adjust - Exclusive Screen Fit
function
3-in-1 USB display - Manages image,
sound and remote
PRODUCT SPECIFICATIONS
IMAGE
Colour Reproduction
Upto 1.07 billion colours
Colour Light Output
3,000 lumen- 1,700 lumen (economy)
White Light Output
3,000 lumen - 1,700 lumen (economy)
Resolution
WXGA, 1280 x 800, 16:10
Contrast Ratio
2,000 : 1
Lamp
230 W, 4,000 h durability, 4,000 h durability (economy mode)
Keystone Correction
Auto vertical: ± 30 °, Auto horizontal ± 20 °
High Definition
HD ready
Colour Processing
10 Bits
TECHNOLOGY
Projection System
3LCD Technology
LCD Panel
0.59 inch with MLA (D8)
OPTICAL
Projection Ratio
1.04 - 1.26:1
Zoom
Manual
Image Size
30 inches - 300 inches
Projection Distance Wide
0.7 m - 6.8 m
Projection Distance Tele
0.8 m - 8.2 m
Focus
Motorized
Offset
10 : 1
CONNECTIVITY
USB Display Function
3 in 1: Image / Mouse / Sound
Interfaces
USB 2.0 Type B, USB 2.0 Type A, WLAN, VGA in, HDMI in, Composite in, Component in
(optional), Stereo mini jack audio in
ADVANCED FEATURES
Security
Kensington lock, Security bar
Features
AV Mute Slide, Automatic keystone correction, Direct Power on/off, Document Camera
Compatible, Screen Fit, Freeze image, Instant on/off, JPEG Viewer, Mute key, Network
administration, Network image transmission, PC Free, Quick Corner, Slide show, Split-ScreenFunction
Video Colour Modes
Blackboard, Dynamic, Presentation, Sports, sRGB, Theatre, Whiteboard, DICOM SIM,
Customized
GENERAL
Energy Use
304 W, 203 W (economy), 0.44 W (standby)
Product dimensions
292 x 210 x 44 mm (Width x Depth x Height)
Product weight
1.71 kg
Noise Level
Normal: 40 dB (A) - Economy: 30 dB (A)
Included Software
EasyMP Network Monitor, EasyMP Network Projection, EasyMP Slide Converter
Loudspeaker
1W
OTHER
Warranty
36 months On-site service, Lamp: 12 months or 1,000 h
Optional warranty extension available
Epson EB-1776W
WHAT'S IN THE BOX
Main unit
User manual (CD)
Software (CD)
Power cable
USB cable
VGA cable
Remote control incl. batteries
Carrying bag
Wireless LAN unit
OPTIONAL ACCESSORIES
Epson EB-1776W
Air Filter - ELPAF31
V13H134A31
Wireless LAN Adapter - ELPAP10
V12H731P01
Lamp - ELPLP65
V13H010L65
Screen (80" Multi-Aspect) - ELPSC26
V12H002S26
Screen (80" Pantograph 16:10) - ELPSC24
V12H002S24
Screen (80" Mobile X type16:9) - ELPSC21
V12H002S21
Screen (50" Desktop type) - ELPSC32
V12H002S32
Setting Plate - ELPPT01
V12H003D01
Ceiling Mount (White) - ELPMB23
V12H003B23
LOGISTICS INFORMATION
SKU
V11H476041
EAN code
8715946512402
Dimensions Single Carton
284 x 435 x 121 mm
Carton Weight
3.83 Kg
Multiple Order Quantity
1 Units
Country of Origin
China
Pallet Size Euro
102 Units
Pallet Size Block
136 Units
For more information please contact:
Telephone: 01952 607111 (UK)+
01 436 7742 (Republic of Ireland)
E-mail: enquiries@epson.co.uk
Chat: etalk.epson-europe.com
Fax: 0871 222 6740
+ Local call rate.
Web:
www.epson.co.uk
www.epson.ie
Trademarks and registered trademarks are the property of Seiko Epson Corporation or their respective owners.
Product information is subject to change without prior notice.