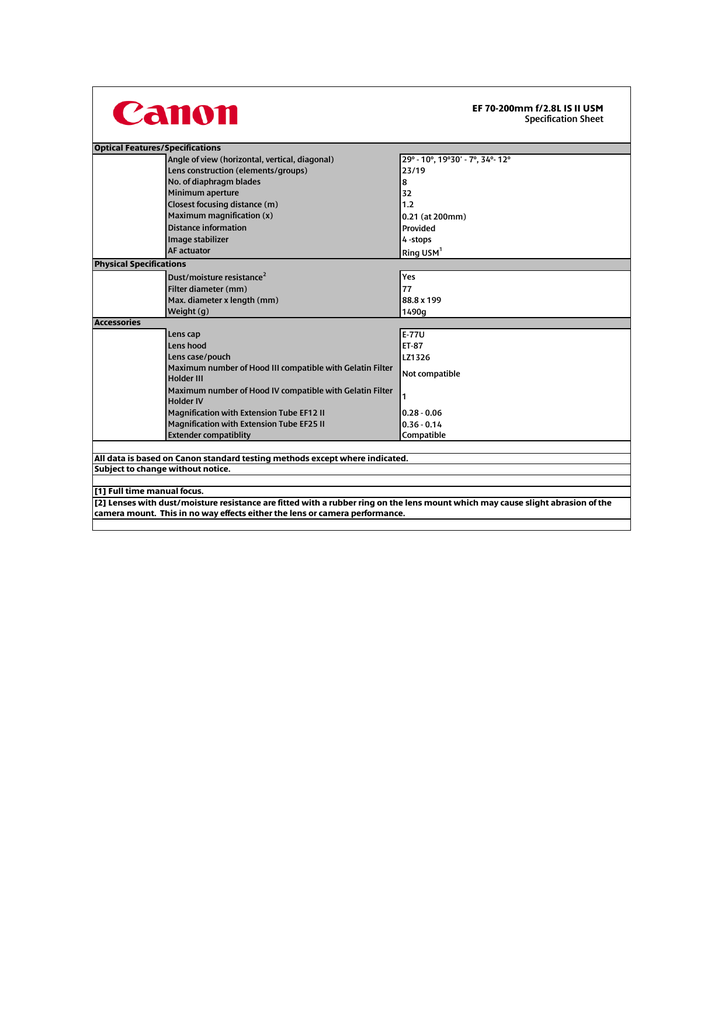 EF 70-200mm f/2.8L IS II USM
Specification Sheet
Optical Features/Specifications
Angle of view (horizontal, vertical, diagonal)
Lens construction (elements/groups)
No. of diaphragm blades
Minimum aperture
Closest focusing distance (m)
Maximum magnification (x)
Distance information
Image stabilizer
AF actuator
29° - 10°, 19°30' - 7°, 34°- 12°
23/19
8
32
1.2
0.21 (at 200mm)
Provided
4 -stops
Ring USM1
Physical Specifications
Dust/moisture resistance 2
Filter diameter (mm)
Max. diameter x length (mm)
Weight (g)
Yes
77
88.8 x 199
1490g
Lens cap
Lens hood
Lens case/pouch
Maximum number of Hood III compatible with Gelatin Filter
Holder III
Maximum number of Hood IV compatible with Gelatin Filter
Holder IV
Magnification with Extension Tube EF12 II
Magnification with Extension Tube EF25 II
Extender compatiblity
E-77U
ET-87
LZ1326
Accessories
Not compatible
1
0.28 - 0.06
0.36 - 0.14
Compatible
All data is based on Canon standard testing methods except where indicated.
Subject to change without notice.
[1] Full time manual focus.
[2] Lenses with dust/moisture resistance are fitted with a rubber ring on the lens mount which may cause slight abrasion of the
camera mount. This in no way effects either the lens or camera performance.

* Your assessment is very important for improving the work of artificial intelligence, which forms the content of this project