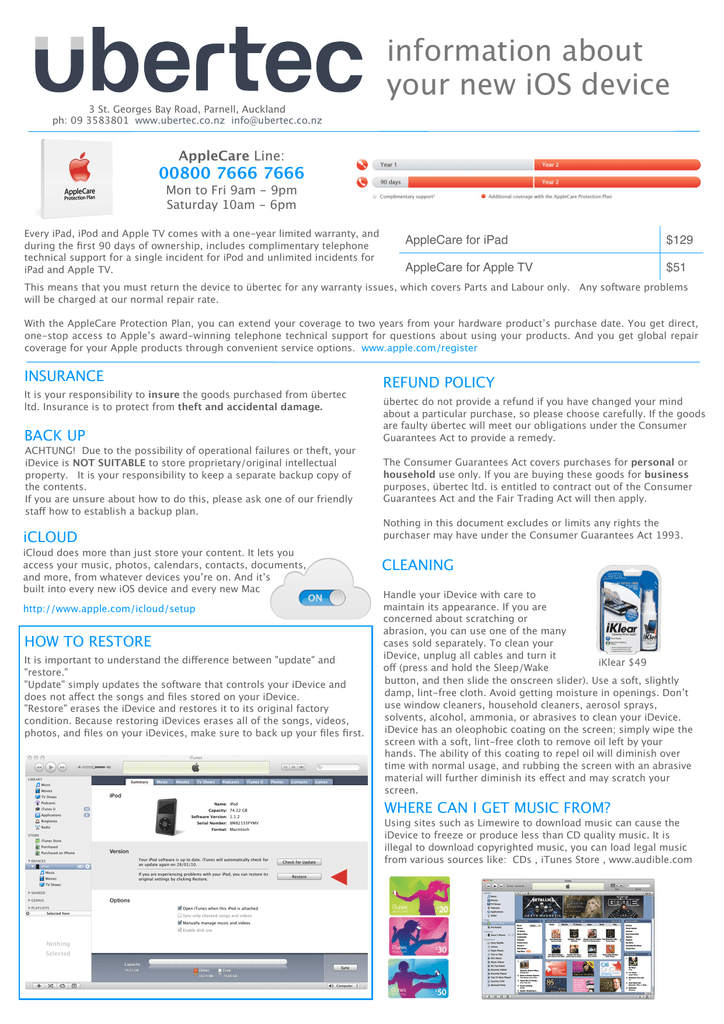 information about
your new iOS device
3 St. Georges Bay Road, Parnell, Auckland
ph: 09 3583801 www.ubertec.co.nz info@ubertec.co.nz
AppleCare Line:
00800 7666 7666
Mon to Fri 9am - 9pm
Saturday 10am - 6pm
Every iPad, iPod and Apple TV comes with a one-year limited warranty, and
during the first 90 days of ownership, includes complimentary telephone
technical support for a single incident for iPod and unlimited incidents for
iPad and Apple TV.
AppleCare for iPad
$129
AppleCare for Apple TV
$51
This means that you must return the device to übertec for any warranty issues, which covers Parts and Labour only. Any software problems
will be charged at our normal repair rate.
With the AppleCare Protection Plan, you can extend your coverage to two years from your hardware product's purchase date. You get direct,
one-stop access to Apple's award-winning telephone technical support for questions about using your products. And you get global repair
coverage for your Apple products through convenient service options. www.apple.com/register
INSURANCE
It is your responsibility to insure the goods purchased from übertec
ltd. Insurance is to protect from theft and accidental damage.
BACK UP
ACHTUNG! Due to the possibility of operational failures or theft, your
iDevice is NOT SUITABLE to store proprietary/original intellectual
property. It is your responsibility to keep a separate backup copy of
the contents.
If you are unsure about how to do this, please ask one of our friendly
staff how to establish a backup plan.
iCLOUD
iCloud does more than just store your content. It lets you
access your music, photos, calendars, contacts, documents,
and more, from whatever devices you're on. And it's
built into every new iOS device and every new Mac
http://www.apple.com/icloud/setup
HOW TO RESTORE
It is important to understand the difference between "update" and
"restore."
"Update" simply updates the software that controls your iDevice and
does not affect the songs and files stored on your iDevice.
"Restore" erases the iDevice and restores it to its original factory
condition. Because restoring iDevices erases all of the songs, videos,
photos, and files on your iDevices, make sure to back up your files first.
REFUND POLICY
übertec do not provide a refund if you have changed your mind
about a particular purchase, so please choose carefully. If the goods
are faulty übertec will meet our obligations under the Consumer
Guarantees Act to provide a remedy.
The Consumer Guarantees Act covers purchases for personal or
household use only. If you are buying these goods for business
purposes, übertec ltd. is entitled to contract out of the Consumer
Guarantees Act and the Fair Trading Act will then apply.
Nothing in this document excludes or limits any rights the
purchaser may have under the Consumer Guarantees Act 1993.
CLEANING
Handle your iDevice with care to
maintain its appearance. If you are
concerned about scratching or
abrasion, you can use one of the many
cases sold separately. To clean your
iDevice, unplug all cables and turn it
iKlear $49
off (press and hold the Sleep/Wake
button, and then slide the onscreen slider). Use a soft, slightly
damp, lint-free cloth. Avoid getting moisture in openings. Don't
use window cleaners, household cleaners, aerosol sprays,
solvents, alcohol, ammonia, or abrasives to clean your iDevice.
iDevice has an oleophobic coating on the screen; simply wipe the
screen with a soft, lint-free cloth to remove oil left by your
hands. The ability of this coating to repel oil will diminish over
time with normal usage, and rubbing the screen with an abrasive
material will further diminish its effect and may scratch your
screen.
WHERE CAN I GET MUSIC FROM?
Using sites such as Limewire to download music can cause the
iDevice to freeze or produce less than CD quality music. It is
illegal to download copyrighted music, you can load legal music
from various sources like: CDs , iTunes Store , www.audible.com
SOFTWARE UPDATE
USEFUL WEBSITES
iPad Support
www.apple.com/support/ipad
iPod Support
www.apple.com/support/ipod
Syncing with iTunes
http://support.apple.com/kb/HT1386
App Store FAQ
http://support.apple.com/kb/HT2001
Easy steps to maximize
your battery life.
Keeping your iDevice and
iTunes software up to date is
good idea. Make sure you are
using the latest version of
iTunes.
In the left column under
Devices, click on your iDevice. Click on Check for Update in the
Summary tab, then follow the instructions.
http://www.apple.com/batteries/ipad.html
APP STORE
Download the iBooks App from the App Store.
From within iBooks, choose store and search for 'Apple
Inc', here you will have the option to download the iPad,
iPhone or iPod touch User Guide.
FIND MY IPAD
CHARGING TIPS
The quickest way to charge your iPad
is with the included 10W USB Power
Adapter.
iPad will also charge, although more slowly,
when attached to a computer with a highpower USB port (many recent Mac computers)
or with an iPhone Power Adapter.
When attached to a computer via a standard USB port (most PCs
or older Mac computers) iPad will charge, but only when it's in
sleep mode. Make sure your computer is on while charging iPad
via USB. If iPad is connected to a computer that's turned off or is
in sleep or standby mode, the iPad battery will continue to drain.
Since you take your iPad just about everywhere, you might
leave it just about anywhere. But never fear. Whether it's at
the office in a conference room or under a pillow on your
couch, chances are it won't be lost for long.
CELLULAR DATA
The use of cellular data requires a micro SIM card.
Find my iPad needs to be activated before you misplace it.
BATTERIES
Battery Lifespan: Paying attention to just a few commonsense pointers
will pay off with a longer battery lifespan and battery life for your iDevice.
The most important thing is to keep your iPad out of the sun or a hot car
(even the glove box). Heat will degrade your battery's performance the
most.
$19.90 PrePay with 2GB
ADDITIONAL STORAGE
The GoFlex Satellite device lets you take your media
libary on-the-go and stream it wirelessly to your
iPad, iPhone or iPod Touch.
$339 500GB
Let It Breathe: Charging your iDevice while in certain carrying cases may generate excess heat, which can affect battery capacity.
If you notice that your iDevice gets hot when you charge it, take it out of its case first.
Use iDevice Regularly: For proper maintenance of a lithium-based battery, it's important to keep the electrons in it moving occasionally. Be
sure to go through at least one charge cycle per month. If you use your iDevice infrequently (gasp), you might want to add a reminder to your
calendar program.
Lock your iDevice It may seem obvious, but you should lock your iDevice when you aren't using it. To lock iDevice, press the Sleep/Wake
button. You can also set the Auto-Lock interval so your iDevice will turn off more quickly after a period of inactivity. To set Auto-Lock, go to
Settings > General > Auto-Lock and set the interval to a short time, such as 1 minute.