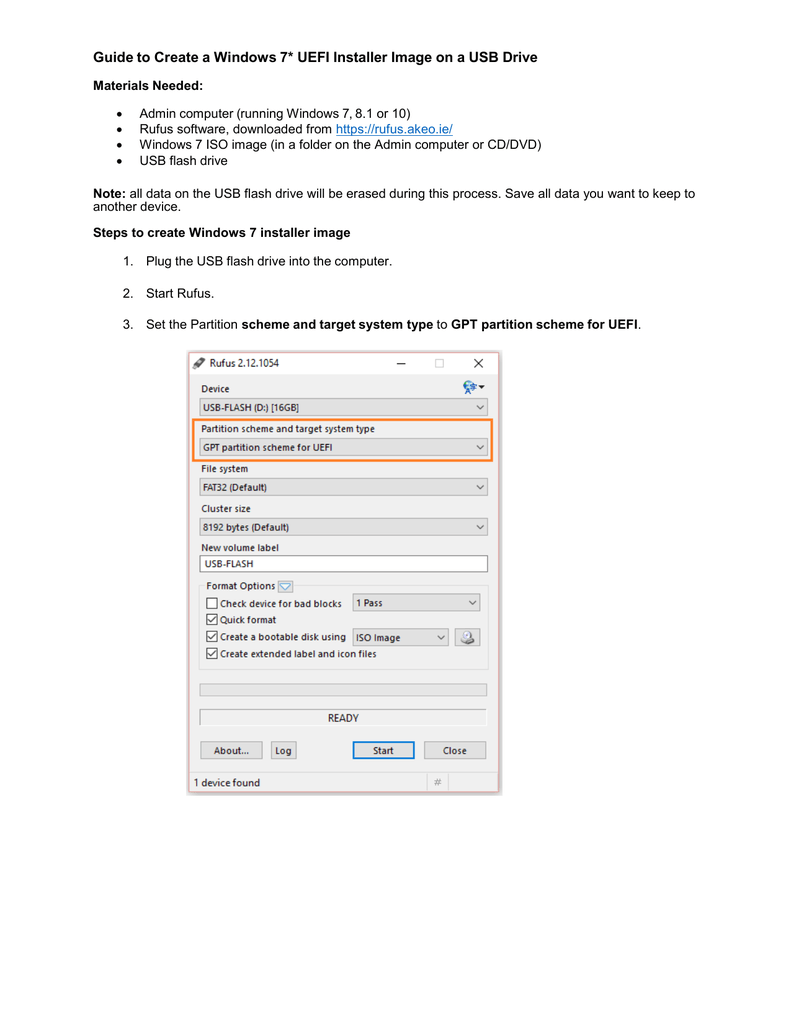 Guide to Create a Windows 7* UEFI Installer Image on a USB Drive
Materials Needed:




Admin computer (running Windows 7, 8.1 or 10)
Rufus software, downloaded from https://rufus.akeo.ie/
Windows 7 ISO image (in a folder on the Admin computer or CD/DVD)
USB flash drive
Note: all data on the USB flash drive will be erased during this process. Save all data you want to keep to
another device.
Steps to create Windows 7 installer image
1. Plug the USB flash drive into the computer.
2. Start Rufus.
3. Set the Partition scheme and target system type to GPT partition scheme for UEFI.
4. Click the button next to the Create a bootable disk using checkbox. You'll be prompted to
search for the ISO image to use.
5. Navigate to and select the Windows 7 ISO image.
6. Click Start.
7. Click OK on the warning dialog box.
It will take several minutes to complete the image creation process.
8. Close Rufus when complete.
Your Windows 7 installation image can now be used with the Windows 7 USB 3.0 Creator Utility.

* Your assessment is very important for improving the work of artificial intelligence, which forms the content of this project