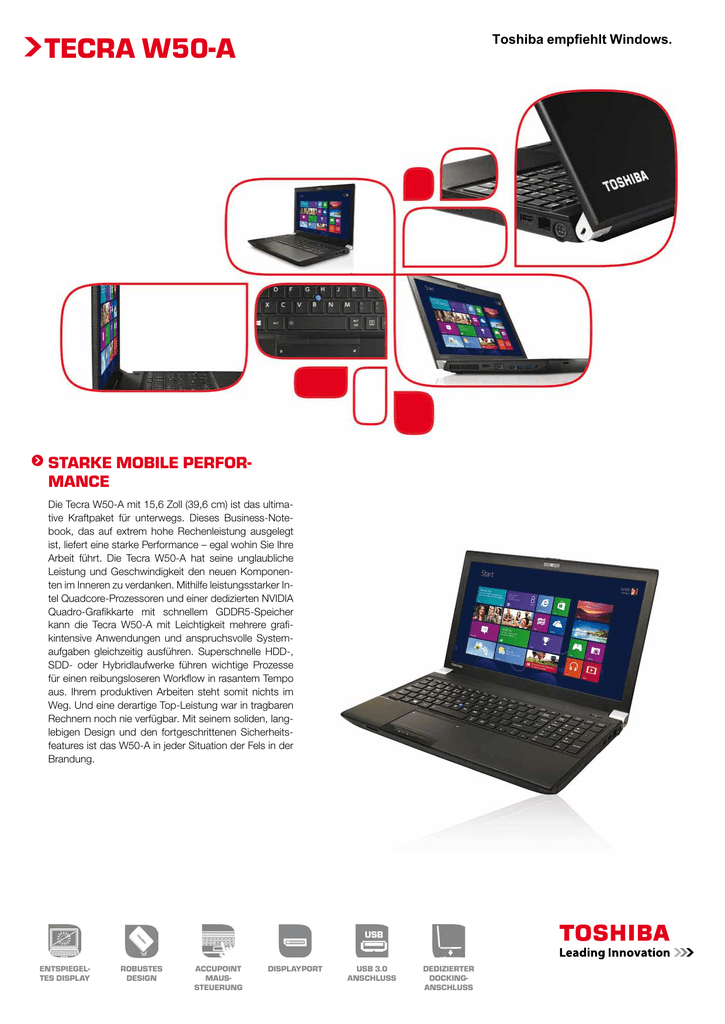 TECRA W50-A
Toshiba empfiehlt Windows.
STARKE MOBILE PERFORMANCE
Die Tecra W50-A mit 15,6 Zoll (39,6 cm) ist das ultimative Kraftpaket für unterwegs. Dieses Business-Notebook, das auf extrem hohe Rechenleistung ausgelegt
ist, liefert eine starke Performance – egal wohin Sie Ihre
Arbeit führt. Die Tecra W50-A hat seine unglaubliche
Leistung und Geschwindigkeit den neuen Komponenten im Inneren zu verdanken. Mithilfe leistungsstarker Intel Quadcore-Prozessoren und einer dedizierten NVIDIA
Quadro-Grafikkarte mit schnellem GDDR5-Speicher
kann die Tecra W50-A mit Leichtigkeit mehrere grafikintensive Anwendungen und anspruchsvolle Systemaufgaben gleichzeitig ausführen. Superschnelle HDD-,
SDD- oder Hybridlaufwerke führen wichtige Prozesse
für einen reibungsloseren Workflow in rasantem Tempo
aus. Ihrem produktiven Arbeiten steht somit nichts im
Weg. Und eine derartige Top-Leistung war in tragbaren
Rechnern noch nie verfügbar. Mit seinem soliden, langlebigen Design und den fortgeschrittenen Sicherheitsfeatures ist das W50-A in jeder Situation der Fels in der
Brandung.
ENTSPIEGELTES DISPLAY
ROBUSTES
DESIGN
ACCUPOINT
MAUSSTEUERUNG
DISPLAYPORT
USB 3.0
ANSCHLUSS
DEDIZIERTER
DOCKINGANSCHLUSS
TECRA W50-A
Toshiba empfiehlt Windows.
TECHNISCHE SPEZIFIKATIONEN
Tecra W50-A-Serie
PT640E-02001EGR
4051528112702
Prozessor/Technologie
Intel® Core™ i7-4800MQ vPro™ Prozessor der vierten Generation mit Intel®Turbo Boost Technologie 2.0 (2.70 / 3.70 Turbo GHz, 6 MB 3rd level cache)
Betriebssystem / Plattform
Windows® 7 Professional 64-bit (vorinstalliert) und
Windows 8.1 Pro 64-bit (auf DVD)
Display
39,6 cm (15,6-Zoll) entspiegeltes Toshiba Full HD TFT Hochhelligkeits eDP™-Display mit LED-Hintergrundbeleuchtung, 16:9 Seitenverhältnis, Auflösung: 1.920 x 1.080,
Reaktionszeit (Schwarz-Weiß-Messung, typisch): 25ms
Festplatte
1TB (Solid State Hybrid 8G Drive mit 1TB und 8GB NAND flash) (5.400 U/min) serielle ATA
Speicher
32.768 (8 + 8 + 8 + 8) GB, max. Speicherausstattung: 32 GB, Technologie: DDR3L RAM (1.600 MHz)
Optisches Laufwerk
DVD Supermulti Laufwerk (DL)
Grafikkarte
NVIDIA® Quadro® K2100M mit CUDA™ Technologie, unterstützt 2 GB GDDR5 dedizierter Speicher, 2.048 MB dedizierter VRAM
Zeigegerät
DualPoint ( AccuPoint™ Mauszeiger und Touchpad)
Kabelgebundene Kommunikation
Gigabit Ethernet LAN
Kabellose Kommunikation
Bluetooth® 4.0 + LE (Intel), Intel® Wireless Display (Intel), Wireless LAN 802.11ac + a/b/g/n (Intel)
Sound-System
eingebaute Stereo-Lautsprecher, verbessert durch DTS® Studio Sound™, Lautstärkeregler: durch eine Funktionstaste
Schnittstellen
1x DC-In, 1x externer Monitor, 1x RJ-45, 1x externes Mikrofon über den Kopfhöreranschluss, 1x Multi Kartenleser (unterstützt SD™ Card bis zu 2 GB, miniSD™/
microSD™ Karten mit Adapter bis zu 2 GB, SDHC™ Card/microSDHC™ Karten mit Adapter bis zu 32 GB, SDXC™ Karten/ microSDXC™ Karten mit Adapter bis zu 128
GB, MultiMedia Karten™ bis zu 2 GB), 1x DisplayPort, 1x integrierte 2.0MP FHD WebKamera (1.980 x 1.080) mit eingebautem Stereo Microfon, 2 (Links) x USB 3.0, 2
(Rechts) x USB 2.0, 1 (Links) x eSATA/USB 2.0 unterstützt USB Sleep-and-Charge
Erweiterung
1 Express Card Steckplatz (54 mm), 1 Anschluss zum Toshiba Hi-Speed Port Replicator III, 4 Steckplätze für Arbeitsspeicher
Akku
Technologie: Lithium-Ionen, 6 Zellen, bis zu 4Std.30min (Mobile Mark™ 2012)
Mitgelieferte Software
DTS® Studio Sound™
Microsoft® Office 2013 (1 Monat Testversion für das neue Microsoft® Office 365)
McAfee® Internet Security (inkl. 30 Tage Testversion)
TOSHIBA Eco Utility™
TOSHIBA PC Health Monitor
Mitgelieferte Hardware
Wechselstromadapter
Besondere Merkmale
ENERGY STAR 5.0 qualifizierter Computer, SM BIOS kompatibel, HD Audio Unterstützung, erhöhte Intel® SpeedStep® Technologie
Abmessungen/Gewicht
380,9 x 253,9 x 34,9 mm, Gewicht: ab 2.7 kg
Garantie
1 Jahr europäische Bring-In Herstellergarantie inkl. Vor-Ort Abholservice in Deutschland und Österreich bei Anmeldung der Reparatur an der Toshiba Notebook Hotline.
Sicherheit
BIOS mit Computrace® Unterstützung, Toshiba Device Access Control (auf Anfrage ), Execute Disable Bit (XD-Bit), Antivirus Software, Password Utilities, erweiterte Verschlüsselungstechnologie (TPM), Toshiba Security Assist, SmartCard Reader, Fingerabdruckleser
Schutz
spritzwassergeschützte Tastatur, Festplattenschutz mit 3D-Sensor, stossfestes Design, robustes Design, Easy Fix Komponenten, PC Diagnostic Tool, Datensicherung,
automatische Laufwerksverriegelung, Kensingtonkabel Steckplatz
Konnektivität
Intel® Wireless Display, Bluetooth®, Diversity Antenne, Video over IP, Voice over IP, DisplayPort, Wireless LAN (802.11a/b/g/n) bzw. (802.11ac+a/b/g/n) (modellabhängig)
KOMPATIBLES TOSHIBA ZUBEHÖR
TOSHIBA SERVICES
ON-SITE REPAIR SERVICE
Vor-Ort-Reparaturservice in Deutschland/Österreich mit Reaktionszeit
am nächsten Arbeitstag
GARANTIEVERLÄNGERUNG
Erweitern Sie Ihre Standard-Garantie auf bis zu 3 Jahren
Wireless Optical Maus
TEG_EN_Tecra_W50-A_DataS 2013. Microsoft, Windows and Windows 8 are either registered trademarks or trademarks of Microsoft
Corporation in the United States and/or other
countries. All trademarks are acknowledged.
Product specifications, configurations, prices
and system component/options availability are
all subject to change without notice. Product
design specifications and colours are subject to
change without notice and may vary from those
shown. Errors and omissions excepted.
www.toshiba.de/laptops
StorE Canvio 2.5 2TB silber
Hi-Speed Port Replikator III
180W - PA5117E-1PRP
CPU performance may vary from specifications under certain conditions such as the use of battery instead of AC power, certain external peripherals, certain multimedia applications or network connections,
complex modeling software and in areas with low air pressure at high altitude (1,000 metres above sea level) and/or certain temperatures. CPU performance may also vary from specifications due to design configuration. Under some conditions, your computer may automatically shut down as a normal protective measure. To avoid risk of lost data, please make periodic back-up copies. For optimum performance, use your
computer only under recommended conditions. Please read detailed restrictions in the product resource guide, visit the Toshiba web site: www.computers.toshiba-europe.com and/or contact Toshiba Technical
Support. - Graphics processor unit (GPU) performance may vary depending on product model, design configuration, applications, power management settings and features utilized. - Part of the main system
memory may be used by the graphics system and therefore reduce the amount of main system memory available. - For PCs configured with 4 GB of system memory, the full system memory space for computing
activities will be considerably less and will vary by model and system configuration. - For information about upgrading your system memory please refer to the user manual or contact your local Toshiba service
provider. - One GB means one billion bytes, accessible capacity may be less. - Wired and wireless communication capabilities to be applied in countries where approved. - Battery life may vary depending on applications, power management settings and features utilized. Recharge time varies depending on usage. Battery may not charge while computer is consuming full power. After a period of time, the battery will lose
its ability to perform at maximum capacity and will need to be replaced. This is normal for all batteries. To purchase a new battery pack, see your accessories information that shipped with your computer or visit
the Toshiba web site at www.computers.toshiba-europe.com. - Small bright dots may appear on your TFT display when you turn on your PC. Your display contains an extremely large number of thin-film transistors
(TFT) and is manufactured using high-precision technology. Any small bright dots that may appear on your display are an intrinsic characteristic of the TFT manufacturing technology. - Weight may vary depending
on product configuration, vendor components, manufacturing variability and options selected. - Please check your system specifications to ensure optimal results. - Certain notebook chassis are designed to accommodate all possible configurations for an entire product series. Your selected model may not have all the features and specifications corresponding to all of the icons or switches shown on the notebook
chassis. - Performance may vary depending on product model, configuration, video content/format/settings as well as the performance variations of individual hardware components. Results were achieved on
select models and configurations tested by Toshiba at the time of publication.