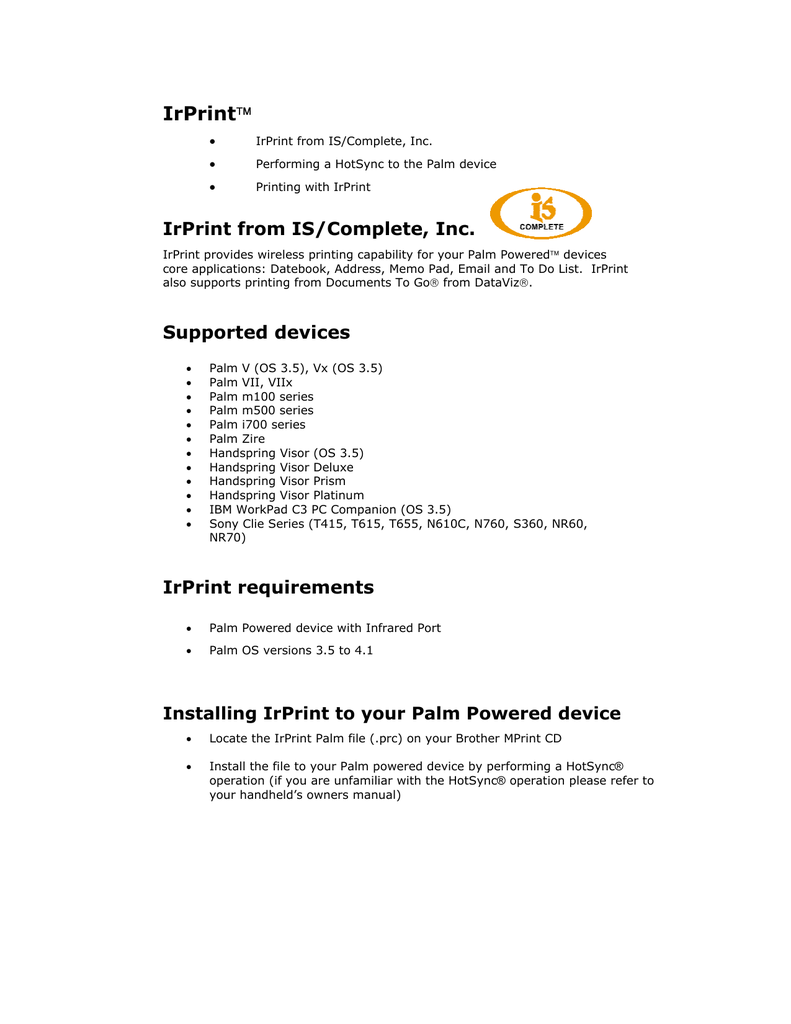 IrPrint
•
IrPrint from IS/Complete, Inc.
•
Performing a HotSync to the Palm device
•
Printing with IrPrint
IrPrint from IS/Complete, Inc.
IrPrint provides wireless printing capability for your Palm Powered devices
core applications: Datebook, Address, Memo Pad, Email and To Do List. IrPrint
also supports printing from Documents To Go from DataViz.
Supported devices
•
•
•
•
•
•
•
•
•
•
•
•
Palm V (OS 3.5), Vx (OS 3.5)
Palm VII, VIIx
Palm m100 series
Palm m500 series
Palm i700 series
Palm Zire
Handspring Visor (OS 3.5)
Handspring Visor Deluxe
Handspring Visor Prism
Handspring Visor Platinum
IBM WorkPad C3 PC Companion (OS 3.5)
Sony Clie Series (T415, T615, T655, N610C, N760, S360, NR60,
NR70)
IrPrint requirements
•
Palm Powered device with Infrared Port
•
Palm OS versions 3.5 to 4.1
Installing IrPrint to your Palm Powered device
•
Locate the IrPrint Palm file (.prc) on your Brother MPrint CD
•
Install the file to your Palm powered device by performing a HotSync®
operation (if you are unfamiliar with the HotSync® operation please refer to
your handheld's owners manual)
Printing with IrPrint
•
Tap the Home button on your Palm Powered device. A list of available
programs will appear.
•
Tap the IrPrintBIL icon to run IrPrint. The IrPrint Menu appears.
•
Tap the icon of the application you wish to print from. The screen for the
selected program appears.
•
Select the category or view of the item you wish to print.
•
Align the infrared lenses of the Palm device and the Brother MPrint printer.
Ensure they:
o Are no more than approximately 8 inches apart. (20cm)
o Fall within a 30 degree total angle of each other.
o Have an unobstructed path between them.
•
Tap the Menu icon.
o
If the IrPrint command does not appear in the menu, IrPrint does not
support the selected category or view.
•
Tap IrPrint in the menu. If printing the To-Do list, tap Today, Tomorrow, or
All to select which records to print. The IrPrint Setup box appears.
•
Select the appropriate print options, then tap OK.

* Your assessment is very important for improving the work of artificial intelligence, which forms the content of this project