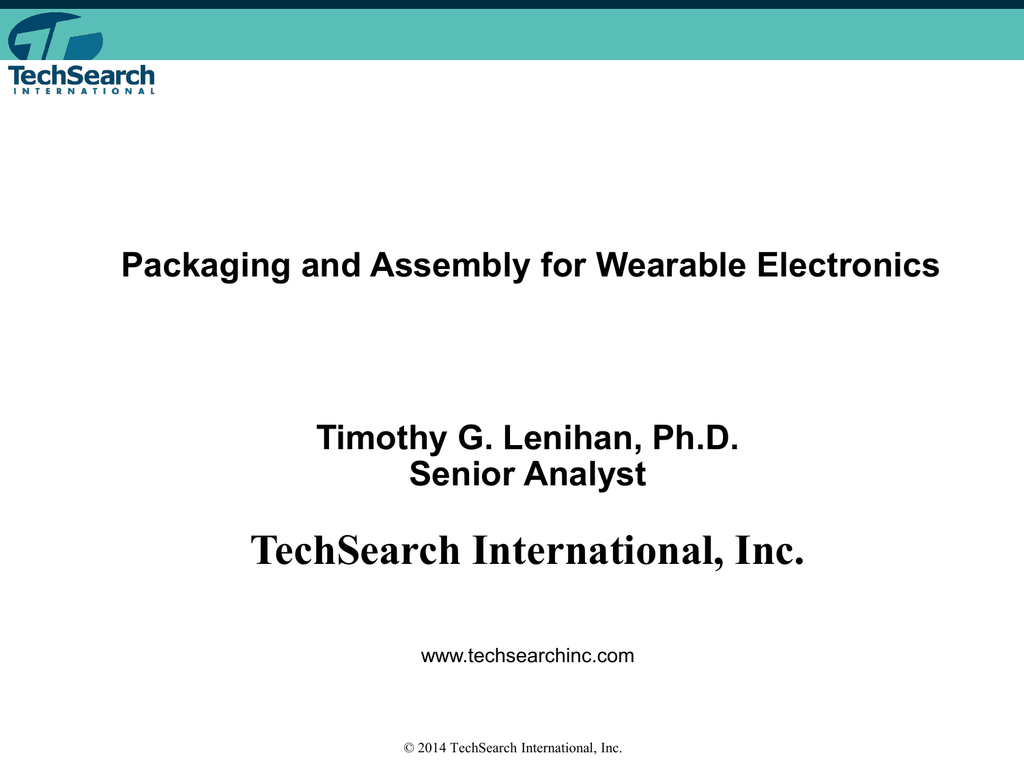 Packaging and Assembly for Wearable Electronics
Timothy G. Lenihan, Ph.D.
Senior Analyst
TechSearch International, Inc.
www.techsearchinc.com
© 2014 TechSearch International, Inc.
What's Wearable Electronics?
• Wearable electronics not clearly
defined today
• Products for consumer/fitness,
medical, communication and
fashion
– Smart bracelets such as
Nike's FuelBand and other
fitness products
– Products for wrist account for
34% of shipments
• Smart watches such as
Samsung Galaxy Gear
smartwatch
• Wearable medical devices
such as portable blood
pressure monitors, calorie
trackers, heart rage monitors,
etc.
• Glass-based products, more
than just Google Glass
© 2014 TechSearch International, Inc.
How Big is the Market?
•
Market estimates for wearable electronics vary
•
Industrial Economics and Knowledge Research Center (IEK)
projects the global market value of wearable devices to be
$5.5 billion this year growing $35 billion in 2018
•
IHS predicts 10 fold increase from 2013 to 2018
•
IDC projects >$20 billion market in 2018
– Global shipments projected to grow from 19 million units
in 2014 to 112 million units in 2018
© 2014 TechSearch International, Inc.
IoT Growth Includes WLP
•
•
MEMS and sensors growth driven by IoT
Many different packages for wearable electronics
© 2014 TechSearch International, Inc.
Wearable Product Requirements?
•
•
•
•
•
What are reliability requirements?
– Lifetime?
– Environmental exposure (UV light, sweat, stress,
washer/dryer, cleaning fluids, mud, dust, wafer,
sunscreen, etc.)
Fitness activity bands
– Polymer encased electronics
– Components must survive mold process
temperatures
– Must withstand twist, bend, flex compression
– Must not react with bodily and environmental fluids
Printed circuit design require environmental protection
– Thermal management
– Shock and vibration
– Electrostatic discharge (ESD)
– Bodily and environmental fluids
Fabrics for wearable electronics
– Weaving of metallized yarns
– Lamination of circuit boards
– Examples T-shirt for muscle stimulation therapy
Need special reliability tests
– Drop test (is it shock proof?)
– Thermal stress (simulation)
– Is it moisture resistant?
© 2014 TechSearch International, Inc.
Package Choices: Which Ones Do I Use?
• Quad flat no-lead (QFN)
• Fine pitch ball grid arrays (FBGA) with laminate or flex circuit
substrate
• Ceramic land grid array (CLGA)
• LGA (with laminate substrate), typically wire bond moving to flip chip
• Flip chip BGA (FC-BGA)
• Wafer level package (WLP)
• Fan-out WLP (FO-WLP)
• Stacked die package (WB, or FC and WB)
• Package-on-package (PoP)
– Memory stack in top package
– Logic in bottom package can be WB, FC, Embedded die, or FOWLP
• System-in-Package (SiP)
• Integrated Passive Device (IPD)
WLP
PoP
FO-WLP
FC-BGA
QFN
LGA module
© 2014 TechSearch International, Inc.
Flip Chip on Leadframe
MIS Coreless Substrate with Flip Chip
Source: APS.
• Potential low-cost flip chip solution
• Conventional 1-2-1 substrate (left)
• Two-layer MIS substrate (right)
– Direct filled microvia down to 50µm diameter for improved routing
© 2014 TechSearch International, Inc.
No One Solution for Wearables
• Packaging options (found in today's products)
– BGA, FBGA
– Flex circuit CSP
– LGA (including MCM)
– Chip-on-board (COB)
– PoP
– Stacked die CSP
– Leadframe packages such as QFN, SOP, TSOP
– Ceramic packages
– Integrated passive devices
– WLP
– Embedded die
• Packaging options (emerging)
– FO-WLP
– MIS package (leadframe versions with mold compound
as underfill and substrate)
– SiP
• Cost/Performance trade-off determines adoption, but Cost
and Form Factor are key
© 2014 TechSearch International, Inc.
Product Board Options
•
Flexible circuit
– Many medical products
– CHECKLIGHT head impact
monitor from MC10
– Wrist bands
•
Rigid flex
– Wrist bands
– Smart watches
•
Printed circuit board
– Pedometers
– Smart watches
Source: TPSS.
© 2014 TechSearch International, Inc.
Wearable Electronics Enabled by Flexible Circuits
•
Flexible substrates
–
–
–
–
–
–
Materials such as polyimides, LCP, Teflon, etc.
Thin substrates
Fine pitch features
Multiple die
Embedded active die and passives possible
Folded assembly
•
Low-cost processing
•
Reliability proven historically
– Roll-to-roll
– Flexibility
© 2014 TechSearch International, Inc.
NIKE FUEL™ BAND
Polymer Lithium-ion
battery x 2
Integrated USB
Key functions
–
Monitor activities and provides
metrics
Overmolded
rubber
BT antenna
in FPC
Rigid
FPC
LED
array
Tactile
switch
C3H MEMS
Accelerometer
STMicroelectronics
Magnesium
battery cover
USB adapter cable
Source: TEConnectivity.
© 2014 TechSearch International, Inc.
PEBBLE Smartwatch
Vibrator
B to B
connector
Speaker
B&W epaper
BT
antenna
BtoB
(Plug 16pos)
ST micro
LIS3DH 3-axis
accelerometer
Magnetically attached
power
Li-Ion polymer
battery
12
© 2014 TechSearch International, Inc.
Source: iFixit.
Samsung Galaxy Gear
•
Many different
components
– WLP
– FC-CSP
– QFN
•
Mounted on rigid flex
board
•
Flex circuit inside
•
Display: OLED
Source: TPSS
© 2014 TechSearch International, Inc.
Medical Devices with IPDiA Integrated Passives
Source: IPDiA.
© 2014 TechSearch International, Inc.
Conclusions
•
Many different products
•
Many different types of boards/substrates
•
Many different package types
•
Need many different reliability tests
•
Need new materials to achieve realization of future product designs
© 2014 TechSearch International, Inc.