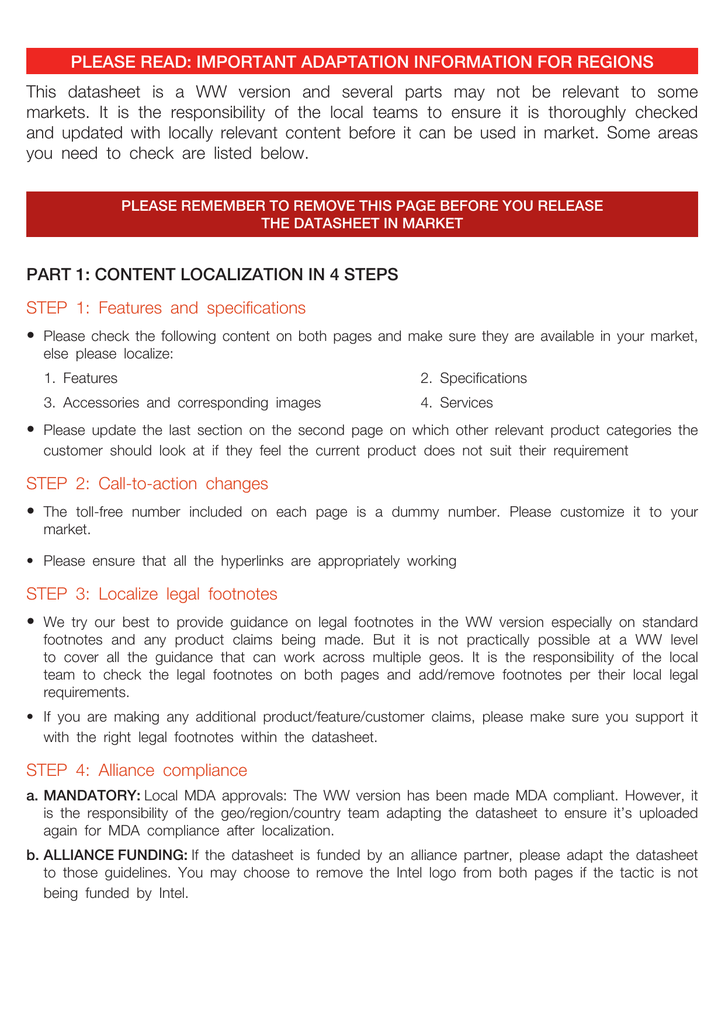 PLEASE READ: IMPORTANT ADAPTATION INFORMATION FOR REGIONS
This datasheet is a WW version and several parts may not be relevant to some
markets. It is the responsibility of the local teams to ensure it is thoroughly checked
and updated with locally relevant content before it can be used in market. Some areas
you need to check are listed below.
PLEASE REMEMBER TO REMOVE THIS PAGE BEFORE YOU RELEASE
THE DATASHEET IN MARKET
PART 1: CONTENT LOCALIZATION IN 4 STEPS
STEP 1: Features and specifications
•Please check the following content on both pages and make sure they are available in your market,
else please localize:
1. Features
2. Specifications
3. Accessories and corresponding images
4. Services
•Please update the last section on the second page on which other relevant product categories the
customer should look at if they feel the current product does not suit their requirement
STEP 2: Call-to-action changes
•The toll-free number included on each page is a dummy number. Please customize it to your
market.
• Please ensure that all the hyperlinks are appropriately working
STEP 3: Localize legal footnotes
•We try our best to provide guidance on legal footnotes in the WW version especially on standard
footnotes and any product claims being made. But it is not practically possible at a WW level
to cover all the guidance that can work across multiple geos. It is the responsibility of the local
team to check the legal footnotes on both pages and add/remove footnotes per their local legal
requirements.
• If you are making any additional product/feature/customer claims, please make sure you support it
with the right legal footnotes within the datasheet.
STEP 4: Alliance compliance
a.MANDATORY: Local MDA approvals: The WW version has been made MDA compliant. However, it
is the responsibility of the geo/region/country team adapting the datasheet to ensure it's uploaded
again for MDA compliance after localization.
b.ALLIANCE FUNDING: If the datasheet is funded by an alliance partner, please adapt the datasheet
to those guidelines. You may choose to remove the Intel logo from both pages if the tactic is not
being funded by Intel.
PLEASE READ: IMPORTANT ADAPTATION INFORMATION FOR REGIONS
PART 2: SEO COMPLIANCE IN 5 STEPS
Pdfs can get indexed by search engines just like a normal webpage. It's important that we optimize them for
search, else they may not rank very high in search results. Or may not get indexed and found at all. Once you have localized the datasheet content (from PART 1 above) and have the pdf ready, we recommend
you follow these simple steps to make this datasheet more SEO-friendly, before you upload the datasheet
online. It should take you all of 5 minutes.
You need the full version of Adobe Acrobat (NOT Adobe Reader) to be able to do this. Please request your
agency to take care of this.
STEP 1: Is the file name clear and self-explanatory?
If you're changing the file name from what is used for the WW file, then make sure it is not too long and gives an easy
indication to the reader what the file is about, eg: Lenovo_YOGA Tab 3-8inch_DS.pdf is fine, but "Lenovo _Vietnam_
Hires_53627_convertible.pdf" is not clear.
STEP 2: Has your file metadata been updated?
Go to File>Document properties>Description and update the fields as below:
File – automatically takes the file name you have chosen
Title – Please use – Lenovo YOGA Tab 3-8inch
Author – Lenovo
Subject – Please use - Powerful, portable tablet for fun on the run with Ultimate entertainment to go.
Keywords – Lenovo, Tablet, powerful, ultraportable, HD display, LTE support, AnyPen technology, Precision on-screen
control, Dolby Atmos, G Sensor, Vibrator, Hall Sensor.
Under Additional metadata (if available in your Adobe Acrobat version), update as follows:
Copyright Status: Choose 'Copyrighted'
Copyright Notice: Copyright (c) 2014 by Lenovo Corporation
Copyright Info URL: http://www.lenovo.com/legal/copytrade.html
Under Advanced metadata(if available in your Adobe Acrobat version), update as follows:
Language – choose the appropriate language from dropdown list
STEP 3: Is the reading order correct?
• Select Advanced>Accessibility>Add Tags to Document
• Then, select Advanced>Accessibility>Touch Up Reading Order
• The "reading order" of the PDF is displayed. This shows you what content will be displayed first in a search result. If
this is not fixed, sometimes even the legal line can get picked up to display in a search result.
• You can use the same 'Touch Up Reading Order' tool to change the reader order.
• Reading order can be fixed as below – Headline followed by Body copy followed by Why buy section followed by
Who buys section.
STEP 4: Have your pdf elements been tagged correctly?
•
•
•
•
•
Go to File>Document properties>Description
Run an Accessibility Full Check to look for non-compliance.
Is the body copy on page 1 tagged as text?
Is the main product image on page 1 tagged as Image/Figure?
Add the product name as Alt Text to the main product image.
STEP 5: Pdf size and version
1.Total web page weight should not be much more than 1-2MB. If it is more, then go to Advanced>PDF Optimizer and
'right-size' the document.
2.Then select Preferences>General Settings>Optimize for Fast Web View (this allows the PDF to be "loaded" a page at
a time, rather than waiting for the whole PDF to download to be able to read)
3.For datasheets which don't have an animated product image on page 1, save your PDF as version 1.6 (Acrobat 7)
or lower
Lenovo™ YOGA™ Tab 3 8
Ultimate entertainment to go
Powerful, portable tablet for fun on the run
Get ready for non-stop entertainment around-the-clock with the ultra portable YOGA™ Tab 3 tablet.
Immerse yourself in music, game-on with your friends, or binge-watch movies and TV shows
on the brilliant 8" HD display. It goes all day with up to 20 hours1 of battery life, and LTE support means
you'll always be connected. The rotating 8 MP camera lets you capture great videos and selfies,
and AnyPen technology means you'll never have to carry a stylus.
Hold Mode
Stand Mode
Tilt Mode
Hang Mode
WHY YOU SHOULD BUY THE LENOVO™ YOGA™ TAB 3 8
Portability
Precision
on-screen control
Go all-day
battery life
The coolest
camera
Light as a feather, but an
entertainment heavyweight
with a brilliant HD screen
and Dolby® Atmos™ virtual
surround sound.
With AnyPen technology,
you can use your stylus
or any conductive object
to control the screen.
Keep the fun going with
a powerful 6200 mAh
battery and 20 hours1
of continuous use.
Take a pic with your
friends and surroundings.
Then just rotate the
camera forward for
an instant selfie.
As per estimation.
1
WWW.LENOVO.COM
Lenovo™ YOGA™ Tab 3 8
SPECIFICATIONS
DESIGN
210 mm (W)
146 mm (H)
7.0-3 mm (T)
Integrated Camera
Display
Size
: 8" HD (800 x 1280)
Type
: IPS
Rear
8 MP Rotatable
Auto Focus
Material: Plastic
Weight:
WiFi version: 466 g (1.03 lbs)
LTE version: 472 g (1.04 lbs)
Color
Sensors
Slate black
G-sensor / Vibrator / Hall Sensor
Operating System
SIM
Android™ v5.1
Type : Micro
Slots : Single Card Slot (LTE SKU)
PERFORMANCE
CONNECTIVITY
Processor
SKU1
:
GSM
:
UMTS
:
TD-SCDMA:
FDD-LTE :
TDD-LTE :
CN (CMCC / CU / CT Open Market)
B 2/3/5/8
B 1/2/5/8
B 34/39
B 1/3/7
B 38/39/40/41
SKU2
GSM
UMTS
FDD-LTE
TDD-LTE
ROW_EMEA / AP / LAS
B 2/3/5/8
B 1/2/4/5/8
B 1/3/4/5/7/8/19/20
B 38/40
Quad-Core 1.3 GHz (Qualcomm® APQ8009 / MSM8909)
Sound
Dolby® Atmos™, 3.5 mm Audio Jack
Memory
RAM
:
ROM
:
I/O
:
Card Slot:
1 GB
16 GB
Micro USB / microSD
SD Card slot expandable up to 128 GB
:
:
:
:
:
SOFTWARE
Battery
Bluetooth : Bluetooth 4.0
Type
: 6200 mAh
Standby Time: 95 Days
Usage Time : 20 Hours4
GPS
• Lenovo™ SHAREit3
• Lenovo™ SYNCit3
• McAfee® Security3
• Lenovo™ SHAREit
• SECURITY
• Lenovo™ SYNCit
• Lenovo™ REACHit
®
®
Utilities / Cloud / Security:
LENOVO SOFTWARE5
: WiFi 802.11 b/g/n
WLAN
2
Included applications
• SNAPit
: GPS + Glonass / Beidou
• SEEit
• QuickControl
Battery life is an estimated maximum. Actual battery life may vary based on many factors.
Available in select regions only.
As per estimation.
5
Downloadable.
2
3
4
ACCESSORIES
WHAT'S IN THE BOX
•
•
•
•
•
User Guide
Quickstart Guide
Warranty Card
USB Cable
Travel Adapter
Sleeve
RECOMMENDED LENOVO SERVICES
Warranty Extensions (1-to-3 Years Total Duration) The fixed-term,
fixed-cost service helps accurately budget for PC expense, protect your
valuable investment and potentially lower the cost of ownership.
WANT MORE?
Also available: YOGA Tab 3 10,
YOGA Tab 3 Pro 10
Accidental Damage Protection6 Avoid the hassles of unexpected
repair costs. Provides coverage for non-warranted damage incurred
under normal operating conditions, such as minor spills, drops or
damage to the integrated screen.
Not available in all countries.
6
WWW.LENOVO.COM
©2015 Lenovo. All rights reserved.
Lenovo makes every effort to ensure accuracy of all information but is not liable or responsible for any editorial, photographic or typographic errors. All images are for illustrative purposes only. Lenovo product specifications:
For full Lenovo product specifications visit www.lenovo.com Lenovo makes no representations or warranties regarding third party products or services. Trademarks: The following are trademarks or registered trademarks of
Lenovo: Lenovo, the Lenovo logo, IdeaPad, OneKey, VeriFace and New World. New Thinking. Microsoft, Windows and Vista are registered trademarks of Microsoft Corporation in the U.S. or other countries. Intel, the Intel logo,
Centrino, Centrino Inside, Intel Core and Core Inside are trademarks of Intel Corporation in the U.S. and other countries. Other company, product and service names may be trademarks or service marks of others. Battery life
(and recharge times) will vary based on many factors including system settings and usage. A description of the environment under which the test was performed is available upon request.