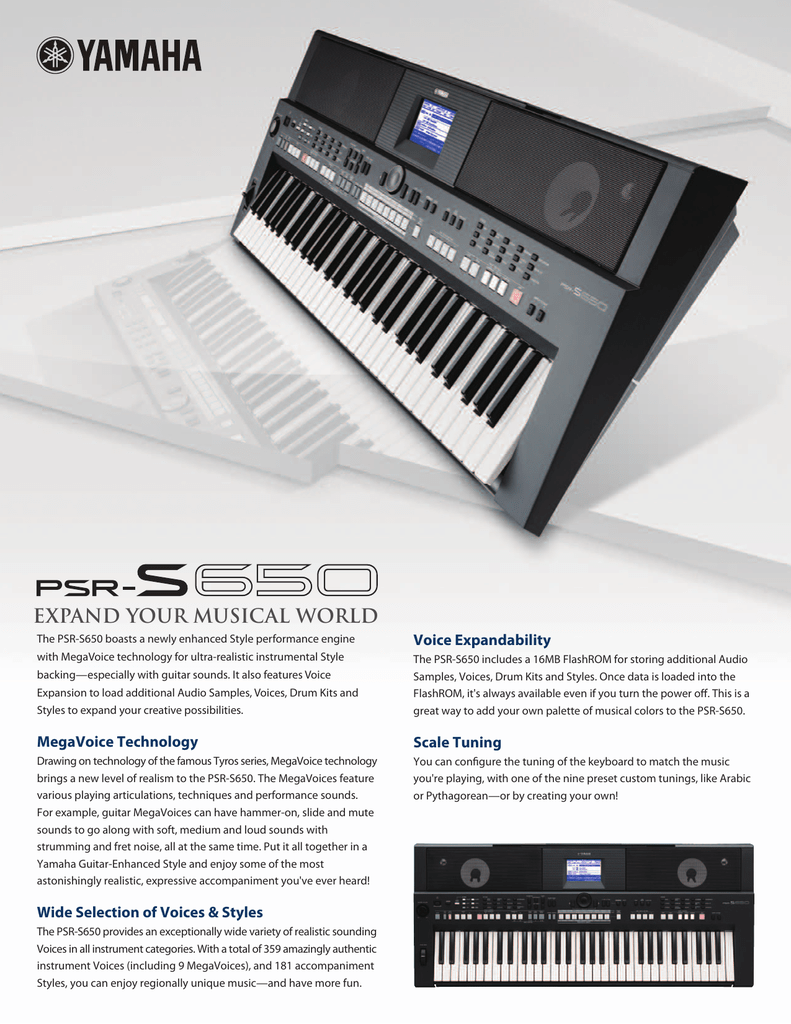 EXPAND YOUR MUSICAL WORLD
The PSR-S650 boasts a newly enhanced Style performance engine
Voice Expandability
with MegaVoice technology for ultra-realistic instrumental Style
Styles to expand your creative possibilities.
The PSR-S650 includes a 16MB FlashROM for storing additional Audio
Samples, Voices, Drum Kits and Styles. Once data is loaded into the
FlashROM, it's always available even if you turn the power off. This is a
great way to add your own palette of musical colors to the PSR-S650.
MegaVoice Technology
Scale Tuning
Drawing on technology of the famous Tyros series, MegaVoice technology
brings a new level of realism to the PSR-S650. The MegaVoices feature
various playing articulations, techniques and performance sounds.
For example, guitar MegaVoices can have hammer-on, slide and mute
sounds to go along with soft, medium and loud sounds with
strumming and fret noise, all at the same time. Put it all together in a
Yamaha Guitar-Enhanced Style and enjoy some of the most
astonishingly realistic, expressive accompaniment you've ever heard!
You can configure the tuning of the keyboard to match the music
you're playing, with one of the nine preset custom tunings, like Arabic
or Pythagorean—or by creating your own!
backing—especially with guitar sounds. It also features Voice
Expansion to load additional Audio Samples, Voices, Drum Kits and
Wide Selection of Voices & Styles
The PSR-S650 provides an exceptionally wide variety of realistic sounding
Voices in all instrument categories. With a total of 359 amazingly authentic
instrument Voices (including 9 MegaVoices), and 181 accompaniment
Styles, you can enjoy regionally unique music—and have more fun.
Specifications
PSR-S650
Model Name
Size/Weight
Dimensions
Weight
Number of Keys
Touch Response
Type
Contrast
Score Display Function
Lyric Display Function
Language
Pitch Bend Wheel
Language
Tone Generation
Polyphony
Preset
Optional Accessories :
Adaptor: PA-300 or an equivalent recommended by Yamaha / Footswitch: FC4/FC5 / Keyboard Stand: L-6/L-7 / Headphones: HPE-150/HPE-30
946 x 405 x 137 mm (37-1/4" x 15-15/16" x 5-3/8")
7.3Kg (16 lbs. 1 oz.)
Keyboard
61
Yes
Display
320 x 240 dots, QVGA B/W, 4.3 inch display
Yes
Yes
Yes
English/Japanese
Controller
Yes
Panel
English
Voices
AWM Stereo Sampling
Tone Generating Technology
64
Number of Polyphony (Max.)
357 + 28 Drum/SFX Kits + 480 XG + GM2 (for GM2 Song playback) + GS (for GS Song playback)
Number of Voices
9
Mega Voices
18
Live! Voices
22
Cool! Voices
12
Sweet! Voices
Voice Expansion
Yes
Voice
Yes (16MB Flash ROM)
Wave
Yes
Voice Set
Compatibility
XG, XF, GS, GM, GM2
Effects
Types
35
Reverb
44
Chorus
237
DSP
5
Master EQ
26
Harmony
Function
Yes
Dual
Yes
Split
Yes
Panel Sustain
Accompaniment
Preset
181
Number of Preset Styles
Styles
Multi finger, FullKeyboard, AI Fingered
Fingering
Intro x 3, Ending x 3, Main x 4, Fill In x 4
Style Control
Compatibility
SFF GE
Custom
Yes
User Styles
Yes
Style Creator
Other Features
784 + External Files
Music Database
4 for Each Style
OTS (One Touch Setting)
Song
Preset
9
Number of Preset Songs
Custom
Yes
User Songs
Yes
Song Edit
Recording
5
Number of Songs
16
Tracks
Approx. 30,000 notes (when only "melody" tracks are recorded)
Data Capacity
Quick Recording, Multi Recording, Song Editing
Recording Function
SMF (Format 0 & 1), XF
Playback
Compatible Data
Format
SMF (Format 0)
Recording
Registration
Function
8 buttons (x 8 Banks) with Freeze function
Registration Memory
Demo
Yes
Demonstration
Overall Controls
Yes
Metronome
5 – 280
Tempo Range
-12 – 0 – +12
Transpose
415.3 – 466.2Hz
Tuning
Yes
Octave buttons
Yes
Scale
Expansion Pack Installation
Yes
Internal Memory
Storage and
1,130 KB
Connectivity
External Drives
Optional USB flash Memory (via USB TO DEVICE)
Connectivity
USB TO HOST, USB TO DEVICE, DC IN 16V, PHONES/OUTPUT, SUSTAIN
Amplifiers
12W + 12W
Amplifiers and
Speakers
Speakers
12cm x 2 + 3cm x 2
Power Supply
Power Supply
Adaptor: PA-300 or an equivalent recommended by Yamaha
Power Consumption
25 W (When using PA-300 power adaptor)
Auto Power Off Function
Yes
Included Accessories : Owner's Manual / Data List / Music Rest / My Yamaha Product User Registration / AC Power adaptor* (PA-300 or an equivalent recommended by Yamaha)
* May not be included depending on your particular area. Please check with your Yamaha dealer.
WxDxH
Specifications and appearance are subject to change without prior notice.

* Your assessment is very important for improving the work of artificial intelligence, which forms the content of this project