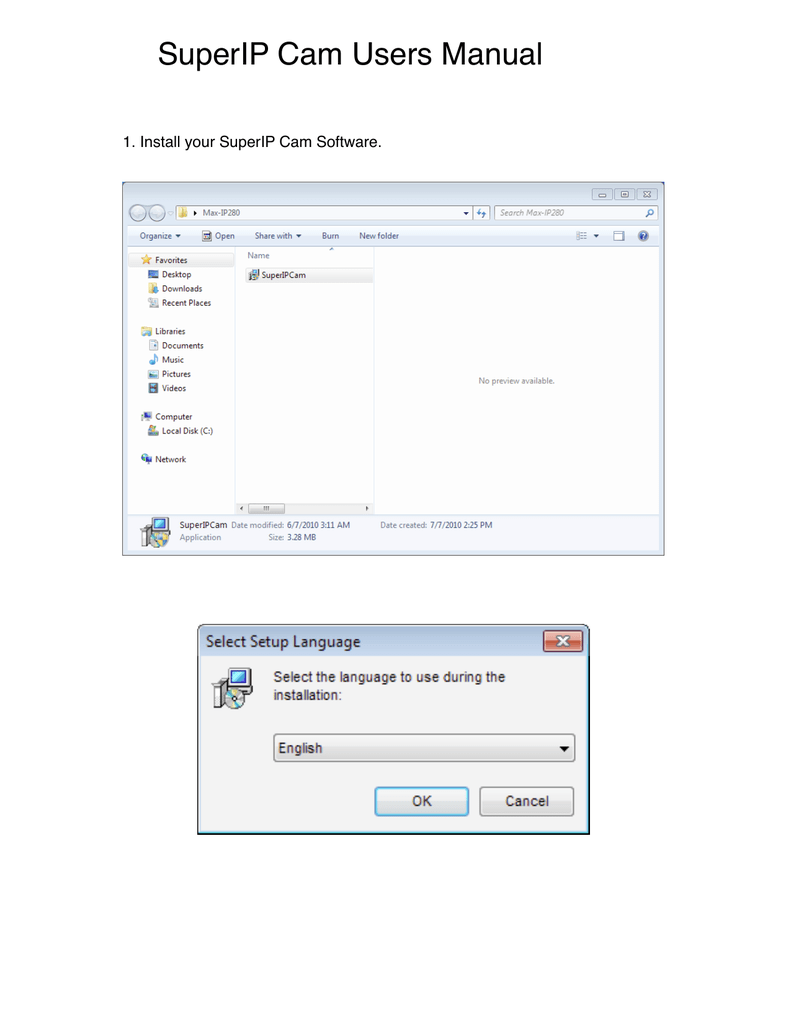 SuperIP Cam Users Manual
1. Install your SuperIP Cam Software.
2. Once the software is installed run the SuperCam IP software. You will
see the following screen.
3. The first step is to add a camera. Right click on the area shown below.
4. Once you right click you will see a drop down menu. Select Add
Equipment.
5. You will then see " Select Equipment Type ". Choose "Equipment Q
Serials" and click on "OK".
6. Make sure that you have already connected and tested your camera on
the network with the IP Camera Search app prior to following these steps.
Once you have clicked "OK" the following window will appear. Choose "IP/
Domain Mode" and enter the LAN IP of your MAX-IP260 camera. Select
the HTTP port you assigned the camera and enter the User Name and
Password you assigned your camera. The default is (blank) for both.
7. Next select the Alarming Tab. Under this tab you can assign Alarm
conditions for your cameras. You may choose to set the Alarm ( Motion )
detection via a schedule or constant monitoring. Clicking the " Add " button
will allow you to set a schedule and control the actions you would like to
invoke during an Alarm.
8. The Record tab allows you to choose when you would like to record. You
may choose No recording, Constant Recording or Scheduled Recording.
You may also choose to record in Mpeg4 to save disk space.
9. Once you are finished making changes go back to the General tab and
press " OK ".
10. The moment you press " OK " you should see your camera on the main
GUI screen. If you do not your IP settings are incorrect. Make sure you test
your settings using the IPCamera Search App.
11.Right clicking within the camera screen will open a secondary menu
where you may start transmission, stop transmission, enable alarm, set
recording or enter the camera menu. You may also use the icons located
on the bottom right of the screen to access these functions.
12. The 3 buttons shown above are shortcut operations to Start, Quit, and
Setup.
Multi View
13.Use the Multi View buttons to view multiple cameras. For example: 1、
4、9、15、25、 64 etc. For more than 64 cameras you have a multipage
setup.
System Operation
The picture above is the System Operation window, click "start all" to begin viewing
all IP Cameras, click "Stop All', to stop viewing all cameras.
1. To View Recorded Video and do Playback
Click "Records", a dialogue box will come up allowing you to search for recorded
video.
In the Records Manager you may view your scheduled recordings or event
alarm recordings. The videos are recorded in either MJPEG or MPEG4
depending on what you chose. These standard codecs allow you to playback
these videos on standard media players.
Options Menu
The options menu lets you control the Storage, Video Overlay, Alarm, Autorun and
DDNS settings.
Others Menu
Click "Other" on the lower right corner, users can view Equipment List, manage logs
and system operators. In the "About" menu, users can check software version number
and new version availability for download.

* Your assessment is very important for improving the work of artificial intelligence, which forms the content of this project