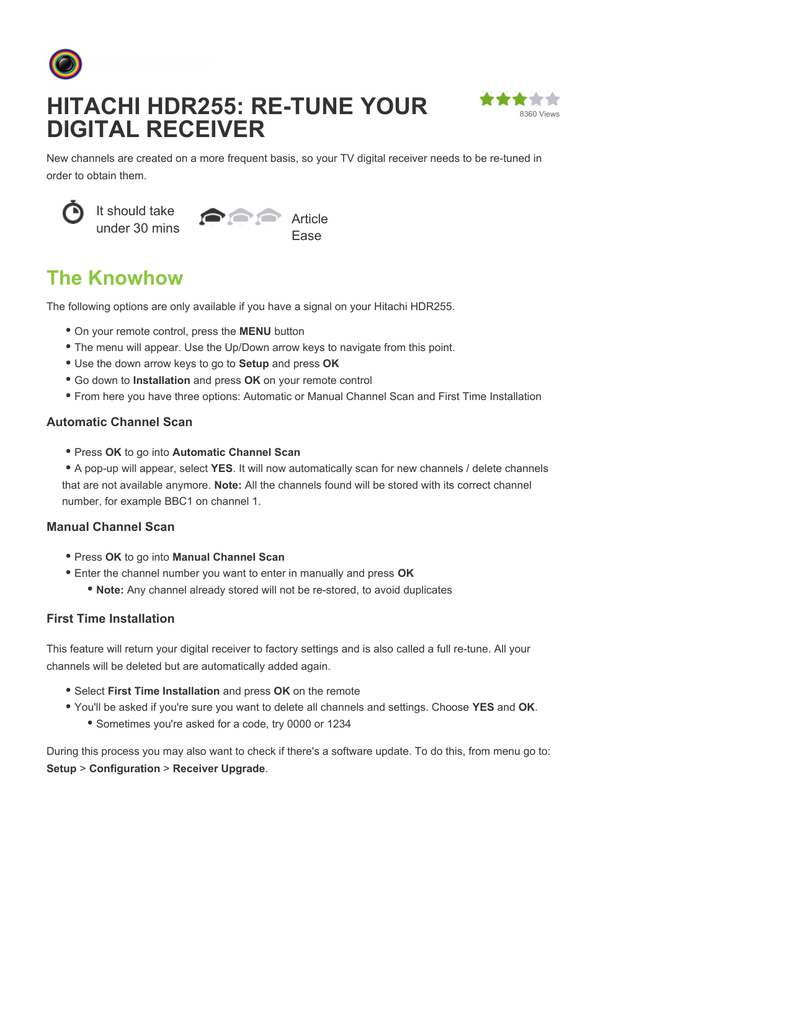 HITACHI HDR255: RE-TUNE YOUR
DIGITAL RECEIVER
Rating
3out
of 5
8360
Views
New channels are created on a more frequent basis, so your TV digital receiver needs to be re-tuned in
order to obtain them.
It should take
under 30 mins
1
Article
Ease
The Knowhow
The following options are only available if you have a signal on your Hitachi HDR255.
On your remote control, press the MENU button
The menu will appear. Use the Up/Down arrow keys to navigate from this point.
Use the down arrow keys to go to Setup and press OK
Go down to Installation and press OK on your remote control
From here you have three options: Automatic or Manual Channel Scan and First Time Installation
Automatic Channel Scan
Press OK to go into Automatic Channel Scan
A pop-up will appear, select YES. It will now automatically scan for new channels / delete channels
that are not available anymore. Note: All the channels found will be stored with its correct channel
number, for example BBC1 on channel 1.
Manual Channel Scan
Press OK to go into Manual Channel Scan
Enter the channel number you want to enter in manually and press OK
Note: Any channel already stored will not be re-stored, to avoid duplicates
First Time Installation
This feature will return your digital receiver to factory settings and is also called a full re-tune. All your
channels will be deleted but are automatically added again.
Select First Time Installation and press OK on the remote
You'll be asked if you're sure you want to delete all channels and settings. Choose YES and OK.
Sometimes you're asked for a code, try 0000 or 1234
During this process you may also want to check if there's a software update. To do this, from menu go to:
Setup > Configuration > Receiver Upgrade.

* Your assessment is very important for improving the work of artificial intelligence, which forms the content of this project