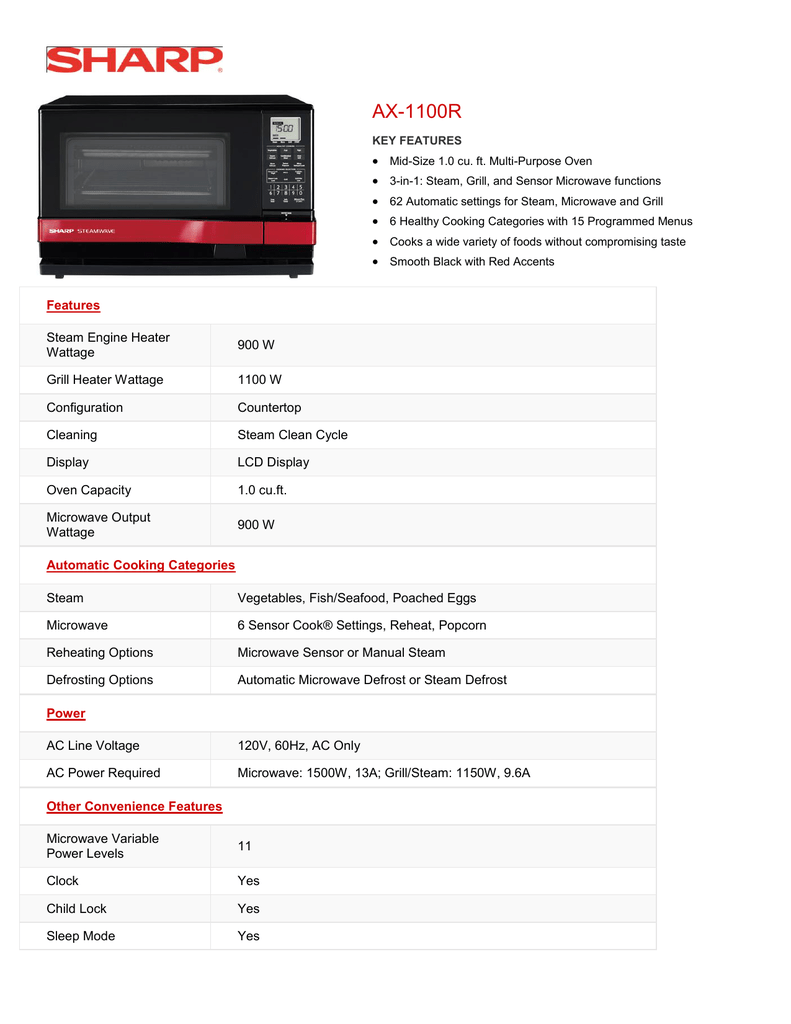 AX-1100R
KEY FEATURES
 Mid-Size 1.0 cu. ft. Multi-Purpose Oven
 3-in-1: Steam, Grill, and Sensor Microwave functions
 62 Automatic settings for Steam, Microwave and Grill
 6 Healthy Cooking Categories with 15 Programmed Menus
 Cooks a wide variety of foods without compromising taste
 Smooth Black with Red Accents
Features
Steam Engine Heater
Wattage
900 W
Grill Heater Wattage
1100 W
Configuration
Countertop
Cleaning
Steam Clean Cycle
Display
LCD Display
Oven Capacity
1.0 cu.ft.
Microwave Output
Wattage
900 W
Automatic Cooking Categories
Steam
Vegetables, Fish/Seafood, Poached Eggs
Microwave
6 Sensor Cook® Settings, Reheat, Popcorn
Reheating Options
Microwave Sensor or Manual Steam
Defrosting Options
Automatic Microwave Defrost or Steam Defrost
Power
AC Line Voltage
120V, 60Hz, AC Only
AC Power Required
Microwave: 1500W, 13A; Grill/Steam: 1150W, 9.6A
Other Convenience Features
Microwave Variable
Power Levels
11
Clock
Yes
Child Lock
Yes
Sleep Mode
Yes
Other Convenience Features
Minute Timer
Yes
Minute Plus™ Key
Yes
Programmable Stages
3
Included Accessories
Non-stick finish racks
2
Glass Tray
1
Grill Rack
1
Additional Specifications
Color
Smooth Black with Red Accents
Safety Compliance
FCC, DHHS, and UL Listed
Warranty
1 Year Parts/Labor. 4 Additional years for Magnetron tube, part only
Weight & Dimensions
Cavity Dimensions
13-1/2" x 8" x 15"
Outside Dimensions
(wxhxd)
20-1/2" x 13" x 19-5/8"
Approximate Weight
Net: 44 lbs. Shipping: 57lbs.

* Your assessment is very important for improving the work of artificial intelligence, which forms the content of this project