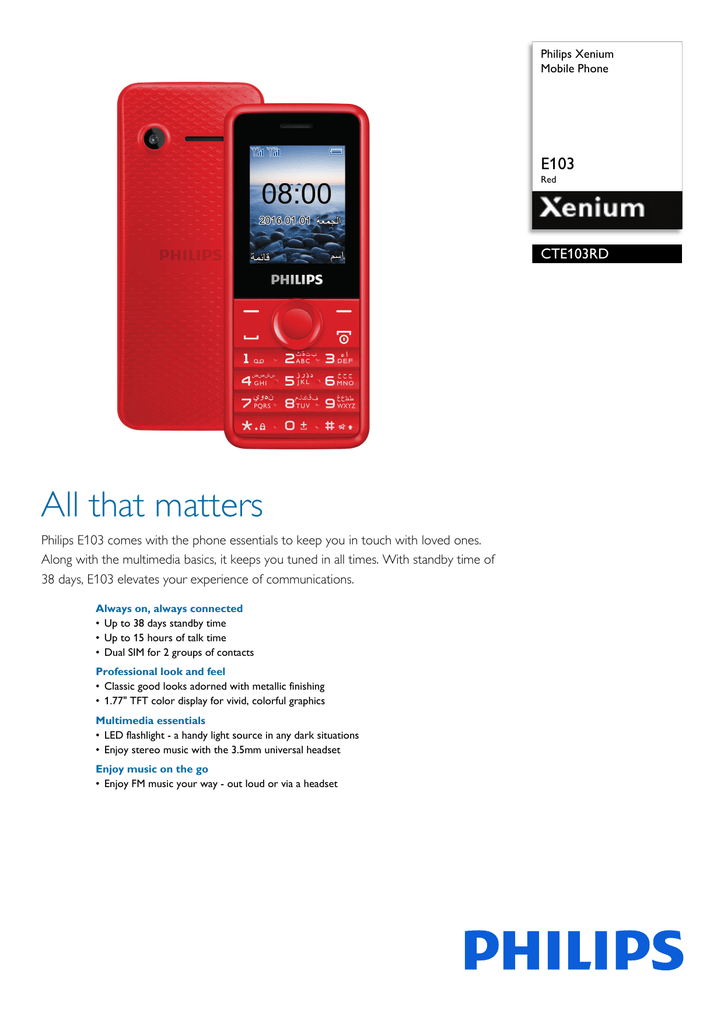 Philips Xenium
Mobile Phone
E103
Red
CTE103RD
All that matters
Philips E103 comes with the phone essentials to keep you in touch with loved ones.
Along with the multimedia basics, it keeps you tuned in all times. With standby time of
38 days, E103 elevates your experience of communications.
Always on, always connected
• Up to 38 days standby time
• Up to 15 hours of talk time
• Dual SIM for 2 groups of contacts
Professional look and feel
• Classic good looks adorned with metallic finishing
• 1.77" TFT color display for vivid, colorful graphics
Multimedia essentials
• LED flashlight - a handy light source in any dark situations
• Enjoy stereo music with the 3.5mm universal headset
Enjoy music on the go
• Enjoy FM music your way - out loud or via a headset
CTE103RD/56
Mobile Phone
E103 Red
Specifications
Dimensions
•
•
•
•
•
Form Factor: Candy bar
Handset dimensions: 106.0x45.5x14.45mm
Handset weight: 72.7g
Antenna: Integrated
Handset color: Red
Highlights
Connectivity
• Headset: Via 3.5mm jack connector
• Serial connections: USB-MicroUSB data cable
Convenience
• Ringers: MP3 ringer, Polyphonic (64 tones)
• Buttons and controls: 4-way navigation key and
enter
• Call Management: Call Counters, Call Time, Call
Waiting*, Emergency Call, Microphone mute,
Missed Calls, Received Calls, Call Forwarding, Call
on Hold
• Clock/Version: Digital
• Ease of Use: Dual SIM cards, Hands free mode,
Graphical User Interface, Keypad Lock, Softkeys,
Vibra Alert
• Games and applications: Alarm Clock, Calculator,
Calendar, Stopwatch
• Language available: UI: English, Arabic, Farsi,
French, Hindi, Indonesian
• Multimedia: FM Radio
• Personalisation/Customization: Wallpaper,
Ringtones
• Text input: Character counter, Smart predictive
input
• Vibrator
Audio Playback
Power
Network Features
• GSM band: 900, 1800, 1900 MHz
• Messaging: Concatenated SMS (Long SMS), SMS CB
(Cell Broadcast), SMS (Short Message Service),
SMS multi-target, MMS,Multimedia Message
Service
• Voice Codec: FR/EFR/AMR/HR
• GSM band(Primary SIM): 900, 1800, 1900 MHz
• GSM band(Secondary SIM): 900, 1800, 1900 MHz
Picture/Display
•
•
•
•
Main Display Technology: TFT
Main Display Resolution: 128x160 pixel
Main Display Colors: 65536
Diagonal screen size (inch): 1.77 inch
Sound
• Audio supported formats: MP3, AMR, Midi
Audio Capturing
• Voice recording: AMR
•
•
•
•
Audio Recording
Accessories
• Record your own voice
Dual SIM
Organize your life better and keep your contacts
separate by using 2 different phone numbers. With
Dual SIM, you don't need to carry 2 phones around.
Battery Type: Lithium-ion
Standby time: Up 912 hours standby time
Talk time: Up to 15 hours
Battery capacity: 1050mAh
• Standard Package Includes: Battery, User Manual,
USB data cable, Charger
Storage Media
• Memory Card Types: Micro SD
• Maximum memory card capacity: 16 GB
• Memory management: Memory status
Multimedia Applications
• Memory Card Access: SD card slot
Green Specifications
• Lead-free soldered product
• Packaging material: Carton
• User manual: Recycled paper
Still Picture Playback
• Picture Compression Format: BMP, JPEG, GIF,
PNG
•
Issue date 2016-12-27
© 2016 Koninklijke Philips N.V.
All Rights reserved.
Version: 1.0.1
Specifications are subject to change without notice.
Trademarks are the property of Koninklijke Philips N.V.
or their respective owners.
12 NC: 8670 001 36552
EAN: 87 12581 73870 9
www.philips.com
* MicroSD memory card is not included.
* All visuals provided are for reference purposes only. Actual product
features such as phone colors and screenshots may vary from those
pictured.
* The MicroSD memory card slot supports MicroSD cards of up to
16GB capacity. Please note that the MicroSD memory card is not
included.
* Specifications indicated are subject to change without prior notice.